PicsArt Photo Studio & Editor
Over 3000 editing features for you to discover!
WANT AWESOME PICTURES? WE CAN HELP.
With PicsArt photo editor, you can make any picture awesome. Whether you want to tweak the lighting in your favorite selfie or bring your imagination to life, our photo editor makes it easy. The best part? It's all available right there on your phone or tablet.
Play with different filters, masks, frames, photo effects, lens flares and TONS of stickers. Whatever you're looking for we've got it.
To get started, open a pic in the photo editor, grab a #FreeToEdit photo or create an in-camera edit while you shoot. The possibilities are endless.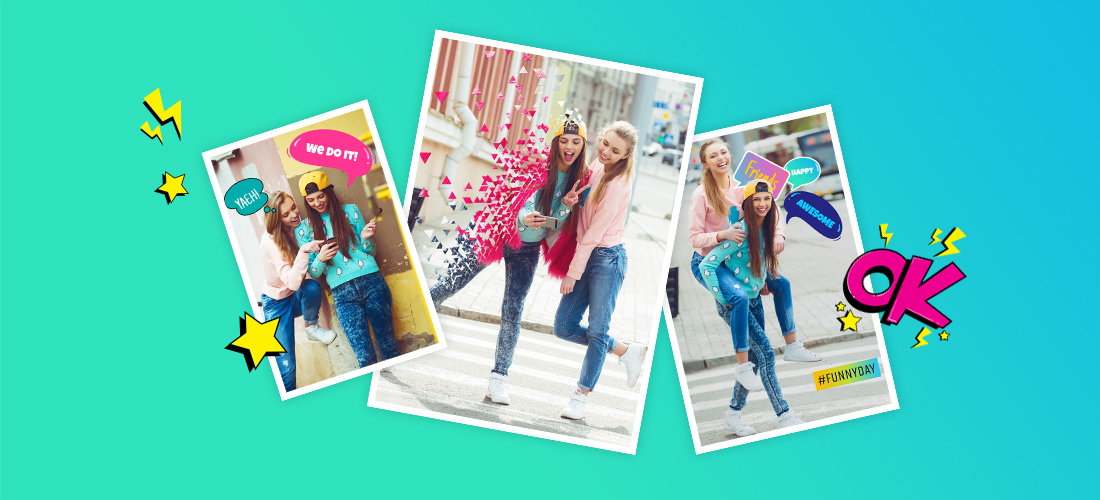 SEE HOW IT'S DONE
There are so many things you can do with PicsArt, and if you don't know where to start, we're here to help! Our easy-to-follow tutorials are a great way to learn the basics and find tons of inspiration.
Learn how to create stunning surreal imagery, add a touch of magic to a plain old portrait, or even give yourself a new hairdo or makeup look. All of it is possible with PicsArt, and we're here to show you how to do it.
PERFECT, TWEAK, AND TRANSFORM
Our photo effects bring your pictures to life. From simple stylized filters to artistic effects, we've got a little bit of everything. Add blur, create an oil painting effect, or swap out colors in a photo. Use the paintbrush to apply or erase effects over certain parts of your picture. Most effects are customizable, so you can get exactly the look you're going for. Best of all, they're super easy to use!
Create jaw-dropping transformations with Magic Effects. Our AI-powered Magic Effects let you instantly create unbelievable works of art with a single touch. Choose from a colorful variety of styles and looks. Create impressionist landscapes inspired by Van Gogh, edgy pop prints or hazy pastel drawings. There are tons of palettes, textures and styles to explore.
Tweak, stretch, crop, flip, rotate and alter your photos until they're picture perfect. This is your toolbox for getting the very best out of every picture. Tinker with light, definition, and color to bring your photos to life with tools like Enhance, Curves and Adjust. Remold your photos like clay with Stretch, erase unwanted objects using Clone, or add motion trails with Motion. Resize your pic, or crop it into a whole new shape. There's no job too big or small for this toolbox.
Your best pictures deserve an awesome frame, and PicsArt has one for every theme, holiday and style you can imagine. Want something super simple? Try adding a border, or using one of our patterned backgrounds in the Square Fit Tool.
Our custom sticker library of over 2 MILLION free stickers is growing every day, so you're always sure to find what you're looking for. And if you can't? It's super easy to use the Cutout Tool to create your own custom sticker and share it with the world.
Take your photos up a notch with PicsArt's amazing variety of Masks. Cover your photo in a haze of bokeh, brighten things up with streaks of colored light, or add a touch of grunge with a texture mask.