The results for the Weekend Art Project- #WAPmyday are in, and the 10 winning collages are visible in our contest gallery. This weekend we asked users to use PicsArt tool to assemble a collage of images captured throughout a single day to provide a window into your daily life and share some images that tell a story about who you are.
A total of 886 images were submitted, each with its own personal touch. Users took vastly different approaches with their collages, focusing on people, places, and activities.
The winning collage was awarded to experienced PicsArtist @pretenderis, who garnered 541 votes for a collage tracking how he spent the day. He selected some beautiful images to stand in for his favorite activities, which include swimming, studying medicine, exercising, and spending time with his friends.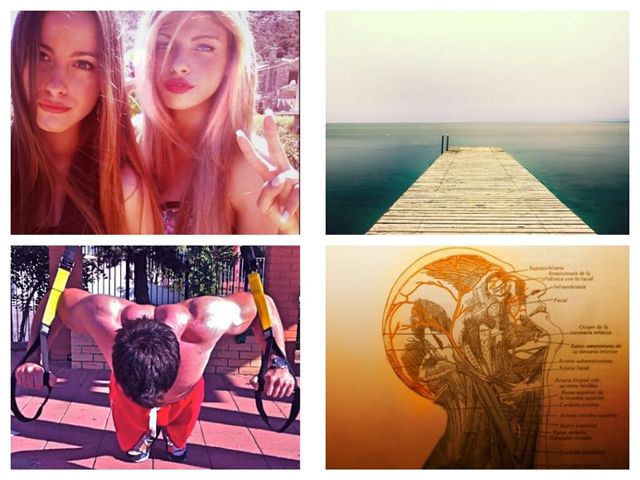 One of the more creative entries was @semmerl's collage, a twist on the WAP assignment documenting the travel's of Emilia the stuffed sheep in Vienna.@semmerl is a relatively new user who joined the PicsArt community a month ago, but Emilia the stuffed sheep is already becoming a celebrity in her own right popping up in various photo collections.This collage features Emilia taking in the sites of the Austrian capital and posing contentedly before palaces and cathedrals, in front of the Wien river and throughout the city's back alleys.
The most unique entry this week belongs to @cmaibar, who created a collage using PicsArt's effects, a chronological series of moments depicting a man signaling to observers to get up and go.
Some collages emphasized loved ones, like the romantic centerpiece of @freddygt's collage depicting a couple locked in a kiss. Users also appreciated how @edina95 presented her daily routine.
Other entries included homages to Ireland (@lizzyloves) and Paris (@uffff), a baby beaming into the camera (@ririezkelana), a young girl dressed and ready for prom (@lmh12).
Another highlight was (@qukay16)'s collage, a collection of self-portraits with beautiful composition. His images capture the warmth of the sun, which contrasts boldly against the deep shadows on his face and surroundings as the collage follows him throughout a semi-urban landscape.
This week had some stunning entries that extended well beyond the winning ten from people of all ages and all around the world, so we strongly encourage people to take a look at some of the entries that didn't make the cut.
Thanks to every one who participated for sharing their unique stories and beautiful work!
Weekend Art Projects, or WAPs, as we call them, are contests announced every Friday to motivate PicsArt users to be creative and competative. The finalists are chosen based on users' votes. Make sure to follow our announcements and take part in our contests!