At just 21 years old, Alex Stoddard is turning heads in the photography world with a portfolio of artistic self-portraits that any experienced photographer would envy. Born in Jacksonville, Florida and raised in Georgia, Alex currently lives in Orange, California. His work has already been exhibited in galleries, auctioned off at large commercial events, published, and lauded industry-wide, but most impressive of all, his photos are just remarkably beautiful. His surreal portraits explore the human form and our relationship with nature, and often take on a whimsical and fantastic feel. We contacted Alex to ask him about his photography.
How did you become a photographer?
I started taking photographs when I was sixteen. I would go back into the woods behind my house and take simple self portraits every now and then, and eventually it escalated into a hobby that I would try to find time for each week. I took it a step further when I started a "365 Project," in which I sought to take a new photograph every day over the course of a year. I posted the images online and slowly developed a following that had grown to tens of thousands by the end of the project. I decided by my graduation from high school that this was something I wanted to devote my life to.
How did growing up in the Deep South influence you as an artist?
I often say that I am a product of my environment, or at least it's true about my development as an artist. I was raised in a very rural part of Georgia, surrounded by beautiful forests and fields. Nature is very important to my work, and I like to emphasize man's place within it, so it was easy to do this when I could just walk out my back door and have that all at my fingertips. I don't know if I would be a photographer if I had been raised in a city, as I don't find that environment inspiring.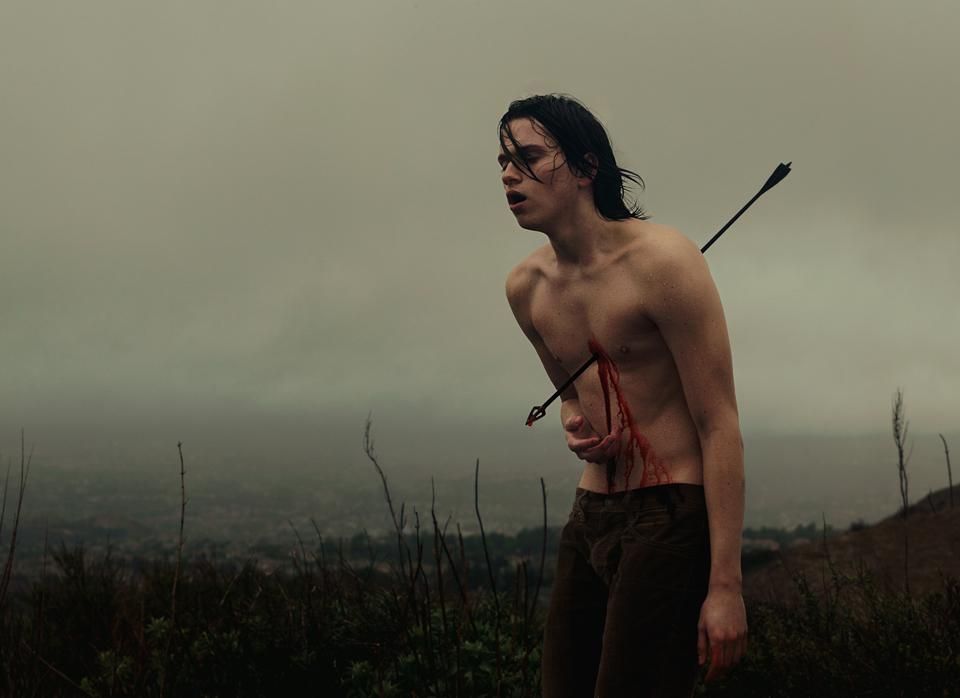 Your photographs have a heavy emphasis on nature and integrating into nature. Can you talk a little bit about why this theme appeals to you?
Nature's beauty and diversity speak for themselves. I don't know anybody alive that can't appreciate some aspect of nature for its beauty. It also has a timelessness that I find appealing.
Have you always been interested by the surreal?
I suppose so. As long as I can remember I have been involved in some kind of art – drawing, writing, whatever – where I would create my own little worlds and characters. Real life just bores me. It's fun to play out fantasies that could never happen in our own reality.
Your portraits of children are interesting because the children are so often faced with terror, headless adults, chasing crows, gas masks, etc. What is the meaning behind this?
It's weird, but I feel like my childhood was the time in my life when I felt most alive… when my emotions were the strongest, and everything felt more vibrant and more dangerous. I think I was just a really sensitive kid, so everything that happened to me felt very strong – especially my fears. So I think it's easy for me to revisit my childhood fears in my photographs, because I can remember my feelings so intensely.
Another interesting theme in your images is the hiding/obstruction of a subject's face. Is this deliberate, and what is its significance in your work?
It's often deliberate, yes. Obscuring the subject's face lends a certain anonymity to the photograph that can often allow the viewer to insert himself into the image and imagine himself as the character. It also takes away the element of recognition of the person for who they are and makes it easier to view the piece as art. It preserves the fantasy.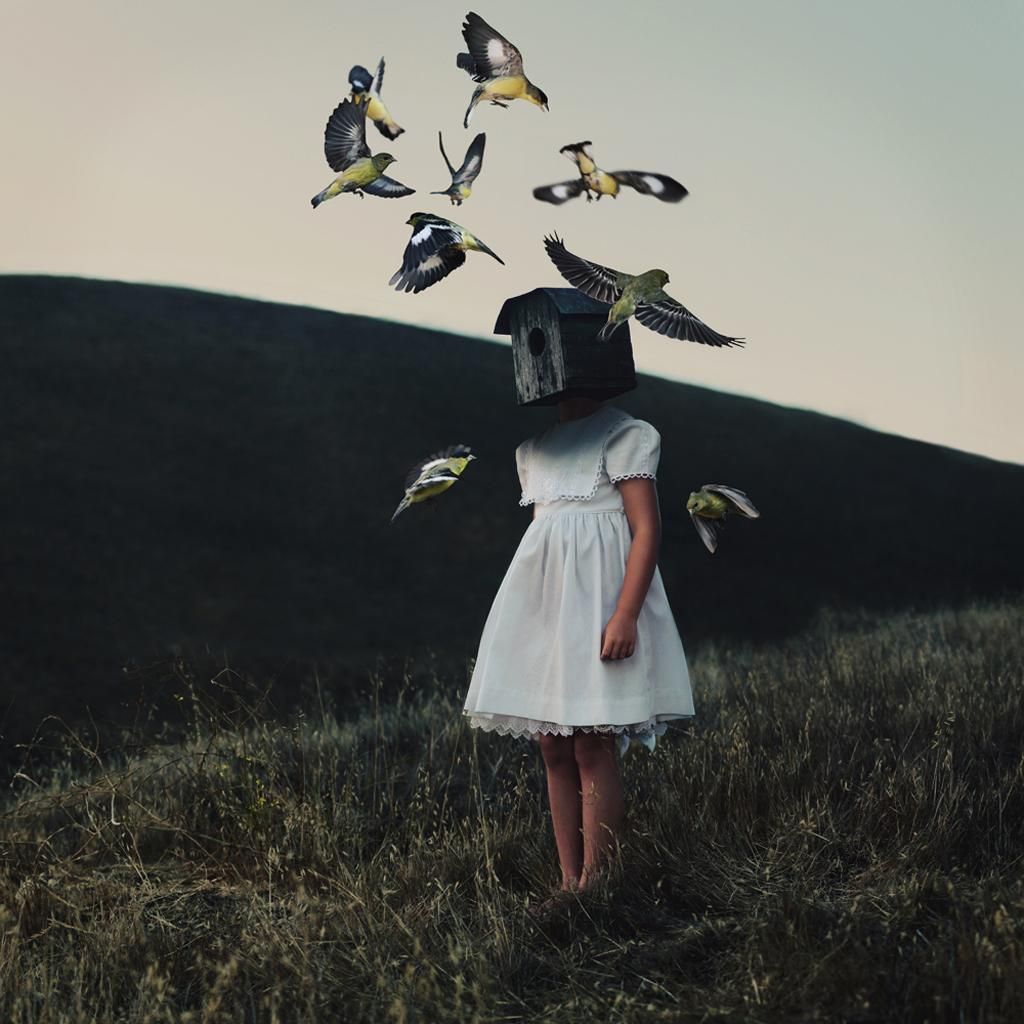 Are your photos shot on location or edited, and do you feel strongly about one preference over the other?
They are almost always shot on location if I can help it. I prefer it this way because it's always going to look more realistic, as the lighting conditions will match up. I worked on a big job recently where it was most practical to shoot everything in a studio because we had to accomplish a dozen different setups in the matter of a few hours. I shot a lot against a green screen that day and had a bit of a challenge making everything match up (subject and background) later in post production. It's just more work.
There is a very theatrical side to your photos as well. When you are shooting, do you direct or act out performances, and if so, how do you decide what you want from a "performance" for a shoot emotionally or physically?
I do direct my subjects or act out the performance if it's a self-portrait. Rarely do I have a subject just standing in place and posing, but rather I have them act out the moments before and the moments after my shutter clicks. It's all about the story that I am trying to tell with the particular image. It's never just the one moment. Often I will go into the shoot knowing exactly what I want emotionally or physically, so it's easy to translate this to my subject by acting it out for them myself before they have a go at it, but sometimes with more experienced posers, I will explain to them the emotion and have them interpret it themselves. That can often lead to a more authentic personal performance from that individual.
What inspires you to create?
Knowing that I have the ability to and that I have endless possibilities before me are all the inspiration I need.
How do you know that you have done something "good" or that you are on the right track with your work?
If I personally respond to a piece emotionally, then I know it's good enough for me.