No matter what you're working on, choosing the perfect color scheme for your next creative project can feel pretty overwhelming. That's right—even if you're a professional designer, it's not always easy to pin down the right aesthetic.
Don't worry, we've got you covered. If you're searching for some much-needed #designinspo, why not keep it simple with a purple palette? Purple combines the passionate energy of red with the calmness of blue, helping you add a serene sense of balance to your designs.
Whether you're designing a luxurious brand logo or curating your Insta feed, it's easy to achieve a dreamy purple aesthetic with Picsart. Let's dive in!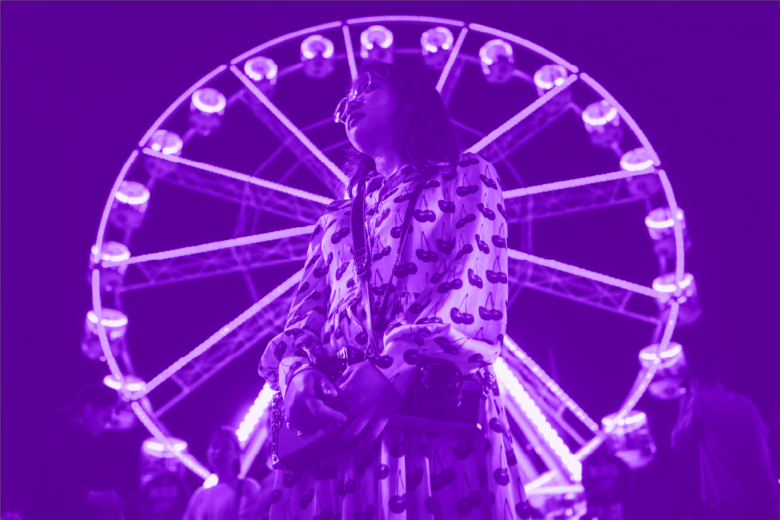 What does the color purple mean?
Purple has a few different meanings. Around the world, countries use\ purple to symbolize honor, courage, royalty, and faith. It's also used as a sign of mourning in a few cultures.
In the world of branding, purple suggests wealth, luxury, and extravagance. At the same time, it conveys fantasy, magic, and spiritualism. So if you're a psychic or creating a more spiritual brand, then purple might be the perfect color for your brand logo.
When it comes to color psychology, purple can heighten your audience's sense of beauty and creativity. Purple calms and stimulates the mind, putting your audience in the right frame of mind for introspection and insight. Purple also creates a harmonious balance of awareness, peace, and relaxation.
Why should you choose a
purple aesthetic
?
Now that you know exactly what purple means, why should you curate a purple aesthetic? Color psychology isn't new—and there's no denying that the connection between color and emotion is strong. Whether you're a small business owner, Instagram influencer, or just switching up your social media feeds, here's why you should choose purple.
Purple exudes luxury
Purple dyes date back to 1900 BC when it required nearly 10,000 shellfish to extract the dye for a Roman toga. With limited resources, the color was strongly associated with the wealthy and powerful. Although it's available to the masses today, purple still carries a deep link with royalty and nobility.
Purple boosts creativity
Purple lies at the far end of the visual spectrum. It's the last color on the rainbow, and many people believe it also exists at the edge of the imagination. Basically, purple represents thinking outside of the box—even if that means diving into a fantasy world.
Purple symbolizes spirituality
Given the scarcity of purple in the natural world, it also represents spirituality. Purple often appears in religion, symbolizing peace, wisdom, redemption, and purification across different belief systems.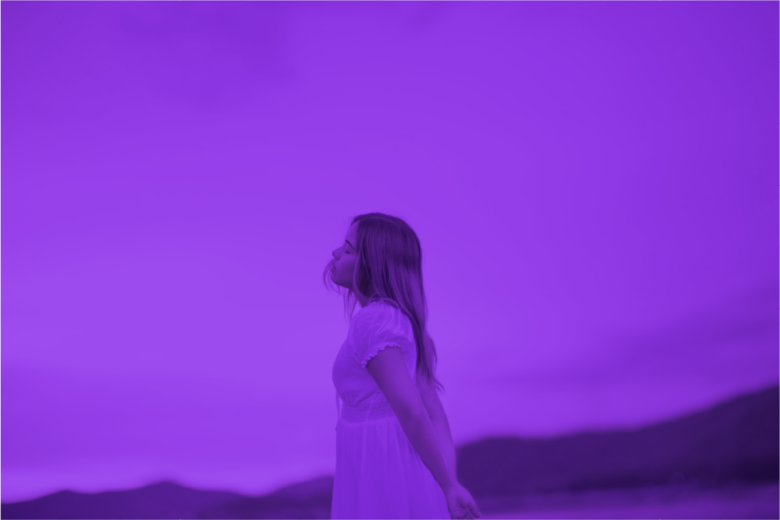 3 ways to add a
purple effe
ct on photos
Congratulations! You've decided on a purple color scheme for your next creative project. Now that you have some ideas flowing, it's time to add gorgeous purple effects on photos to amplify your designs to your audience. Here's how to get started.
Send the right message with purple typography
Whether you're designing a social media post or upgrading your freelancer portfolio, color matters. You already know that color is a language in itself. So, it only makes sense that the color scheme you choose for your creative designs can trigger some strong emotional responses.
Color psychology can change your audience's perception of your business, make them stop scrolling, or even lure them to click the Buy button. For the best results, create color contrast by positioning light against dark. For example, if you're going with a dark purple background, add some soft purple text to create visual harmony.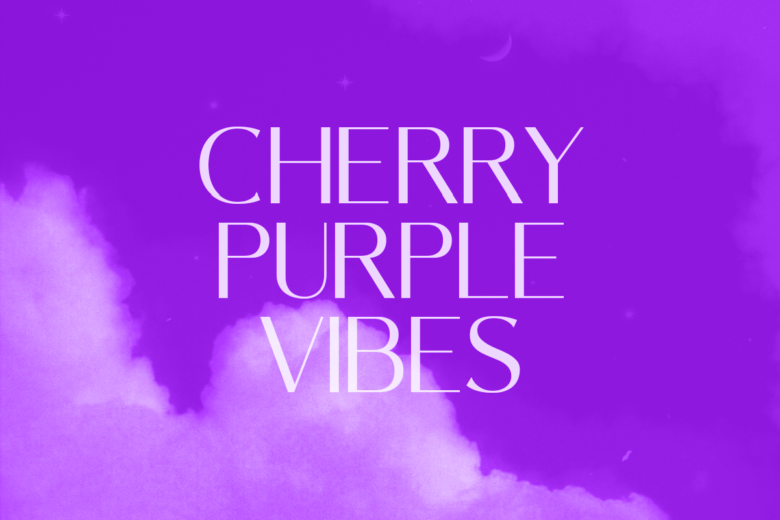 Flex your creative muscles with purple drawings
If you want to add some subtle touches of purple to your designs, the Color Splash effect will be your best friend. Color splashes are a simple way to make your designs even more artistic and eye-catching. And if you're editing black-and-white photography, color splash can instantly infuse your favorite shots with a pop of color.
The best part? Adding purple splashes to your pictures only takes a few taps. Once you've started your project on the Picsart app, just choose Effect and select Color Splash from the pop-up menu. Then, choose the Color Replace option and drag the transparent wheel over the color you want to replace with purple. Adjust the color sliders to match your creative vision, and you're good to go!
Tap into the soft purple aesthetic with a dreamy palette
From playful soft purple hues to spiritual deep purples, you can use purple to create a beautiful monochromatic palette. The only rule to building a monochromatic color palette is to only stick to one hue, but use different intensities to spice up your design. 
If you want to create your own soft purple palette, try using the Color Palette Generator to create a unique color scheme. If you're using a picture for inspiration, just upload the picture to generate your own purple palette! Or, you can choose Create a Color Palette to create a luxurious palette using HEX codes.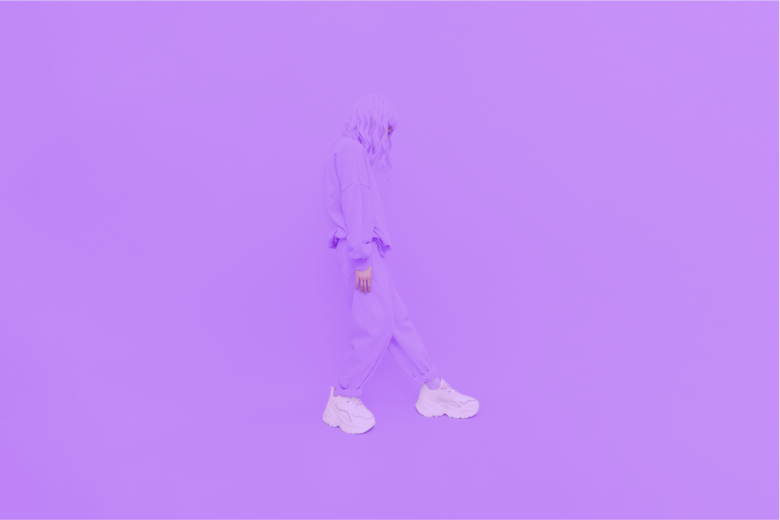 You don't just have to stick to purple, either. You can switch it up with some different colors, like pinks, blues, and reds. For bonus points, try incorporating some trending colors, like periwinkle, to step up your design. The creative possibilities are limitless!
Pro tip: If you're already using the color yellow in your branding materials, purple is the perfect compliment to bright yellow hues. Since they're opposite each other on the color wheel, combining purple and yellow is a surefire way to capture your audience's attention.
How to make a picture purple
with Picsart
Want to strike an emotional chord with your audience? Try including purple on a webpage to highlight your brand's femininity, or add some subtle touches of purple to your next Instagram post for a hint of mystery. You can even incorporate purple into your next product launch to make your customers feel like nobility!
At the end of the day, you just need a little creativity (and color psychology expertise) to transform your designs with photo effects. And with our photo editing tools, you don't even need any design experience to curate a dreamy purple aesthetic.
Ready to take your designs to the next level? Here's how to create purple pictures with Picsart.
On the web:
Open the Picsart Photo Editor

and start a new project. Then, click

Uploads

to upload your design.

Click

Effects

on the top panel toolbar. Next, scroll down to the

Colors

category and double-click the

Colorize

filter.

After you click

Colorize

, two sliders should pop up. Adjust the

Hue

slider until you find the perfect shade of purple. Generally, you'll find purple hues between 215 and 250.

Experiment with the

Fade

slider to adjust the filter's opacity. Try playing around with different blending modes to infuse your design with creativity!

When you're satisfied with your design, click

Export

in the top right corner to save it.
On mobile:
Open the Picsart app

and tap on the plus sign (+) to start a new project. Under

Photos

, tap

All Photos

to upload your design.

Next, tap

Effects

. Scroll through the bottom panel toolbar to the

Colors

category and double-tap the

Colorize

filter.

After you tap

Colorize

, two sliders should pop up. Adjust the

Hue

slider until you reach the perfect shade of purple. Generally, you'll find purple hues between 215 and 250.

Experiment with the

Fade

slider to adjust the filter's opacity. If you need some extra flair, try playing around with different blending modes! When you're finished, tap

Apply

to save your changes.

When you're satisfied with your design, tap

Next

. Then, choose

Save

and

Share

your edit.
Create at the Speed of Culture
Picsart is a full ecosystem of free-to-use content, powerful tools, and creator inspiration. With a billion downloads and more than 150 million monthly active creators, Picsart is the world's largest creative platform. Picsart has collaborated with major artists and brands like BLACKPINK, Taylor Swift, the Jonas Brothers, Lizzo, Ariana Grande, Jennifer Lopez, One Direction, Sanrio: Hello Kitty, Warner Bros. Entertainment, iHeartMedia, Condé Nast, and more. Download the app or start editing on web today to enhance your photos and videos with thousands of quick and easy editing tools, trendy filters, fun stickers, and brilliant backgrounds. Unleash your creativity and upgrade to Gold for premium perks!