Fourth of July 2017 is right around the corner, and we couldn't be more excited. The BBQ, the bonfires, and of course, the fireworks… What's not to love?
Whatever you plan on doing this 4th of July weekend, we know you'll be snapping tons of pics. So we've stocked up the PicsArt store with Fourth of July clipart, stickers, photo collage templates and frames to help you take your 4th of July images to the next level.
And if you'd like to try out some 4th of July makeup, we've got you covered. In this easy photo editing tutorial, we'll show you how to fake a festive look using stickers (don't worry, it's way easier than using actual makeup). So grab a pic and get ready to get your red, white and blue on!
Download PicsArt photo editor and collage maker for iOS, Android, or Windows.

Open your background picture in the photo editor and tap on "Add-Ons."

Download the Patriotic Glitter and American Makeup 

stickers

. Tap on "Use" and choose one of the makeup

stickers

.

Place the sticker on your photo and switch to the Lighten blending mode. Tap on the eraser at the top of the screen and erase any parts of the sticker you'd like to remove. Tap on the check mark to confirm.

Tap on the plus sign at the top of the screen and select "Sticker." Chose the flag sticker from the Patriotic Glitter pack.

Lower the opacity a little and switch to the Overlay blending mode. Erase the edges of it so it looks like it's reflected in the eye.

Tap on "Apply" to confirm, then tap on the arrow in the top right corner to finish. Save your edit and share it on PicsArt with the hashtag #AmericanMakeup!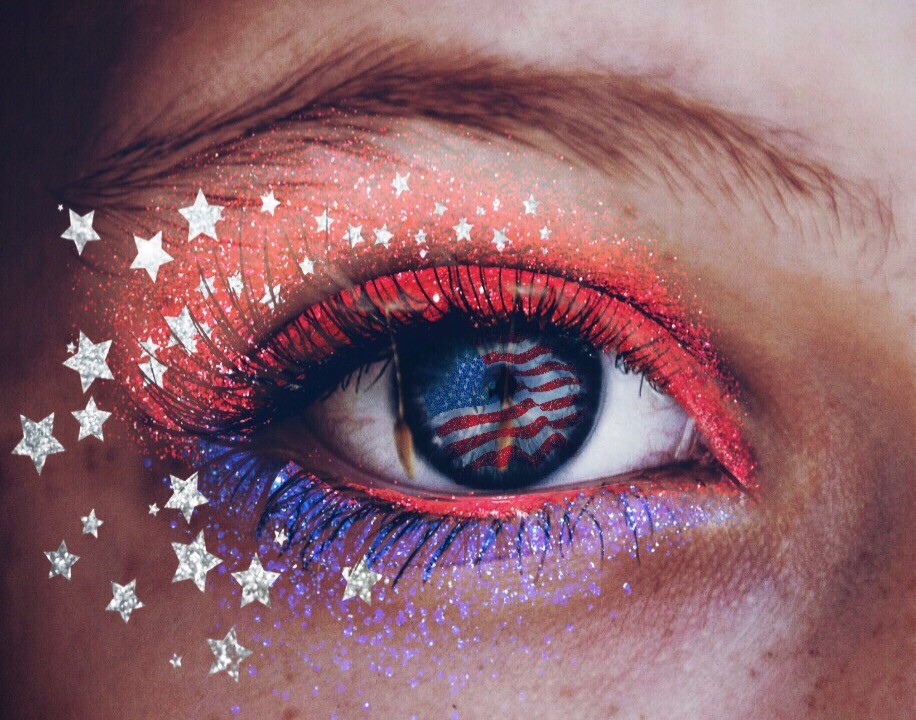 via PicsArt
Psssst! The American Makeup stickers pack also has Fourth of July nail designs, so check out our nail art tutorial if you'd like to learn more about how to use it. Also check out the PicsArt store for tons more Fourth of July clipart, photo collage templates, frames, stickers and quotes!
PicsArt photo editor, collage maker and sticker maker is all about you. If you haven't tried it, you're missing out! Remix free-to-edit pictures into awesome collages and memes. Download the app to get in on the action.