Frank Herfort is a German-born, award-winning photographer based in both Berlin and Moscow. His work focuses centrally on exploring the contrasts and contradictions of life in contemporary Russia. His photography is often highly conceptual and spans many themes which explore the concepts of time, wealth, power, and the inner psyche of their subjects. Herfort's photography includes artistically staged work as well as documentary work and reportage. He has published a book of photographs entitled Imperial Pomp, featuring photos post- soviet high-rises, and what he asserts is their markedly pompous architectural style.
His clients span the advertising, editorial and construction industries, including such names as Audi, Adidas, Exxon Mobil and Aeroflot. Frank has won awards for both his artistic and commercial photography, and his art is represented in galleries throughout the world.
We interviewed Frank to ask him about his life, work, experiences and insights.

How did you first get into photography?
At the age of 13, I saw a photo exhibition of art students in Leipzig, Germany where I realized that photography was not only shooting snapshots of family and friends, and I became really interested in the perspective and attitude of making images.
You do a lot of conceptual photography where you stage scenes, what started you on staging conceptual photographs?
I combine staged photography with real situations. I don't like images, where you see at first glance that the image is staged. I love to find this special magic thing in the image, which you cannot explain. But I also don't like photographs that are pure reportage, because there is not enough personality inside. Mixing your personality and the real world in combination is what is most interesting for me.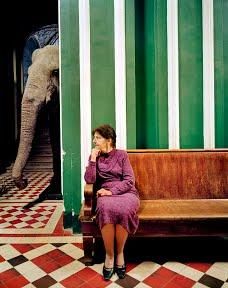 You have a wonderful gallery titled "Time in Between", surreal staged photographs of moments that seem without beginning or end. Why did you pursue this particular project?
I got this idea already by the year 2000, when I first visited Russia, but I realized this project only in 2005 as I was finishing my diploma project for my university. I was fascinated by these real-life situations[of people waiting] in the public spaces of Moscow. They were hard for me to understand, there was something strange and mysterious for me. So I tried to express exactly that feeling which I had felt.
By the way these images are only minimally staged.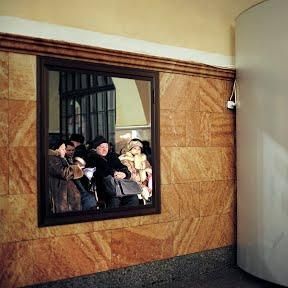 You use a lot of juxtaposition in your photographs, meaning capturing two contradictory subjects in the same image, often putting the lighter side of life next to the dark. Why the juxtaposition?
I love these contrasts and I think that life is pretty similar. You never only have good things and you never only have bad things. Everything plays together. I also like to confuse people, because then you make them start thinking.
You also have a great gallery called Imperial Pomp, where you traveled all across Russia to photograph garish post-soviet architecture. Were there any surprises traveling to these far corners of Russia and if so, is there a particular moment that stands out?
In general I felt very safe and confident travelling through Russia, I speak the language and know how to react in certain situations. But only one time, it was a sunny friendly day in the city Samara, and I was robbed by a taxi gang before I even had much time to react. They forced me to take money out from the atm. It was really scary and I was shocked for the whole day but also happy to have survived.
But in general, Russians are very easy-going, relaxed and nonaggressive.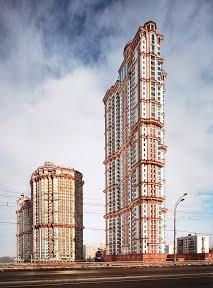 You did a series on Hostess Girls. What led you to this particular project?
This was a short and spontaneous project and it was done in Germany, not in Russia where you may expect it to have been done. I just loved to see these colorful plastic "uniforms" on the girls.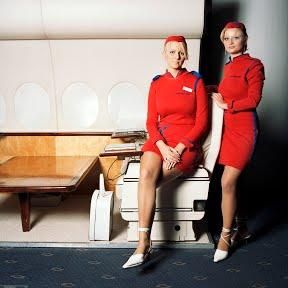 You have also done your share of commercial photography. What is the biggest difference between the experience of shooting a private project versus a commercial one?
Actually this is really a good question and these two fields are completely different. With the one you earn your money and with the other one you do your passion. The commercial work is clear and forward and has a special purpose or function, but the artwork is free from everything. There is no practical reason to do it.
What is your favorite project that you have worked on?
I love all projects I work on, from everyone you get something new.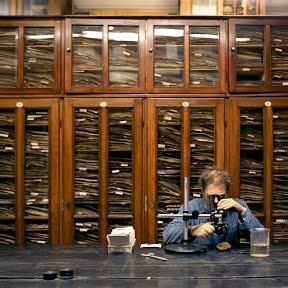 Are there any specific projects you are especially eager to shoot in the future, that you haven't already?
Yes, there is big book project which I just started researching and collecting material for, and one other smaller one which I'll realize within the next year in Germany.
If you could give 3 pieces of advice for beginners who want to become great photographers, what would they be?
1 . Follow your instincts and real interests
2. Don't waste too much time on your equipment choice (it doesn't matter if you use the 80 MP camera with state of the art lenses or just a self made pinhole camera).
3. Just start (and try to finish), but still remember to be patient.
 Lean more about Frank Herfort at http://www.frankherfort.de/