For most of us, fashion comes to us through ad billboards, storefronts, and magazine posters. The industries edgiest and most imaginative trends tend to sneak into the background of our lives, unless you are an enthusiast in which case you may have the added insight of blogs and reality shows.
For those who are in deep, however, the source of first contact with the latest clothing designs is the runway, and that's what fashion week is. This is the grand-opening, red carpet event where designers release their finished work to the world for the first time. As one would expect with any grand opening, the work that goes into getting it right is often a chaotic labor love that comes right down to the wire.
Daniel Boud has been on the inside of many fashion weeks, out front and backstage. He is a photographer, based in Sydney, Australia. His work is diverse and has covered everything from music to travel, but each year he returns to fashion, shooting for designers and their publicists.
We asked Daniel what it's like shooting Australian fashion week.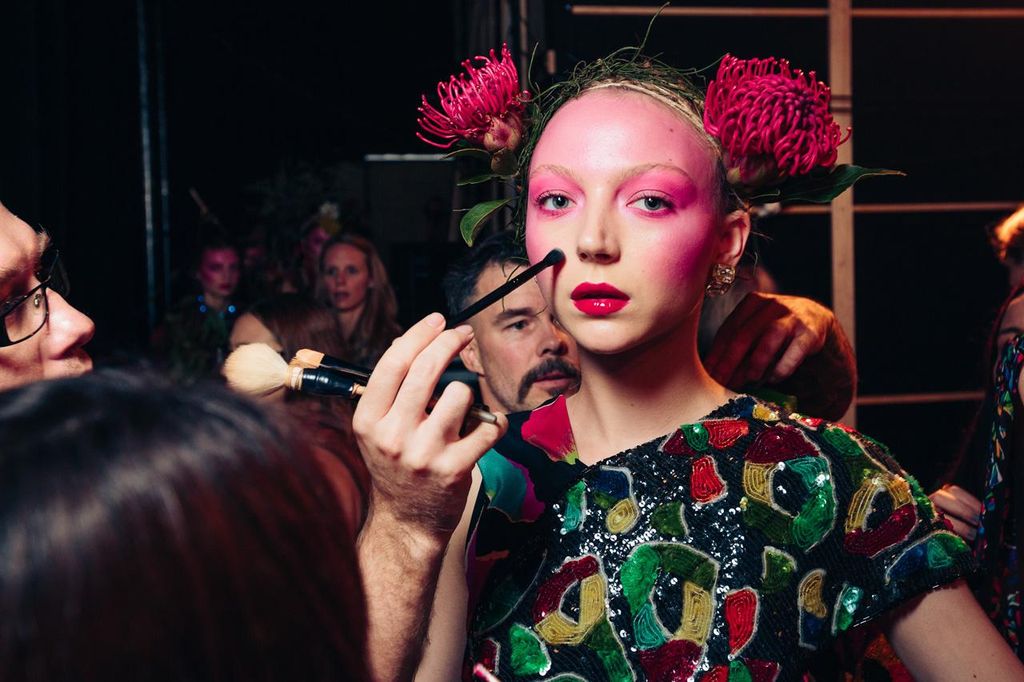 For those who don't know, what is Fashion Week in a nutshell?
It's essentially a trade show for the fashion industry – where fashion designers exhibit their new collections to an audience of fashion buyers, media and influencers.
How did you get involved in Fashion Week?
My first taste of shooting fashion week was back in 2007 when I was asked to shoot some backstage pictures for Dazed and Confused magazine. I used to shoot more nightlife photography back then and I think they asked me because I knew how to shoot in chaotic and unpredictable environments plus I was young and eager to please.
Since then I've shot several shows backstage every year, usually directly for the designers or their publicists. It's the best job because I get great access backstage shooting behind the scenes, not in the scrum of photographers on the runway who are all shooting much the same shots.
You are a photographer who has penetrated a diverse variety of worlds, including music, travel, and all kinds of other niches. What stands out and makes Fashion photography unique?
Two things stand out for me.
One, it's the most collaborative of photographic genres. Most photography I do is simply about me and the subject – but in fashion photography you're only as good as your team; the model, the stylist, the make up artist, the hair stylist, the fashion designer. Each person plays a very important role in the final image.
Two, shooting models is so much easier than shooting 'normal' people. I come from a background of shooting people who usually are very uncomfortable having their photo taken. Most times I really have to cajole people into loosening up for the camera. Whereas models make my job a dream – they've practiced for hours to work out their best angles, they'll keep giving you different variations of a pose and they're not precious about how they pose or what they wear.
The behind the scenes images are fantastic. What was the experience like of being "backstage"?
It's very chaotic, there's a lot of pressure for the models to get their hair, makeup, outfits and accessories ready in time to walk the runway. And although the designers want me backstage capturing it all, the producer of the show is often super stressed and can sometimes snap if they feel the photography is distracting the models from their job to get prepared and in line for the show.
But there's usually a great camaraderie, by midweek everyone's operating on adrenalin with little sleep. And it's a dream to shoot with the best models, designers, hair and makeup artists around.
What was the most memorable moment from this experience for you?
Lately i've started to set up a backstage studio to shoot the models final looks before they hit the catwalk. That's a great privilege because i get to light it properly and direct the talent. The main fashion label i've shot for a number of years is Romance Was Born and their designs and the teams they work with are incredible; so colourful, theatrical and fun.
Did you learn anything new from shooting Fashion Week?
I've learned a lot about how to light things in a mobile way. Because there's little time and little space you can't afford to come in with a big lighting rig. So i've worked out some nifty solutions with my Canon speedlites, modifiers and pocket wizards.
And relatedly, I've learned to look for interesting light or backgrounds, and in moments of downtime asked a model to move into the best position, rather than just rely on the space they're in.