Finding that special person in life is a beautiful thing that should be honored and celebrated. Couples photography is the perfect way to capture your unique bond and a fun way to look back on cherished memories. In this article, we'll cover tips for adopting the best couple poses, and show you how easy it is to edit the images afterwards.
Ready? Grab your partner and prepare to make some magic.
Tips For Taking The Best Couples Poses
Couples photography is all about telling the story of your love. Before you dive too deep into researching couple poses or photoshoot preparation tips, it's important to decide what story you want to tell through your photos. Once you've done that, it's time to work out the details.
Things You'll Need
Photography Equipment
Don't want to bother with equipment? Hire a professional photographer. If you're going for a selfie couple shoot on a budget, however, you can use a modest camera or even place your smartphone on a tripod. Most smartphones can take wide-angle and close-up shots. They even have a special mode for portrait photography. Also consider a light kit, reflector, or umbrella.
Posing Guide
Couple poses for selfie photography tend to be different from engagement shoots or wedding couple poses, so you'll want to have ideas ready. Although some of the best poses are created in candid moments, many couples find it helpful to bring along a guide with tips, or examples for backup inspiration.
Photographer or Crew
Whether you're hiring a professional photographer, having a loved one help out, or going the selfie route, someone ultimately gets to have the honor of snapping the shots. Plan ahead so the day of the photoshoot goes smoothly.
Location
Choose a special place that is meaningful to you and your partner. We recommend visiting the location beforehand if possible, so that you can scout the area, form an on-site backup plan should the weather shift, and get inspired by the scenery.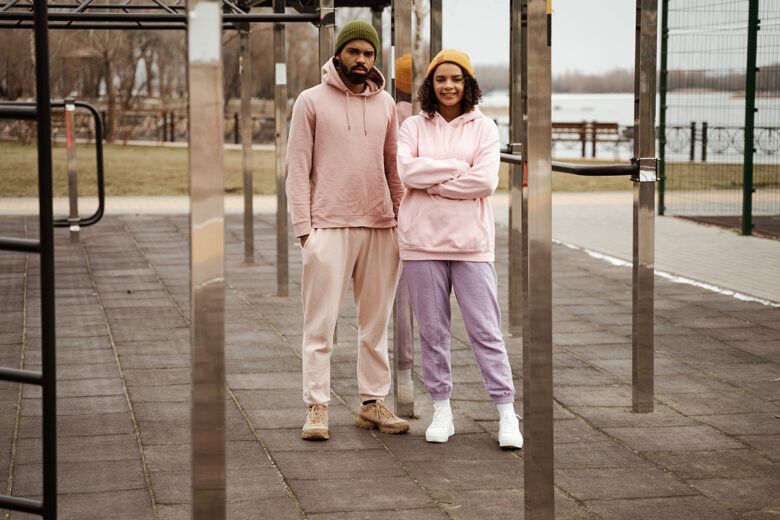 Props
Pack any props you think could help you tell your love story. Most locations have natural backdrops and props you can work with, such as rocks, branches, leaves, benches, skylines, bridges, or monuments.
A Photo Editing Tool
Photo editing platforms, such as Picsart, make transforming images a breeze and help your images stand out from the crowd.
How to Prepare
Research
Do some quick research ahead of time on the various poses you'd like to try out. It's also a good idea to check the weather forecast and study your location if you're doing an outdoor photoshoot.
Dress Rehearsal
Pick your outfits and try them out ahead of time so you can relax as the day approaches.
Have A Plan
Plan out your day based on the weather, timing (golden hour works wonders), and make a backup plan in case conditions change.
Practice Poses
Whether you'll be cuddling, lying down, trying a piggyback shot, or doing a classic pose, you'll definitely want to practice in front of a camera or a mirror before your session.
Relax And Reconnect
Schedule in some time to relax and soak in the moment before and after your couple shoot. This is what it's really all about.
11 Top Couple Poses Ideas 
Whether you're a pair of lovebirds looking to get inspired or a photographer brainstorming ideas for photoshoots, we've got you covered.
Funny Couple Poses 
Are you a couple that loves to laugh and entertain? Funny couple poses might be for you.
1) Fly Away With Me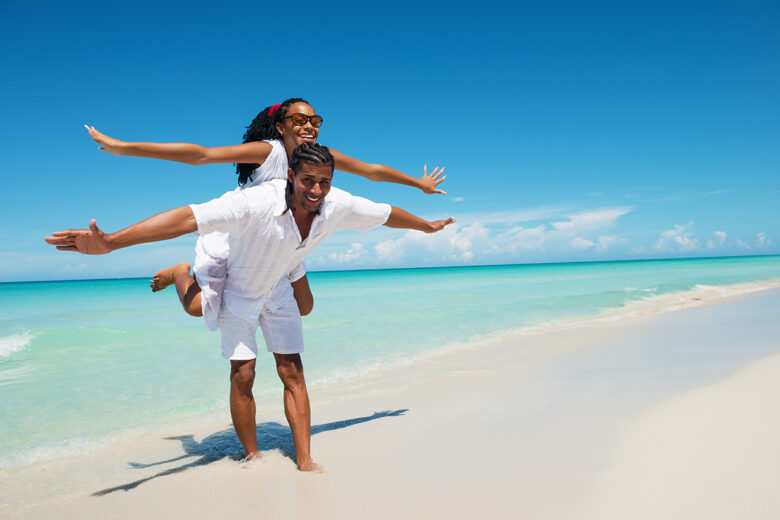 Being in love can make you feel like a kid again, so why not add fun and play into your couple photoshoot? This is a great way of showing how pure and special your partnership is, and a neat way of ensuring both of you feel relaxed and carefree enough to pose for the camera.
2) Plant A Seed, Grow Together
Relationships are like most plants – they start out as a seedling and must be properly nurtured in order to grow. If you love playing with themes and costumes, pick out some funny couple poses that help you express yourself and get you and your loved ones laughing.
Couple Poses For Selfie 
No extra hands to help you out? No problem. Ultimately, all it really takes is one hand to capture some great couple poses for selfie photoshoots.
3) Take Me By The Hand
You may have seen the trend on social media where a couple is holding hands directly in front of the camera while walking away from the camera into the background scenery. This is a perfect idea to add to your list of selfie poses.
4) See Things Differently
Drawn to the idea, but wondering how to make your photos stand out? Try adding your own special twist to a classic by choosing a unique theme, location, subject, or prop that helps define you as a couple. Get creative with how you interact with your environment.
Romantic Poses
If you're more of a romantic, go ahead and let yourself get lost in a sea of warm feelings as you get inspired by these beautiful couple photoshoot poses.
5) Snuggle Up With Your Ride Or Die
Did you and your partner have a romantic first date that you wish could have lasted an eternity? Recreate the moment with a photo session that sets the scene and brings back the romance so you can capture it for good this time. Whether you chose a fancy night on the town for your first date or simply cuddling under the stars having a picnic in a truck bed, we're willing to bet there was just something about that night worth reliving.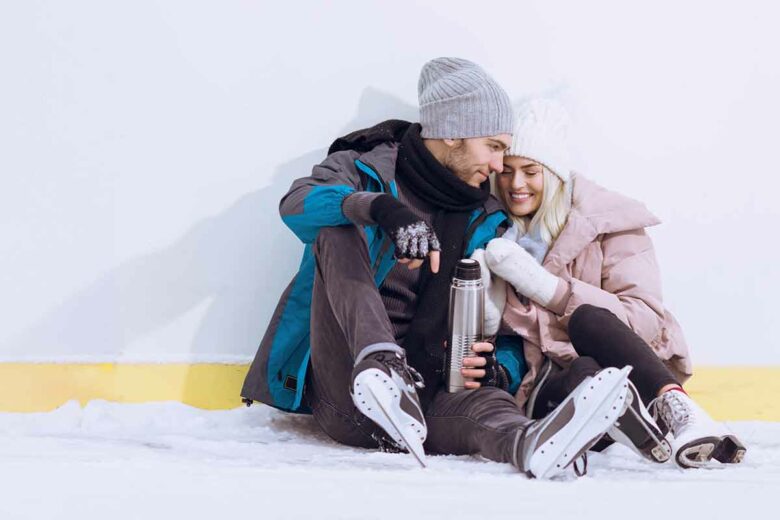 6) Fulfill A Fantasy
Were you always a romantic who dreamed of being swept off your feet? Well, now is your chance to make your dreams come true and capture the moment forever. Whether you feel a rush of emotion when your partner lifts you up high in a Christmas-y winter wonderland photoshoot or you get that same feeling with a piggyback ride, go for it. There's no wrong way to feel in love.
Wedding Couple Poses
Tying the knot? Here are a couple of our favorite engagement shoot and wedding couple poses.
7) Capture the dance
Ready for one of our favorite photography tips? When it comes to wedding photography, few things can out-shine a beautiful session at golden hour to create that gorgeous backlighting halo effect. So take inspiration from this couple and get lost in the moment with a slow dance, a forehead kiss, or simply walking side by side into the sunset holding hands.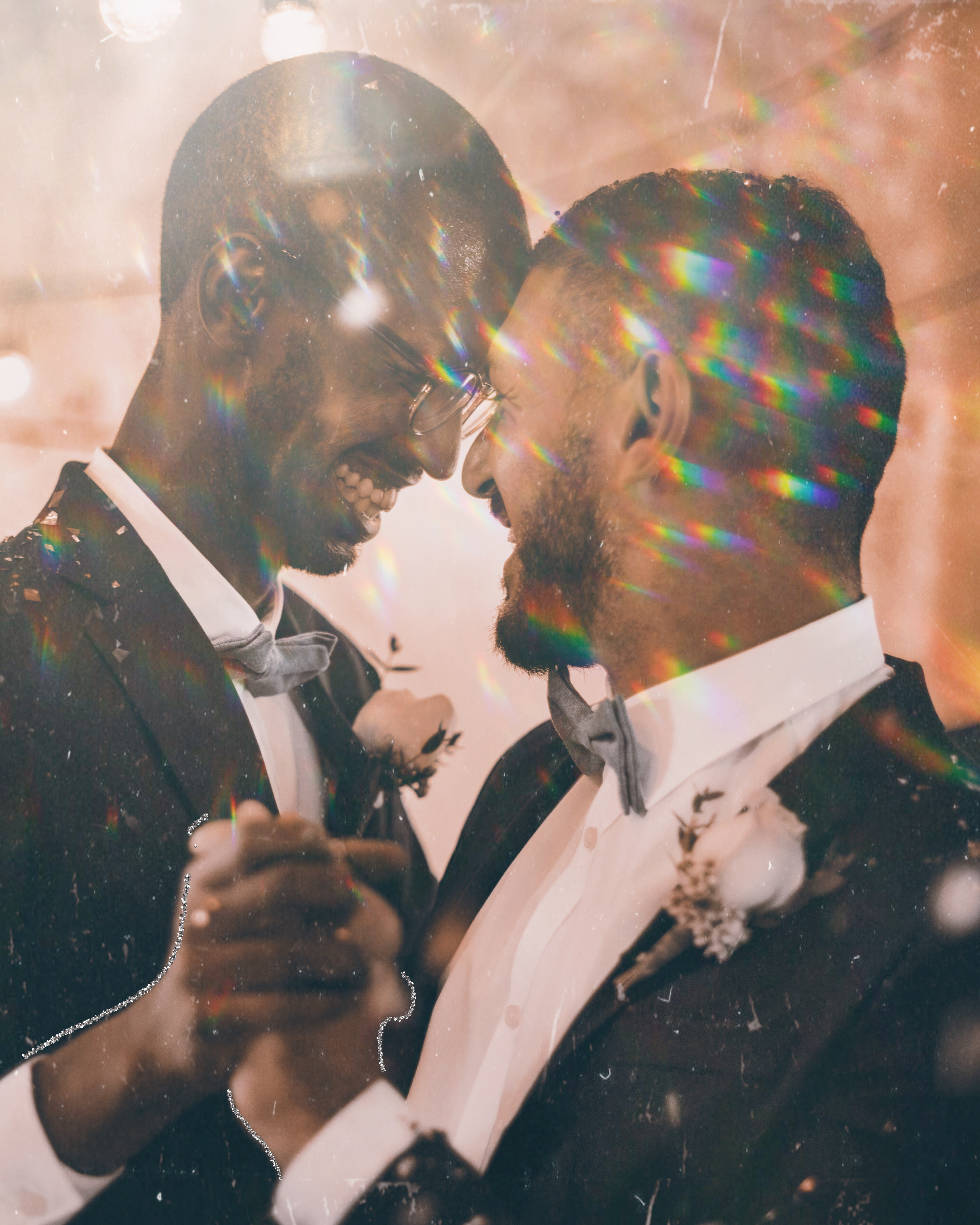 8) Marry The Family
As the saying goes, in many cases you don't just marry your partner — you marry their entire family. Wedding photos can be a wonderful way to capture the moment that your two families officially merge and become one. Let your wedding photographer know you'd like to try this pose ahead of time so that they can prepare the equipment. Someday you'll be able to look back at all the faces of the people you love who came to witness your special day, and you'll be so glad you captured the moment.
9) Add An Element Of Surprise
Engagement photos and wedding photos both provide a wonderful opportunity to add an element of surprise. What could your partner be hiding behind their back? A bouquet? A love letter? A ring? Until the surprise is revealed, it will remain a secret between your partner and the wedding photographer. And the audience, of course.
Posing With Your Passions
Your passions are a part of you. Bring them along for the ride.
10) Nah-Ma-Stay In My Element
Do you and your partner share a passion so deep that you just get lost in each other's souls and forget the rest of the world? To that we say just stay in your element and do your thing. A great professional photographer can help make a couple feel free to let loose and shine their true and unique light like this couple who bond over a love of the great outdoors.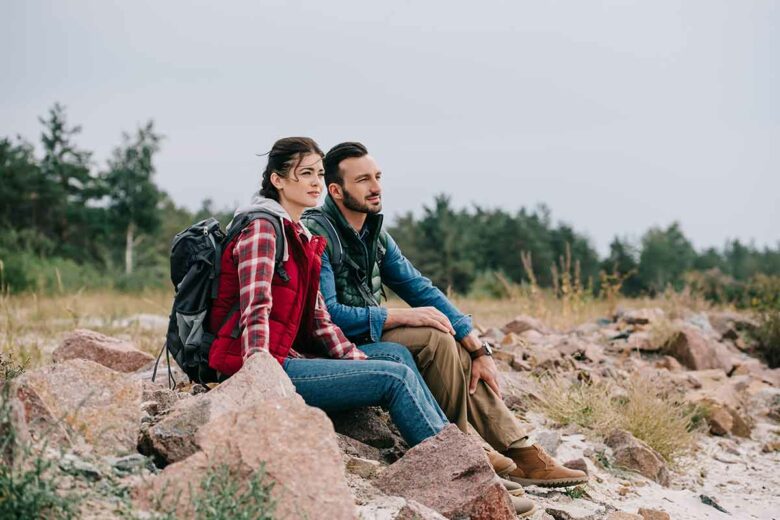 11) Dare To Be Different
Do you and your partner love to express yourself in unique and artistic ways? Dare to be different and let your creative personalities shine. Head over to Picsart to get inspired by even more colorful and magical creations.
How To Edit Couple Portraits 
Ready to make your couple photos even more amazing? Follow this step-by-step tutorial and let your imagination run wild.
1) Start by opening up the Picsart web editor and clicking on New Project.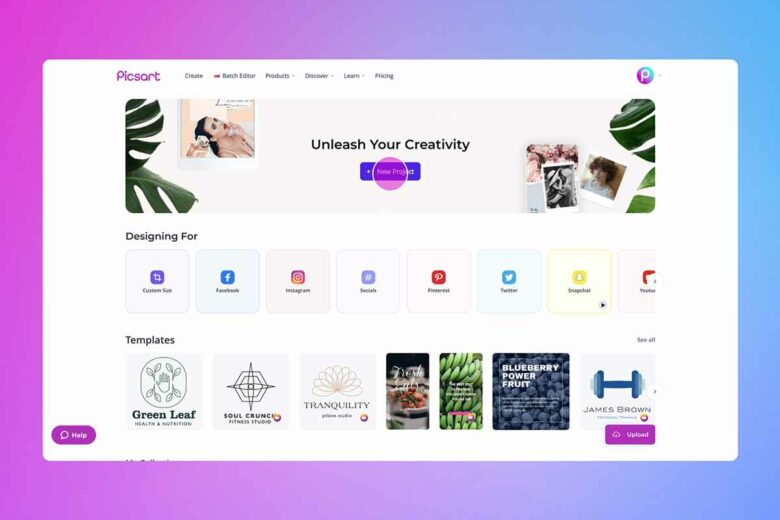 2) Click the Upload button and select a photo from your computer.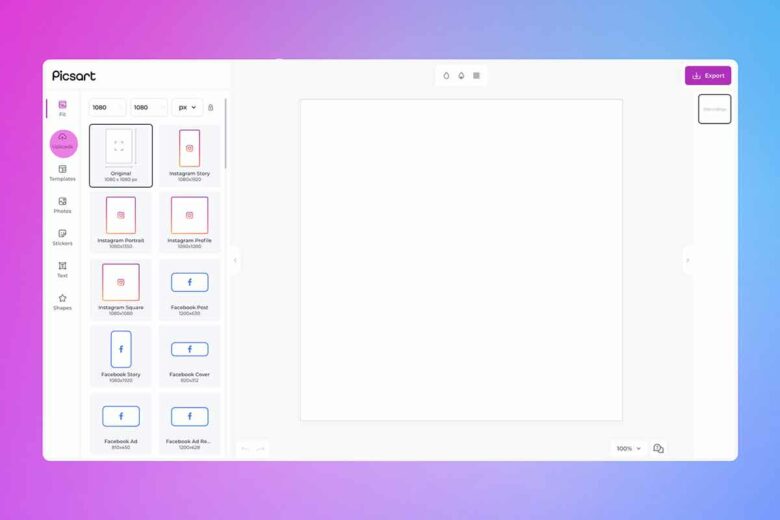 3) Select Effects (fx) from the main navigation bar to pull up a menu of effects categories. Explore filters such as Flora, Pastel, White Ice, or Galaxy under the Magic Effects category, or Stenciler filters under the Paper Effects category, or Cartoonizer and Watercolor filters under the Artistic Effects category. You can even apply the Change Sky effect to completely swap out the background for fantasy-themed photos. Check out this quick article for more tips on how to edit photos like a pro.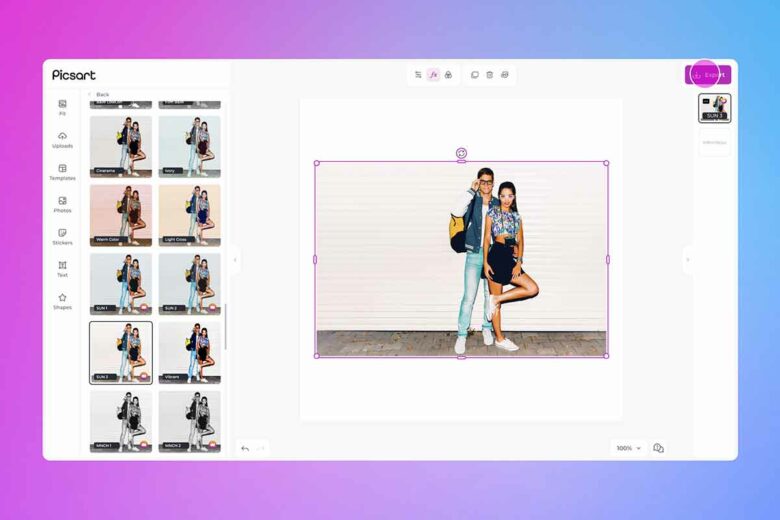 4) Adjust the colors using the Colors feature. Change the lighting usings Light Filters and blur your background using the Blur effect. To create instant bokeh, select Bokeh from the Mask menu. Use the Brushes tool to decorate your image with elegant patterns, such as a delicate garland of flowers or glowing firefly lights. To add text, tap Text in the main menu bar of the web editor. Not sure what you're looking for? Check out this great article on how to choose a font. After adding your text, use the Text Editor menu to adjust custom effects. Tap Apply if applicable to save changes.
If you would prefer to edit images from your smartphone's camera roll, the Picsart app is the best way to go. Let's detail those steps.
1) Tap the purple + button to start a project.
2) Add Photo from the main menu bar to access your camera and import a specific photo.
3) Tap on Effects to bring up a selection of options and choose the one that fits your image best.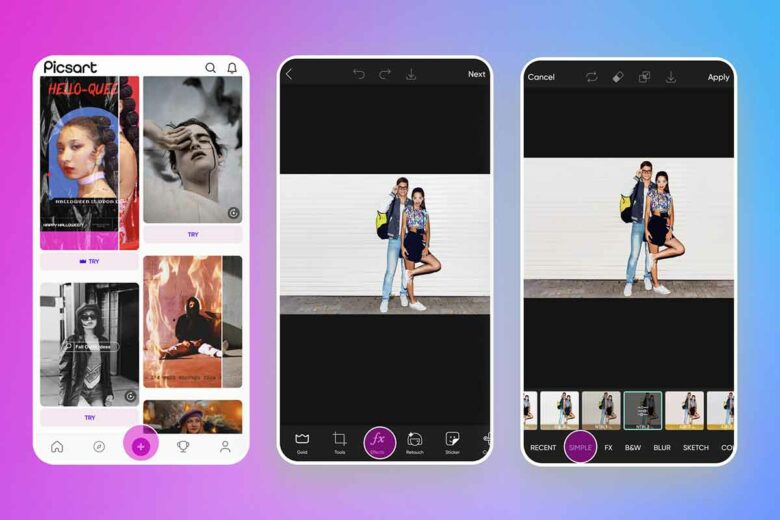 4) Adjust the levels of the Effect to make it feint or strong, tweaking things like saturation and fade.
5) Tap on Next when you're done, to save final edit to your phone, or share it with the Picsart community.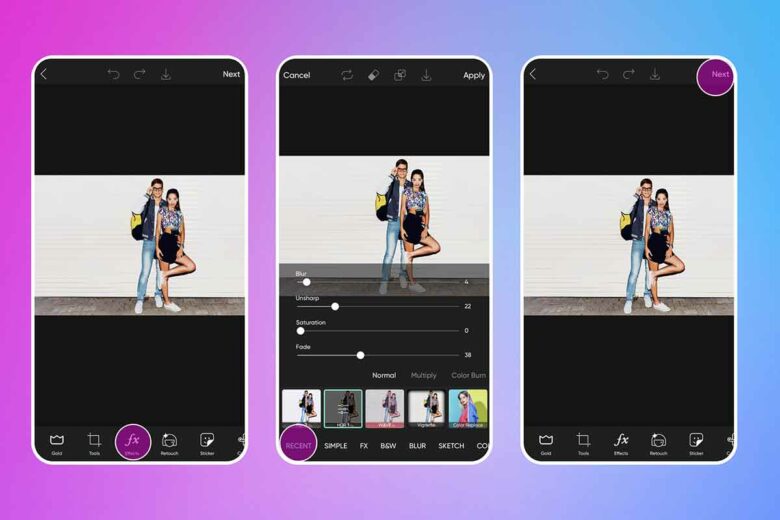 Picsart is a full ecosystem of free-to-use content, powerful tools, and creator inspiration. With a billion downloads and more than 150 million monthly active creators, Picsart is the world's largest creative platform. Picsart has collaborated with major artists and brands like BLACKPINK, the Jonas Brothers, Lizzo, Sanrio: Hello Kitty, I am a Voter, Bebe Rexha, Maroon 5, One Direction, Warner Bros. Entertainment, iHeartMedia, Condé Nast, and more. Download the app or start editing on web today to enhance your photos and videos with thousands of quick and easy editing tools, trendy filters, fun stickers, and brilliant backgrounds. Unleash your creativity and upgrade to Gold for premium perks!