Last month, you submitted your edited images to the "Haiti is Love" challenge. We sat down with Loan Chabanol, the inspirational artist behind the challenge, to hear her thoughts on art, collage, and self-expression.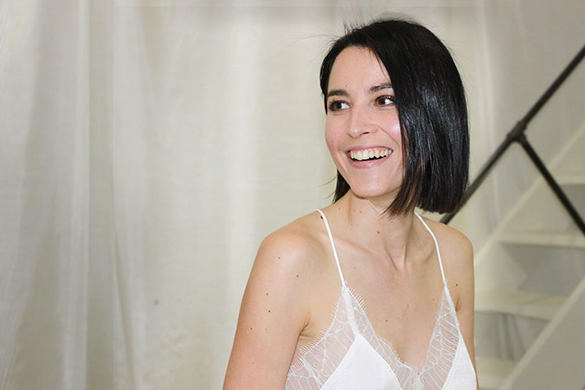 What is Namsis?
"Namsis" is an exploration on the meditation form inspired by the vibrant intensity and the unique texture of different fabrics. The collages I created come to life and transform softly and venerably into a unique figure that ultimately find strength in the knowledge that "Mind is everything. What we think, we become"
What was your process of creating these art pieces?
It took 3 years to put the show together. I started with small pieces to finally end up with larger formats and came to the realization that wood was going to be a major part of the show. I had to go with the gallery space to be able to print an identity to it.
Do you think there is a difference between female and male-curated art?
I think we are all the same but have different ways of expressing it. These days, because of the #TimesUp movement a lot of things are happening and I feel that women are being taken more seriously than they used to be.
Your art has a mixed media and collage look and feel. How do you recreate these elements online on the PicsArt app?
I use images from NAMSIS and cut them to create a mixed media collage effect which is really fun to do on PicsArt! The editing of pictures is so smooth and pleasant that it gives me so much inspiration every time I use it.
What is next for you?
I will be creating a site-specific installation in the Ladurée boutique next month. I am very excited about this project! Ladurée is such a beautiful institution! I will bring some masculine energy into the space to balance out the feminine.
A part of the proceeds of this show will go to APJ ( relief for Haiti) to help support their education program.
Can you tell us more about your opening night? What were you wearing? And who designed those beautiful Macaroons?
What a magical night ! Everything came together just the way it was supposed to. Very organic. I was wearing a very simple outfit as I wanted to blend into the set. Ladurée designed the macarons which made the event very special and Chanel dressed my ears with very beautiful jewelry.
PicsArt photo editor, collage maker and sticker maker is a totally new kind of creative community, with over 100M+ monthly users. PicsArt has collaborated with brands like Dior, Jared Leto's band Thirty Seconds To Mars and Lindsey Stirling. Supermodels Izabel Goulart, Doutzen Kroes, and Natalia Vodianova have shared PicsArt remixes on their social media. Download the app to get in on the action!