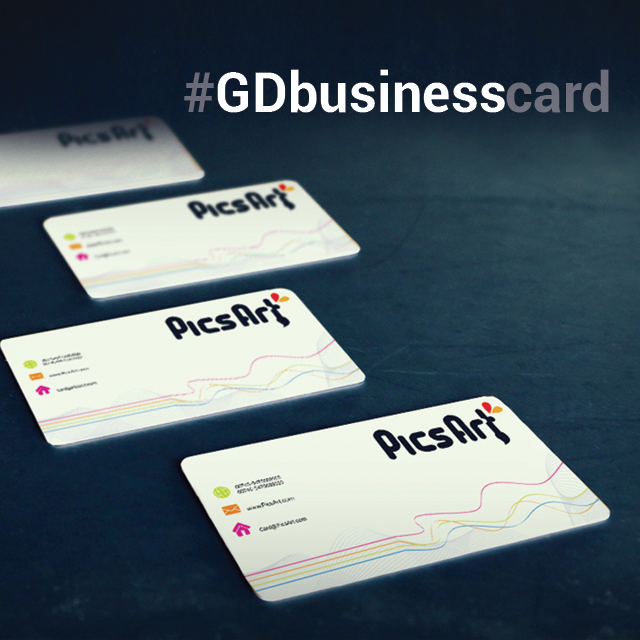 Designing a business card is the ultimate test for a graphic designer. Business cards are about telling people who you are and what you do, but they are also about making an impression. They are about standing out without being too flashy, and being memorable for all the right reasons.
Imagine that you have just started your own business. Pick something specific, anything from organic farming or running a bank, but pick something that you might imagine yourself becoming passionate about. Now imagine you have already begun the process of recruiting employees and meeting with partners, but you need a business card to exchange information and you have decided to create your own using PicsArt. You must mind the shape, font, size, and color of everything to get your card just right; this card will represent not only yourself but your business.
Most importantly, make sure that whatever you decide, you end up with a final result that puts a confident smile on your face every time you hand it out saying, "here's my card".
How to Participate…
To enter your design into the competition, tag it with #GDbusinesscard or submit it in the 'Contest' section of our website. You can only submit a maximum of two designs to the Contest.
All entries must be submitted by Wednesday, July 30th at midnight (PST).
How to Vote
You can vote for your favorite designs in the "Contests" section of the app on your mobile device.
Voting starts immediately and extends an extra day after the closing of submissions until midnight (PST) on Thursday, July 31st.. This gives late entries a full extra day to collect votes.
Contest Winners
The top 10 designs that have accrued the most votes by midnight on Thursday, July 31st (PST) will be the #GDbusinesscard contest winners.