Alina's (@iyukihana) cover art on her PicsArt profile reads "Be Original" — and that she is. It's hard to choose just one  favorite edit of hers, but we settled on this coffee cup edit with clouds, trees, and the moon rising out. It's cozy and fitting for the holiday season.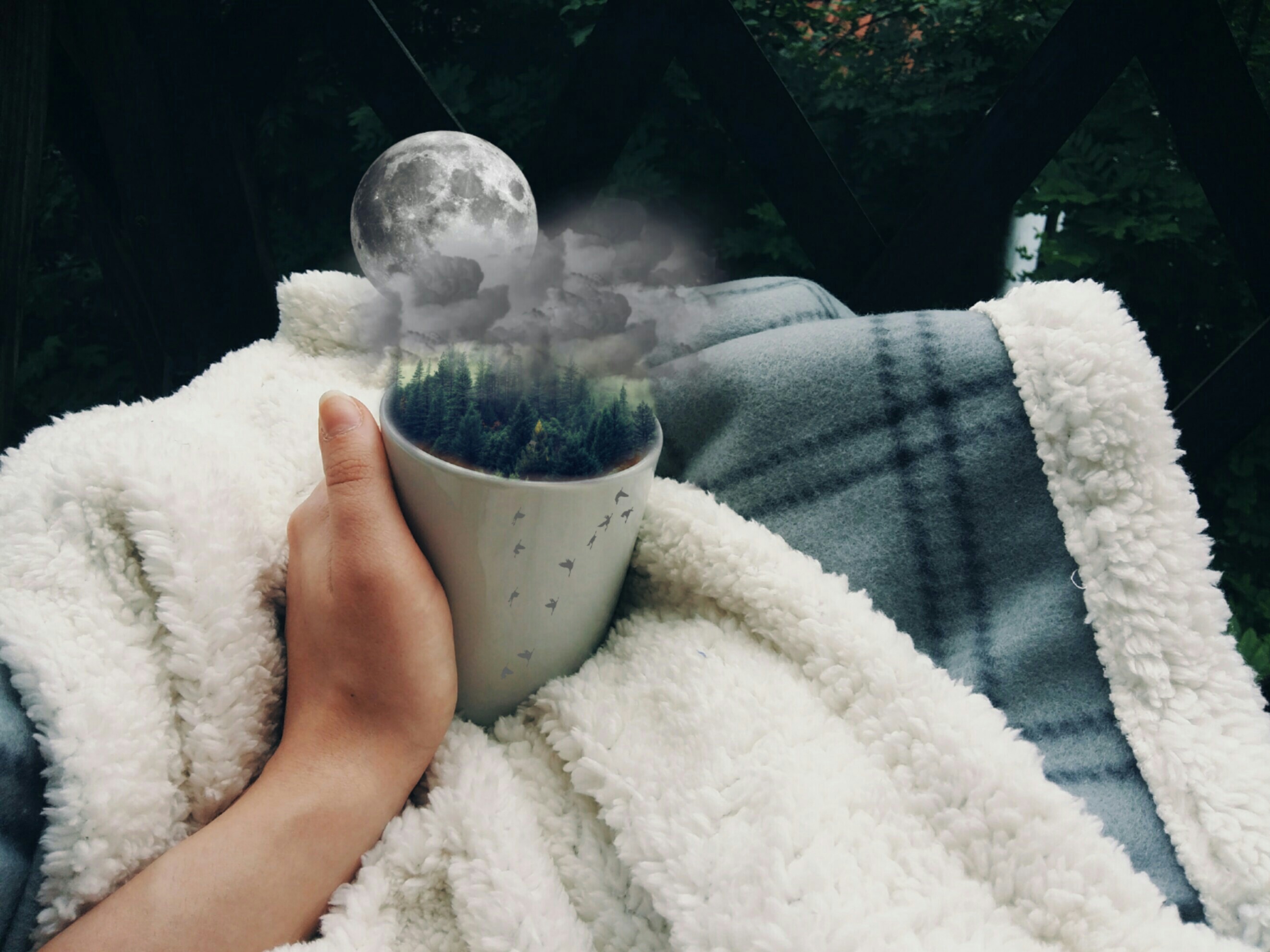 via PicsArt
"Most of the time I find my inspiration at night while I'm listening to my favorite music or reading some books," she says about her process. During the day, Alina is a full-time college student (she studies computer science and engineering), so  creative breaks are much needed. Emotions also play a big part in her edits: "It is very important for me to transmit feelings or thoughts through my edits to the community."
Her favorite feature on PicsArt is the Bokeh Masks. "I started using them a month ago and I just can't get enough of them. I am a huge fan of lightning in general and these masks make the edits prettier." For newcomers, Alina recommends playing around with stickers since they can add a fun touch to any photo.
While she thinks all the users in the PicsArt community are talented, her favorites are @andreeamariaa ("she introduced me to the PicsArt community and I couldn't be more thankful for that") and @andreeamaria6 ("she's very talented and I really enjoy her art"). She is also a huge fan of K-Pop and wants to learn Korean so she can understand the lyrics.
Before you jump into her step-by-step tutorial below, here's a few more fun facts about Alina: she likes to name everything, including objects; she has a camera named Jin; she hopes to be an artist one day, and in 10 years she wants to have her own gallery.
Download PicsArt

photo editor and collage maker for

iOS

,

Android

, or

Windows

.

Open your coffee cup image in the photo editor and tap on the Add Photo icon.

Select a picture of trees and tap on "Add."

Lower the opacity of the trees image enough to see your background photo.

Tap on the Eraser icon at the top of the screen and erase the extra parts so that your trees fit into the cup. Tap on the checkmark in the top right, and bring the opacity back up to about 100%.

Tap on the plus sign at the top of the screen and select "Sticker." Search for a moon sticker and add it to your photo. Repeat to add a cloud sticker. When you're done, tap on the checkmark to confirm.

Tap on the Effects icon at the bottom of the screen and select the Dodger photo effect.

Tap on the Dodger icon again to open the effect settings and adjust the Fade to your liking. Tap on the checkmark to confirm.

Tap on the arrow in the top right corner to finish. Save your edit and share it on PicsArt with the hashtag #CoffeeArt.
PicsArt photo editor, collage maker and sticker maker is a totally new kind of creative community, with over 100M+ monthly users. PicsArt has collaborated with brands like Dior and Jared Leto's band Thirty Seconds To Mars. Supermodels Izabel Goulart, Doutzen Kroes, and Natalia Vodianova have shared PicsArt remixes on their social media. Download the app to get in on the action!