Illustrator and concept artist Sergi Brosa has been at it for a while, honing down his deranged apocalyptic style to perfection. Whether he is painting ragtag desert pirates or a warped neon-lit futurescape, you can always count on his drawings having a somewhat twisted humor, his characters always enjoying their debauchery to the fullest.
We contacted the Barcelona-based artist to see where his mad universes come from, and find out what drives him to create. For more, check his website, or find him at Deviantart.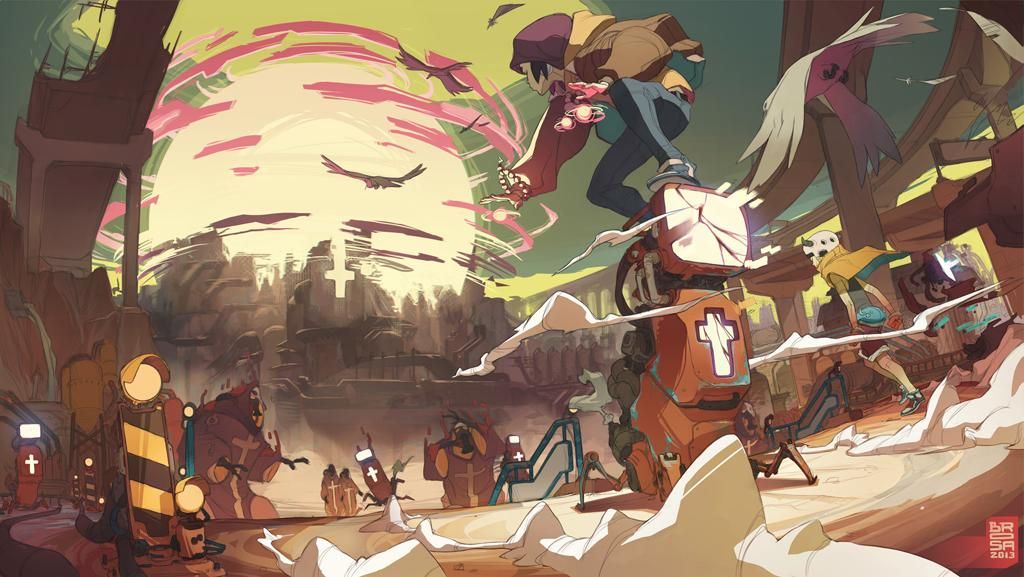 What images inspired you the most when you started drawing?
I started drawing when I was in preschool (3-4 years old), so I think it was Dragon Ball, Mazinger Z, Dr-Slump, and some other Japanese anime shows. Then, when I was a teenager, I just found more adult anime shows, like Cowboy Bebop, Akira … and I also discovered French comic books like Skydoll, Blacksad, Tao Bang and some others.
How did you start drawing professionally?
I decided to leave my university's graphic design program after my first class and began just taking drawing classes. After some years, I started getting some job offers from Deviantart, most of the time personal commissions, and eventually some companies who decided to hire me for book covers and also some children's games.
Where do your ideas for a new character or world come from?
My ideas come from my personal way of seeing the world and my personal experiences. I just try to mix what I have seen in real life, with the stuff I like when I see a movie or a video game.
So, I find myself mixing my very best references like Akira, with Mad Max or Waterworld, and adding actual or past urban fashion, motocross, and mad vehicles.
I gravitate towards apocalyptic universes because they bring me the freedom to create whatever I want to. I can justify a lot of stuff, I can do whatever I want because this is a weird place where nothing is written or predetermined. My place, my rules.
What is the most important thing you've learned about creating concept art since you first began drawing?
Hmm … this is a hard question. I think one of the most important things for me is having a strong idea before I start drawing.
I've learned that the more time you work with an idea, the better it gets by adding or removing stuff to it — making it deeper, richer, and more interesting. I like to spend more than just a couple days thinking about what I'm going to be working on for the next few weeks. Being calm, writing stuff down, and never starting until the idea is solid enough: For me, that's a good plan.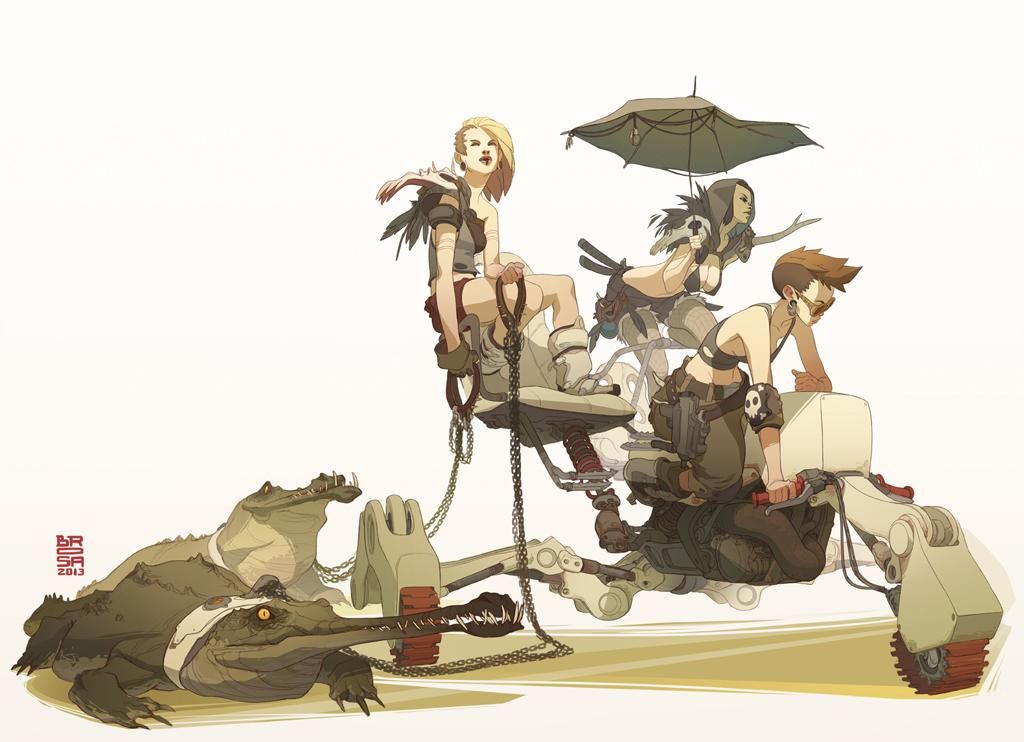 Where do you find inspiration?
Everywhere. I've always been part of the skateboard and snowboard scenes, so I have a lot of that kind of urban style in my head when I design clothing or characters. The tattoo scene is also important, and also the music scene (electronica, etc ) because at those kinds of places you see lots of random guys wearing crazy stuff.
Apart from that, I grew up riding motocross bikes because my father was a motorbike fan, and I liked to jump, slide, and get dirty with mud. I'm also passionate about vehicles in general and also machines. I try to understand how they work to get better concepts. Just trying to pay close attention to random stuff can be a good way to feel interested and get inspiration.
What kind of project would you love to work on in the coming future?
Well, I'm working right now as a Creative Director for a game based on my universe — let's provisionally call it "Atomic Delivery". It's a post-apocalyptic game. I'm also developing vinyl figures while doing extra stuff like Motorbike Helmet Designs.
I like to do lots of different things while I try to stay focused on just some of them. In the future, I'd like to direct some kind of animated music videos, for example. I would also like to work in the snowboard and film industries, and try to mix animation with snowboarding or extreme sports in general.