In the far reaches of Southwestern Alaska is Graveyard Point, named after the small cemetery at the point's edge that is gradually eroding into Bristol Bay. From time to time, old coffins loosen and wash out with the soil, scattering the bones of dead fishermen across the Alaskan coastline.
Surprisingly, this haunting sight is not the most special thing about Graveyard Point. This place happens to be an ecological intersection, where 5 rivers empty out into the bay, creating bottlenecks for thousands of salmon that swim upstream every summer. This salmon run is the real draw, attracting hungry grizzlies and swaths of fisherman who return each year for the glorious fishing freeforall. Among them is Corey Arnold.
Corey is a Southern Californian transplant who has been fishing since the age of two. He is one of those people who always knew exactly what he wanted to be. He would dress as a fisherman for Halloween as a kid, and later suited up for the real thing when he took his first commercial fishing job in 1995.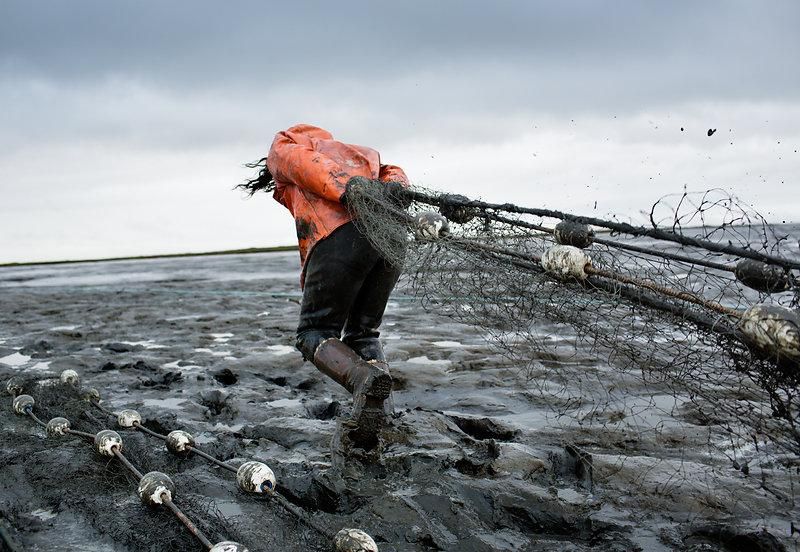 Somewhere in the middle of all of this line casting and net pulling, however, his father put a camera in his hands and Corey reeled in a Bachelors of Fine Arts from the Academy of Art University in San Francisco, where he studied photography.
Corey became as great a photographer as he is a fisherman, spending years documenting his fishing expeditions. His work has been acclaimed and exhibited extensively, but what makes it truly special is that with Corey, you're getting the inside perspective from a man who lives the experience daily, breathing in the smells of salt water and raw fish. You can feel it in his photos. It is his world.
This brings us back to Graveyard Point. Corey fishes here with about 130 others, who shack up in the derelict dormitories of an abandoned salmon cannery. They work 20-hour days, casting and pulling in nets of fish by hand. A skilled fisherman can earn a fortune from the salmon, a less skilled fisherman can lose a fortune as easily.
It's a strange and fascinating place, brought to us through the dramatic stills captured by Corey's camera. It's also a place in peril.
The discovery of gold and copper upstream threatens to make the images you see here the last surviving remnants of seasonal fishing at Graveyard Point. Mines would decimate the wild salmon population permanently. Summer pilgrimages by fishermen from all over the country would end, and Grizzlies would go hungry.
The future of Graveyard point may be uncertain, but today, the fishing continues annually, like a ritual of instinct and survival. Things as old as the salmon run at the point, an event as predictable as the tide rising and falling on its shores, seem so dependable that it's easy to lose sight of the fragile balance sustaining it.
Unlike the bones half buried in the beach sands, this place is, afterall, still swimming with life and everyone at the point knows it. That's why they come. They live not just from the catch but also for it and, no matter what the future holds, we get to see what that looks like thanks to Corey's camera.