It's time to awaken your inner Dalí. The surrealist art movement, which took place around 100 years ago, opened the door for a bit of truth-stretching on the canvas. Instead of encouraging pieces that looked hyper-real, this movement introduced works that incorporated elements of the unconscious: dreams and imaginative impossibilities. In short, it allowed painters, sculptors, and other visual and literary artists to create alternate realities. 
Now, "surreal" is a buzzword, and we can easily make images that combine elements of our imagination with more realistic ones. You've no doubt seen pictures transformed through the wonders of photo editing, with wild filters and funky stickers. With the power of creative apps behind you, you can do anything. You can make it look like a tree is growing from your body, create surreal landscape photography with unexpected elements, or morph the size and proportions of objects in an image. Anything you make that combines dreamy touches with realism fits the bill. Consider yourself a surrealist.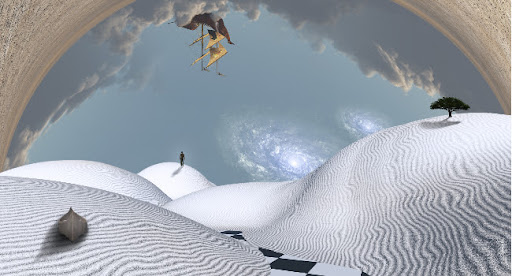 What is Surrealism in Photography and How Can You Achieve it? 
Surreal photos usually take a bit of layering: incorporating irreal elements into a lifelike photo. In the following tutorials, we'll dive into the world of the weird and explore how to make surrealist images from simple tools. Just remember that there are very few rules, and even those are meant to be broken. If you can dream it, you can make it art. 
Quick Effects 
So, you're ready to become a surrealist photographer, but you need an entry-level course to get your creative juices flowing. You've come to the right place. Picsart has a plethora of mind-bending filters that you can apply to your images in just a few clicks, turning them into something otherworldly. 
Open the Picsart mobile app and click on the purple plus sign at the bottom of the screen to start a new project. Your photo library will appear. Select the photo with which you wish to work.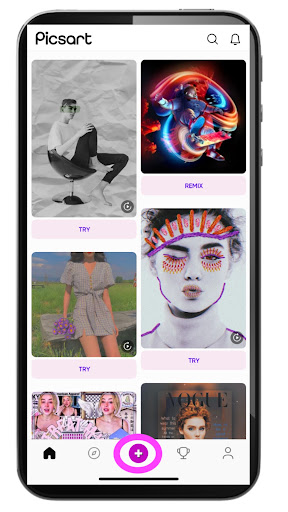 2. Choose the "FX" tool from the bar under your photo to bring up our library of filters.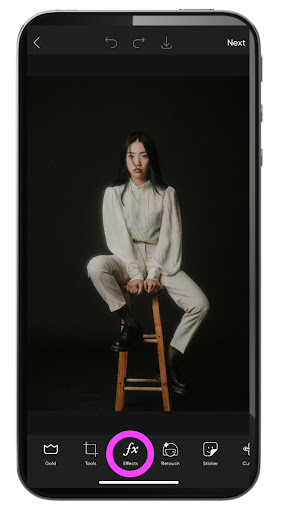 3. Simply click to add different filters to your photo. We recommend the "Magic" filter category, which includes the two seen below: the celestial "Midnight" and the sea-like "Wispy."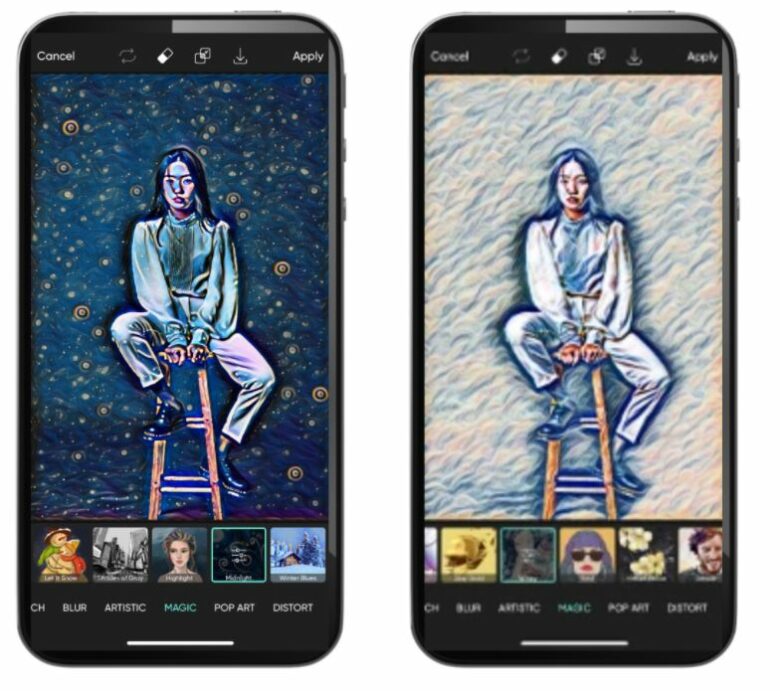 4. If you're not satisfied with the one-and-done filters, you can try layering several. Start by applying an effect to your photo by sliding over to the "Distort" filter category to mirror your photo or use another alteration.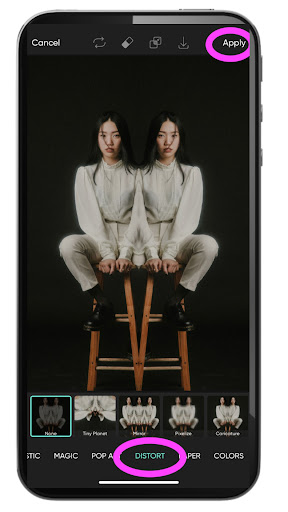 5. Then, apply a second filter. We used one from the "Sketch" category but follow your instincts. Click "Apply" in the upper right-hand corner of the screen to get each effect to take.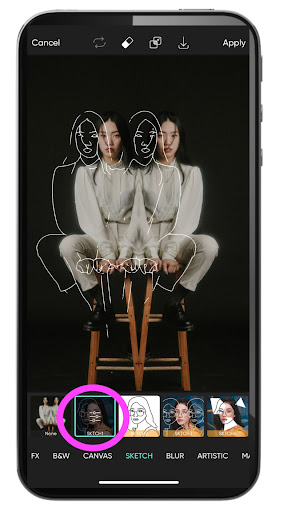 6. If you're feeling adventurous, apply yet another filter. Open the adjustments on it to change the intensity and color scheme. Don't forget to click "Apply" to save your changes.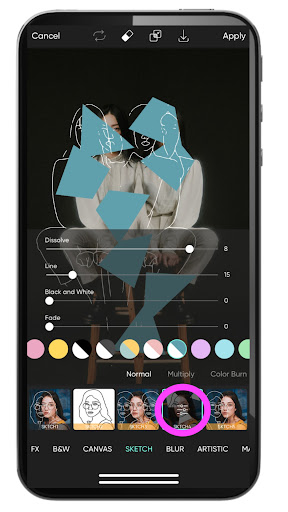 7. Getting the hang of this? Continue applying filters and adjusting them. When you've finished, you can click on the downward arrow above your image to save it to your phone or share it.
Stickers 
Another way to quickly transport a realistic photo into the territory of the surreal is to add stickers. There are decals for every occasion in our library, including ones made to fit certain forms, like bodies. In the following steps, you'll see a landscape transform into a seascape and how you can use body-shaped stickers as thematic articles of "clothing" or accessories for the subjects in your modern surrealism photography.
Select a photo to work with, as we did in step 1 in the previous tutorial. With the image on your editing screen, scroll over to the "Sticker" tool and tap to open it.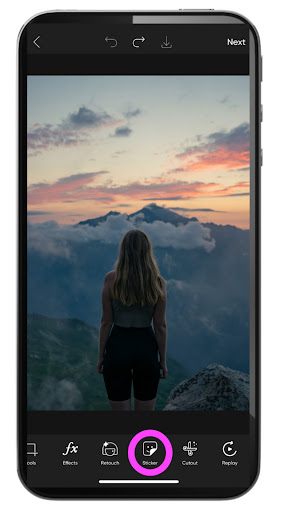 2. Use keywords to search for the type of stickers you want to use. Remember that if you're making surrealist art, it's best to seek out imaginative items that wouldn't usually exist in your photo or the context of it. Given the mountainous landscape of the photo, we opted for an oceanic theme, which allowed us to transport deep-sea creatures into a terrestrial image.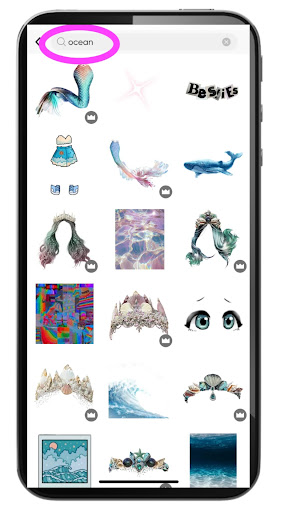 3. When you've added all of the stickers you wish, click apply to save your changes, and then tap on the downward arrow above the image to save or share it.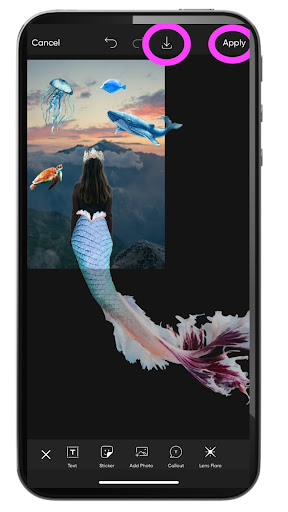 Overlays
Overlays are a great tool when making surrealism images. They essentially involve placing one photo on top of another and then shifting the opacity of the upper image so that it fades into the one below. It's an easy but impactful way to add unconventional elements and morph a portrait into a hybrid landscape or perhaps something a bit more celestial, like in the example below.

Following step 1 from the first tutorial, open the photo with which you wish to work. Then, once on the editing screen, select "Add Photo" from the menu below your image.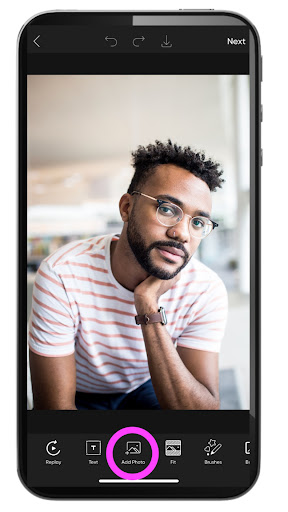 2. Search for an image that would work well as a surrealist overlay. In this case, we went with something celestial, a context that would take this photo out of the everyday settings in which the photographer took it.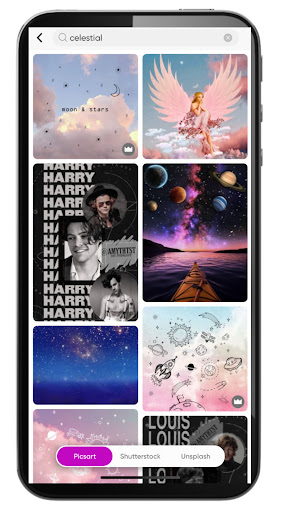 3. Once your overlay photo is on top of your original one, stretch it until it completely covers the one under it.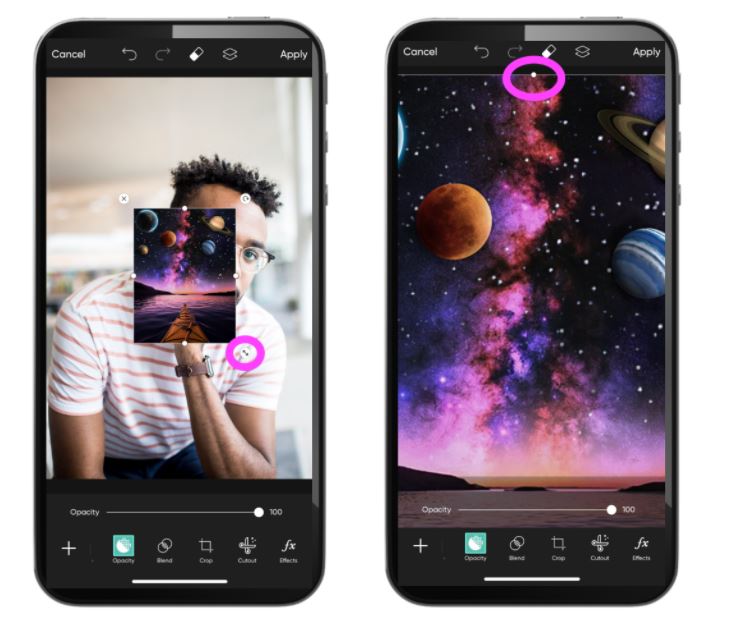 4. Now, let the magic happen. Shift the "Opacity" slider down to get the frontal image to fade into the one behind it.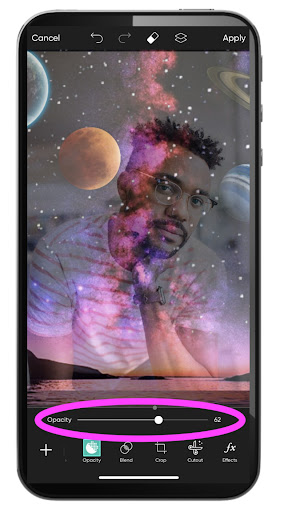 5. Move over to the "Blend" tool on the menu at the bottom of the screen, and try out different filters to see if they bring more light and contrast into your image. You'll need to depend heavily on the hues in the original photo and the overlay, so feel free to play around and skip this step if it's not right.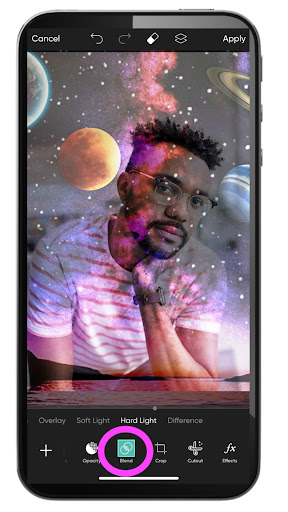 6. For added effect, put some stickers into your image's foreground using the steps given in the previous tutorial. It will add dimension and depth and make the theme more coherent. When you've finished, export or share your photo using our quick save tool, denoted by the downward arrow at the top of the screen.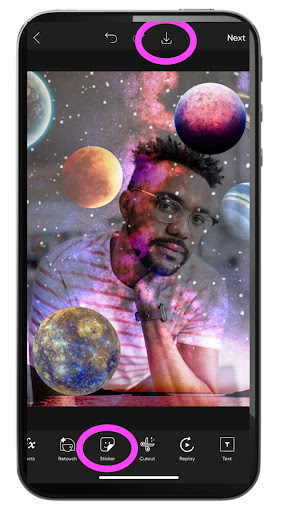 Picsart is a full ecosystem of free-to-use content, powerful tools, and creator inspiration. With a billion downloads and more than 150 million monthly active creators, Picsart is the world's largest creative platform. Picsart has collaborated with major artists and brands like BLACKPINK, the Jonas Brothers, Lizzo, Sanrio: Hello Kitty, I am a Voter, Bebe Rexha, Maroon 5, One Direction, Warner Bros. Entertainment, iHeartMedia, Condé Nast, and more. Download the app or start editing on web today to enhance your photos and videos with thousands of quick and easy editing tools, trendy filters, fun stickers, and brilliant backgrounds. Unleash your creativity and upgrade to Gold for premium perks!