Norfolk-based photographer  David Morris has been capturing photos in bars around the world for the past 10 years, developing his amazing Bar Life portrait series in the process.
Talking to Dave about his work, we uncovered just how much life and emotion there are behind these photos. Dave shared all of his bar photography secrets and insights, as well as some of the unlikely stories behind the photos you see here.
You don't want to miss the one story about the girl who never smiled in Milan, which is just one of those amazing tales of coincidence in life.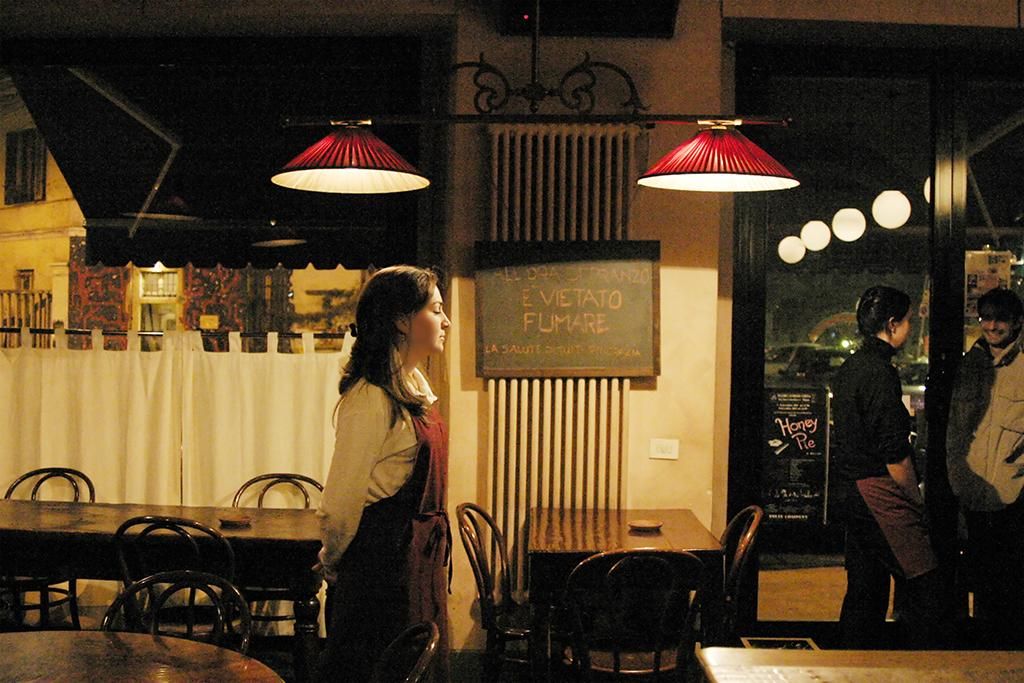 What is bar life?
I'm interested in any place where people and alcohol mix. It's theater, pure and simple; people make their entrances and exits here, they come to find others or lose themselves.
Bars are great places for recording the human condition: Wonderful interiors and intriguing faces – what else do you want as a photographer?
What is it about bars that caught your eye?
I did a lot of work for Hook Norton Brewery in North Oxfordshire, England. I produced a series of photographic calendars for them. They had 33 pubs and one of the themes one year was to do portraits of characters in different bars.
As a student in the North of England, I'd spent a lot of time in big Victorian boozers with huge windows that let in terrific light. Inside, men smoked, drank, played cards and dominoes, laughed, and argued. I remember thinking at the time, 'this is a classic place for photography.' Now, of course, most of those bars have gone.
Do you get to know everyone before you capture their portrait?
No, not really. I go around lots of bars when I'm working abroad looking for the right setting and interesting situations. If the bar is good and I intend to stay, I'll try and ask the barman if it's OK to take photographs — they are nearly always fine with that. Then you have the age-old dilemma: If you see something interesting, do you shoot first and explain yourself afterward or introduce yourself and risk losing the moment?
Are people receptive to being photographed at their watering holes?
Yes, once I explain what I'm doing, people have been really good.
If I ask English people if I can photograph them and can they just carry on as normal as if I'm not there, they'll do it. But you know they are aware of you, and it shows in the body language; abroad the attitude is different.
Girls in Italy are brilliant: I've sometimes asked if I can photograph them and can they ignore me, they'll say something like 'Yeah, for sure,' and then promptly and completely ignore me. It's something my ego has had to come to terms with.
Bars are often poorly lit and intimate places, not necessarily the easiest conditions for a stranger with a camera. What are the logistics of shooting in bars?
It's very difficult. I'm always fighting the lack of light and have to use extremely high film speeds. Most of my work on the computer is spent trying to rescue detail from dark, interior shots. Thank goodness for digital capture; I don't think much of my work would be possible using film. I also favor prime lenses: They are faster, sharper, and have the advantage of being less intrusive.
You clearly have to watch your step since a punch in the mouth could be one of the rewards for misjudging a situation. I always carry a card and will go forward and explain what I'm doing if I feel things are about to go wrong. I think if you are polite and enthusiastic about what you are doing, people get drawn in and are willing to help you get to where you want to be.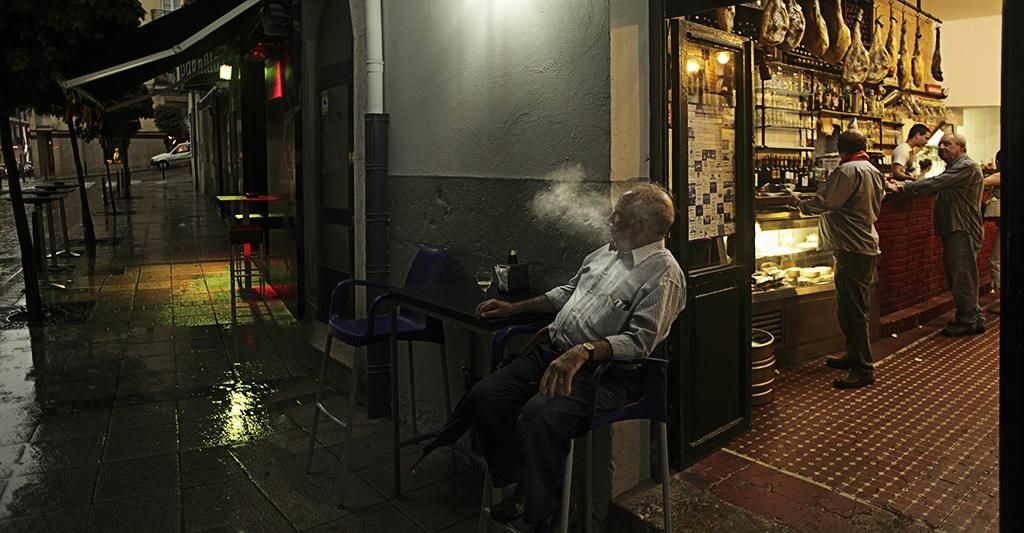 The photograph of the "Old Spaniard contemplating the night" was taken from the doorway without his knowledge. I liked the interior to the bar, the street scene outside, and the fact he was smoking. Just as I got the shot he turned and saw me. He sucked on his cigar so the tip glowed in the dark! I thought 'he's angry.' I went forward and explained myself in terrible Spanish. Once he understood, he was transformed; all of a sudden, I was his friend and he insisted we must drink together.
What was the most profound moment you ever experienced with one of your subjects, and would you share it with us?
I think "The Girl Who Never Smiled" is one of my favorite shots. I'd seen this young woman walking around the Navigli in Milan. She was tall and very striking looking, but I never saw her smile.
I'd tried to photograph her in a café, but couldn't get a shot. Then, she came into a bar where I was drinking, but I had my back to her. I thought, 'I can't turn around with a camera, it will ruin everything.' So I twisted the camera back to front and fired blindly hoping for the best. When you try this kind of thing you end up [with] out of focus, crazy-angled stuff.
I didn't know what I had captured until later that night, but I remember at the time thinking I should have gone forward and introduced myself. Maybe I was intimidated by her seeming aloofness.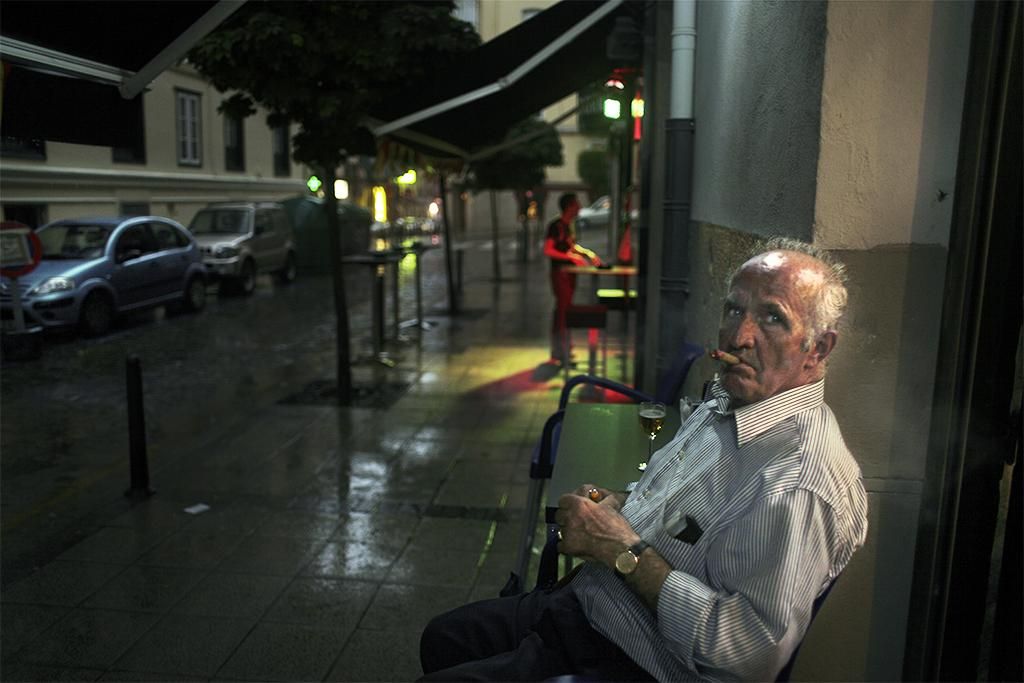 Anyway, back in England I regretted not making contact.
But I was in Milan a year later with the picture I took of her. Unbelievably, I came across her in a bar after a terrific downpour of rain. She was wearing yellow waterproof trousers, which were quite eye-catching.
Armed with the photograph, I went over and introduced myself. She was charming, liked the photograph I had taken, and agreed to sit for another portrait. The result was another image of her I was really pleased with. I thought afterward, 'you seldom get such a lucky run of chances in life.' This was certainly one of them.
Is there a favorite moment from shooting this series so far?
I love 'Cigar Smoke' Amsterdam. I was drawn to the bar because of the terrific light pouring in through the window.
An older man in a dark suit sat alone by the window looking morose. A very attractive tall lady of a certain age came through the door. The man by the window lit up when he saw her — they were obviously friends — then she lit up. She had a big Churchillian cigar and blew the smoke in the direction of the ceiling every time she exhaled. It was fascinating, but I couldn't get a shot: The bar counter cut right across them. I tried everything but gave up thinking the image was ruined.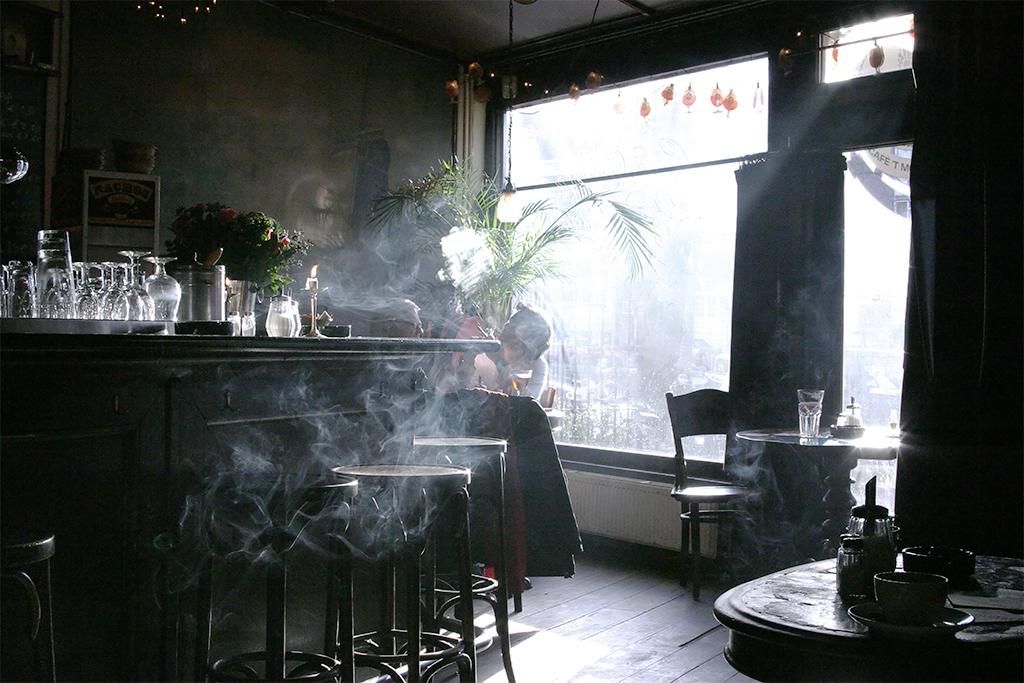 Back home, everyone I showed the photograph to loved it. The bar counter didn't bother anyone, they just loved the atmosphere, the lighting, [and] the smoke. You don't get bars like that anymore.
What's the best time to visit a bar if you want to have an interesting conversation?
I like early doors. It's quieter and you can ease yourself into a place. The great thing about bars is if you are friendly, people are friendly back. Everyone is looking to make conversation; they just need a subject. Toting a camera around gives anyone an excuse to make small talk, and once you are talking, who knows where it will lead you.
What is your relationship like with bars?
I like to think there is more going on in my life than I can get just from a bar.
I find alcohol and conversation in bars exhilarating, rewarding, and inspiring. I think I've had most of my best ideas in bars and met most of my best friends.
But I don't want to be stupid about it. Alcohol is dangerous stuff: It's ruined countless lives and caused untold misery. You don't need me to tell you [to] treat it with respect.