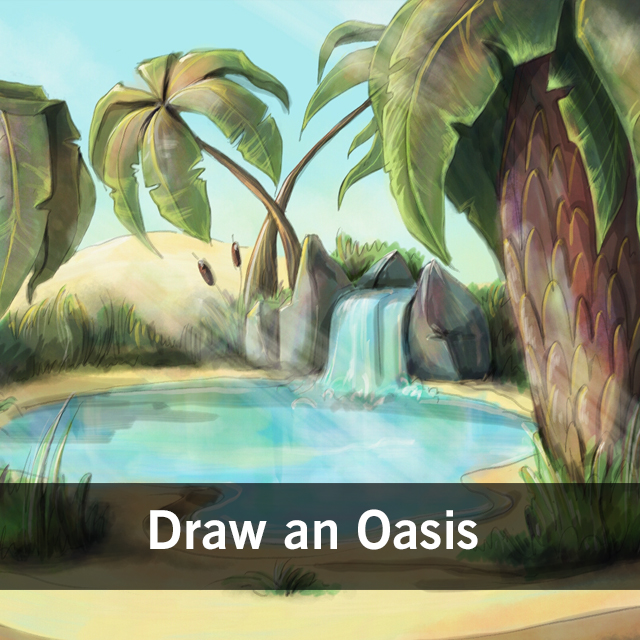 Start sketching a desert oasis for this week's Drawing Challenge.
An oasis is a small patch of plant growth and water that can be found unexpectedly in the vast arid sands of a desert. There is no sight that can match an oasis for anyone who has been lost for days in the burning desert sands. Oases offer shade, plant food, and most importantly fresh water.
We encourage you to use PicsArt's new Video Generation and Export feature to create an instant video tutorial for how you have drawn your entry and share it in Youtube tagged with #picsart #dcoasis. We will be then featuring the best videos from the contest on our blog.
Draw a desert oasis using PicsArt Drawing Tools this week, share your creation process video in Youtube, and follow to see if you are featured on PicsArt's Blog and our social network pages!
Submission Rules & Deadlines
All drawings must be submitted between 9:00 AM (PST)on Saturday, July 19th and 3:00 PM (PST) on Sunday, July 20th.
To Submit your drawings, wait for the tag which will be announced this Saturday at 9:00 AM (PST) on Facebook, Google+ and Twitter. You can also submit them directly in the "Contest" section of the app once submissions begin.
How to Vote
Voting will begin as soon as submissions start at 9:00 AM (PST) on Saturday, and will last until 3:00 PM (PST) on Monday.
You can vote for your favorite images in the "Contests" section of the app.
Non-Original Artwork Will be Removed!!
All submissions must be original drawings created by users using only the PicsArt App drawing tools.
Users CANNOT copy images from our clipart files, other users, or the Internet.
Images that don't meet the requirements above will be removed to ensure fair voting! Thank you.