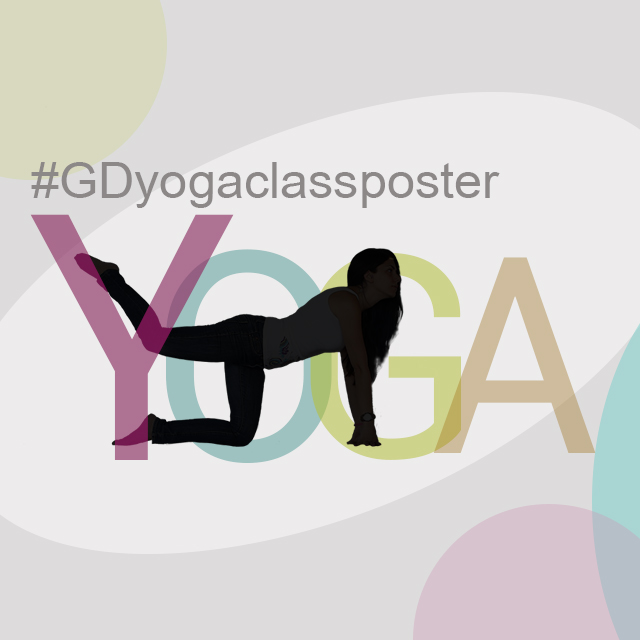 For this week's Graphic Design Contest, we want you to design a poster for yoga class!
More and more people are taking up yoga to take advantage of its health benefits and relieve stress. This means that there are a lot of posters going up everyday to advertize the benefits of yoga and new classes looking for recruits. We want you to design a yoga class poster that will stand out from the rest and get the attention of passerbys. To do this your poster must be polished and show yoga in a way that makes others want to try it out.
Use the full-breadth of the editor to combine text, images, drawing, clipart, or whatever else you need. Add famous quotes or send your message with just a few choice words, use imagery and effects to get your poster to look and feel exactly right.
Submit a yoga poster this week that will get even the most disinterested viewer to stop and admire it.
How to Participate…
To enter your design into the competition, tag it with #GDyogaclassposter or submit it in the 'Contest' section of our website. You can only submit a maximum of two designs.
All entries must be submitted by Wednesday, August 13th at midnight (PST).
How to Vote
You can vote for your favorite designs in the "Contests" section of the app directly from your mobile device.
Voting starts immediately and extends an extra day after the closing of submissions until midnight (PST) on Thursday, August 14th. This gives late entries a full extra day to get votes.
Contest Winners
The top 10 designs that have accrued the most votes by midnight on Thursday, August 14th (PST) will be the #GDyogaclassposter contest winners.