If you're just ending emails with your first name and phone number, you're not tapping into the full potential of signatures. Strap in for some email signature examples to level up your email game, all while boosting brand awareness, increasing conversion rates, and looking like a pro.
Why? Picture this: you send an unsolicited email with a simple first name sign-off, asking a potential client to connect. Now, picture this: you send that same email, but with a sign-off that highlights your logo, branding, and contact details, all tied into a carefully crafted signature. Which email is more professional, and more likely to leave a positive impression?
Email signatures are a valuable opportunity to showcase your professionalism, provide contact information, and give people tools to find out more about you, your business, or your current projects. Despite being one of the greatest resources in the brand marketing toolbox, most people treat signatures as an afterthought, or worse, skip them altogether.
What Are Email Signatures?
Email signatures go beyond a simple first name sign-off, providing recipients with contact details, company branding, and other key information. While some signatures are as simple as a block of text, others contain images, hyperlinks, and clickable calls to action.
But why are email signatures so important? A signature isn't just great for adding your contact information, it's also a powerful tool to convey your professionalism. Sure, professionalism should always shine through in the email itself, but your signature is an invaluable opportunity to present you and what you do in a more polished way.
Your email signature is automatically added to the bottom of every email. With the right signature, you'll build trust and impress colleagues with every email you send.
What to Include in an Email Signature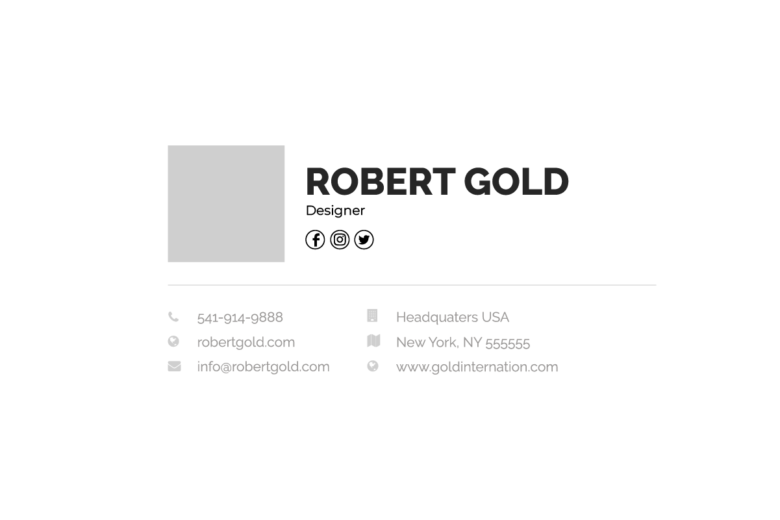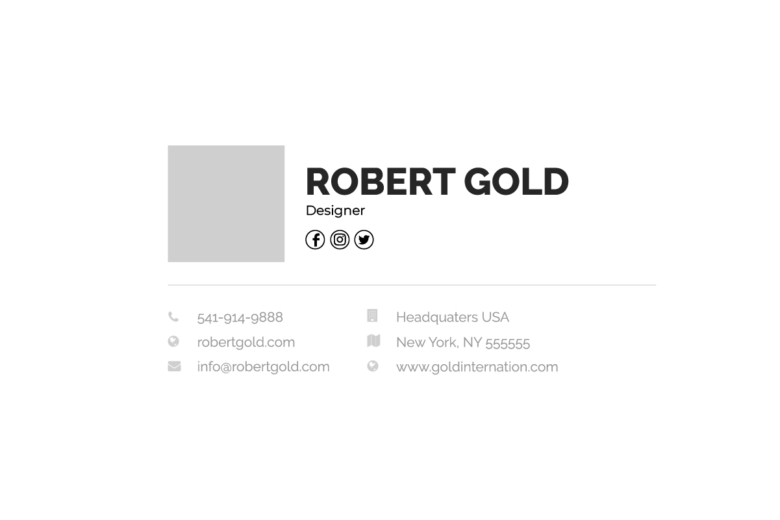 Your signature should display essential information about you and your business. While design trends can guide you toward the perfect layout, your professional sign-off should always include the basics.
As a minimum, here's what to include in an email signature. You can always add more information depending on your industry, job title, or personal preferences.
Your first and last name
Your affiliation (job title, company, school, or organization)
Secondary contact information (phone number, website link)
Industry disclaimers or legal requirements, if appropriate
A headshot or company logo
Tips to Create Good Email Signatures
When you're working with limited space, your email signature format is everything. Your format can make or break the impression you leave, and using a clean and organized format is non-negotiable for any professional or personal email signature.
So, how can you create a standout email signature? Here are some email signature formatting tips to keep in mind.
1. Keep it Simple
Make your signature easy on the eyes by keeping it clear and concise. Start with your first and last name, followed by your affiliation and where people can reach you. When it comes to contact information, this is a great opportunity to promote your website and open the lines of communication without flooding yourself with phone calls to a personal number.
2. Consistency is Key
Branding is the most impactful when it's consistent, and that includes your signature. Adding color can be a nice touch, but don't go overboard. To keep your brand messaging consistent, match your font and color choices with your brand logo.
3. Don't Forget About Design Hierarchy

From email newsletters to signatures, effective design is all about presenting your information in an easily digestible way. Even though your email signature is a list of information, design hierarchy can guide your readers' eyes to what they should read first.
4. Play Around with Space Dividers

When it comes to signatures, a minimalistic, clutter-free design is your best friend. If you overcrowd your signature with too much information, your recipients are going to skip over it, and all your hard work will go to waste. Space dividers can help you break up different types of information, like your name, contact details, and call to action.
5. Optimize Your Signature for Mobile

According to 99 Firms, mobile accounted for nearly half of all email opens in June 2018. In other words, a mobile-friendly signature is essential nowadays. Make sure your email signature format is simple, easy to read, and clickable for mobile users. Your text should be large enough to read on smaller screens, and your links should be big (and spaced out) enough for recipients to tap with their fingertips.
Email Signature Examples
Whether you're running a solo start-up or managing multiple clients, the right signature can make all the difference. After all, the average office worker receives 121 emails a day, and you need an eye-catching signature to leave a lasting impression in an ever-crowded inbox.
Ready to enhance your emails with greater professionalism? Here are some of the best email signature examples to follow.
Professional Email Signature Examples
Graphic designer email signature example

Student email signature example

Finance email signature example

Marketing email signature example

What Design Trends Should You Add to Your Email Signature?
Think of your signature as your digital business card. It should reflect your personality and professionalism, and it can be as creative as you want to make it.
Colors, fonts, sizes, layout, and images are all at your fingertips when designing a signature. Not only that, but they're all important design components that can help you break through the digital noise. If you need some email design inspiration, here are some ideas to get the creative juices flowing.
Minimalist design
Muted color palettes
Geometric shapes
Flat social icons
Written sign-offs
How to Design Your Own Email Signature
Now that you have some design inspiration, it's time to design your own signature. With Picsart, you can design your signature first and experiment with different layouts, trends, design elements, and other details.
The following email signature examples are but a guide. Feel free to get as inventive as you wish to leave a great first impression with your own creation.
On the Web:
1. Open the Picsart Online Editor and choose Custom Size. Email signatures generally range between 300 and 400 pixels in width, and between 70 and 150 pixels in height. For this signature, we'll be working with a 300×150 layout.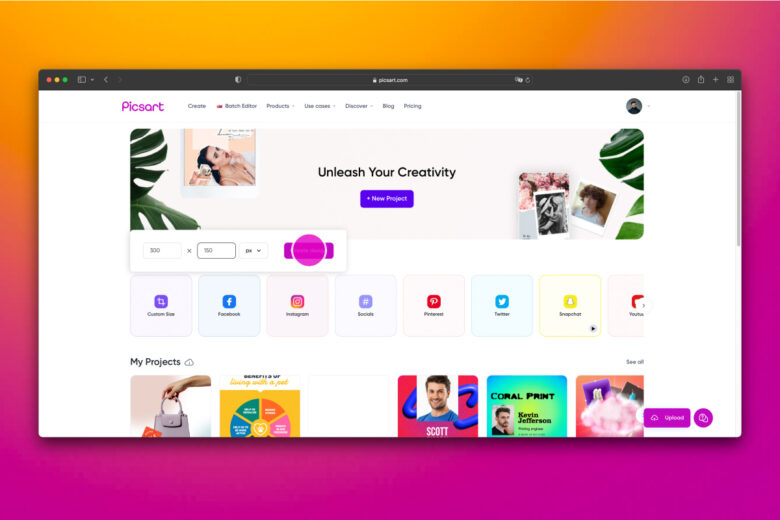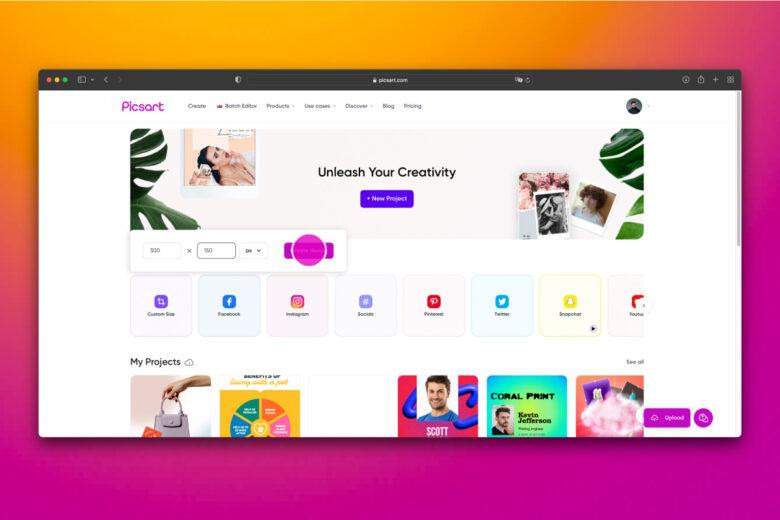 2. Choose Text and select Add a heading to add your first and last name. Then, choose Add a body text to add any secondary contact information and company information.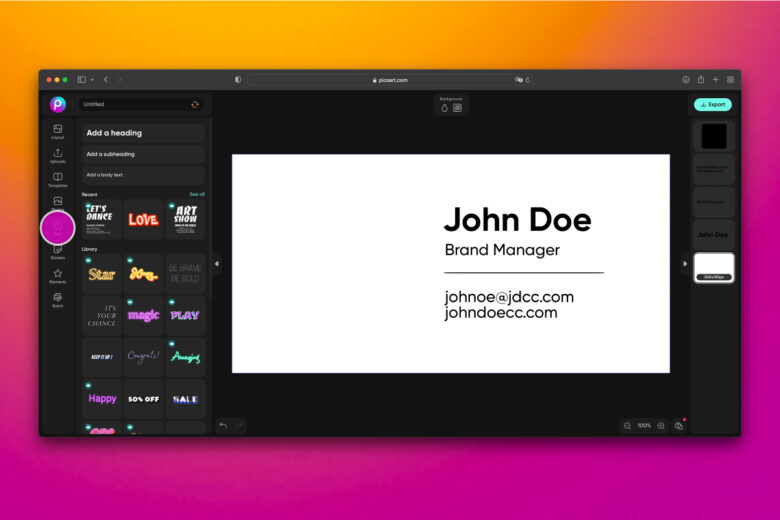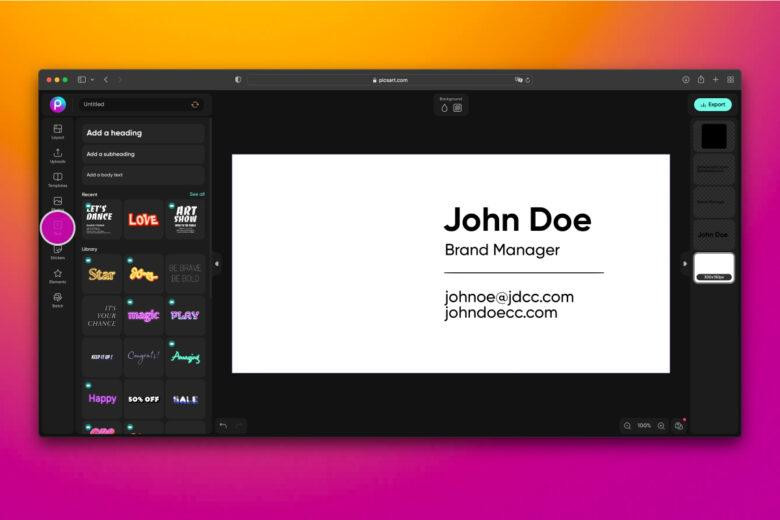 3. Choose Upload to add a headshot or company logo. Click Elements and then choose relevant social media icons that match your brand colors. Add any other design touches, such as Stickers, to top off your signature. You don't have to stick to a bland, boring signature here. Don't be afraid to experiment with different fonts, color palettes, photo sizes, and layouts to make your signature stand out.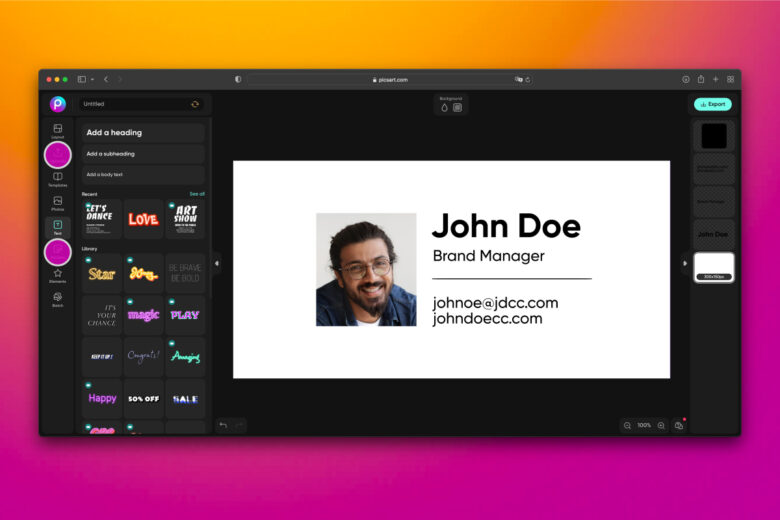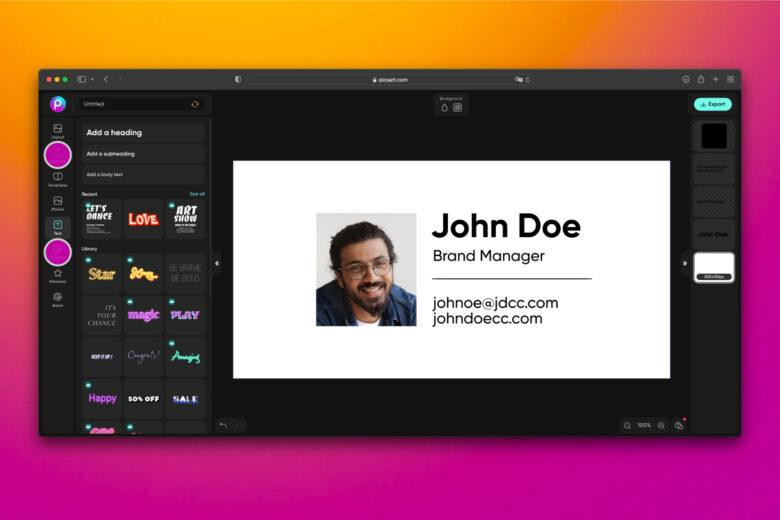 4. When you're done, click Export on the top right to save your image. Then, upload it as your email signature.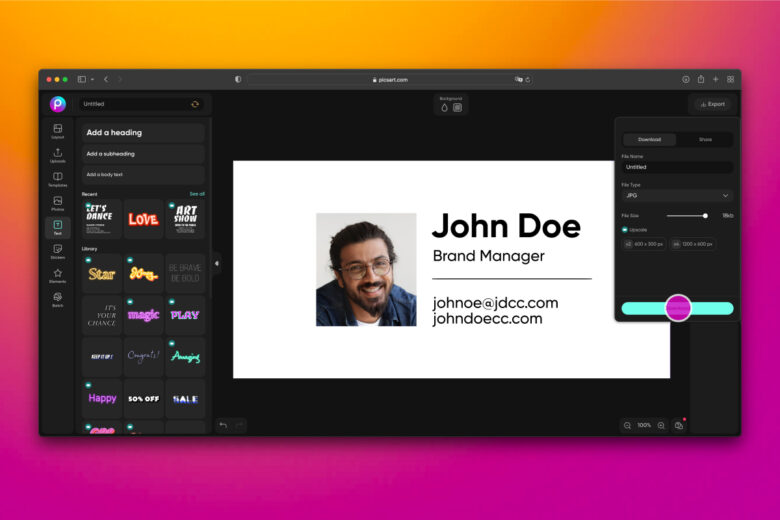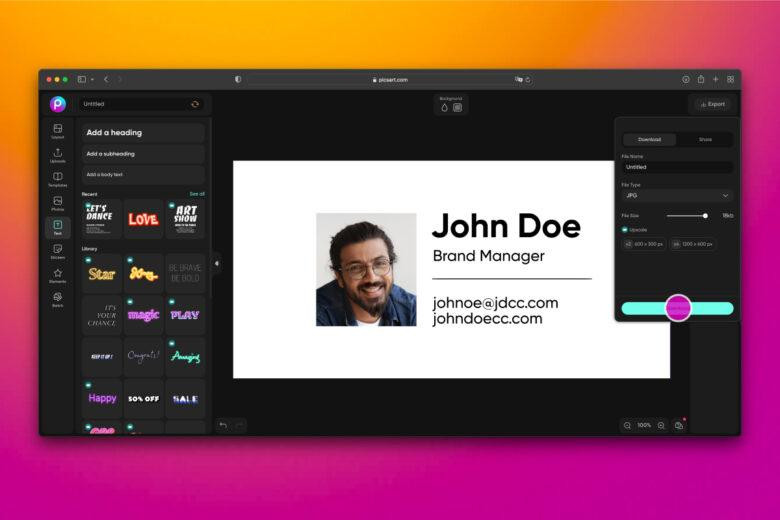 On the App:
1. Open the Picsart app and tap on the plus sign (+) to start a new project.
2. Scroll down to Color Backgrounds and select a blank canvas.
3. Tap on the Crop tool to cut your canvas down to size. Email signatures generally range between 300 and 400 pixels in width, and between 70 and 150 pixels in height.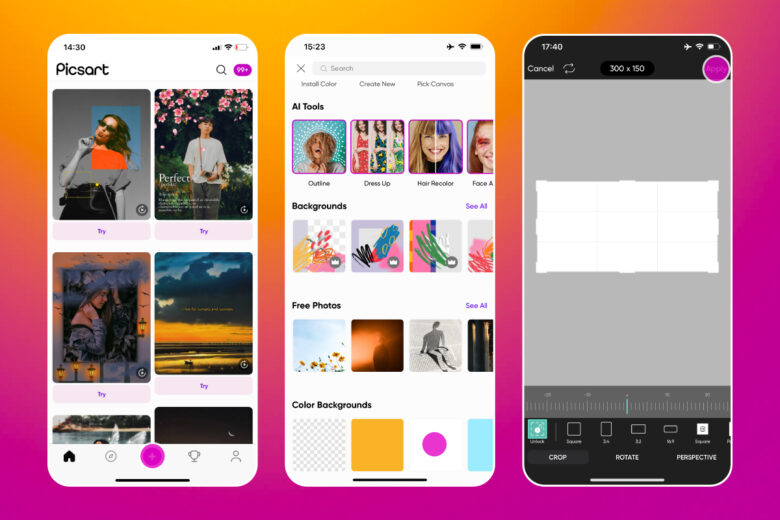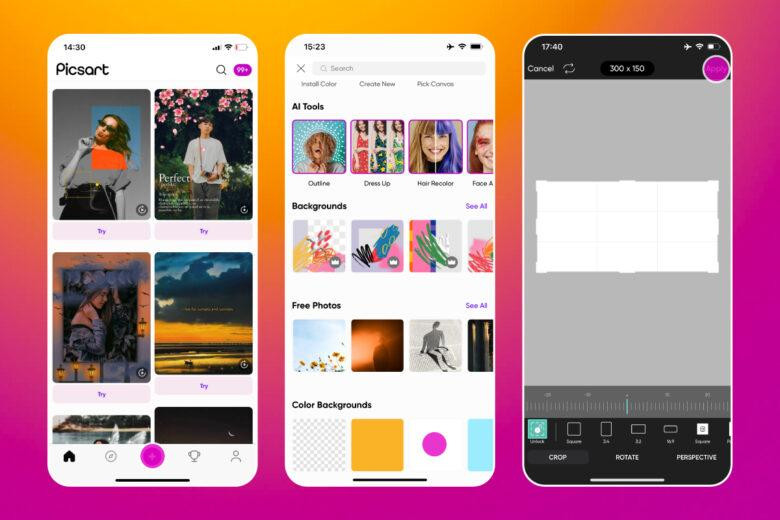 4. Add design elements like text, your company logo, a headshot, and social icons to design a standout signature. Here, you can get creative with different design trends, font choices, and color palettes to make your signature truly unique.
5. When you're done, tap the checkmark on the top right and Save and Share to save your image. Then, upload it as your email signature.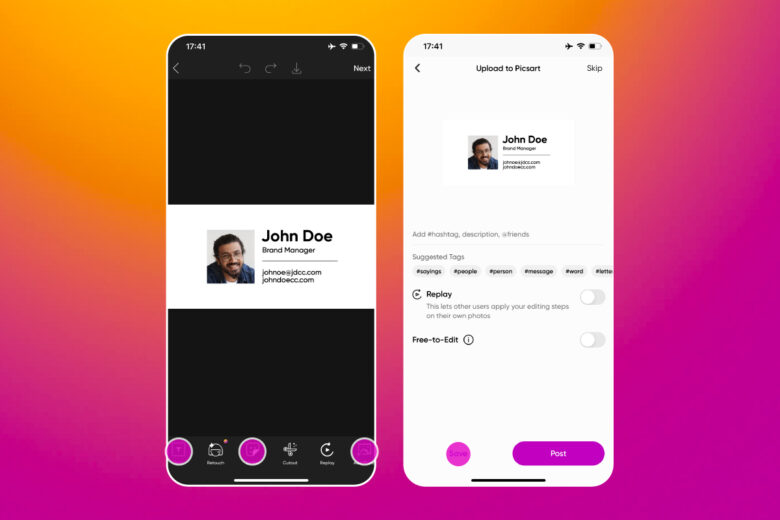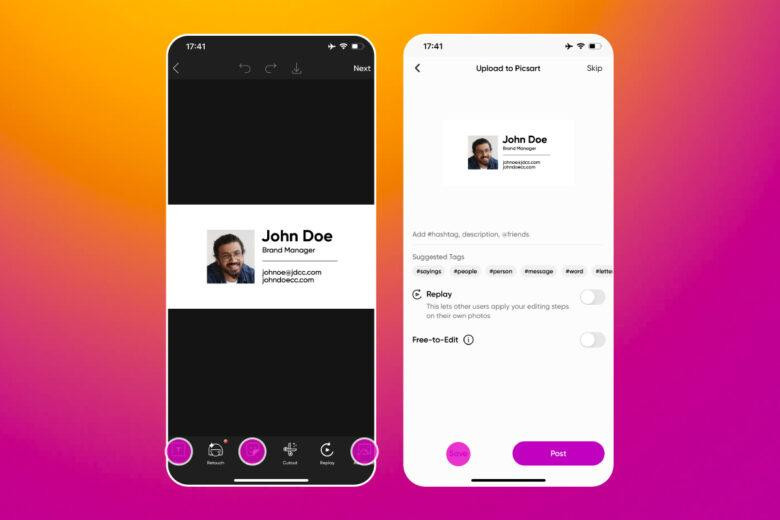 Picsart is a full ecosystem of free-to-use content, powerful tools, and creator inspiration. With a billion downloads and more than 150 million monthly active creators, Picsart is the world's largest creative platform. Picsart has collaborated with major artists and brands like BLACKPINK, Taylor Swift, the Jonas Brothers, Lizzo, Ariana Grande, Jennifer Lopez, One Direction, Sanrio: Hello Kitty, Warner Bros. Entertainment, iHeartMedia, Condé Nast, and more. Download the app or start editing on web today to enhance your photos and videos with thousands of quick and easy editing tools, trendy filters, fun stickers, and brilliant backgrounds. Unleash your creativity and upgrade to Gold for premium perks!