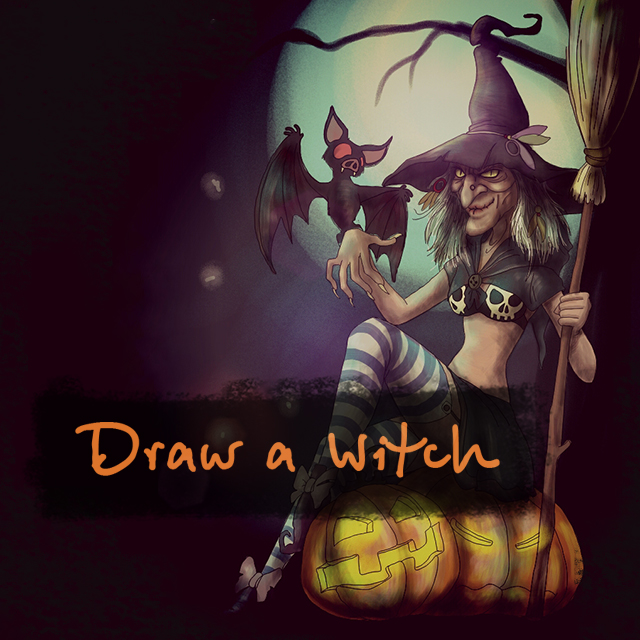 This weekend, hop on a broomstick and zip into our Witch Drawing Challenge! This Halloween, we're asking our users to pull out their magic wands, and use PicsArt Drawing Tools to draw their wickedest witch.
Witches have been appearing in stories and myths for centuries, bewitching passers-bys, and causing terror in their local villages. Their boiling cauldrons, and enchanted artifacts are devices of dark magic. Rub a witch the wrong way and you may find yourself stuck in the body of a toad, or submitted under the trance of a powerful spell. Several times in history, however, the terror of witches was not just a thing of myth, but an actual fear that penetrated everyday life. The witch trials of Salem Massachusetts in 1692, manifested after local girls seemed to behave deliriously. Locals suspected their children were being bewitched, and would burn local women they accused of witchcraft. Today Salem is a global tourist destination every Halloween, as witches continue to fascinate and haunt imaginations around the world.
So this week, celebrate Halloween and join the madness by using PicsArt to draw your most sinister witch.
Submission Rules & Deadlines!
All drawings must be submitted between 9:00 AM (PST)on Saturday, October 26th and 3:00 PM (PST) on Sunday, October 27th.
To Submit your drawings wait for the tag which will be announced this Saturday at 9:00 AM (PST) on Facebook, Google+ and Twitter. You can also submit them directly in the "Contest" section of the app once submission begins.
How to Vote
Voting will begin as soon as submissions start at 9:00 AM (PST) on Saturday, and will last until 3:00 PM (PST) on Monday.
You can vote for your favorite images in the "Contests" section of the app or by visiting the "Contests" section of our website.
Non-Original Artwork Will be Removed!
Images that don't meet the requirements above will be removed, to ensure fair voting opportunities for authentic drawings! Thank you.