Erik Johansson is a Swedish photographer who has been getting a lot of attention for conjuring up incredibly realistic looking visual fantasies. It's an area where there is a lot of competition, but Erik goes the extra mile to make his images special.
Erik doesn't just rely on the crutch of photoshop, he shoots old-school Hollywood style, building models by hand and saving the computer work for the finish. The results speak for themselves.
We wanted to find out a little more about how he creates his work and where he gets his ideas. Read our interview below to get the answers directly from the Artist's mouth.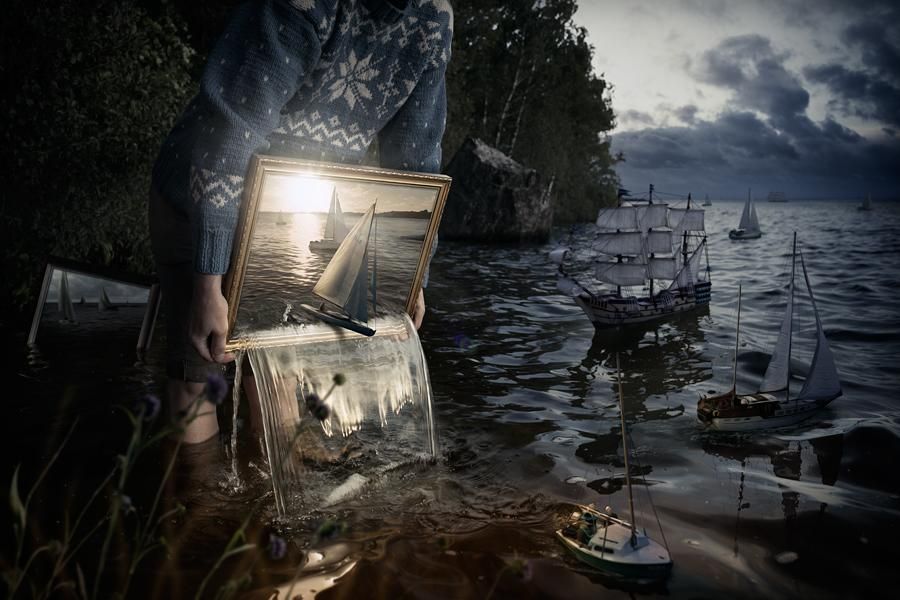 Your photos have an almost story-book kind of feel to them. Were there any stories in books or film that had a lasting influence on your photography? 
As a kid a woman took care of me and my sisters during the days, we often went to the library together and she had tons of children books. Children books have inspired me a lot, but rather books with lots of drawings of places far far away. So I think children books are by biggest influence and shaped me as a person. My images are perhaps a bit darker but at some point I would love to make a childrens book myself.
Are there images, feelings, or ideas that you feel like you are the most interested in exploring? 
I always love creating impossible places that look real. To me the realism is very important to be able to imagine being part of the image, no matter how impossible the place might be. I also love impossible shapes and objects, double perspectives and Escher-like places.
You like to do as much as you can with your camera before you do any photo-manipulation. You actually build models of your visions to work with in the editing room. When did you start building models? 
I already spend lots of time in front of the computer. And creating real things is a great way to get away from that, I also think it's more fun and makes it more realistic to actually build something for real. And honestly I don't think it takes that much more time either, creating something in the computer from scratch can be very hard as well and it's just half the fun.
What is the most memorable project you've ever worked on? 
Earlier this year I made a photo for National Geographic, not yet published, that was a lot of fun and they gave me a lot of creative freedom, it was also very tactile. I can't really say too much about it right now but you will see it in a couple of months. But I think that my most interesting projects are yet to come.