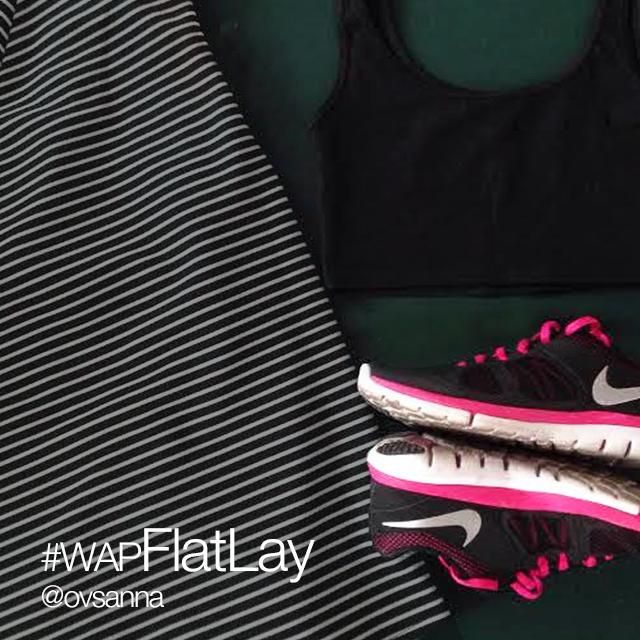 This weekend, we want you to show off your style! Snap a flat lay shot for the Weekend Art Project, and share it with the hashtag #wapFlatLay.
Flat lays have become a super popular way to show off your style, and we're obsessed! When planning out your shot, be sure to select objects of varying sizes, textures, and colors. For example, a pair of ripped jeans could look great with a stack of gold bangles or a simple white shirt. A bottle of bright nail polish or a neon clutch may add a much-needed pop of color against a neutral color palette. Most importantly, your composition should reflect you and your unique style.
Next, you'll need to select your background—white or neutral backgrounds tend to work well. Be sure that you're shooting near a natural light source so that your shot isn't spoiled by artificial lighting.
Finally, arrange everything on your background. Don't be afraid to experiment with different compositions—pay attention to negative space in your image, the angle and positioning of your objects, and how the colors and textures interact with one another. Getting the right shot might take a few tries, but it's worth it!
Once you've got your shot, share it with the hashtag #wapFlatLay to enter the Contest!
How to Enter the Contest
Submit an entry by tagging it with #wapFlatLay or by submitting it in the Contests section. Submit a maximum of two photos between today and 23:59 PDT on Monday, September 28th.
How to Vote
Voting begins on Tuesday, September 29th at midnight, immediately after the submission period ends, and closes at 23:59 PDT on Sunday, October 4th.
 Vote in the Contests section by selecting your favorite entries. All entries in the Contests section will be displayed in random order. No new entries are permitted once voting begins.
Contest Winners
The 10 photos with the most votes win. Our jury will also choose one entry outside of the top 10 to be featured.
Have questions? Write to us at contest@picsart.com.