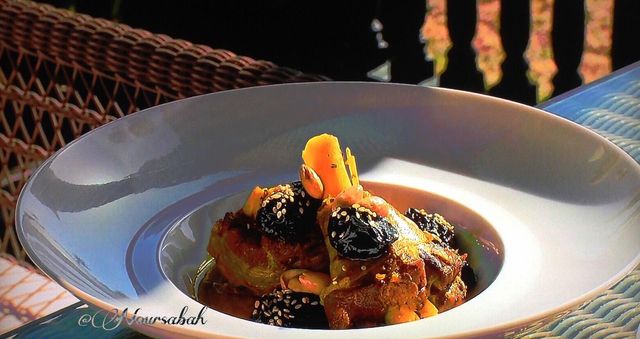 If you ever have the chance to go to Morocco, you'll find out very quickly that the people there can seriously cook.
The things you'll see on your plate can knock you out of your chair from the scent alone. From slow-cooked, falling-off-the-bone meats to delicately baked pastries, this is a culinary paradise. Moroccan cuisine is spicy, exciting, succulent, and above all, comforting. You'll be eating many of these meals on ornate golden trays, seated on opulent floor cushions.
Grab a napkin and prepare for a culinary tour of Morocco, courtesy of PicsArt users who decided to share their meals through photography. For now, imagine this perfect food day in Morocco.
Breakfast in Morocco
The feast starts early in Morocco. French and Berber influence come together, serving croissants alongside your msemmen bread, a Moroccan specialty that is like a rich crêpe. Assorted jams, hard boiled eggs, coffee, tea, and an obligatory glass of orange juice complete the meal. Don't shy from the local spreads either. Amlou, for example, is a jam made of almonds, honey, and argan oil. Above, you can see the gorgeous table that @tachihaty started her day with.
Get up early so that you can take your time before a day of sightseeing in your local Casbah.
Couscous for Lunch
Eventually, your stomach is sure to start grumbling again and there's nothing like a hot pile of couscous to put it rest.
Couscous is a heap of semolina, which is like rice but much thinner and softer, with a stew ladled on top. The vegetables often include staples like chickpeas and carrots, potatoes and turnips, and Moroccans usually go with lamb or chicken for the meat. If you're vegetarian, you can forget the meat like @soumayya did in hers (right). The semolina absorbs the stew's broth, infusing each spoonful with its rustic flavor.
Spices
After your couscous, you might want to walk off your meal. At some point, you're likely to find yourself in a market, which you'll recognize by its smells — and we mean the good kind. This country loves its spices, and they are the foundation of Morocco's unique flavors.
You can find them in the street presented in all of their glory, spilling over baskets and piled into colorful mountains. @medoughzif's photo (left) shows you the quantity and diversity of spices that are for sold in Moroccan markets. Some local favorites include saffron, paprika, cumin, cinnamon, ginger, and turmeric.
Tajine for Dinner
Perhaps the most sumptuous of all Moroccan dishes is the classic North African tajine, named for the cone-shaped clay pot that it is cooked in, which keeps the heat circling through the dish. You can see it in @victorio10's photo above (right).
Inside is a slow-cooked stew which can feature meat or fish, vegetables, and often dried fruits and nuts as well. Typical spices include cumin, turmeric, saffron, cinnamon, and ginger. Vegetable tajines often use chili and paprika. The combinations of meats, fruits, and spices create an irresistible flavor that you won't be able to resist.
Pastries
If you have a sweet tooth, skip the traditional fruit serving for dessert and pop over to your local pastry shop to find shelves and counters covered with an endless variety of sweet and sticky pastries.
Try Chebakia, deep fried dough sprinkled with sesame seeds, honey, and rosewater. User
@mesdeuxpassions serves up a classic Moroccan cookie in the photo above (left), the Ghoriba, sweet and chewy like a macaroon, and with flavors spanning from almonds to pistachios. Another classic you don't want to miss is the coconut fudge cake. Please, eat the coconut fudge cake.
Mint Tea at Nightfall
To wash it all down, ruminate over your day with Morocco's favorite drink in the dusk hours. No terrace or sitting area in Morocco is complete without a pot of mint tea. The beautiful photo above (left) by @sabrinaboubilos is not an exaggeration of what you can find yourself.
If you want to drink like a local, fill your glass, pour it back into your pot, then fill it again. Supposedly this evens out the taste. The pots are specifically designed for accurate pouring, so that your tea can be poured from high above the table to create bubbles in your glass.
If you can remember to tell your waiter to go easy on the sugar, drinking mint tea can quickly become one of your favorite habits during your stay in Morocco.
This article was made possible with the photos of PicsArtists. Special thanks to saretta♥, Yassin Sahin, Noursabah, tachihaty, Soumayya kerroumi, Mohamed Oughzif, Churpy18, Ahmad Nuruddin Hashim, Wajiz Lahcen, Mes deux passions, SabrinaB, and Lilette.