Congratulations on your engagement! Although you're probably already feeling the pressure that comes with planning your wedding. We don't blame you. Planning for the big day is definitely a huge deal. But before you start ordering flowers and sampling wines, you'll need to create invitations for your wedding day. Not sure where to start? From essential design tips to free wedding fonts, here's everything you need to get your invitations ordered, sealed, and delivered.
Top wedding invitation design tips
Your wedding invitation is your guests' sneak peek into your big day, so you want to make it as magical as your ceremony. But with all the options available, it can feel overwhelming to design invitations for your wedding day, and then make sure they're properly sent to everyone on your guest list.
The good news? It's easy to design beautiful wedding invitations with Picsart, even if you're not a seasoned graphic designer. Whether you're dreaming of romantic calligraphy or minimalist hues, here's how to bring your creative vision to life.
Set the mood with wedding invitation templates

Even if you don't realize it, your invitation design hints at the tone of your ceremony and reception. Before you start designing your wedding invitations, you should have a general idea of what your big day will look like, whether that's elegant, casual, rustic, modern, or something in between.
To show guests what to expect on your wedding day, check out our library of fully customizable wedding invitations to find the perfect match. You can customize your wedding font style, color palette, and design elements to share a glimpse of your ceremony and reception. It's that easy.
Know your wedding colors

When it comes to invitation design, think about your wedding colors. To step up your design, try incorporating your wedding colors into your invitations. Then, carry them throughout the rest of your wedding designs for a cohesive look (think: menus, ceremony programs, place cards).
And remember: your color palette is completely up to you. You might stick to an elegant ivory background with stunning gold typography, but you can always switch it up with bright colors, metallic fonts, and romantic elements. Just keep readability in mind when choosing your colors.
Take advantage of negative space

Most importantly, your wedding invitations should be clean and easy to read. List only the necessary information on your invitation: your ceremony time and location, you and your partner's full names, the dress code (optional), and RVSP information.
Take advantage of the negative space and avoid visual clutter. If you try to squeeze too much information onto your invitation, you'll sacrifice legibility. If you can't fit all the information you need, it's totally fine to direct guests to your wedding website for more info.
5 best font styles for wedding invitations
Let's face it, a font can make or break an invitation design. Instead of choosing novelty wedding font styles, you'll want to stick with easy-to-read typefaces to get all the right information across.
Need some design inspo? Whether you're going for timeless typography or a handwritten style, we're here to help you find the perfect match for your big day. Here's how to choose the best free wedding fonts for your theme.
Wedding calligraphy fonts

Calligraphy fonts have become incredibly popular for wedding invitations—and it's easy to see why. They're one of the best ways to add a personal touch to your invitation design, whether you're planning a traditional wedding or something more modern.
If you're looking for a luxurious cursive calligraphy font, Motion Picture can help you flex your creative muscles. Or, if you're searching for something simpler, ElisaSTD offers a romantic take on modern calligraphy.
Wedding script fonts

Script fonts feature an elegant lettering style that resembles cursive handwriting. Script fonts offer a sophisticated, feminine touch. Combined with a beautiful invitation design, they're sure to sweep your guests off their feet.
An old-school example of a script font is Alex Brush, while a more modern script often is Calendary Hands. Meanwhile, if you're looking for a more vintage style, Dancing Script has lots of bounce, motion, and an almost italic-like quality.
Display wedding fonts

Designed to draw in readers, display typefaces are basically the written equivalent of shouting something out loud. They can help you add a bold touch to your wedding invitation design without overwhelming your guests.
After all, a playful party deserves a suitable font to match. If you're going for a fun party vibe, spice up your invitations with PoetsenOne, Lemon, or Gravitas One.
Serif fonts

Serifs are those little flourishes that add extra flair to letters. Times New Roman is one of the most famous serif fonts, but we love the timeless charm of OFL Sorts Mill Goudy TT and Cormorant SC.
Serif fonts are more distinctive than sans, so they're easier for our brains to process. When it comes to wedding invitations, serif typefaces create a classic but relaxed feeling.
Sans serif fonts

Sticking to a minimalist color scheme? Planning a modern wedding? Complement your style with ultra-simplistic sans serif fonts. You've probably seen them on wedding invitations before, with letters that lack little lines protruding from their ends.
Sans serif fonts are one of the best choices for minimalist couples. They set the mood for a modern wedding, creating a crisp invitation design. Sleek sans serif fonts work well with simple geometric designs. Some of our favorite sans serif fonts include RyuGothic, Carmen Sans, and Proxima Nova.
For the perfect wedding font, look no further than Picsart Quicktools. With the Picsart Font Generator, you can bring your creative vision to life with beautiful font styles for your social media feeds, wedding website, and wedding invitations to impress your guests.
Thanks to Unicode, you can easily copy and paste fonts without losing your typeface. No matter what language you're using for text, Picsart can translate your text into eye-catching fonts in seconds. The best part? You have dozens of fonts to choose from, so you can transform any design into something elegant, fun, or simply unique. The possibilities are infinite!
How to use wedding fonts for free with Picsart
Now that you know the basics of wedding invitation design, it's time to start designing invitations for your big day. With Quicktools, you can generate elegant, exotic, or stylish new fonts for your wedding invitations, ceremony programs, place cards, and more.
If you need some extra help finding the right font style, we've got you covered with tons of free wedding fonts to fit every vibe. Here's how to use wedding fonts for free with Picsart.
On desktop
1. Open the Picsart Font Generator and type the first line of your wedding invitation into the text box.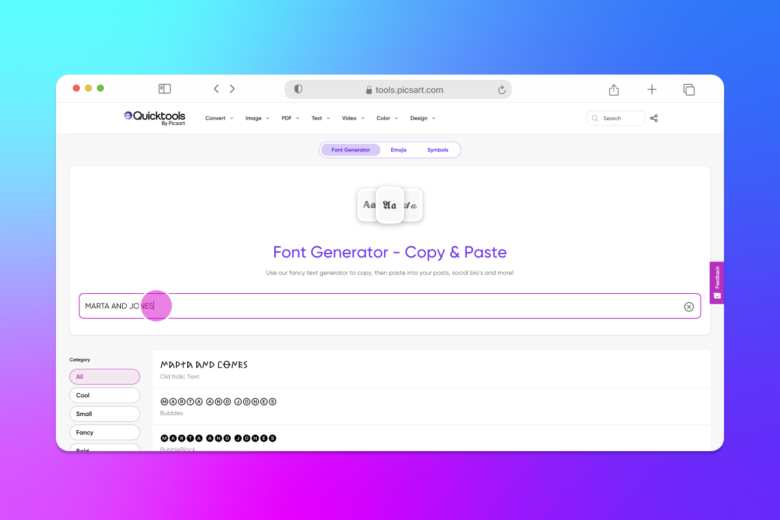 2. Scroll down the list of fonts to find the perfect typeface for your wedding invitation design.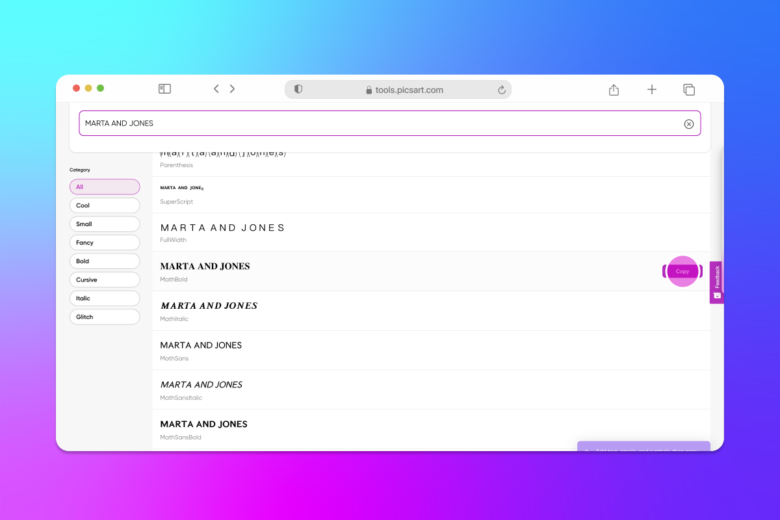 3. Once you've found your dream wedding font, click on the text to copy the font to your clipboard.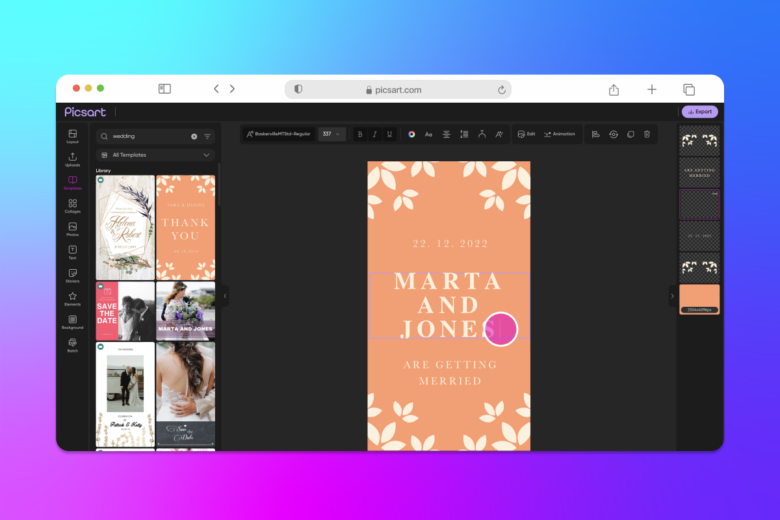 4. Paste the font on your wedding invitations, social media feed, and other designs to let everyone know about your wedding. Our font translation isn't restricted by languages or alphabets, so you can paste magical typography anywhere your imagination takes you.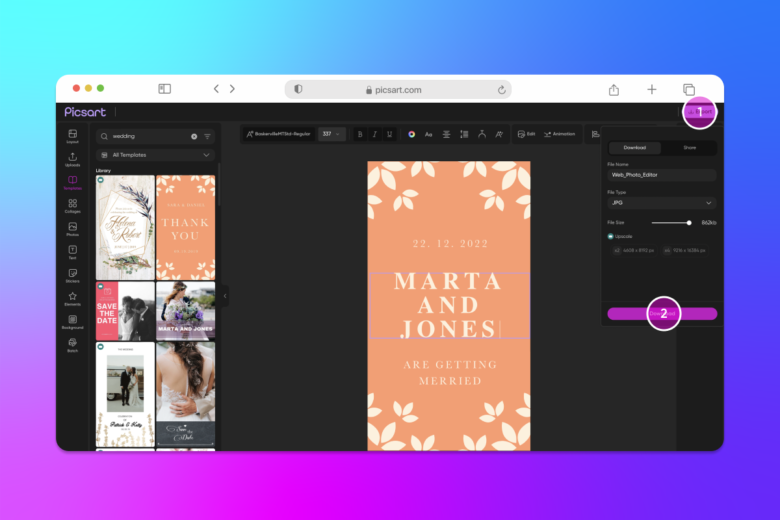 Recommended articles:
Picsart is a photo and video editing platform and creative community. A top 20 most downloaded app worldwide with over 150 million monthly active users, its AI-powered tools enable creators of all levels to design, edit, draw, and share content anywhere. The platform has amassed one of the largest open-source content collections in the world, including photos, stickers, backgrounds, templates, and more. Used by consumers, marketers, content creators and businesses, Picsart tools fulfill both personal and professional design needs. Picsart has collaborated with major artists and brands like BLACKPINK, Taylor Swift, Lizzo, Ariana Grande, Warner Bros. Entertainment, iHeartMedia, Condé Nast, and more. Download the app or start editing on web today, and upgrade to Gold for premium perks!