"I was born in Siberia, a remote icy wilderness, the place of exile and imprisonment. It's a very inopportune region for a fashion creator, isn't it?"
Talent knows no barriers, and Siberian photographer Arman Livanov is proof that there is no cooling a creative flame. Born to a place void of the design or expertise usually available to fashion photographers, Arman circumvented these problems by learning how to do it all himself. Makeup, hairdress, clothing design, accessories, shooting, retouching – all of it. Nothing worth wearing? Those curtains will do.
Arman explains it all in an interview that solicited more than a couple of gasp-worthy, "no way!" moments. Check it out along with his stunning work.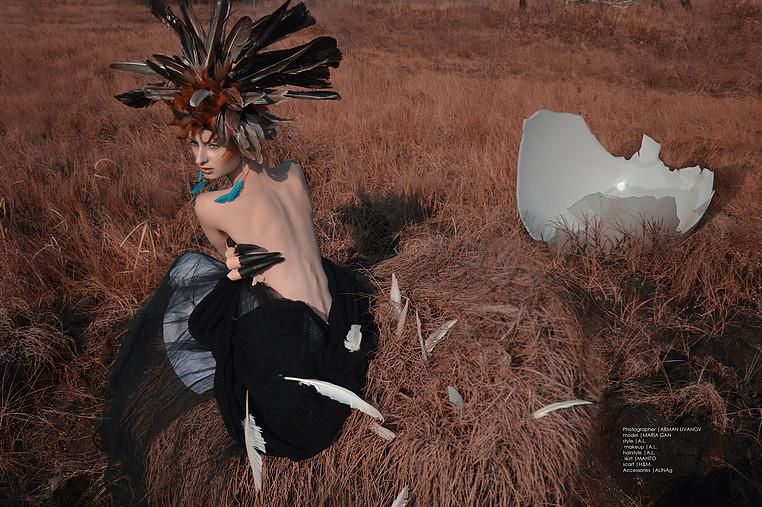 How did growing up in Siberia shape you?
I was born in Siberia, remote icy wilderness, the place of exile and imprisonment.  It's a very inopportune region for a fashion creator, isn't it?
The most important problem was a lack of resources. Where could I find fashionable designer clothes or professional models and studios? But my passion pushed me to find creative solutions to take my pictures. And my first aim was to turn a low budget into a highly professional result. It became my specialty and the most famous of my works were done in very common conditions.
The costumes you use are amazing. Where do you get them?
It sounds unbelievable, but almost all of the costumes in my pictures are old curtains, blankets and and clothes from granny's garret. There are no fashion designers in Siberia and I had to learn design skills to make dresses for my shoots.
When I moved in Moscow, I found some designers, whose clothes were really well-worked and suitable for my style, but there are only a few very good professionals. If I don't like a dress offered by a designer, I prefer to use a curtain and the result will be wonderful. I appreciate quality and beauty, but not brand and public opinion.
What kind of images inspired you as a kid?
When I was a small boy, I made clothes for my cousin's dolls. It was not so easy to find any in Shelekhov, Siberia. When I was 16, I enjoyed watching America's Next Top Model, it was probably the first fashion show on Russian TV. Tim Walker's photos also influenced me a lot. Before, the Internet was a luxury in Siberia, but I saved and collected pictures which inspired me and shaped my vision. I had a lot of Walker's pictures in that folder.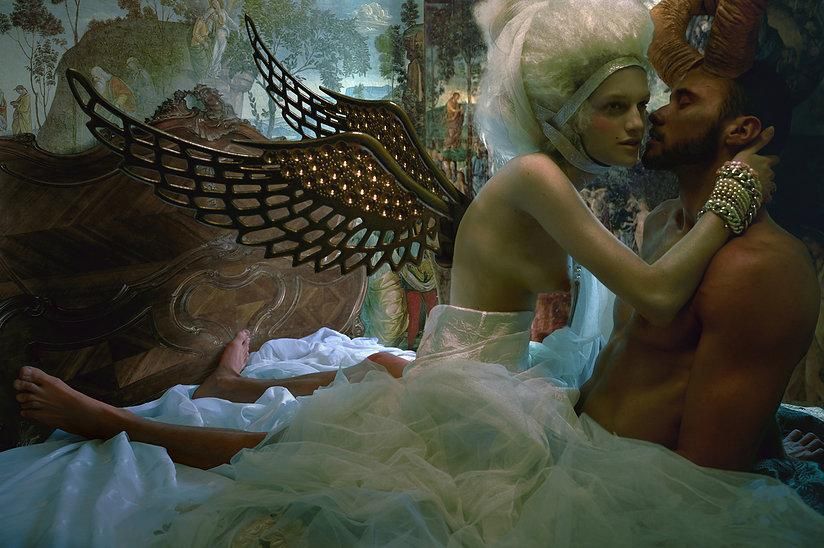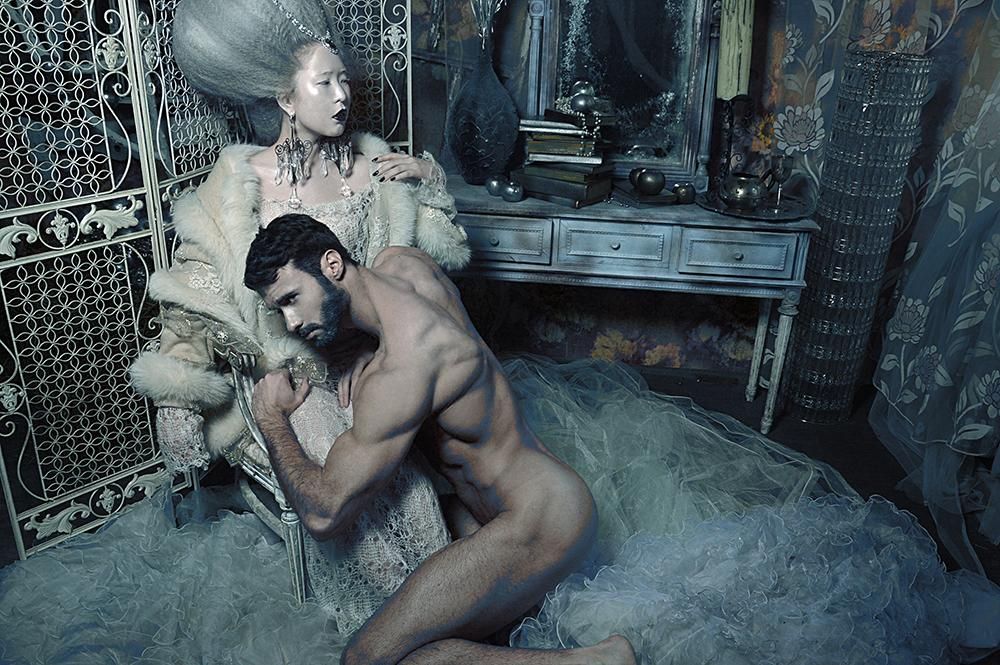 What was your first commission job like?
My first commission job was advertising for the Thaiv brand in Beijing. I met two jewelry and clothing designers during my last trip to China and they were impressed by my portfolio. I loved their accessories, and for me it was a nice collaboration. I made a range of photos with their products in a very small and cozy Chinese street… it was a great experience and fun for us.  I still do commission work, but my first requirement is to do what I want. It is very important for me to keep my own vision and not to betray my artistic feeling. I believe that the real artist must create in harmony with his instinct, if someone offers to pay me to do something I don't like, I won't do it.
There seem to be a lot of historical and fantastical themes in your art. Are there times of history or art that particularly interest you?
Did you notice that? Yes, I am. My photography style changed with the time, now I am interested in paintings of past eras and different kinds of art. I love renaissance, baroque style, Pre-Raphaelitism, art deco etc. These styles are far from modern fashion, but I want to combine old and new, show modern fashion in an antique wrapping.
What was the most difficult shoot you ever participated in?
All my shoots are difficult. I love complicity and intricate details that is why my models always have challenges: they work in thin dresses outside in winter, swim in cold water or lie on the hot sand. But fortunately they are all very brave, passionate and do their best to have a good result. I appreciate these girls and boys; they contributed a lot to my development.
How did the people in your life affect your growth?
On the one hand, I had great support from my friends and relatives, who helped me a lot: they looked for resources for my shoots, places, models etc. They became my first models and promoters. Until today they believe in my talent and success.
On the other hand, there were a lot of people around me who didn't like what I did and criticized me. At the very beginning I was really frustrated by this, but it spurred me to do more and better.  As Tim Fargo said: "Your friends will believe in your potential, your enemies will make you live up to it."