Did you know it's possible to get inked using photo editing tattoo software? Getting inked is one of the best ways to express your personal style, and creating your dream tattoo can be an incredibly rewarding experience. Of course, there's still some anxiety that comes with committing to it permanently. Before you hand over your sketch to a local tattoo artist, there's a better option: hyper-realistic digital tattoos.
With photo editing tools, you can place your tattoo of choice anywhere on your body, whether you're looking to amp up your photos, experiment with new designs, or test out a new tattoo before committing. The best part? It's easy to play around with different tattoo designs, even if you're not a seasoned graphic designer.
Ready to bring your favorite designs to life? Let's explore the ins and outs of photo editing tattoo software so you can upgrade your favorite selfies with pain-free tattoos.
Type of tattoo fonts
If you're choosing a font for a soon-to-be tattoo, you'll need to carefully consider your options (and choose the perfect body placement) to infuse your design with creativity. Fortunately, there are tons of fonts to choose from, and the creative possibilities are endless when it comes to tattoo design.
If you're testing different fonts before sketching your newest tattoo design, try using a font generator to see how your text will look with different typefaces. Once you've narrowed down your options, you can use a tattoo photo editor online to see how different fonts look on your skin.
Not sure where to start? Don't worry, we've got you covered. From the edgy to the elegant, here are some of the best tattoo font styles for your next design.
Medieval-inspired fonts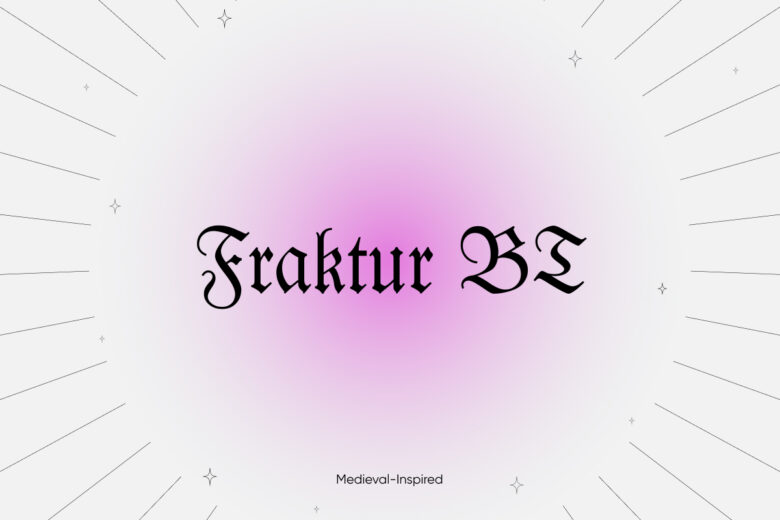 Black-letter typefaces, commonly used in old-school tattoo designs, are typically decorated with swashes, tails, and other ornate elements. If you're aiming for a classic design, gothic fonts can help you make a bold statement.
For example, Black Valentine works well with name designs. The accents are low-key enough to work with an image but elegant enough to make the letters pop on their own. It's the perfect choice to bring some dark vibes into your lettering, logo, or tattoo design.
Nautical-themed fonts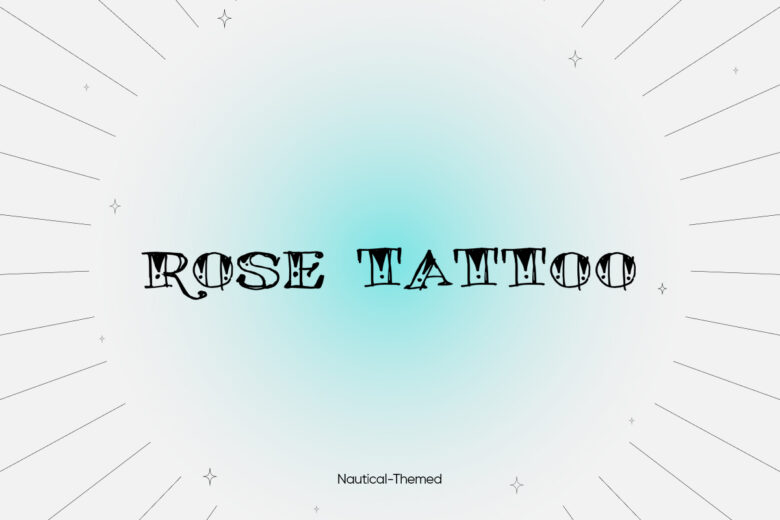 Nautical-themed fonts are also common in old-school tattoos designs. They're inspired by pre-World War II sailors, who would get ink to mark milestones in their voyage (or even to ward off bad luck at sea).
Searching for the perfect maritime font? The Rose Tattoo typeface is a good option for throwback-style tattoos. If you're looking for a lighter option, the Gloria typeface can help you strike the perfect balance with line art and graphic designs.
Cursive typefaces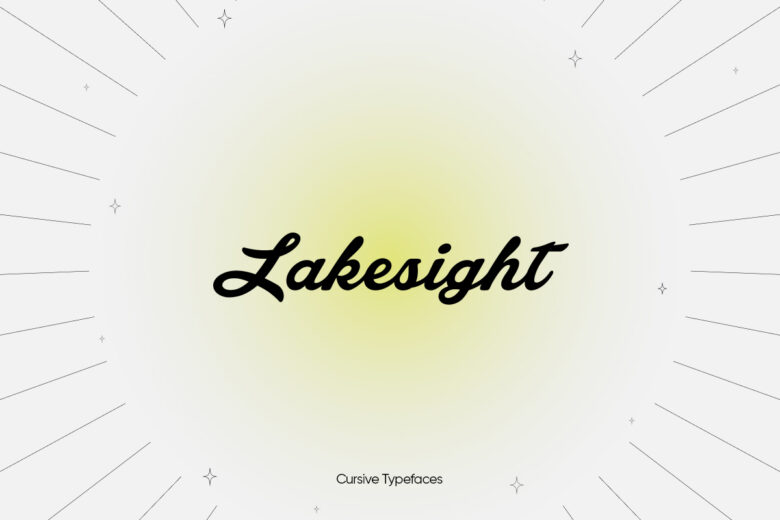 If you're dreaming about a contemporary design, cursive typefaces can make your ink look handwritten.
The Learning Curve typeface is especially popular for script tattoos. It's dainty, feminine, and simple, making it the perfect option for single-line or one-word tattoos. Thanks to its popularity, most tattoo artists have some experience with this tattoo—all it takes is a delicate hand to turn your dream design into a beautiful piece of body art.
Sans serif typefaces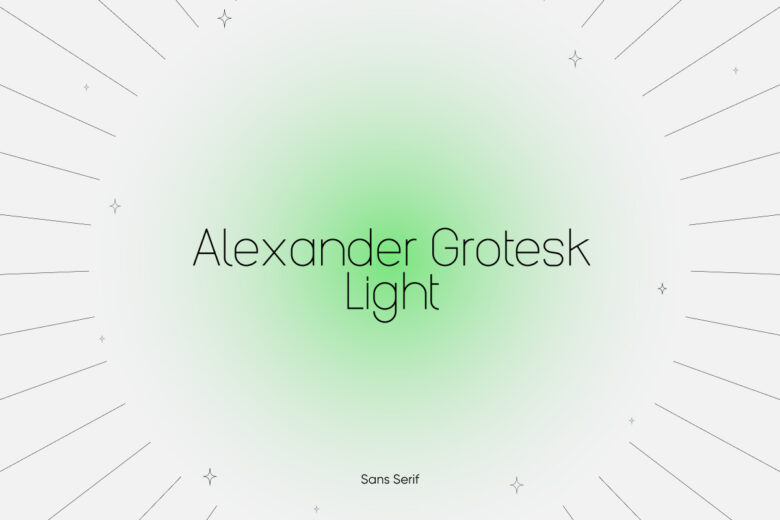 For tattoo designs made entirely of letters or words, bold display fonts can help you amplify your design. Plus, some sans serif fonts even come with a set of illustrations (see: Comodo Sans Serif) to make your design even more coherent and convincing.
Interested in a futuristic design? Ultra-modern sans serif typefaces, like the Prime font, feature clean strokes, which would work amazingly well for typography-based tattoos. At the same time, stenciled details can keep your design from looking too boring or basic.
Serif typefaces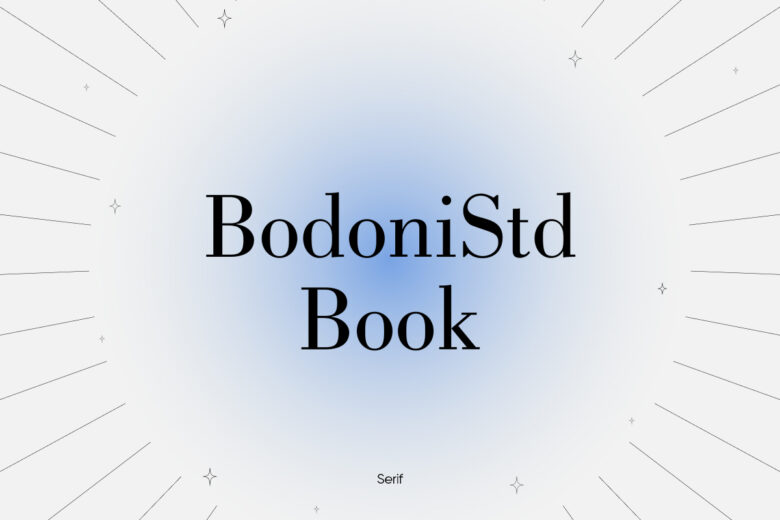 Designing an ultra-minimal tattoo? Serif typefaces are the way to go. They're the most recognizable typefaces out there. And for good reason: they're easy to read, simple, and straightforward.
Plus, serif typefaces are incredibly versatile. For example, the Helvetica typeface can be used for standalone words, quotes, or text within a bigger design. Serif fonts also make bigger blocks of text easy to read (think: quotes from books or verses of song lyrics).
How to add tattoos on pictures
Now that you have some inspiration for your newest tattoo design, it's time to amplify your selfies with one-of-a-kind tattoos. With Picsart, it's easy to add tattoos to pictures, and you can scroll through your photo library to find your favorite shots to enhance with customized tattoo designs. It's the only photo editing tattoo software you'll need.
In this step-by-step tutorial, we'll show you how to use the photo editor to give yourself the tattoo of your dreams. Read on to learn how to do it, and then share your edits with the hashtag #Tattoo!
On the web
1. Open the Picsart Photo Editor and click on Upload to start a new project.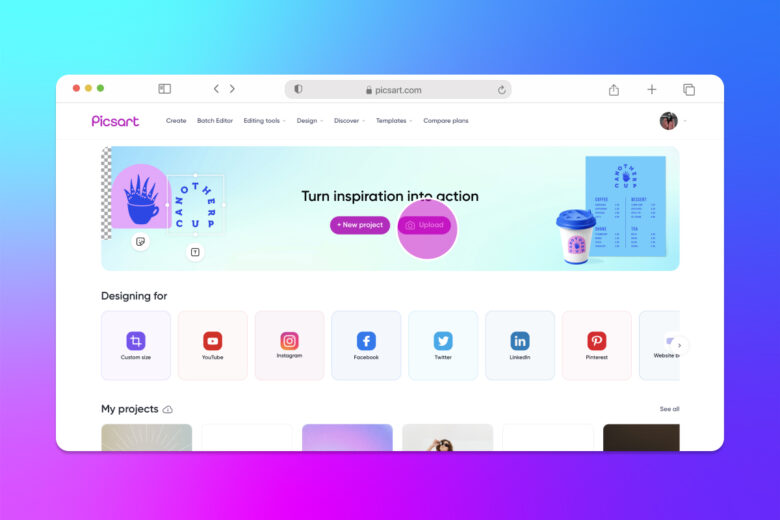 2. Upload a selfie from your photo library.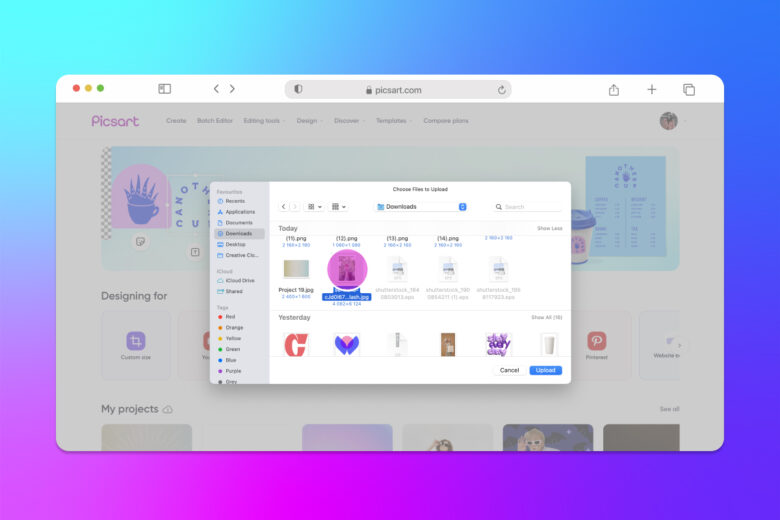 3. If you're working with a pre-designed tattoo, click Upload to upload your tattoo design. Or, if you're creating a new design, channel your inner artist using the Stickers and Text tools to create the perfect tattoo.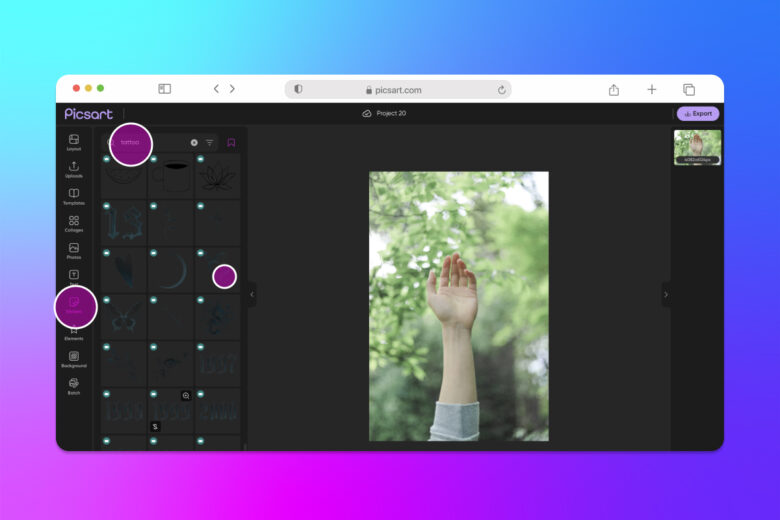 4. Once you've finished your design, place it over your image. Adjust the size to fit using the arrows in the corner of the image. Need to fine-tune your edit? Under Tools in the top toolbar, click Erase. Select the size, opacity, and hardness of your eraser. Then, drag the eraser to erase parts of the tattoo from your image as needed. When you're finished, click the checkmark to confirm your changes.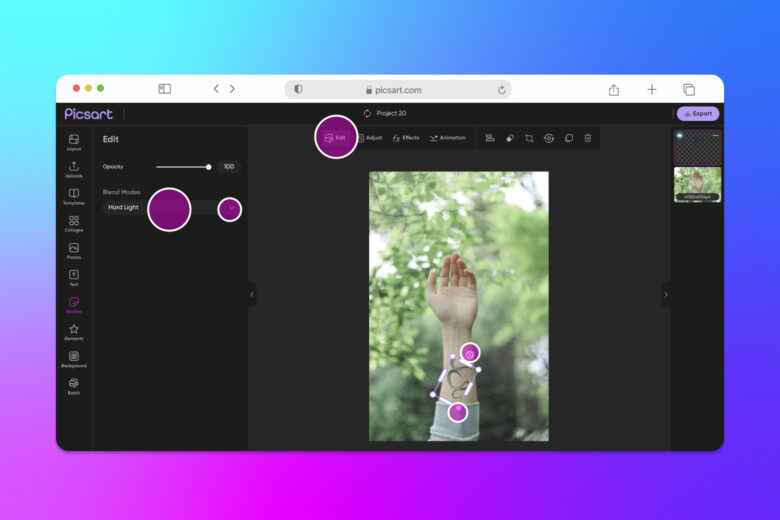 6. When you're satisfied with your edit, Export to download your edit and share your new ink with the world.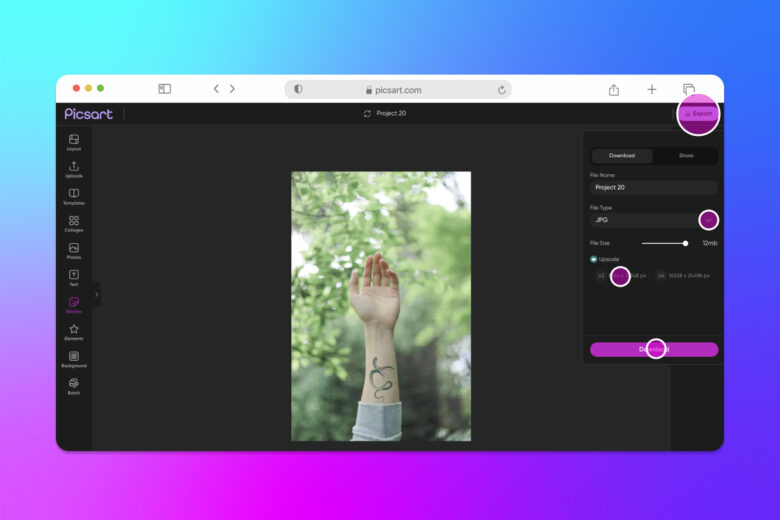 On mobile
1. Open the Picsart app and tap on the plus sign (+) to start a new project.
2. Under Photos, tap All Photos. Then, upload a selfie from your photo library.
3. Search for a suitable photo to show where on your body you might like to see a tattoo, such as "hand" and select the image that works best.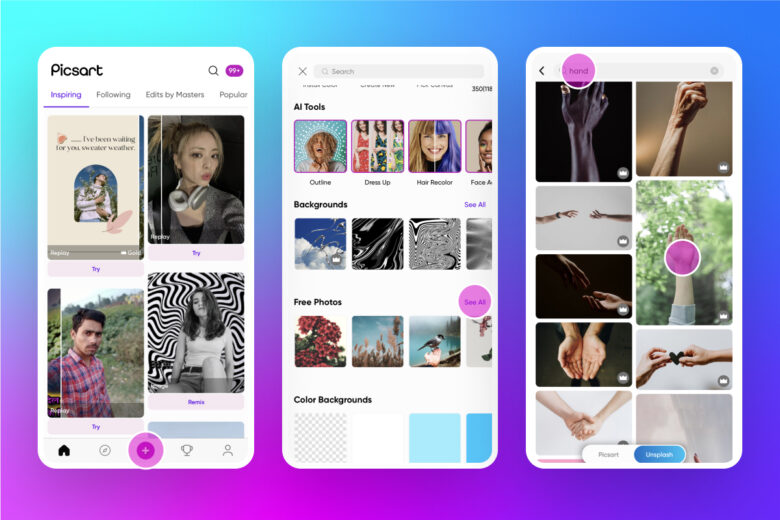 4. If you're working with a pre-designed tattoo, tap Add Photos on the bottom toolbar to upload your tattoo design. Or, if you're starting from scratch, use the Stickers and Text tools to unleash your creativity.
5. Select the tattoo sticker that you like the look of the most.
6. Once you've chosen your design, place it over your image. Adjust the size to fit using the arrows in the corner of the image. Need to make some final touches? Tap Brushes in the bottom toolbar, then choose Erase. Select the size, opacity, and hardness of your eraser. Then, drag the eraser to erase parts of the tattoo from your image, and tap Apply to confirm your changes.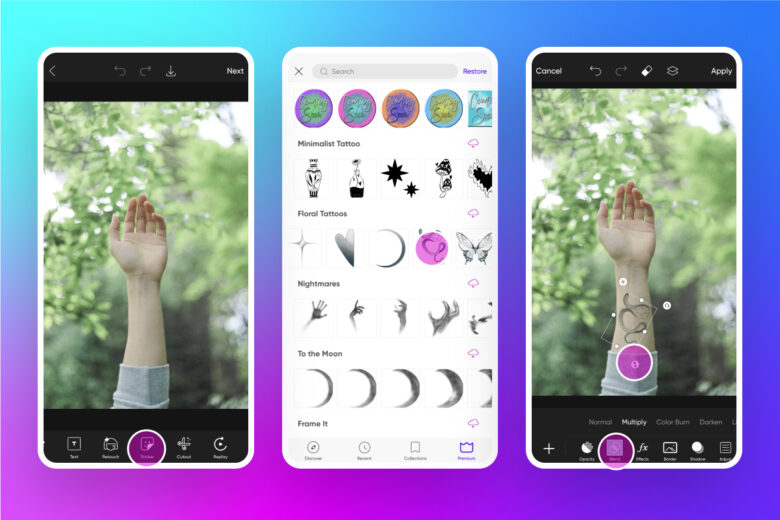 7. When you're satisfied with your edit, tap Apply. Then, choose Next and Share your edit.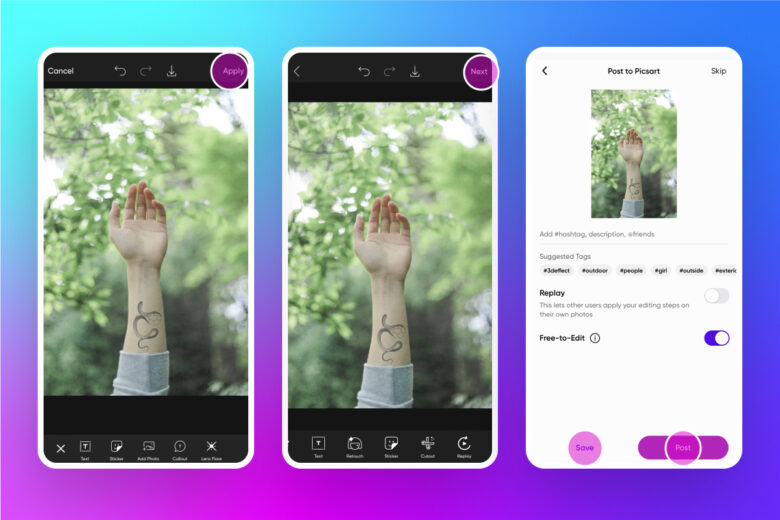 Recommended articles:
Picsart is a photo and video editing platform and creative community. A top 20 most downloaded app worldwide with over 150 million monthly active users, its AI-powered tools enable creators of all levels to design, edit, draw, and share content anywhere. The platform has amassed one of the largest open-source content collections in the world, including photos, stickers, backgrounds, templates, and more. Used by consumers, marketers, content creators and businesses, Picsart tools fulfill both personal and professional design needs. Picsart has collaborated with major artists and brands like BLACKPINK, Taylor Swift, Lizzo, Ariana Grande, Warner Bros. Entertainment, iHeartMedia, Condé Nast, and more. Download the app or start editing on web today, and upgrade to Gold for premium perks!