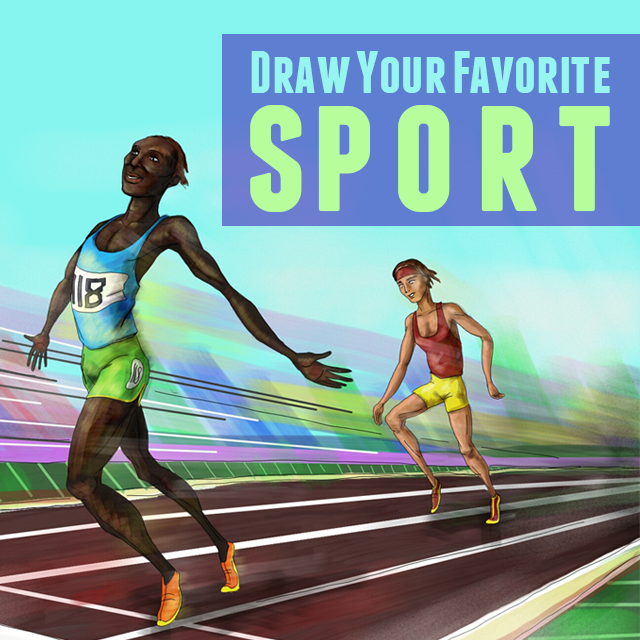 Use PicsArt drawing tools to try your hand at painting your favorite sport on your mobile device. 
Painting sports is not unlike painting dance, it is a study of extremely practiced and skilled movement, human beings using their physical bodies to achieve remarkable things. While dance is a physical expression of vitality, however, sports are about competition and overcoming more than your opponent but also fatigue, pain, and insurmountable odds. Consequently, the images of athletes in the throes of competition are perhaps the strongest visual representation of the relentless human will to fight.   
The anguish on the face of an athlete going that extra inch, the ecstasy of a teammate being lifted after pulling off an impossible underdog victory… Pick an exceptionally powerful moment in sports and draw it.
How to Submit Your Drawings
All jungle drawings must be submitted between 9:00 AM(PST) on Saturday, Aug 24th and 3:00 PM(PST) on Sunday, Aug 25th.
To Submit your drawings wait for the tag which will be announced this Saturday at 9:00 AM (PST) on Facebook, Google+ and Twitter.
How to Vote
Voting will begin as soon as submissions start at 9:00 AM (PST) on Saturday, August 24th and will last until 3:00 PM (PST) on Monday, August 26th.
You can vote for your favorite images in the "Contests" section of the app or by visiting the "Contests" section of our website.
Non-Original Artwork Will be Removed!!
All submissions must be original drawings created by users using only the PicsArt App drawing tools.

Users CANNOT copy images from our clipart files, other users, or the Internet.
Images that don't meet the requirements above will be removed, to ensure fair voting opportunities for authentic drawings! Thank you.