For International Men's Day, in these final stretches of Movember, the official month of the mustache, we have a special treat for you. We present Greg Anderson, the official photographer at the 2013 World Beard and Mustache Championship in New Orleans, Louisiana. This annual contest features the fiercest facial hair on the planet, often waxed into structures that defy anything you thought you knew about the architecture of grooming, and thanks to Greg, we have the photos to prove it.
Greg's expedition into the world's greatest gathering of furry-faced glory began after the economic crisis hit, when he found himself reevaluating his ten-year career during a dry spell of work. "I went back out on the street and shot film again like I did in photo school in New York… I shot portraits of every person who would get in front of my camera. I realized through that process that I am a portraitist and I needed to get in front of some more interesting subjects." Enter the beardsmen.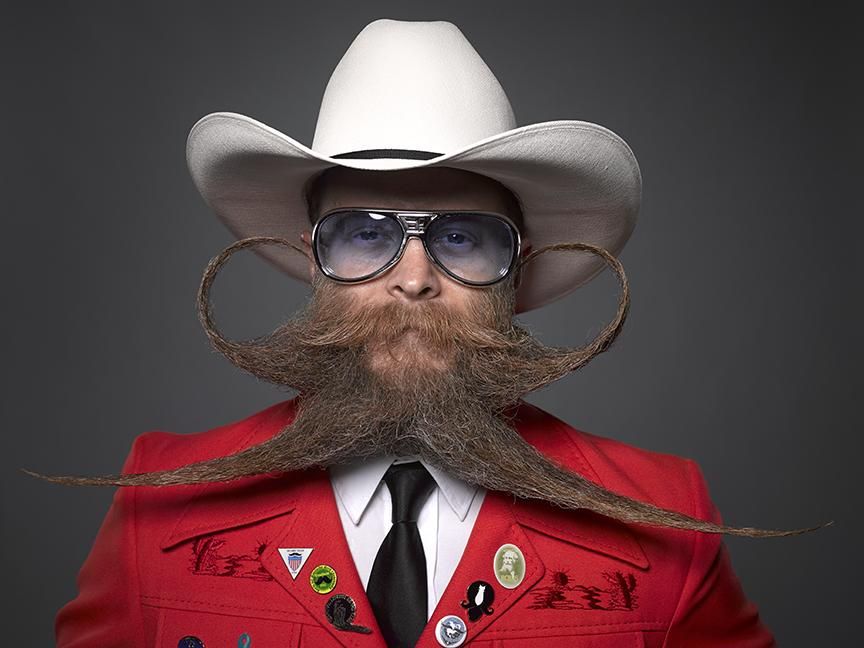 In 2012, Greg saw a news story about the World Beard and Mustache Championships in Las Vegas, which was astonishingly right down the street from his studio. The contest had already ended and the contestants had gone home, but he contacted the organizer and was invited to next year's event in New Orleans. "I put it on the calendar, tested lighting on every bearded and mustachioed person I knew, and waited."
Greg packed up his studio and transported it thousands of miles to the House of Blues in New Orleans. "The atmosphere at the shoot is one of excitement and drunken good times. I'd say the majority of these guys care less about the competition and more about meeting their friends to catch up, have a few beers, and see what everyone has done with their facial hair over the last year."
Of course, even with so many eccentric characters like these, there were some standouts. "A gentleman walked up carrying a Rubik's Cube and pounded a nail into his nose with it. Then, he pulled out a mousetrap and repeatedly snapped it on his tongue till I got the shot."
You won't find more interesting subjects than that.