"You live most of your life inside of your phone. Make sure it's a nice place to be."
While there are many different pre-built wallpapers you can use, it's way more exciting to make your own wallpaper for your phone. You look at it multiple times a day, every day, so it should represent you to the max! PicsArt's vast selection of editing tools, free-to-edit images, and stickers makes it so easy to challenge conventional readymade wallpapers and realize your very own wallpaper ideas for phones. Just choose a theme, mood, memory, or a dream and start experimenting with color and forms to create your custom iPhone wallpaper. With the release of iOS14, you can take this a step further and customize your home screen and widgets!
With options to customize both your home screen and your lock screen, you can – and should! – design as many wallpapers as you like. Change them according to your mood, life events, or with every change of season. If you're decorating your home, you should be decorating your phone! 
Do thoughts of an espresso cup and croissant come to mind when dreaming up the perfect weekend? Select your favorite photo of Café de Flore from your last trip to Paris, add a black cat graffiti background, a dazzling bouquet of hydrangeas by Eric Chauvin, a "Padam, Padam" quote by Piaf, and a romantic Parisian rooftop. Voila – you're basically in Paris every time you pick up your phone! Tired of the urban landscape? Combine images of turquoise waters, countryside cottage florals, or the silent majesty of the Swiss Alps. So many possibilities, so many creative choices to make! You can travel in time and make your own Renaissance style arabesque wallpaper for your phone by intertwining figures, vines, ribbons, flowers, and Canvas effects in a unique rhythmic pattern. Do you want a break from images and words? Pick up a virtual brush and create a minimalistic wallpaper, inspired by Klein blue or in the spirit of Malevich's White on White.
You see where we're going here. Custom iPhone wallpapers just have so many advantages over the pre-built ones:
Making your own wallpaper for your phone

is a lot of fun; it fires up your creativity and lets your imagination roam free.

The choice of themes, pictures, colors, patterns, and the composition styles you create allows you to truly showcase your unique personality.

You can mix and match all the moments you cherish, the photos that make you smile, and get positive vibes every time you check your phone.
What Is the Best Online Wallpaper Maker?
Making a custom iPhone wallpaper requires no formal design skills. We love PicsArt Web Tools for this because it has all the tools you need to create a wallpaper from scratch in no time. You can also search for backgrounds in PicsArt's daily growing #FreeToEdit collection and add your own personal touch to them with Stickers, Text, and Masks. Creating your signature wallpaper only requires your imagination and a few clicks.
What Is the Best Wallpaper Maker App?
Are you searching for the best wallpaper maker app to bring all your amazing ideas to life?  PicsArt's app is just the place for you! The android and iPhone wallpaper maker offers you truly unlimited options to experiment with. Just select a background or import your own, upload your photo, and play around with a myriad of options like face swap, cropping, cloning, film grain filters, double exposure, chalkboard/swirled/feather effects, and much more. Uplevel your wallpaper by painting with the brush tool, playing around with colors to create amazing contrasts, creating unique collages, and making your own stickers. Play around with the crop tool and opacity levels to create interesting geometric designs overlaid on your photos for a one of a kind wallpaper that's more like a work of art than a digital file. If you just want a quick edit, use the AI Select tool to instantly erase or swap out the background or sky and replace it with a default texture. 
How Do You Make Your Own Phone Wallpaper?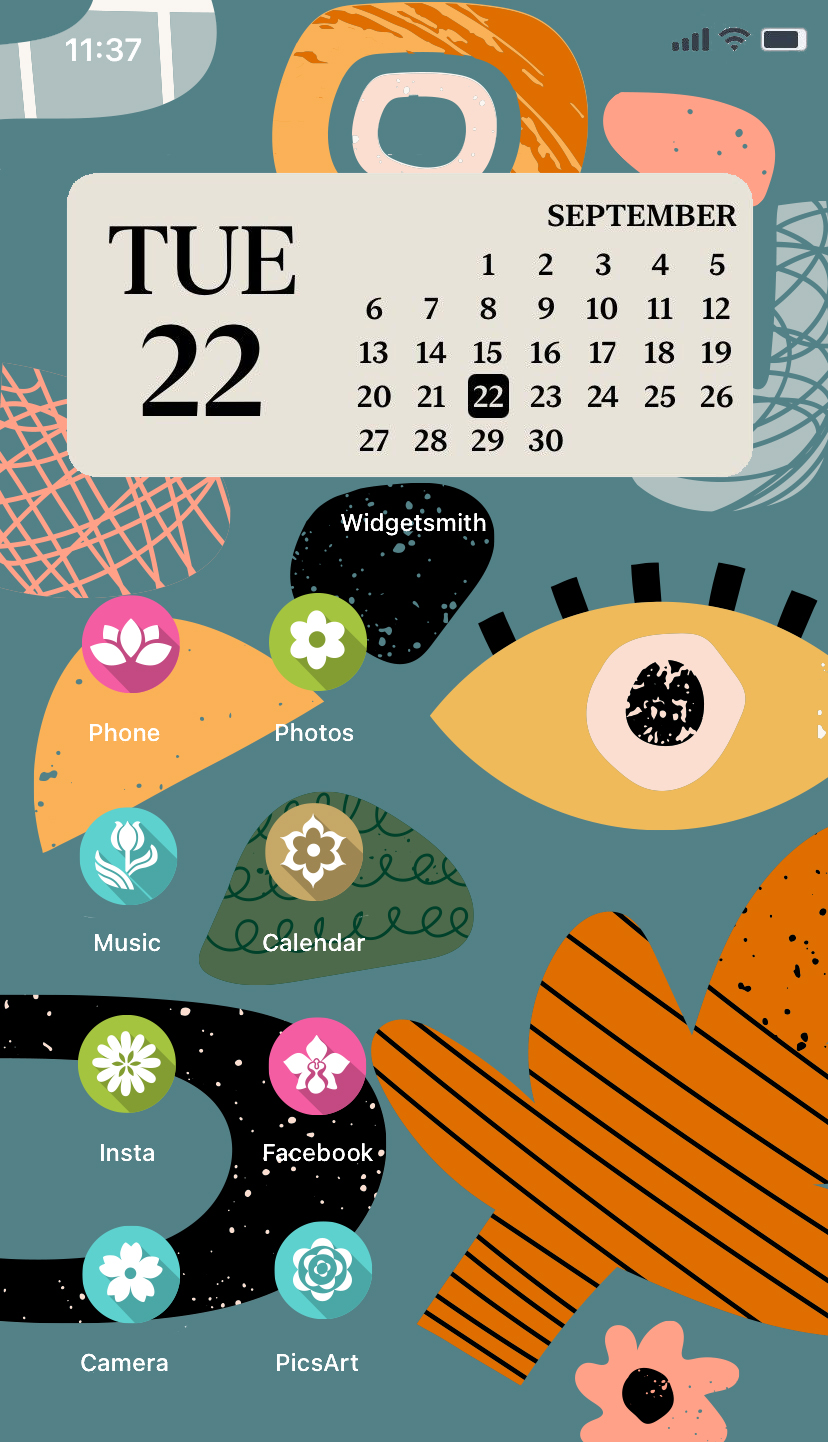 Ok, now that you're feeling inspired, it's time to get editing! Below, you'll find the step-by-step instructions to make your own wallpaper for your phone. We'll use the example of an aesthetic vintage style background but feel free to play around with a variety of the above wallpaper ideas for phones. You can do this with both our Web Tools or in the app! In this example, let's use the web tools. 
Step 1. Open the Web Editor (or open the PicsArt app) and click + to open the Editor.
Step 2. Select a picture from Color Backgrounds.
Step 3. Click Tools and select Crop.
Step 4. Click Free, choose Story, then Apply, and Brush. 
Step 5. Click on the first icon to adjust size and opacity.
Step 6. Click on the first Brush then choose the Multicolor, choose your favorite color, adjust then select the first Brush again.
Step 7. Adjust size and opacity to max and paint all the surface with your color, then choose Apply.
Step 8. Click on Stickers, search for aesthetic vintage stickers and tap on the one you prefer with the opacity set to the max, then select Apply.
Step 9. Add text (whatever comes to mind)! Feel free to play around with the font here too to get the right vibe. 
Step 10. Click on Stickers again and search for aesthetic vintage background, tap to select, and apply your favorite.
Step 11. Finish it off by tapping on FX to select the right filters, i.e. Canvas, Blur, or Aesthetic.
Step 12. Save your custom wallpaper in your gallery and use it as wallpaper.
 As you can see from the tutorial, in PicsArt it is really simple to realize your most original ideas and make your own wallpaper for your phone. You can add as many filters, fonts, or stickers you like, select any background you fancy, apply the perfect filters, and embellish with frames and colors. In this example, let's use the app to create a custom phone wallpaper. 
Step 1. Open the PicsArt app and click +.
Step 2.  Select Draw, then click Blank and Edit Image. 
Step 3. Click Brush and select Mask.
Step 4. Click Lights and select Sunset, Normal with opacity on 100.
Step 5. Click on FX. 
Step 6. Select Polygon and put density and fade on 0.
Step 7. Save the polygon picture and apply it as wallpaper.
What Are Some Phone Wallpaper Ideas?
Do you need some wallpaper ideas for your phone? Browse your photos in your camera reel, or search among PicsArt's free-to-edit images and stickers for inspiration. You can also make your own wallpaper for your phone based on your favorite movies, memories, places, nature, galaxy, fashion, or gourmet food. Let life smile at you with the photo of your family pet doing silly things. Experiment and improvise by mixing themes (nostalgic childhood vacations and throwback 80s vibes), with colors (neon bolts or calming nature hues) and figures (your favorite K-pop star)! Take it up a level by applying your favorite masks and filters that you've seen on the PicsArt TikTok account (we're loving this peachy themed custom iOS14 home screen tutorial). Add uplifting quotes for a daily motivation boost or a song lyric that takes you back. 
If you're feeling more 1810 than 2010, get phone wallpaper ideas from the great masters in museums. Check out the collages created by the great film director and artist Sergei Parajanov. He defined collage as "compressed film" and created stunning compositions by mixing pieces of newspaper, photographs, dolls, fabric, glass, shell, stones, and other objects. Take a look at Picasso's "Bottle of Vieux Marc, Glass, Guitar and Newspaper" where he combined newspaper with forms of a guitar, glass, and bottle of wine that's cut from colored paper.
The world — and your phone — is your oyster when it comes to making your own wallpaper. We can't wait to see what you create! 
PicsArt all-in-one Photo and Video Editor, Collage, and Sticker Maker is the world's largest creative platform with over 150 million monthly active creators and influencers. PicsArt has collaborated with major artists and brands like Taylor Swift, The Jonas Brothers, Gwen Stefani, Maroon 5, Lizzo, Meghan Trainor, One Direction, MONSTA X, Warner Bros. Entertainment, iHeartMedia, Condé Nast, and more. Download the app today to level-up your photos and videos with thousands of quick & easy editing tools, trendy filters, fun stickers, and brilliant backgrounds. Unleash your creativity with PicsArt and upgrade to Gold for awesome premium perks!