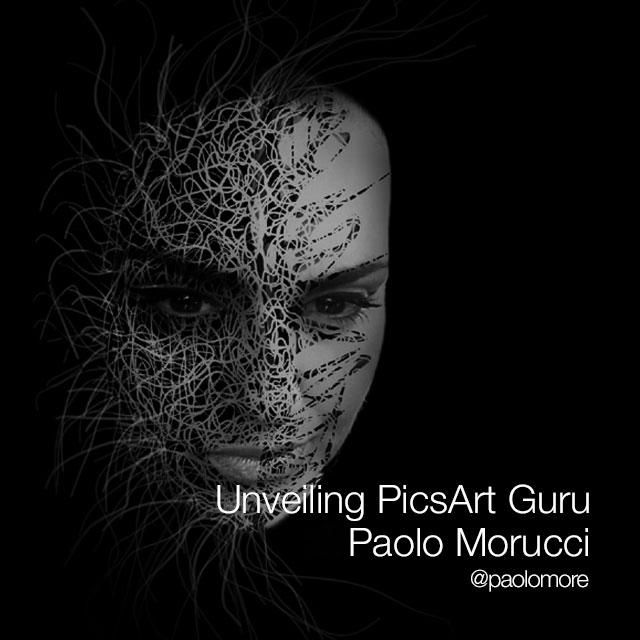 I am a huge @paolomore fan, and I am not alone. Nearly 800,000 followers agree that Paolo Morucci has talent. Over the last two years, Paolo has captivated thousands upon thousands of community members and has become a master PicsArt teacher. Through our Daily Journal, we have shared his love story with the beautiful and talented Lily (@daffylaye) and have hosted Paolo as a Guest Curator. I figured that it is now time to unveil Paolo Morucci the artist.
 Born and raised in Rome to a wonderful family, Paolo appreciates his parents and sister for the unconditional love they provide. When he spoke with me about his family, it was apparent that it was the warmth, support, and the value of kindness they provided Paolo that fostered his talent, success, and kind heart.
As a child, Paolo's aunt introduced him to the work of Italy's greatest artists. Living in Rome, he had inspiration all around. He loved to draw and had an unending fascination with Legos, which he carried into his teenage years. His childhood hobbies of Lego modeling, RC cars, and video games took him straight to university towards a degree in Industrial Design.
Before Paolo launched his own freelance career as a visual effects artist, he worked at an architect's studio and was moonlighting as a DJ, nursing his love for music. He was able to turn his passion for the visual arts into a career and has spent the last years working with architects, photographers, and illustrators, providing them with awesome 3-D renders, animation products, and photo-realistic objects/environments. He also teaches graphic design.
In May of 2013, based on user reviews, Paolo installed PicsArt. He was looking for a photo-editing app similar to Photoshop for his smartphone. His first impression was that PicsArt was quite user-friendly and complete. He then got to know the community.
Paolo had never trusted online social networks before, but believes that "only fools never change their mind." He gave the network a try to find the exchange of images, feelings and experiences moving. He shares, "I never thought that friendship and community could be synonymous. I call them friends, because they are friends. I can feel the love and admiration coming from their words. This virtual family is a real part of my life."
In addition to all of his jobs and all of his roles, Paolo also is a PicsArt Guru. His many tutorials give away his best secrets and tips. Paolo's creative and impeccable technique, result in magnificent images that push boundaries and make us think about new ideas and concepts. We then have the opportunity to expand these ideas and skills with guidance from the guru himself.
 Moved by the amount of time and effort Paolo puts into sharing his techniques with the community, I asked him about his love for teaching. "If you are a photographer you share your photos; if you are a teacher you share your knowledge. It is gratifying when someone tries my tutorial and then leaves a kind comment on my wall."
I asked him where the inspiration comes from and what allows him to imagine a world that so few of us can. I learned that he has a general love for all art forms, and that this love transforms and elevates his own work and perception of the world.
"I am influenced by artists such as Pablo Picasso, René Magritte, Salvador Dalì, Maurits Cornelis Escher. I am inspired by films such as Star Wars and anime. I enjoy the work of Stanley Kubrick and Tim Burton. I am also inspired by PicsArtists in our community." He loves adding a new dimension to #freetoedit images and his Gallery is filled with these images edited with a fresh and interesting twist.
Paolo believes that in many cases, art can express concepts better than words, and each image in Paolo's Gallery unveils his creativity. Through his Gallery we meet the philosopher, the romantic, the satirist, the dreamer, and the innovator, and in common is the warm individual behind the image ready to inspire and support each and every one of us. Thank you for helping us beautify the world, Paolo!
This story was prepared by PicsArt's Community Editor, Madlene (@madlene_pa). If you have a PicsArt story to share, we would love to read it. Please send an email to community@picsart.com.