Photo editing software and apps are constantly innovating themselves, giving us amazing filters and advanced editing tools at our fingertips. Of the many unique photo effects widely used, the ripped paper effect is both an incredibly unique and artistic effect that will surely make your design one-of-a-kind. 
If you've never heard of the ripped or torn paper effect, it looks exactly how it sounds. Imagine holding a photograph of yourself, ripping it in half, and then adding the other half or a completely different photo back, leaving space in between the rip. This effect creates a realistic ripped paper look on your photo, perfect for a distressed, surrealist vibe. The ripped paper effect can also be a great tool for creating a collage or patchwork project. It allows you to piece together "ripped" pieces of text and images on a canvas for a dramatic yet cohesive look. Let's take a look at a few different design ideas in which you can seamlessly incorporate the ripped paper effect.
Different Ripped Paper Effect Design Ideas

1. Upgrade Your Selfie with Ripped Paper Effect
This edit is commonly applied to portrait-style photos where you can target a specific section of your face or a specific facial feature such as the eyes. The grand reveal comes into play when you add a second image under the ripped paper, revealing what lies beneath the surface. A fun take on this ripped paper use case would be leveraging a color photo as your primary photo and using a black and white photo as your second image or vice versa. Together, the contrast creates a stunning result.  
Pro tip: you can also achieve a cool ripped paper effect with a masterpiece hiding underneath with our Canvas Effects! 
View this post on Instagram
2. Create a Collage With Ripped Paper
The ripped paper collage technique is a very popular art form that's been around for ages. This technique uses ripped pieces of magazine pages, newspaper clippings, old books, and other paper material to create a collage. Luckily, creating a digital version can be just as easy with the PicsArt App. Pro tip: If you're not sure where to begin, you can start out with a photo and build from there or you can use a blank canvas and start adding ripped paper graphics until your collage is complete.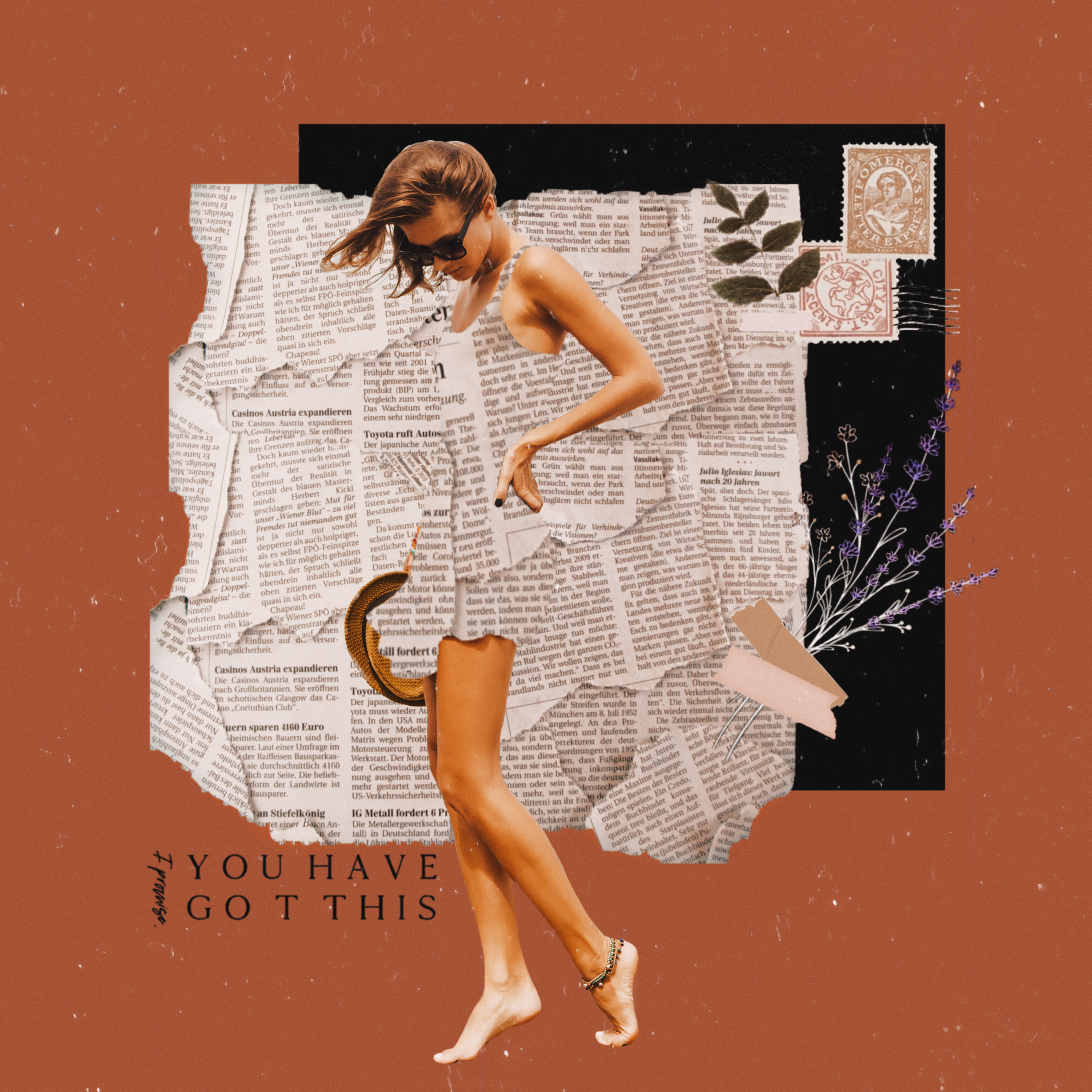 via PicsArt
3. Create an Abstract Pattern or Background With Ripped Paper Graphics
Similar to a collage, the technique here is to randomly compile ripped paper graphics of different colors together to form an abstract looking canvas. You can leave the canvas as is or use it as a background to overlay additional designs. Pro tip: Start by selecting a color theme and build from there. For example, if you chose a muted pastel color theme, you can identify four to five colors and start building your abstract canvas from there. Feel free to use different shapes of ripped paper graphics for an extreme abstract look.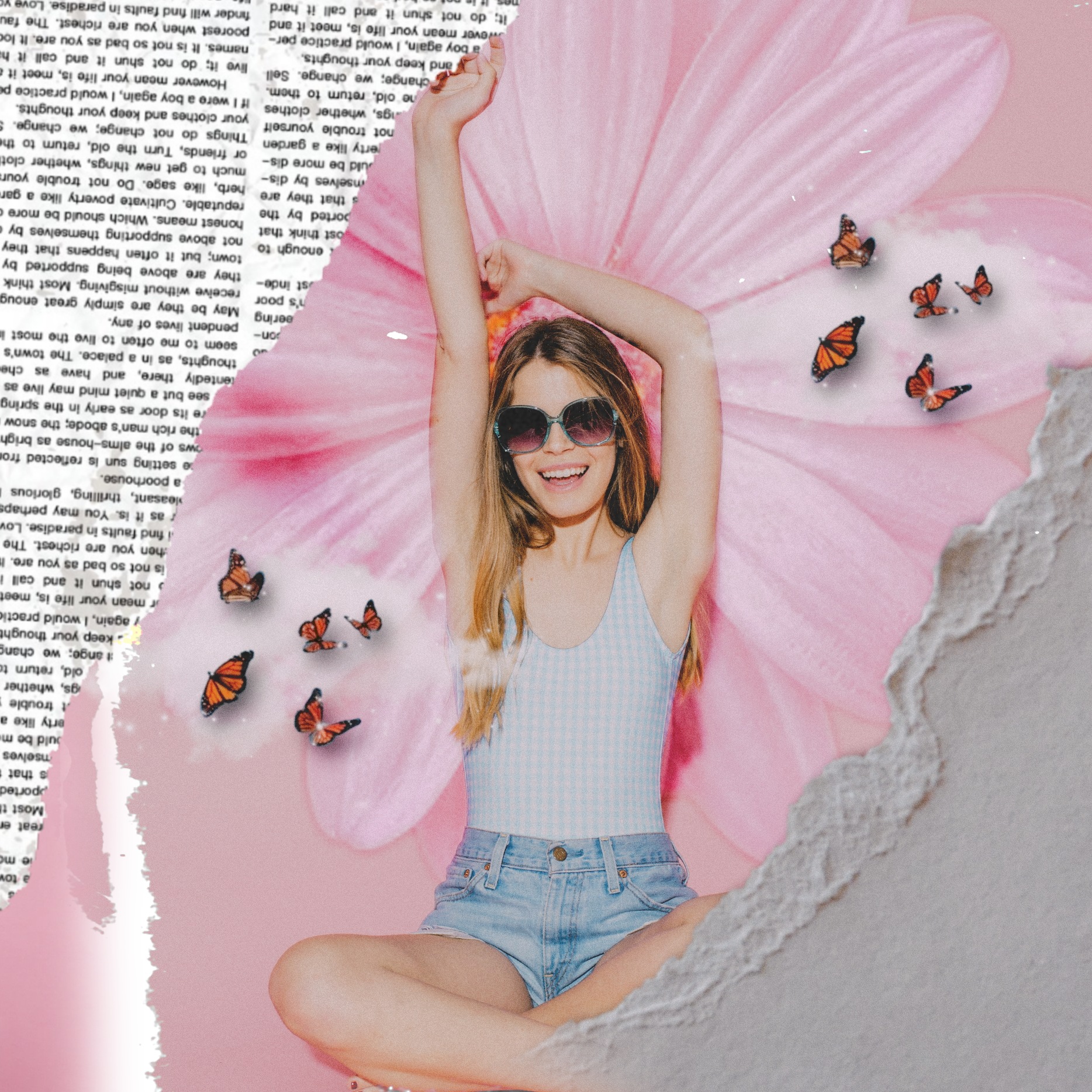 via PicsArt

4. Create a 3D Feel With Ripped Paper Effects
The best part about ripped paper is that it feels like you're unveiling something that's right behind the scenes. Show your audience something they're not expecting and peel back the paper to make it feel like the under layer is popping out. We love releasing the unexpected, like in this giraffe ripped paper effect.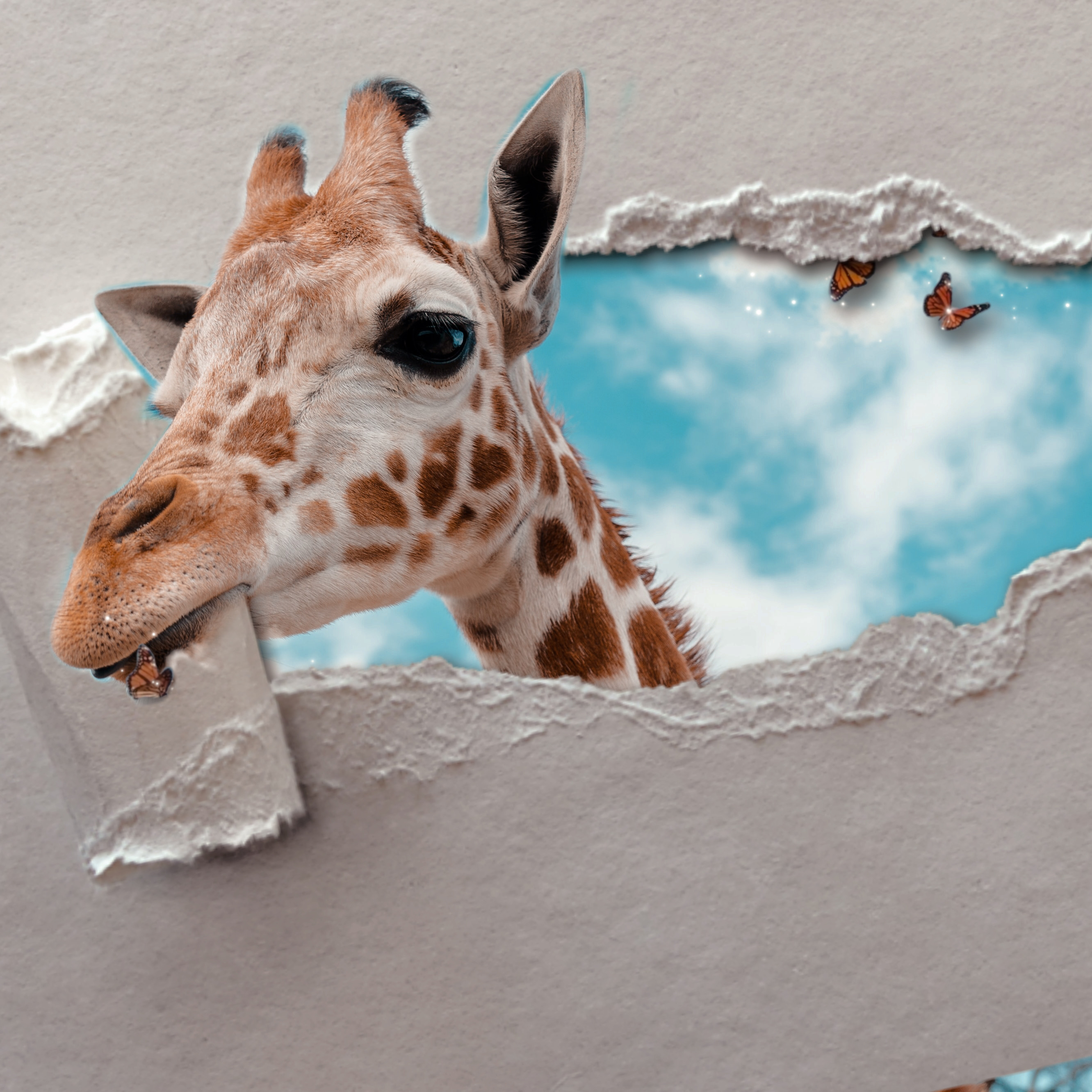 via PicsArt
5. Create a Quote With Ripped Paper Effects
This technique is a key element to making an ordinary piece of text look super creative and elevated in design. If you have a quote or a piece of text you want to enhance, you can simply layer on ripped paper effects throughout your canvas and add text in between each ripped layer. Pro tip: To make your design most visible, use a white background, and add a shadow effect in between each ripped layer. Feel free to use different font types and colors throughout the design!
View this post on Instagram
6. Create a Landscape With Ripped Paper
When done correctly, the ripped paper effect can be made to look like a beautiful landscape or horizon. Whether a canyon sunset or a starry night, you can create landscape shapes and then add your desired edits to make it look realistic. Picture a mountainous landscape with a gorgeous red-orange sunset behind it.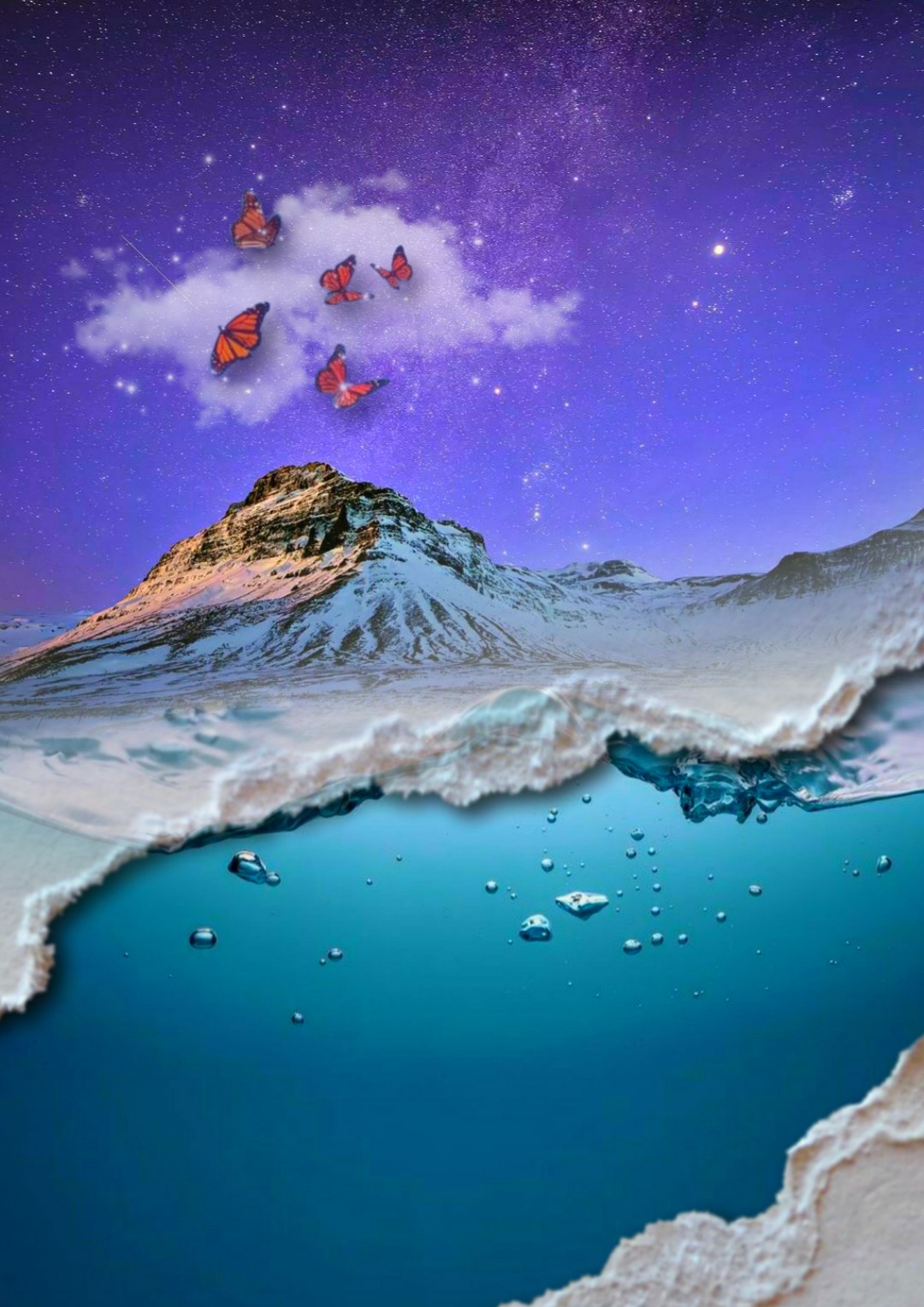 via PicsArt
Ripped Paper Effect Tutorial
Ready to take the ripped paper effect for a spin? No need to download a separate ripped paper app. Simply follow these easy instructions.
Download the

PicsArt app

for

iOS

,

Android

, or

Windows

.

Tap on the plus sign at the bottom of your screen.

Upload the image to which you'd like to add a

ripped paper effect

.

Select the

Effects

icon at the bottom of your screen.

At the bottom of your screen again, scroll to the right, and select

Artistic.

Tap on

Pastel, Sketcher 1,

or

Sketcher 2

for the most realistic paper-like filters.

Double-tap on the filter to open the settings panel. Scroll through the different modes to see which effect you like most. You can adjust the additional settings by dragging the scales back and forth.

Tap on the eraser icon at the top of the screen. Then tap on

Shape

at the bottom of your screen. Scroll all the way to the right to see ripped paper shapes you can use. Select one of the shapes then rearrange on your image and resize accordingly. Want to invert the effect so that the ripped paper is down the middle? Simply tap

Invert

at the bottom of your screen.

Another way to create the ripped paper effect in-app is to search "ripped paper" within

Stickers

and layer the sticker on top of your chosen photo. Play around with its placement and opacity until you're happy with the look. 

To manually create a

ripped paper effect,

double tap on the eraser at the bottom to open the settings panel. We suggest increasing the hardness to 100 and the size to about 20. 

Use your finger to erase the

ripped photo

effect everywhere except in a diagonal line across the picture. Tip: the idea is to create a ripped paper look, so it doesn't have to be perfect! When you're done, tap on the checkmark and then tap on

Apply

.

Tap on the checkmark on the top right, then

Apply

once you are done with your

torn paper edit

.

Click

Download

or

Next

and share your masterpiece with the hashtag #Rippedpaper!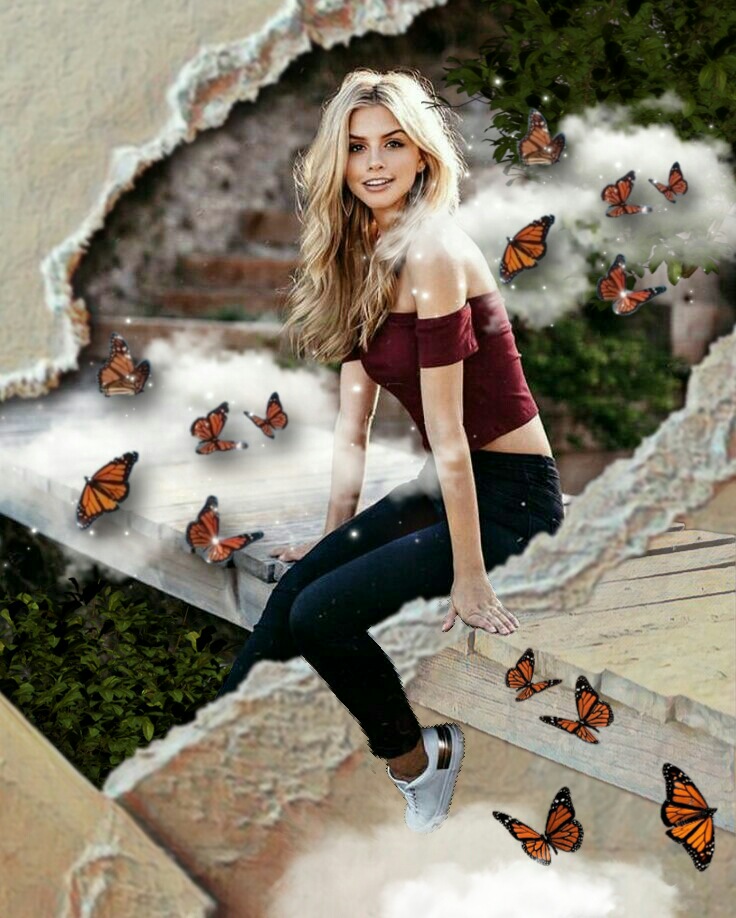 via PicsArt
Looking to create a ripped paper effect merged with world-class art? Check out the Canvas Effects tool on the app or on PicsArt's desktop tool. 
PicsArt all-in-one Photo and Video Editor, Collage, and Sticker Maker is the world's largest creative platform with over 150 million monthly active creators and influencers. PicsArt has collaborated with major artists and brands like Taylor Swift, The Jonas Brothers, Gwen Stefani, Maroon 5, Lizzo, Meghan Trainor, One Direction, MONSTA X, Warner Bros. Entertainment, iHeartMedia, Condé Nast, and more. Download the app today to level-up your photos and videos with thousands of quick & easy editing tools, trendy filters, fun stickers, and brilliant backgrounds. Unleash your creativity with PicsArt and upgrade to Gold for awesome premium perks!