Looking for a quick way to convert PDF files to Word? You've come to the right place. With Quicktools by Picsart, it's easy to convert PDF to Word in seconds. It's a simple process, and you don't need expensive design tools or third-party software to convert your files. Below, we're sharing everything you need to know about PDF vs Word files and how to convert PDF to Word for free in just a few clicks.
What's the difference between PDF and Word?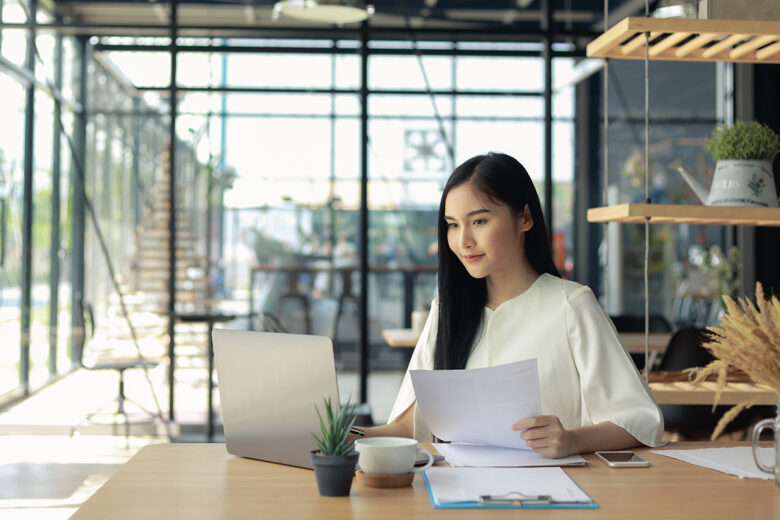 In today's digital age, soft copy documents play a key role in communication. Digital documents are used to record all types of transactions and communications. Whether you're sending marketing reports, business invoices, or college essays, you're likely using an electronic document to store and easily share information.
Digital documents are essential to our daily lives, but it's not always easy to understand the different file types and what they're best for. So we're here to help you choose the best file format for your next project.
Let's start with some simple definitions. PDF, or Portable Document Format, is the brainchild of Adobe Systems. PDF files can display a wide range of documents, from tax forms to bank statements. Meanwhile, Word documents (DOC or DOCX) files are created using Microsoft Word.
Whether you're finishing up an important cover letter or jotting down class notes, it's important to know the main differences between PDF and Word files. Some distinct differences include:
Viewing software
While PDFs can be created and viewed in Adobe Acrobat, Word documents can be viewed and written in Microsoft Word. You need to have these programs installed to be able to view a document. 
Editing capabilities
Another significant difference between PDF and Word is each platform's ability to edit content. Word documents can be created in Microsoft Word and you can export Word to PDF to save DOCX files in PDF format. If you want to edit the file later on, you can convert PDF to Word and make adjustments in Microsoft Word.
On the other hand, Adobe Acrobat offers limited editing capabilities for PDFs. This is because PDFs were originally developed as a universally recognized delivery format. As a result, fewer people create and edit documents using Acrobat than Microsoft Word.
Content delivery
Another difference between PDF and Word files involves content delivery. When you're sending and sharing files, Word documents may lose their formatting or quality. DOCX files tend to be less accurate since they can be edited by anyone who has the file on hand.
PDF files, on the other hand, are used to preserve documents. So, when you're emailing, printing, or sharing documents online, you won't have to worry about file quality, formatting, or editing of your original document's intent. PDFs remain original, with the same quality and formatting as the original file.
One common example of content delivery issues is around fonts. Sometimes, Word document authors use fonts that aren't available on the recipient's device. When the recipient opens the Word document, the device will automatically change the font to another available font. This can create significant problems, especially when it comes to brand logos, infographics, and tables.
Why should you convert PDF to Word?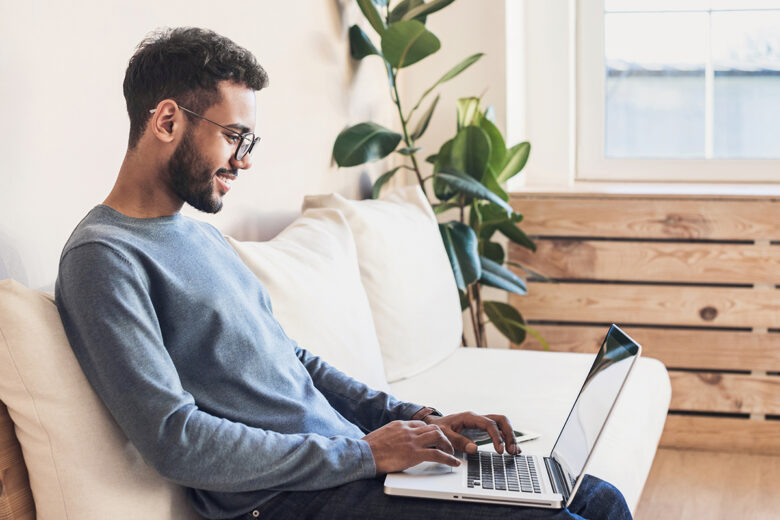 Now that you know the key differences between PDF and Word, why should you convert PDF files to Word documents? From homework assignments to cover letters, here are a few reasons why you should convert to Word from PDF.
You can easily edit files with Microsoft Word
PDF is a document-preserving file type, so you can easily transfer documents to recipients who might not have Microsoft Word. However, PDF files don't come with editing capabilities.
When you learn how to convert PDF to Word, you can directly edit the text, images, and other elements within your Word document. This is especially helpful if you want to make major changes to a PDF file, as most people feel more comfortable editing with Microsoft Word. 
If you're looking to quickly edit a PDF file, it's important to use a reliable PDF to Word converter online to optimize your Word document. Below, we'll show you how to export PDF to Word for free without sacrificing file quality.
You can send DOCX files to recipients who don't have Acrobat
Whether viewed on a laptop, smartphone, or tablet, PDFs can be opened on most devices using Adobe Acrobat. However, if a device doesn't have Adobe Acrobat installed or can't access the program, your recipient won't be able to read your PDF document.
When this happens, converting your PDF file to a Word document can help recipients easily open and read your document. As long as they have Microsoft Word, your recipient should be able to view your Word document.
What's the easiest way to change PDF to Word?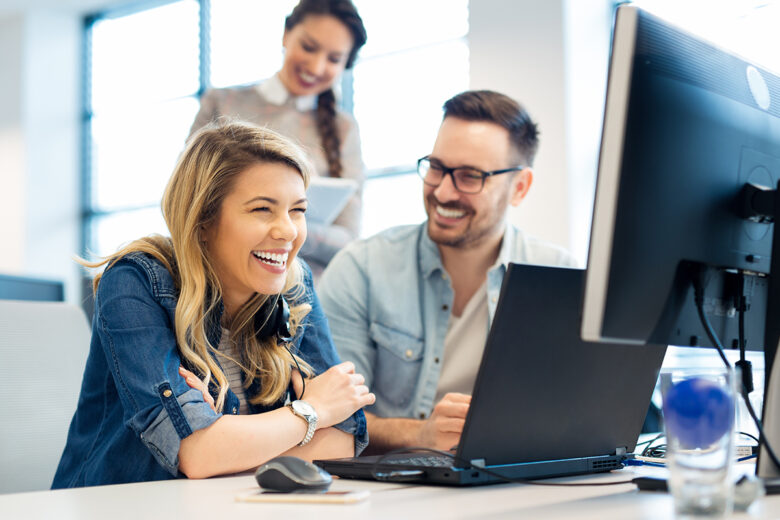 Need to put the finishing touches on a resume? Finishing up a report? No matter what your reason to convert to Word from PDF, Quicktools by Picsart can be your MVP. 
Quicktools offers a free and easy-to-use set of digital file conversion tools, allowing you to quickly solve your file formatting needs. With Quicktools, you can instantly convert files, create custom designs, enhance images, get AI-generated copy, and more. You don't need to download additional editing software to get started with Quicktools, and you can use the full suite of editing tools without any cost or registration.
When you're looking for the easiest way to convert to Word from PDF, Quicktools is the answer. Plus, you won't have to worry about your file's safety. We'll store your file before removing it after conversion, so you won't have to take extra steps to protect sensitive files. 
When you're ready to use the PDF to Word converter online, all you have to do is upload your PDF file to quickly convert it into a Word document. And if you need to do some extra editing, you can use our other free PDF tools to quickly merge, split, or compress PDF files.
How to convert PDF to Word
Ready to get started? Here's how to change PDF to Word for free with the Quicktools PDF to Word converter online.
On the web:
1) Open the Quicktools PDF to Word Converter.
2) Drag and drop your PDF file into the dotted box. Or, click Select File and choose a PDF file from your library.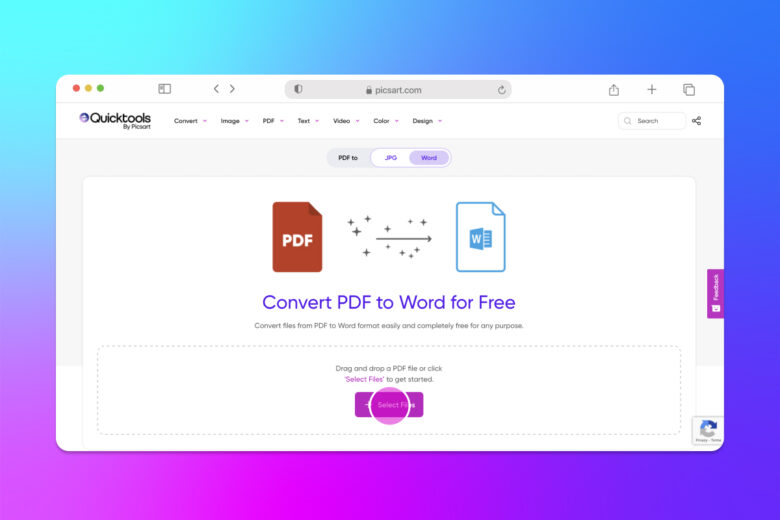 Pro tip: If you're creating a multi-page Word document, click Upload More Files to upload multiple PDFs.
3) After you've uploaded your PDF file(s), click Convert to Word File in the bottom right corner.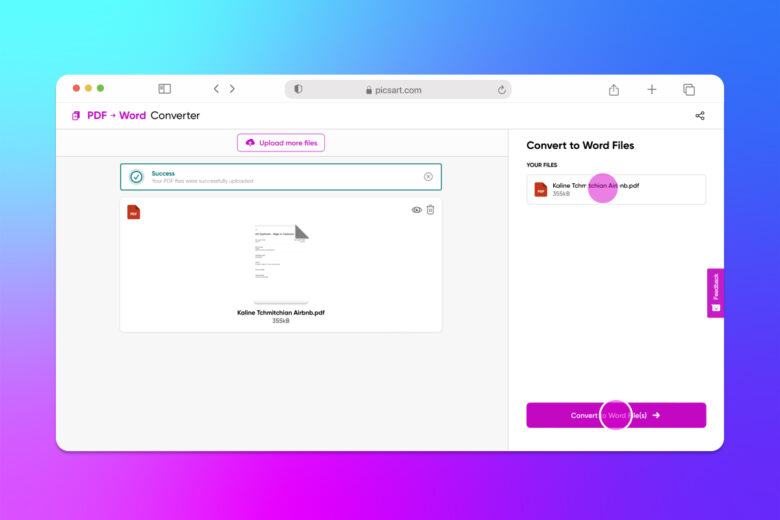 4) Congratulations. You've successfully converted your PDF to Word. Now, click Download to save your new Word document to your computer.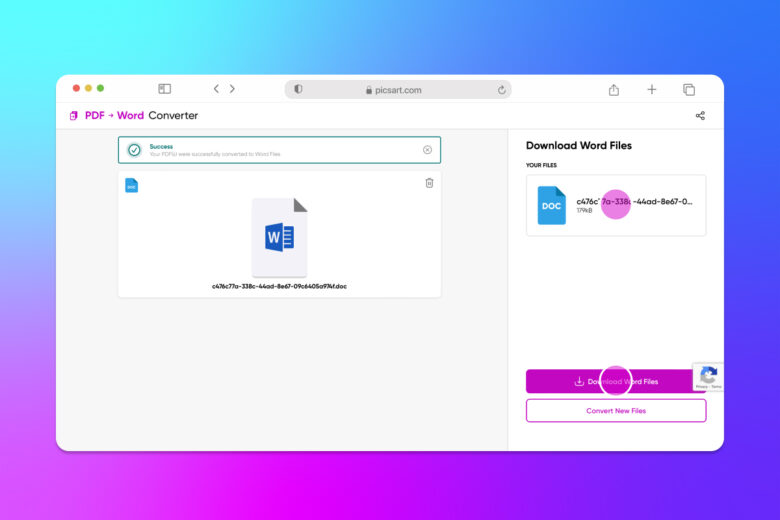 Recommended articles:
Picsart is a photo and video editing platform and creative community. A top 20 most downloaded app worldwide with over 150 million monthly active users, its AI-powered tools enable creators of all levels to design, edit, draw, and share content anywhere. The platform has amassed one of the largest open-source content collections in the world, including photos, stickers, backgrounds, templates, and more. Used by consumers, marketers, content creators and businesses, Picsart tools fulfill both personal and professional design needs. Picsart has collaborated with major artists and brands like BLACKPINK, Taylor Swift, Lizzo, Ariana Grande, Warner Bros. Entertainment, iHeartMedia, Condé Nast, and more. Download the app or start editing on web today, and upgrade to Gold for premium perks.