The first rule of creativity is to refrain from limiting yourself. Fortunately, apps and design software now have so many options for tailoring your work precisely to your vision that they can be – if anything – overwhelming instead of underwhelming. You can, therefore, usually find or easily create exactly what you need: the right colors, dimensions, and shapes. 
What about fonts? We all have our go-to fonts for everyday use, and some of us have ones we especially love when doing creative projects. Perhaps you're a company owner, and your brand always uses the same fonts in all communication. If so, you've done good work because consistency is key. Fonts, particularly complex display or cursive ones, are pretty difficult to make from scratch. So, if there is a readymade one you already like or use, the ideal situation is to be able to access it whenever you need it, for any design you're creating. However, not all programs have the same fonts in their libraries, and this can make us feel like we need to settle for something similar to our ideal font, even if it's not quite what we had in mind.
Good news: In many cases, you don't need to settle. You can get the exact font you want by downloading it and importing it into the design program you use. While this may seem like extra work, it's actually a quick and simple process. Plus, once you import the font, you'll be able to use it on all your projects to come. 
In this tutorial, we'll walk you through importing new fonts – or old favorites – into Picsart, so that you can add that lettering you know and love to all your designs.
It's Personal: How to Add Unique Free Fonts to Any Picsart Project 
Find the perfect font. This step will require a little research on your part, but you should be able to locate precisely the font you want quickly. Simply search the Internet for free fonts or use a database like

Google fonts

to find the perfect lettering. We recommend doing this on your phone so that you can seamlessly transition into the next steps of this tutorial, which specifically apply to our mobile app. Once you've located the correct font, download it to your phone from the third-party site of your choice. Before leaving that site, take a minute to read the fine print on the font you downloaded. Make sure you understand the permissions and where you can use this lettering. Some fonts, for example, are only for personal use, while others are for commercial projects as well. 

Now, you'll need to locate the file that you just downloaded to your phone. Keep in mind, the file's location may vary depending on what type of phone you have. On the iPhone we used for this tutorial, the file was in the internet downloads folder. Once you locate the font, click on the file name. It may even have the Picsart logo next to it.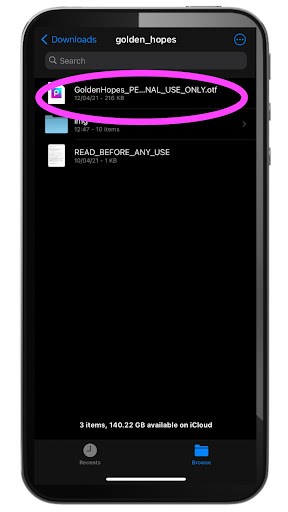 3. Click on the export icon at the bottom of the screen. A quick note: You may find this icon or function in a different place if you use an operating system that varies from the iPhone we used for this tutorial. Next, click on the Picsart icon to launch the application. Your font should now be available for use within the program, and we'll show you exactly where to find it in the next few steps.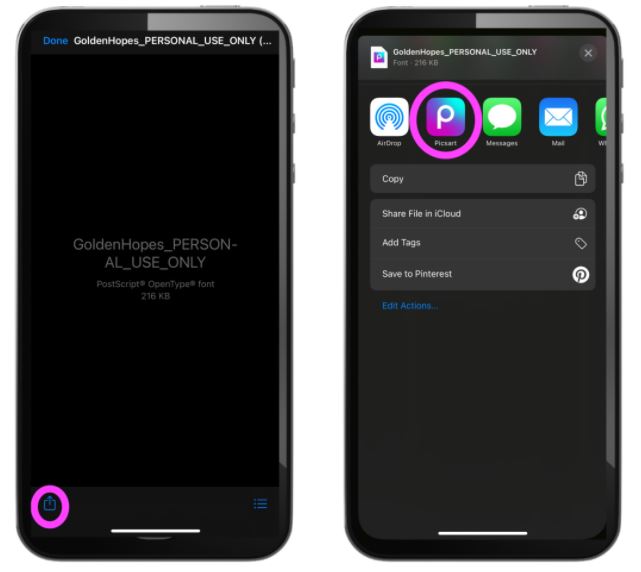 4. Once in the Picsart mobile app, click on the purple plus sign at the bottom of the screen to start a new project.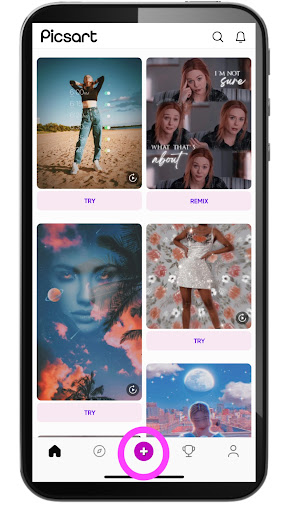 5. Now, choose a photo from your personal library or select one of our many backgrounds as the base for your project. Your text will go on top of this background, so choose one that will contrast nicely with the lettering you're planning to use.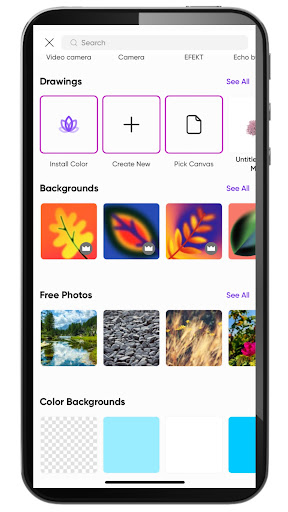 6. On the editing screen, choose "Text" from the menu below your canvas. Doing so will bring up a text box on your screen.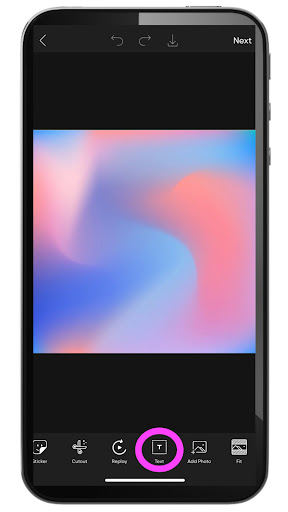 7. Add whatever text you'd like, and don't worry about the font, size, or color for now. You'll be able to change these stylistic aspects in the following steps. When you're finished writing, click the check mark in the upper right-hand corner of the screen.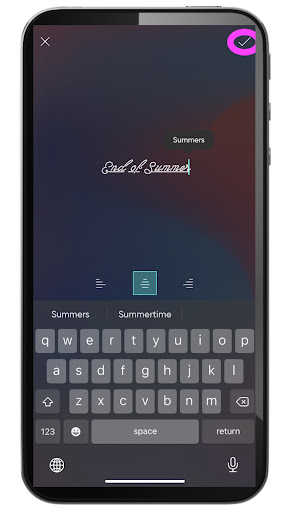 8. Highlight the "Font" option at the bottom of the screen, and then click on the teal arrow in the left-hand corner under your image to pull up our searchable font library.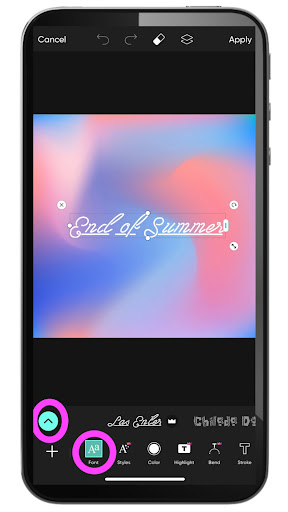 9. Now, at the bottom of the screen, you'll see a heart icon that reads "My Fonts." Click on this option to open the custom fonts library you've downloaded.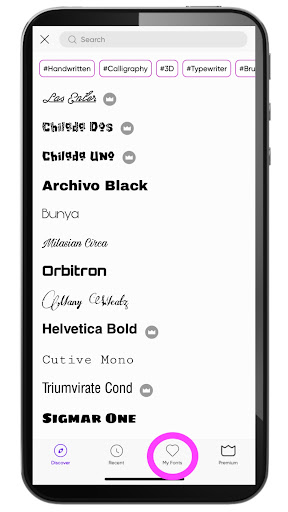 10. In your personal font list, you should see the option you just added. Click on it to add it to your text, and voiliá! You've successfully added a new font to your library, and it will be there for easy use in future projects.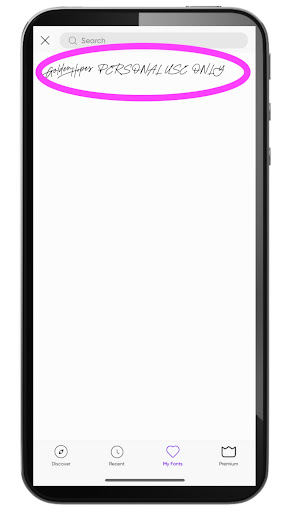 11. Back on the editing screen, you can now transform the font as needed. You can apply all the same stylistic changes to this imported font as you would have with one that was already in our library. Use your fingers to stretch out the text box until the lettering is the correct size. Then, highlight "Color" to change the hue of the letters as desired. If you're satisfied, jump down to the last step to learn how to export and share your image.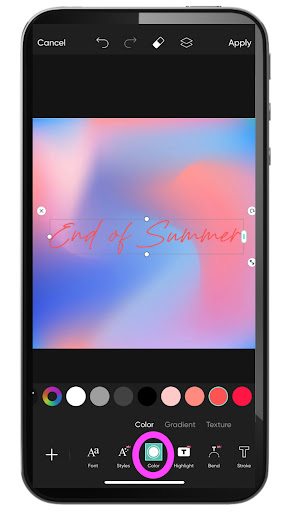 12. Now, you can also change other features of your text using tools like "Bend," "Highlight," and "Stroke." In the image below, we applied a contrasting stroke – also known as an outline – so that the lettering stands out better against the background.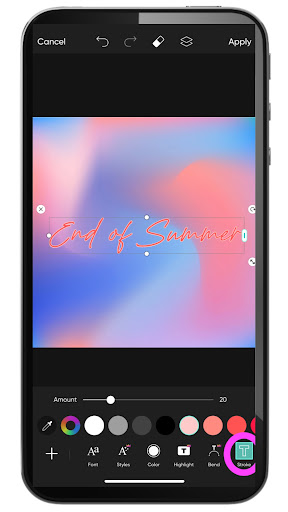 13. When you've finished transforming your text, you can add other necessary elements like stickers or effects. Once you're happy with the finished product, export the image by clicking on the downward arrow above your canvas. Doing so will save it to your phone and give you further options for sharing your work with the world.
Picsart is a full ecosystem of free-to-use content, powerful tools, and creator inspiration. With a billion downloads and more than 150 million monthly active creators, Picsart is the world's largest creative platform. Picsart has collaborated with major artists and brands like BLACKPINK, the Jonas Brothers, Lizzo, Sanrio: Hello Kitty, I am a Voter, Bebe Rexha, Maroon 5, One Direction, Warner Bros. Entertainment, iHeartMedia, Condé Nast, and more. Download the app or start editing on web today to enhance your photos and videos with thousands of quick and easy editing tools, trendy filters, fun stickers, and brilliant backgrounds. Unleash your creativity and upgrade to Gold for premium perks!