With Halloween just around the corner, it's an ideal time to give your phone treats of its own.
Follow the steps below to make your own Halloween-themed lockscreen for iphone, personalizing it with ghouls, ghosts, pumpkins and more.
Customize your lockscreen with PicsArt by replacing your default password buttons with Halloween clipart.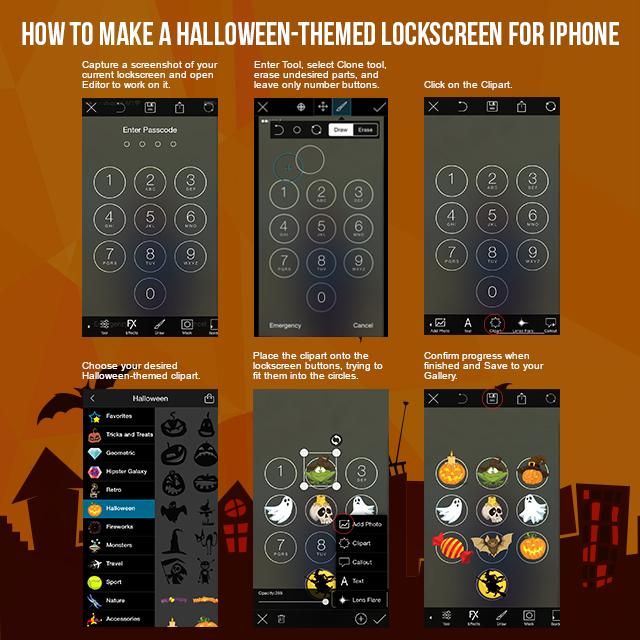 Step 1: Upload Screenshot
Capture a screenshot of your current lockscreen to serve as a template. (Tip: Make sure you have a plain or monocolored image as your existing background for best results.)
Open PicsArt's Editor and choose to work on the screenshot of the lockscreen you just took.
Step 2: Clone Tool
Enter Tool and select the Clone tool. Use the clone tool to erase undesired parts of the screenshot, leaving only the number buttons. Confirm your progress.
Step 3: Upload Clipart
Click Clipart and choose your desired Halloween-themed clipart to place them onto the lockscreen buttons, trying to fit them into the circles. Confirm when finished. Save to your gallery.
Step 4: Collage Tool
Choose the Editor's Collage tool, and click the Background option. Pick your Halloween background, and choose your screenshot with clipart when prompted to pick a photo. Place the screenshot onto the background. Play with its Opacity and Blending mode to achieve best results. Confirm your progress.
Step 5: Crop
Click Tool and choose the Crop tool to select the area of the screenshot. Confirm and Save.
Step 6: Upload
From your device's Photo Gallery, go to your created lockscreen, click the bottom-left button, and choose Use as Wallpaper. Then, click Set and Set as Lock Screen to upload your creation as your lockscreen.