It's time to add a new editing skill to your toolkit: photo stretching. We're not talking about your average resizing of a photo. This skill is all about twisting, enlarging, and compressing images creatively to achieve unique effects. You can also even modify just one part of your photo, which makes this a handy tool to have in your bag for when an image needs a minor tweak. 
Advanced photo stretching techniques can lead to distortion, but who says that has to be a bad thing? If you're going for an au natural look, you'll want to use these tools sparingly and "correctly." However, suppose you're going to completely change the feel of your photo, giving new larger-than-life proportions to particular objects or creating psychedelic-looking effects. In that case, you can push these tools to the max. In other words, you can prioritize your creative vision over whether or not the photo looks realistic. 
Just for Fun: Tools that Make A Splash
When we say "make a splash," we mean that pretty literally. The "Warp" and "Swirl" effects can turn any photo into an image that looks as if it were a reflection on water. As you can likely guess, "Warp" gives your picture that glassy, funhouse effect, and "Swirl" spins it like a top.
In the first part of this tutorial, we'll run through some basics that apply to the whole suite of stretching tools. Specifically, this means that even if you don't plan to use the "fun" effects and you're only looking to make slight, "serious" edits, you should start by reading the first steps below. They will be instructive in using tools for expanding and contracting photos that we'll explore later.
Open the

Picsart mobile app

and click on the purple plus sign to begin a new project. Your photo library will appear. Select the photo with which you wish to work.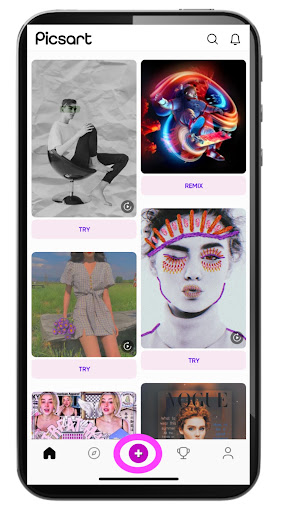 2. On the editing screen, click on the "Tools" icon from the menu below your photo. From the pop-up, select "Stretch."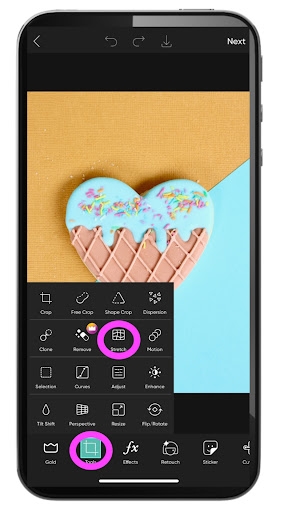 3. On the bar below your photo, you will now see five different stretch effect options and another for restoring your image to its original form. First, we'll look at the "Swirl" tool, so make sure you've highlighted it. On the top of the screen, there is an icon of a paintbrush with a lock under it. If you are trying to apply an effect to your entire image, you can ignore this tool for now, but if you would like to edit just a particular part of your image, click on this icon as well.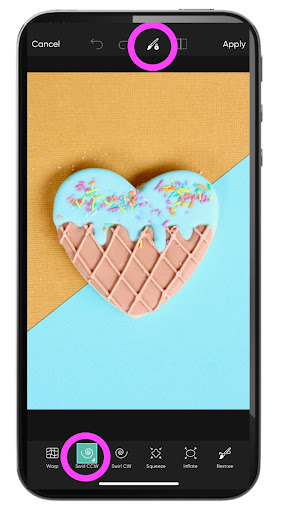 4. Now, trace your finger around any area that you don't want to be affected. Once you've made your selection, be sure to click the check mark in the upper right-hand corner.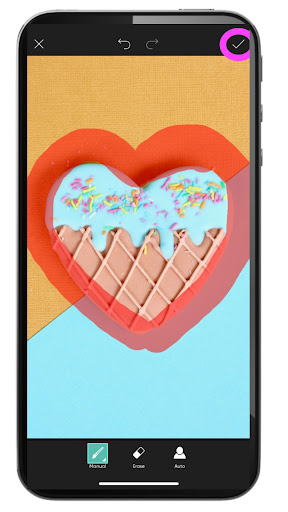 5. Now, apply the "Swirl" effect by pressing down on the part of the photo you wish to mix up. If the result is not sizable or intense enough, you can click on the little white arrow in the lower right-hand corner of the "Swirl" icon to bring up the "Size" and "Power" sliders. Moving them up or down changes the intensity or breadth of the effect.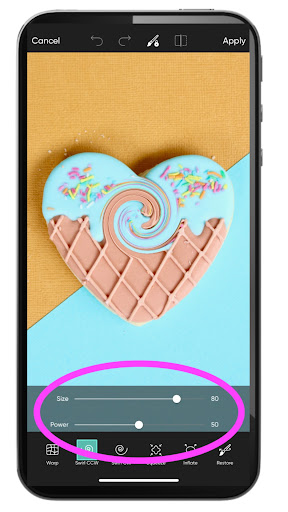 6. When you've finished swirling, be sure to click "Apply" in the upper right-hand corner of the screen to get your changes to take. Skip down to step 8 for instructions on how to export your work.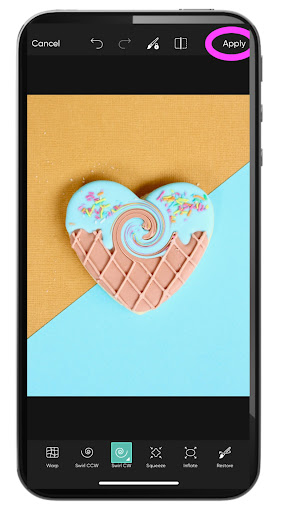 7. Now, let's delve into the "Warp" tool. Follow steps 1-6, but this time, make waves. Use this tool to apply a psychedelic effect to your photo. Just don't forget to isolate any areas that you don't want to change first.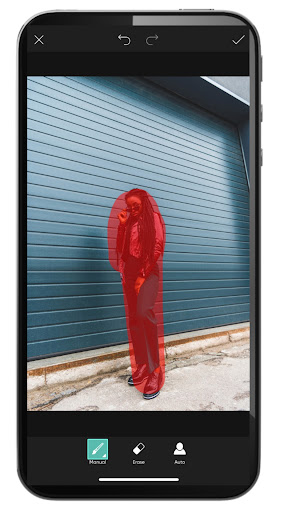 8. When you've finished making edits, save your work by clicking on the downward arrow at the top of the screen to export your work or share it.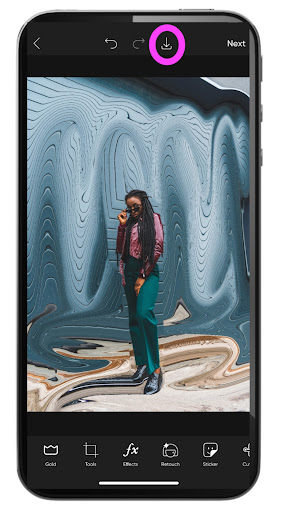 How to Change an Image's Dimensions In Two Ways
Perhaps you're going through your Sunday brunch photos and thinking: If only that delicious breakfast sandwich looked a little bit bigger on the plate. You might want this for comic effect, but maybe it's actually to make a better composition. Whatever the reason, with our "Inflate" tool, you can make an image bigger or enlarge just one feature, as in the example of the sandwich. The same applies to compression. Use our "Squeeze" tool to achieve your "Honey I Shrunk The Photo" moment.
How to Stretch a Photo (Or Just Part of It) 
Follow steps 1-4 from above, and instead of selecting "Swirl," as we did in step 5, select "Inflate." We've chosen to use an image of an avocado so that you can notably see the way the core drastically changes in just a few taps. You might also notice some light distortion, which is typical in the areas to which you're applying the effect. That's why, if you are using this effect to do realistic edits, you'll want to do so in moderation.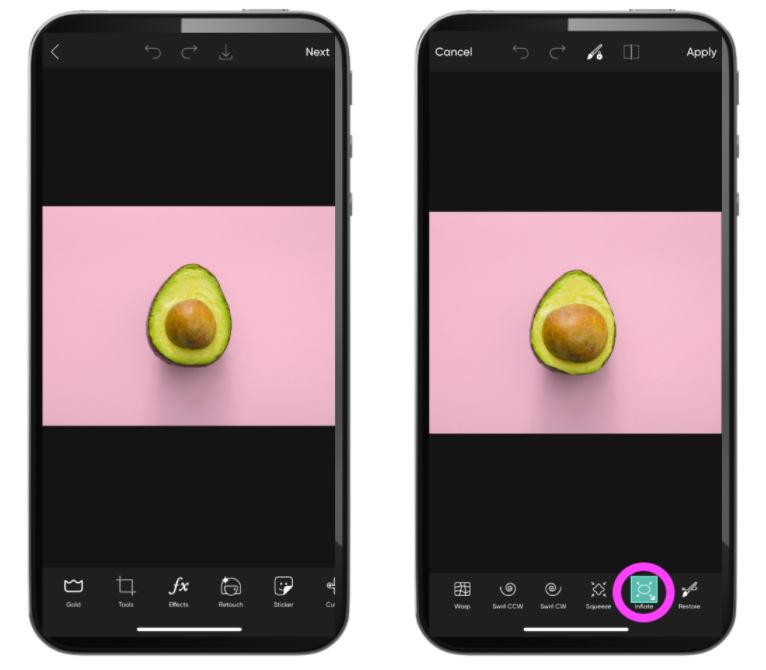 2. Follow step 6 from above to save the effect, just as we did in the previous tutorial, and click the downward arrow at the top of the screen to save your work.
How to Shrink a Photo (Or a Detail) 
By now, you know the drill. Follow steps 1-4 from the first part of the tutorial to get into our photo size editor and then select the "Squeeze" tool. Like we did above, isolate the sections of the photo you don't wish to affect, and then get to work on shrinking the part of the photo you want to change. Remember that you'll get some distortion, and while this may be contrary to logic, try not to isolate

all

the space you

don't

want to change. Why? Doing so will ensure you have enough material to pull from when shrinking, like the green area around the avocado pit. Otherwise, the shrunken part will start to pull in on itself.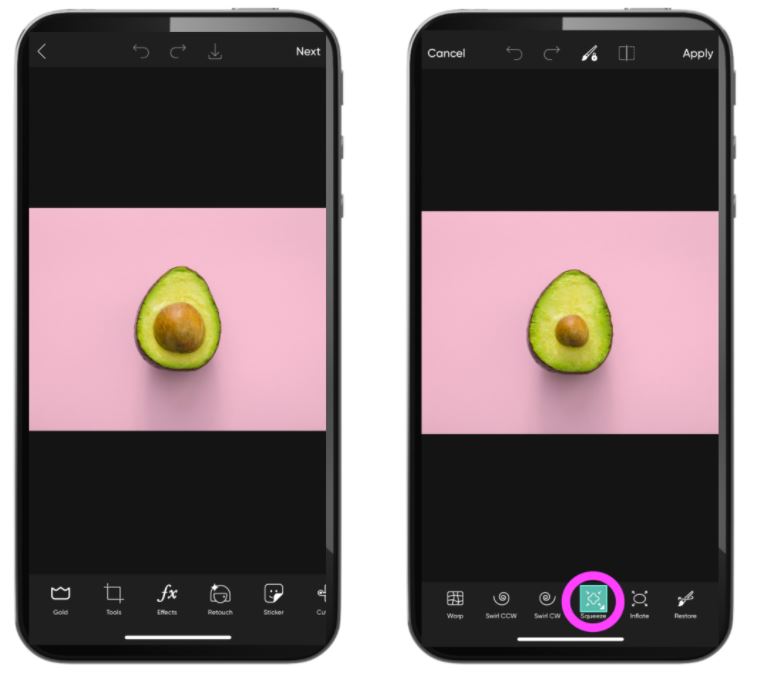 2. As always, save the effect by clicking "Apply" in the upper right-hand corner of the screen, and tap on the downward arrow above your image to export your work or share it.
Picsart is a full ecosystem of free-to-use content, powerful tools, and creator inspiration. With a billion downloads and more than 150 million monthly active creators, Picsart is the world's largest creative platform. Picsart has collaborated with major artists and brands like BLACKPINK, the Jonas Brothers, Lizzo, Sanrio: Hello Kitty, I am a Voter, Bebe Rexha, Maroon 5, One Direction, Warner Bros. Entertainment, iHeartMedia, Condé Nast, and more. Download the app or start editing on web today to enhance your photos and videos with thousands of quick and easy editing tools, trendy filters, fun stickers, and brilliant backgrounds. Unleash your creativity and upgrade to Gold for premium perks!