Think about all the beautiful photos you've taken, from vibrant springtime blooms to fun-filled pictures with your best friends. What if you could make your best shots even more artistic and eye-catching? We could all use a pop of color in our lives, just to spice things up and infuse our favorite pictures with creativity. Whether you're promoting a product launch, creating a minimal Insta feed, or growing your social media following, color splash is a simple way to differentiate your brand and make any picture stand out.
The best part? It's easy to transform everyday pictures into museum-worthy masterpieces, even if you're not a graphic design pro. Here's everything you need to know about the color splash effect, from mastering color splash in photography to upgrading your favorite shots with dynamic colors.
What Is a Color Splash Effect?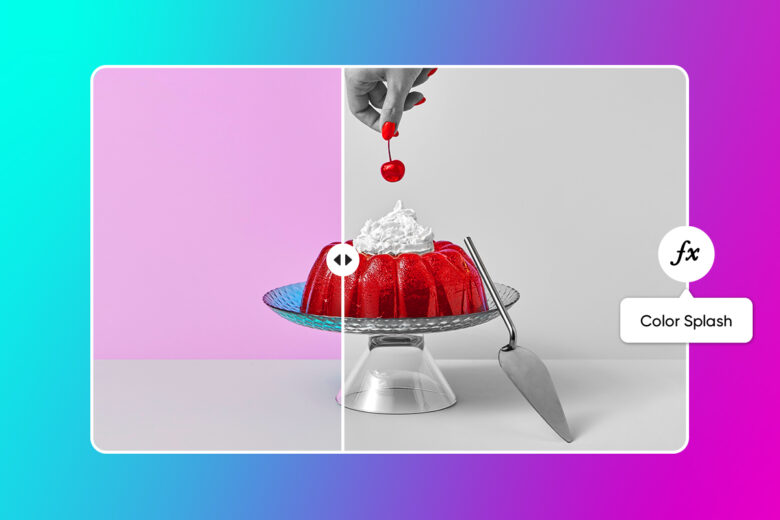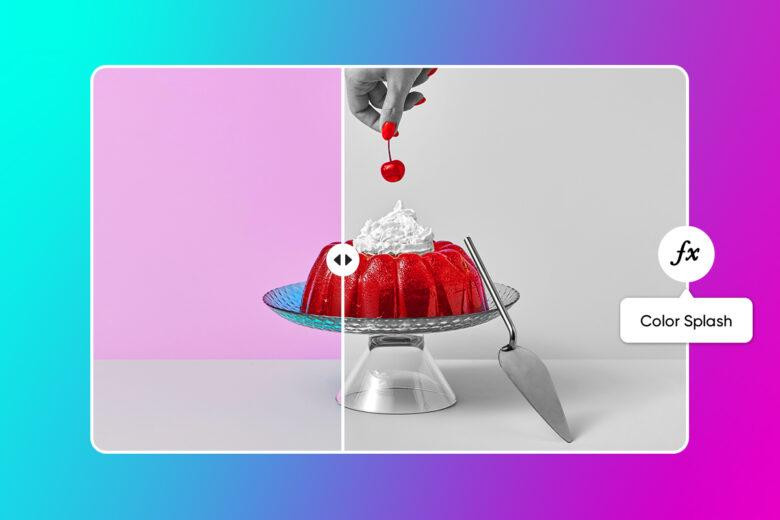 The color splash effect is a photo editing trick that turns full-color photos into black-and-white pictures with a splash of color. Whether you're looking to amp up your photography portfolio or switch up your Insta feed, color splash is one of the best ways to add a dramatic flair to your favorite pictures.
With the Picsart Color Editor, you can choose between B&W and sepia with color retained on select portions of your picture. From new product drops to jaw-dropping selfies, it's easy to imbue any picture with creativity in just a few clicks.
For example, if you're editing a picture of a model, you might choose to make the photo black and white except for her red lipstick. You can also use a color splash to preserve multiple colors in the same photo (think: red lipstick and yellow shoes) or create a color splash background. No matter what your creative vision looks like, color splash can instantly transform your pictures into stunning artistic creations.
What Is a Color Splash in Photography?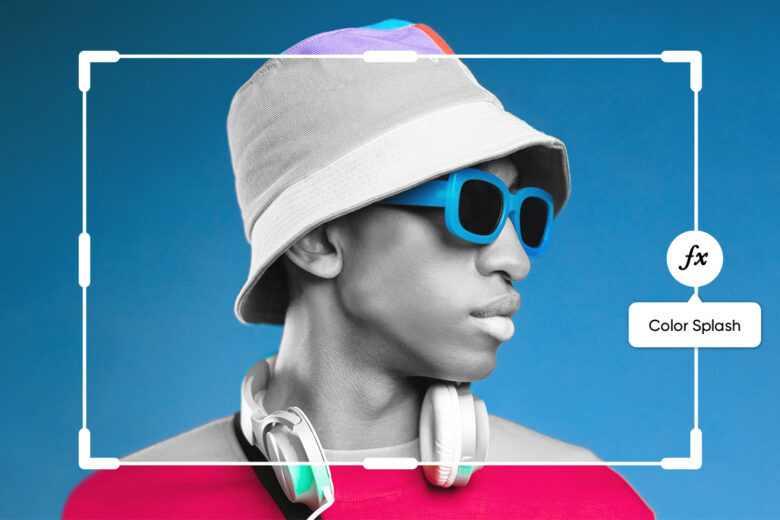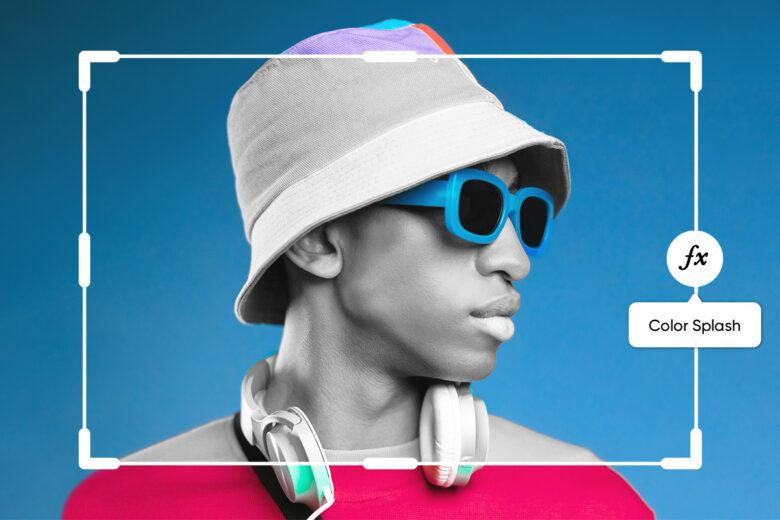 In photography, a color splash makes it easy to highlight the focal points of the picture by playing with color. By keeping color retained on select portions of the picture, photographers can create contrast between different subjects. In turn, the color splash effect draws the viewer's attention to the colored areas.
You've probably already seen color splash in photography on Instagram, Facebook, or even at local museum exhibits. In most cases, photographers will convert traditional color photos to black and white while emphasizing select details with vibrant hues. Other times, photographers add carefully placed splashes of color to vintage-style black-and-white photographs to make them pop.
Who Can Use the Color Splash Effect?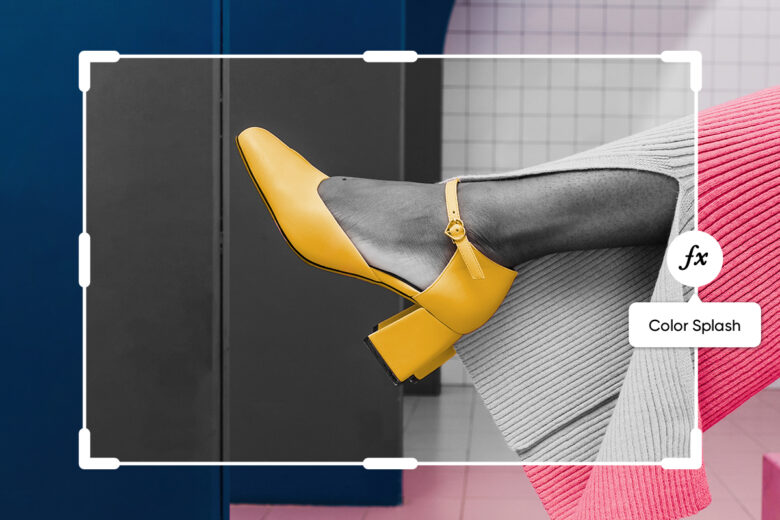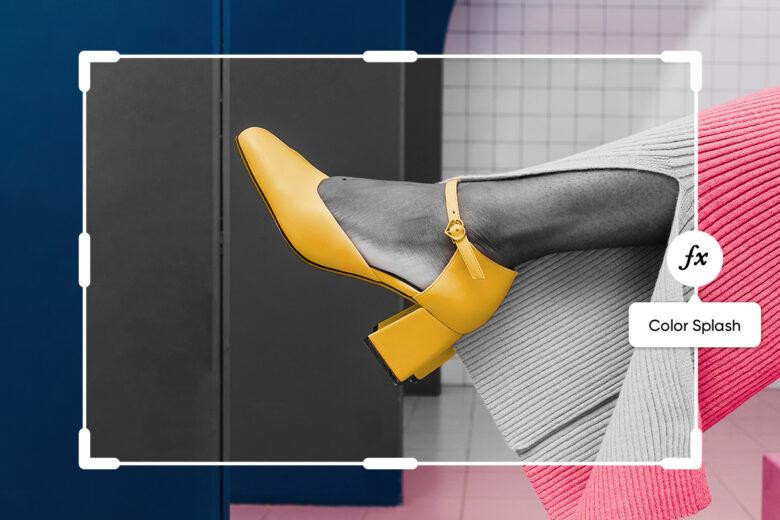 Color splash went mainstream following the 2005 hit movie Sin City, but you don't need to be a professional filmmaker or photographer to use the color splash effect. Even better, you don't need years of photo editing experience to create eye-catching photos with perfectly placed splashes of color.
Whether you're promoting your personal beauty brand, setting up your Etsy shop, or growing your Instagram following, the color splash effect can help you set your brand apart and engage your audience with standout visuals. Need some inspiration? Here are a few ideas to help you get started.
Instantly upgrade your product pictures.
Dealing with a cluttered background? Want to captivate your Insta followers with scroll-stopping product pictures? Use color splash to mute your background and make your products stand out in a never-ending sea of Instagram posts. Whether you're advertising your latest lipstick drop or showing off glamorous gold jewelry, a color splash can highlight your product's unique features and pique your audience's interest.
Make your selfies stand out against boring backdrops.
Maybe you took the perfect selfie, but that pile of clothes in the background is taking away from the big picture. Or you took a cute shot with your bestie, but the background is full of strangers. Don't worry, the Picsart Color Editor can save the day. Add a few color splashes to your selfies to emphasize your best features. By making your background black and white, you'll draw viewers' eyes away from the visual noise and straight to you.
Turn your Insta feed into a minimal masterpiece.
Let's face it: coordinating the perfect Instagram feed can be exhausting. Instead of choosing the perfect filters and pinning down your brand's color palette, use color splash to create a cohesive, minimalist feed. If you really want your pictures to stand out from the crowd, try highlighting the same color throughout every picture. By tapping into color psychology, you'll strike an emotional chord with your audience while telling your brand's unique story.
Tap into the latest color trends.
Every year, the Pantone Color Institute draws inspiration from fashion trends, new artists, technology, and current events to set the tone for the year. On top of Pantone's Color of the Year, countless color trends come and go with seasonal changes, influencer crazes, and design movements. Color splash can help you create a curated feed based on the latest trends so you never fall out of style.
What's the Role of Color Splash Effect in Photo Editing?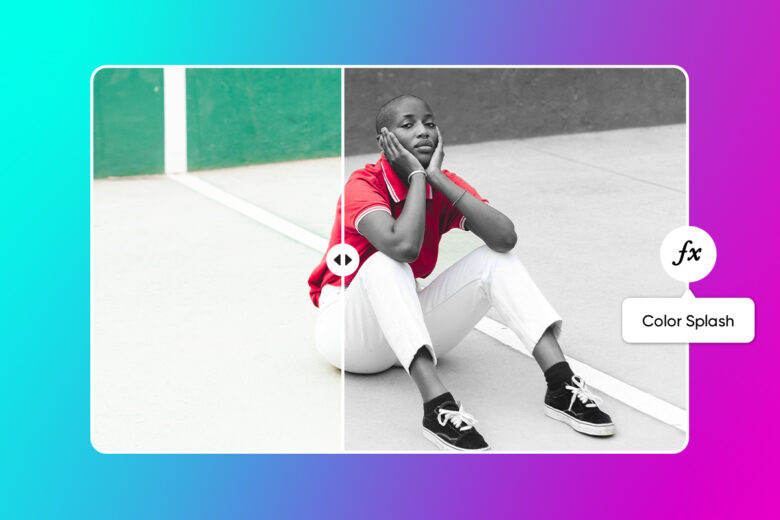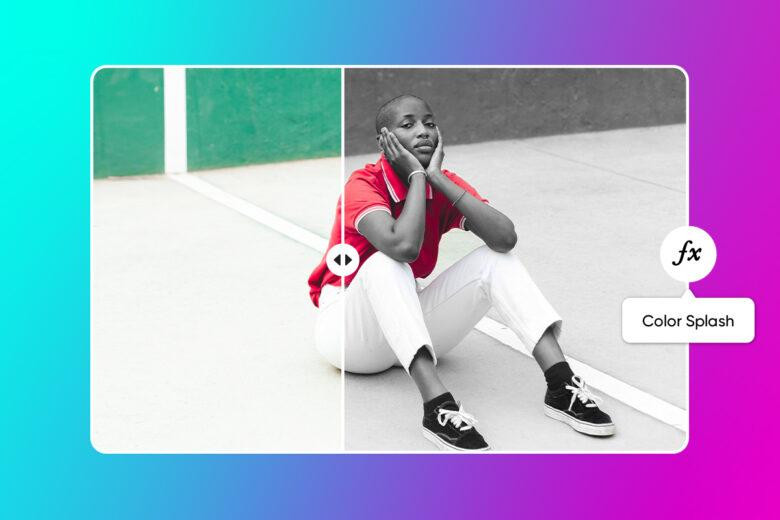 There's no denying that color splash can make any picture pop. By highlighting your focal point against a black-and-white background, you'll create a visual hierarchy, drawing the viewer's eye to the most important element of your photo.
At the same time, adding a splash of color can help de-emphasize a distracting or cluttered background. Color captures the viewer's attention, helping you create an ultra-compelling image—even if you're editing a simple product picture, selfie, or showing off your latest eyeshadow look.
The color splash effect is simple, but it comes with infinite creative possibilities. The next time you're editing a picture, try using the watercolor splash effect, groundbreaking filters, or other pro-grade Picsart photo effects to add a new dimension to your photo. You can even transform your designs to create colored patterns or emulate your favorite styles of photography. Or keep it basic with a simple color splash, blur effects, and extra saturation. Where will your imagination take you?
How to Use Color Splash Effects Using Picsart
With the Picsart Color Editor, it's easy to create beautiful designs with your favorite pictures. To take your best shots to the next level, you can experiment with the minimum and maximum hue bars to expand the range of colors you want to keep in your photo.
Ready to get the creative juices flowing? Here's how to bring your pictures to life with an attention-grabbing color splash.
On Mobile:
1. Open the Picsart app and tap on the plus sign (+) to start a new project. Tap Upload to upload your own photo.
2. Tap Effects, scroll to the Colors section, and choose Color Splash.
3. Drag the circle over the color you'd like to appear in the image.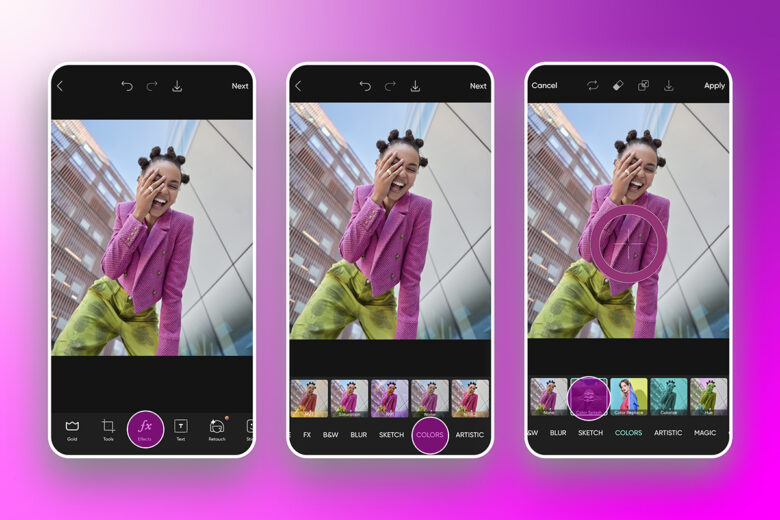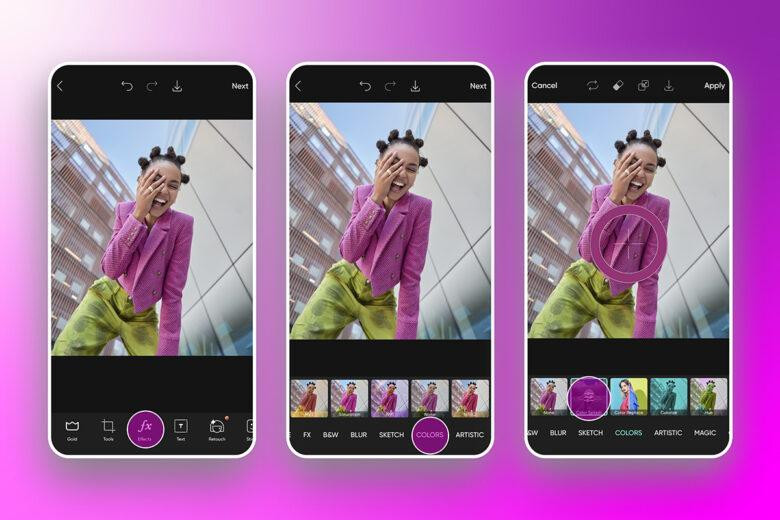 4. After you've selected the right color, use the sliders to adjust your hues.
5. When you're finished, tap Apply to save the color splash effect.
6. Confirm your edits and save to your device or post the work in the Picsart community.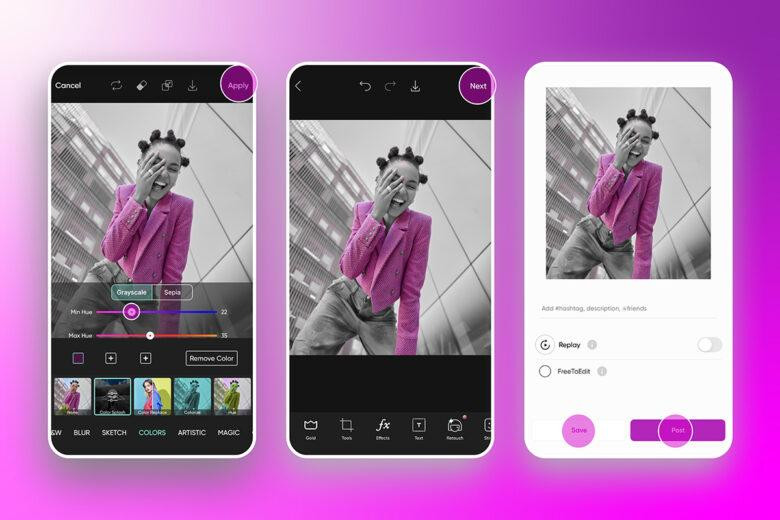 Picsart is a full ecosystem of free-to-use content, powerful tools, and creator inspiration. With a billion downloads and more than 150 million monthly active creators, Picsart is the world's largest creative platform. Picsart has collaborated with major artists and brands like BLACKPINK, Taylor Swift, the Jonas Brothers, Lizzo, Ariana Grande, Jennifer Lopez, One Direction, Sanrio: Hello Kitty, Warner Bros. Entertainment, iHeartMedia, Condé Nast, and more. Download the app or start editing on web today to enhance your photos and videos with thousands of quick and easy editing tools, trendy filters, fun stickers, and brilliant backgrounds. Unleash your creativity and upgrade to Gold for premium perks!