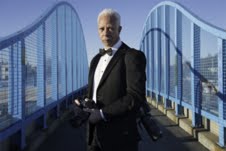 Today we are introducing our new regular columnist, Boston-based photographer Lou Jones. Lou will be contributing articles at the beginning of each month based on his insights and experiences.
Lou is an accomplished photographer who began his career in 1971. Since then, his work has been expansive and impressive. He has photographed 12 consecutive Olympic games, warfare in Central America, portraits of Jazz giants including Miles Davis, and covered historic events spanning the US Bicentennial in Boston, the fall of the Berlin Wall, the Million Man March in Washington DC, and many others. Lou's work has been exhibited in prestigious galleries and collections around the world, including the Smithsonian, the San Francisco Museum of Modern Art, and the collection of the Fogg Museum (Harvard), to name only a few.
He has published multiple books and Jones's photography has been awarded accolades from many organizations, including the United Nations' International Photographic Council. His first book, Final Exposure: Portraits from Death Row, earned Jones the Ehrmann Award from Massachusetts Citizens Against the Death Penalty. Nikon recognizes Jones as a "Legend Behind the Lens" and Lowepro has honored him as a "Champion".
Lou has served on the boards of directors of numerous photographic associations, societies, and museums such as the American Society of Media Photographers, Photographic Resource Center and the Griffin Museum of Photography. He helped found the school Center for Digital Imaging Arts of Boston University and conceived the prestigious Griffin Museum's annual Focus Awards.
In addition, Jones lectures and teaches workshops all over the world, including at the PhotoPlus Expo in New York City, the Ford Hall Forum at Suffolk University, New England Camera Club Council's annual conference, and Estúdio Brasil in Sao Paulo, Brazil.
We are proud and honored to welcome Lou Jones to the PicsArt team. Get your chance to pick the brain of one of photography's Masters by reading his monthly column here at PicsArt!
Make sure to check Lou Jones' personal blog and website for some fascinating photography content.