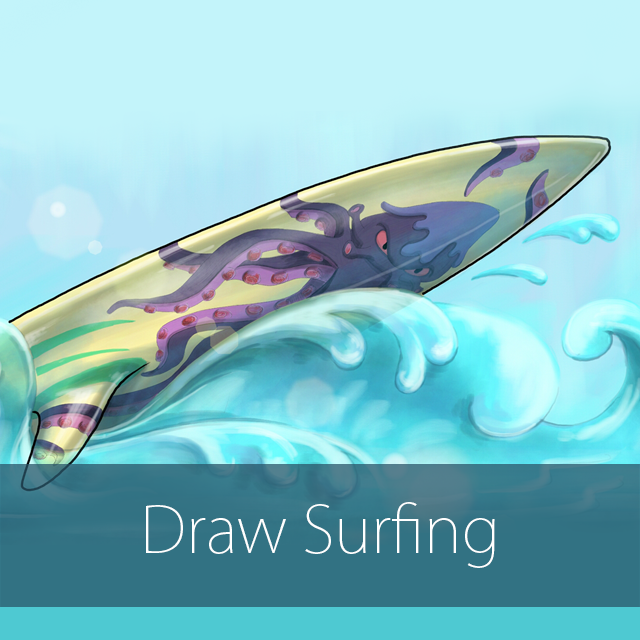 This week's Drawing Challenge is calling on you to use PicsArt Drawing Tools to draw surfing!
Surfers live for only one thing, and that's catching a bigger wave. Riding a giant wave on a wooden board is understandably awesome, as surfers gain speed and height, swelling high above sea level to take in the view of the beach while standing on water. It's not only an extreme sport but it's one that involves an intimate, if dangerous, relationship with nature, as surfers practically live on the coastline of some of the world's most beautiful beaches.
This week, come along for the ride and draw an amazing scene of surfing action. It's a perfect time to dive into the contest, and all it takes to end up in the top 10 is to hang 10 and let our voters carry you the rest of the way!
To go a step further, try PicsArt's new Export Video feature to create an instant video drawing tutorial of your work and share it in Youtube tagged with #picsart #dcsurfing. We will be then featuring the best videos from the contest on PicsArt's Blog
Submission Rules & Deadlines
All drawings must be submitted between 9:00 AM (PST) on Saturday, Aug 9th and 3:00 PM (PST) on Sunday, Aug 10th.
To Submit your drawings, wait for the tag which will be announced this Saturday at 9:00 AM (PST) on Facebook, Google+ and Twitter. You can also submit them directly in the "Contest" section of the app once submissions begin.
How to Vote
Voting will begin as soon as submissions start at 9:00 AM (PST) on Saturday, and will last until 3:00 PM (PST) on Monday.
You can vote for your favorite images in the "Contests" section of the app!
Non-Original Artwork Will be Removed!!
Images that don't meet the requirements above will be removed to ensure fair voting! Thank you.