When we contacted Wayne Chinnock to ask him about his work photographing floating fishing huts, known as Bagangs, in Indonesia, we thought we had an interesting story with amazing photos.
What Wayne told us about his experience, however, ended up revealing a world more exciting than we could have imagined, as well as a journey rife with adventure and humanity.
From malaria to giant blue shrimp, find out all of the surprises from this Boston based-photographer's journey to the Indonesian coast, and see some stunning slices of life from these Bagang villages, built entirely around the world's most unique fishing practice.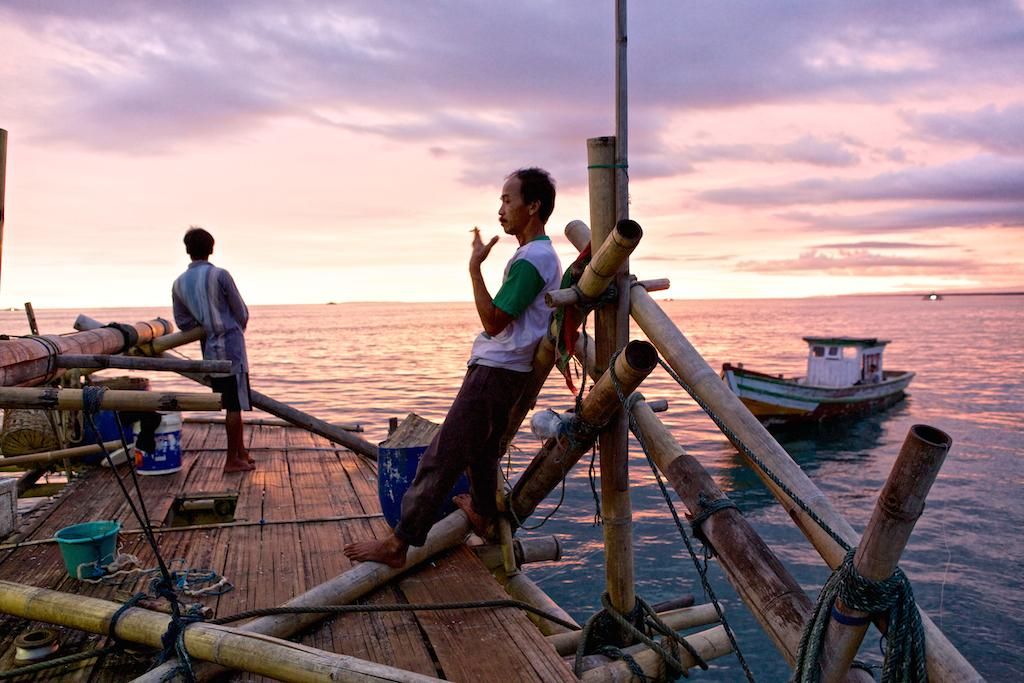 What is your connection with Indonesia, and when did you first get interested in going?
I first went to Indonesia in 2001 with the intention of photographing the one-horned Rhinoceroses in Ujung Kulon National Park on the southwest tip of Java. I contracted two strains of Malaria and Dengue Fever on this trip; however along the way I discovered the Bagang floating fishing huts and was immediately intrigued. There are literally thousands of them off the coast of Java and they are quickly becoming a thing of the past.
What is a bagang and how did you find the bagangs in your shots?
A Bagang is a floating fishing hut. Traditionally they are made of bamboo… I was drawn to the construction methods and the simple beauty of the structures.
I did a little research and contacted an Indonesia travel guide to find where more traditional Bagang building villages were and sought those locations out. Then, with a translator I approached some of the Bagang builders and boat captains about photographing them and their work.
What was the experience like spending time with these people and what did you learn from their lifestyle?
I was very lucky to meet and stay with a family whose father was a prominent and respected business man in the area. They lived right on the water next to the bagang construction and the dock, so it was very easy for me to meet fisherman, builders, boat captains and more and have easy access to photographing their lifestyles.
The nights on the boat were amazing. The men literally work from just before dusk all the way through the night using lights to attract fish, reeling in the catch, fishing and waiting and doing it all over and over again. The work was hard and most men worked 14 to 21 days straight.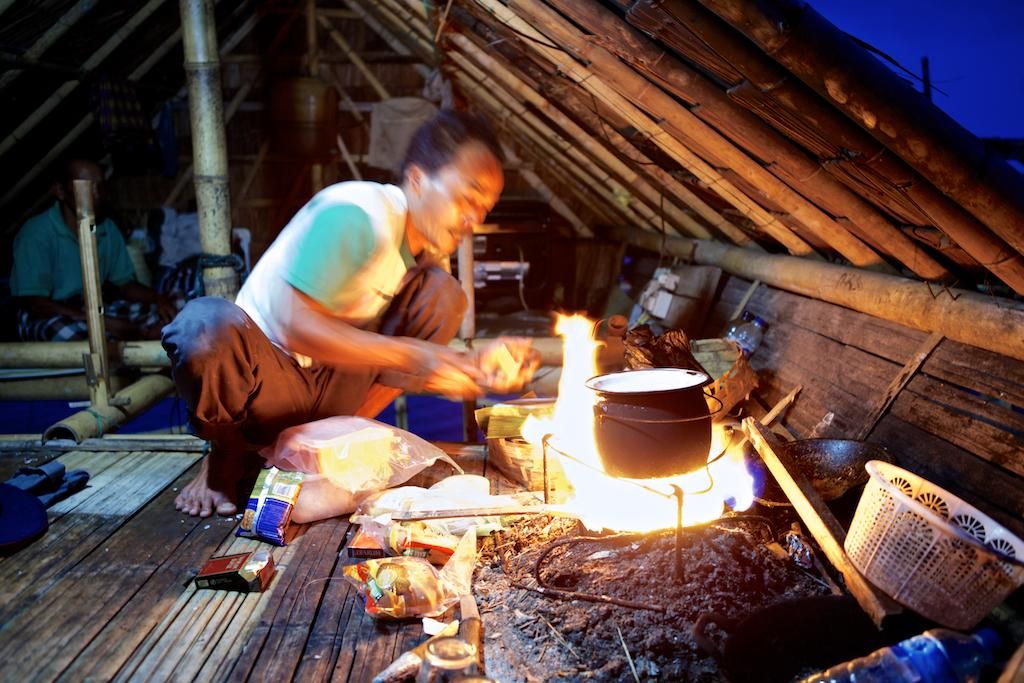 What was your most memorable moment from this experience?
I think most of the fisherman thought that at some point I was going to fall into the water with my camera gear or drop something or break an arm. It was pretty excellent to see their reaction after the first night when they saw how comfortable I was moving along the bamboo structures and swinging my gear around with me. They got pretty comfortable with me fairly quickly after that.
You're a talented food photographer, but here you went to the very beginning of the food cycle. Has this experience changed the way you look at food and eating, and if so how?
I think of this story as a potentially expanding one that focuses on… traditional forms of fishing that are quickly dying off in the modern world.
The best example from this photo series relates to the very small fish that are caught from the bagangs. These are specialty fish that catch very high prices per kilogram in Jakarta and some other major markets. The bagangs are the number one way in which these fish are sourced (supplied) presently in this area of the world. Japanese and larger Indonesia fishing companies are starting to net catch these fish with commercial boats and may take this livelihood away from the bagang fishing villages.
What advice would you give to someone who wants to penetrate the real local Indonesia?
Nothing works as well as being an engaging and friendly person that isn't afraid to put down his or her camera for a while and have a cup of tea or stay the night in a hut with a family.
My first few nights in the village of Muara Binuangeun were spent sleeping on a mud floor with a family that invited me into their home. They were the first connection in a long line of connections that allowed me to meet and document all these amazing people.
As someone who knows food, what was your favorite thing you ate over there?
Pretty much every day was some of the best seafood I have ever put into my mouth. The family I stayed with spoiled me beyond reason with amazing food. They did a huge amount of cooking in large Indonesian iron woks and the best dish I had was a huge blue shrimp with spices stuffed into its roe sack and then fried in the wok, simply unbelievable. I certainly did not mind the morning rice porridge with chicken gravy either.