Steven Bowden, @sterayb, is a talented PicsArtist who creates outstanding pop art photos using PicsArt app. His creations fascinate his friends and PicsArt community for their complexity and unique style. Read on to the interview with Steven and find out more about him, his sources of inspiration, and the editing technics he uses to create his art work.
Q. Let's start from the beginning. Where did your interest in art first begin?
I've always had an interest in art since school in my hometown Manchester, England. I was into graffiti styles, the images and the humor. I am into custom cars and hot rods and the art associated with that, like the stuff by Coop (Chris Cooper) and Ed Roth, the artist who did the ratfink graffiti. When I was in school, I never had a pen or pencil out of my hand; I covered all my schoolbooks in art and caricatures.
Q.What were some other major influences on your artistic style?
I've always been into music; I play the guitar and bass and collect records. I've got hundreds. Album art has been a big influence, the likes of hypnosis who did Pink Floyd album covers, and I have a lot of psychedelic albums that use a lot of pop art, including the likes of Andy Warhol, who did the Velvet Underground album covers like the Banana cover and Coke Bottles.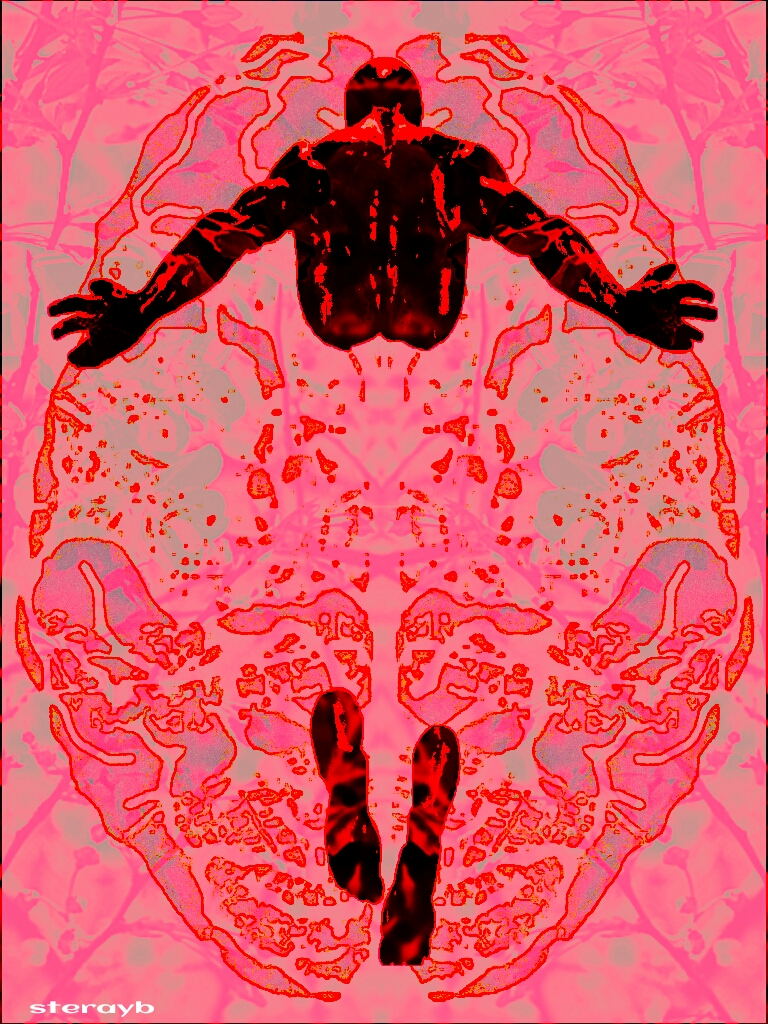 Q. What was your profession at the time you started using PicsArt?
I don't do art for a profession but sort of, I was an interior decorator for 22 years. I did paint affects like marble, wood-grain, rag rolling, gilding wallpaper… until two years ago, when I got seriously ill, after I got several blood clots on my lungs and was in hospital for two months, and that's where I discovered PicsArt on my phone.
Q. That sounds like a rough experience. What types of things did you use PicsArt for
when you were in the hospital, and what did creating Art mean to you during this time?
I was taking pictures of stuff in the hospital and could not use the flash. So, I was trying out apps to try and make the images a bit brighter and that is how I discovered this app and started messing about with it. I started changing the color of food and stuff and making poster-type images and putting them on Facebook for my mates. I could keep up with what was going on outside from the hospital. I didn't tell a lot of people I was in hospital but I think they got that just when I put photos of myself with an oxygen mask on and changed the images in PicsArt to a poster style. I also took a picture from my friend's Facebook page of him in his Manchester City football kit posing with the cup and changed it to a Manchester United kit. He saw the funny side eventually but not until everyone else saw it, haha, and that's when I got the PicsArt bug and started getting back into my art again.
Q. Sounds like you used Art as a way of staying connected with people during this tough time. How did your friends respond to the stuff you were creating?
A lot of my friends are artists and they saw the pictures I was posting on Facebook and asked how I was doing them. Some asked if I was using Photoshop because they said my art looked professional. I just said that no I was not using Photoshop and that it was the PicsArt app, which I found on my smart phone. A few have since gotten the app but still don't know how I do some of my art.
Q. What type of advice did you have for them on how you managed to accomplish art of such a high caliber on your mobile phone?
I said just get an idea and go with it, you can take a photo or use a photo and just experiment.; if it looks good keep at it or start a new one. I like to use layers in my images, 1,2,3, or 4, depending on what looks good. I like texture patterns and prints and shapes- I like my art to jump off the screen at you and I think texture and color are good for that.
Q. Sounds like your art has become quite popular. Have you ever been asked to design things for other people?
I've been asked to do t-shirt designs for my DJ friend of their sound system, and I did them with this app. He's got it printed on t-shirts and a friend has asked me to do stuff with band photos for gig posters.
Q. How has doing mobile editing on PicsArt affected your daily life?
I can show my ideas for stuff on the go with my phone and then use my tablet when I get home and refine them and put more detail into them. My friends say I should show my images in art galleries.  You never know, it might lead to a career change, especially after my surgery to remove the 20 odd blood clots from my lungs; but this app and my illness could be a calling back to art, maybe a new job in art and design.