There's a lot of buzz these days about photography in museums. With last year's ban of the selfie stick in some museums on one end of the spectrum, and trends like #MuseumSelfie Day on the other end, we can't seem to decide on whether we want to condone or embrace selfie-taking in museums. So is there a place in the museum for the selfie — or, for that matter, for photography?
And while we're on the topic, does photographing a work of art inhibit our experience of the art, or can it add an additional — and perhaps more nuanced — layer to our interaction with it? Let's break it down.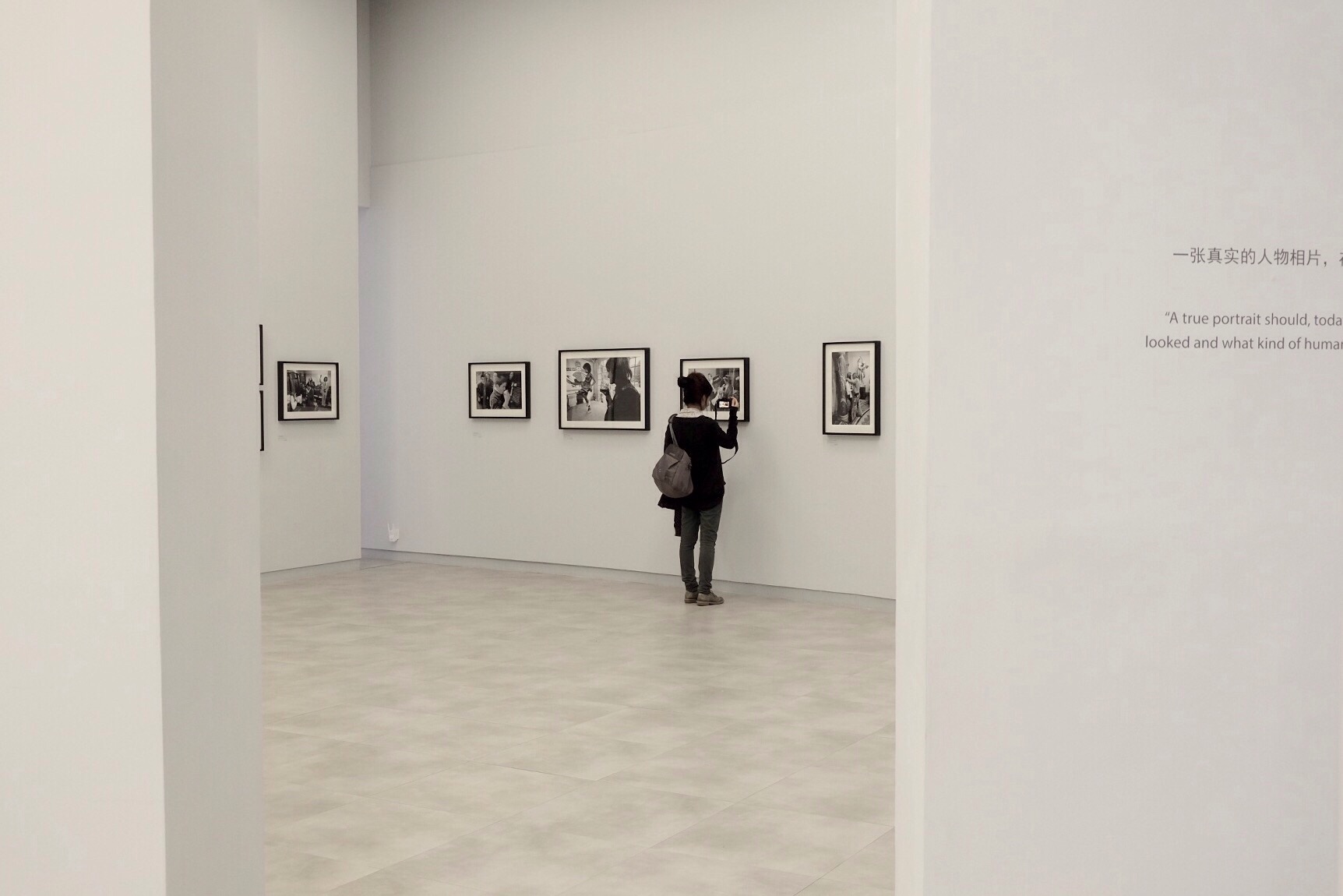 We're all familiar with the no-photography-allowed symbol. In the past, photography in many museums was banned, and for a perfectly practical reason — flash photography can be damaging to ancient works of art (also, it can be kind of annoying). Still, many tourists have defiantly resisted with stealthy quick-and-from-the-hip photos. And now, many museums are waving their white flags and finally letting people do what they want: whip out their smartphones for a photo or a selfie. Some museums are even embracing the #MuseumSelfie trend…
But we'll get to that later.
On the anti-selfie side are a lot of people who take their museum experience very seriously — and with good reason. It's tough to contemplate the wonder of the Mona Lisa with someone slipping into your field of vision, smartphone in hand.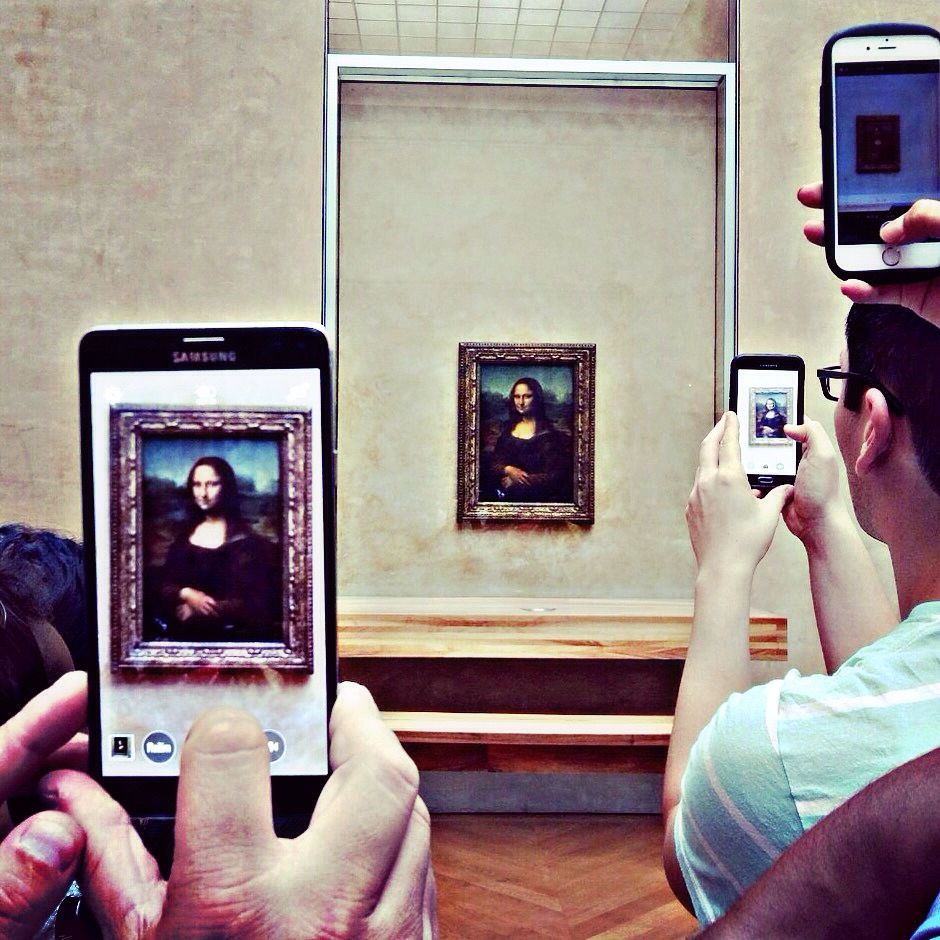 But I think there's another factor at play. When you find a work of art that moves you — that really moves you, it's a spiritual experience. The work becomes a semi-sacred object. And the act of the casual selfie becomes almost — dare we say it? — a profane interruption. When work of art shifts from an object of silent contemplation to a selfie-backdrop… people get angry.
And also, there's science to back it up. According to the findings of a study published in "Psychological Science," people who photograph objects are actually less likely to remember them. For the study, Lisa Henkel of Fairfield University took a bunch of students and had them tour a museum. Some of them were tasked with photographing objects, while others were told to simply observe. The next day, the students were tested on how well they remembered what they saw. And guess what? The people who took photos were less able to recognize objects than the ones who didn't.
But it gets weirder — and here's where we start to see the other side of the story — a second study found that in spite of this, photographing details on an object using the camera's zoom made people more likely to remember not just that detail, but also the whole object. Could it be that such a subtle change in the process — and the fact that zooming in requires a more active form of observation — makes all the difference?
…And maybe that's why we're starting to see establishments that are rethinking the museum experience.
First, there was #MuseumSelfie Day. And if that's not an indication of a shift in museum culture, then I don't know what is. January 22, 2014 marked the first official #MuseumSelfie Day, organized to embrace museum photography and to encourage the "selfie generation" to go to museums.
Skeptical? #MuseumSelfie Day participant (and also Digital Archives Assistant for the Trustees of Reservations) Emily Oswald actually makes a pretty convincing case in defense of the museum selfie. Her most intriguing point is perhaps this:
"…Taking a good selfie requires that both the creator/subject and the viewer look carefully at the artwork or artifact. The most delightful and engaging selfies I found were ones that called my attention to some aspect of the object I hadn't noticed. This photo [see below], for example, from the Museum of Fine Arts in Boston, first made me laugh because it's clever and then made me look twice at the posture and dress of the woman in the painting. To find just the right parallel between her own body and the pose of the young woman in the painting, this selfie's subject and the photographer who took her picture also had to look and think carefully. This kind of looking is at the heart of visual thinking strategies, a teaching method at the center of many K–12 programs in museums."
Admittedly, not every museum-goer will be so thoughtful in their observations. But is it really fair to banish others from having a similar experience?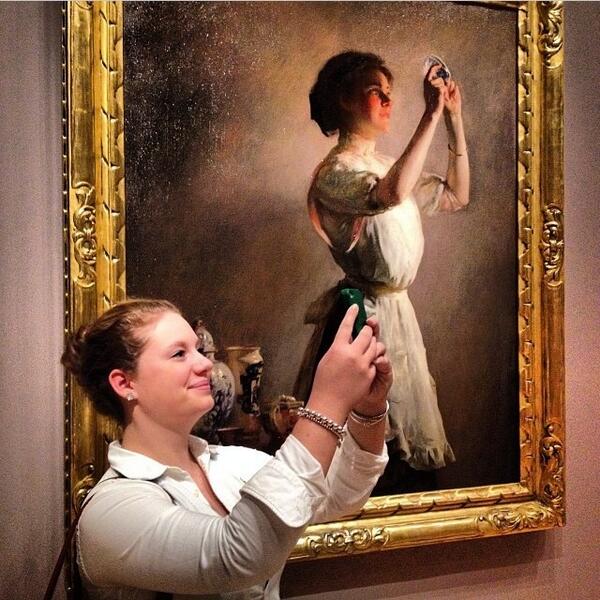 Next up is the Renwick, an establishment currently at the forefront of the millennial-friendly museum scene, whose photography-encouraged "Wonder" exhibition completely shattered their attendance records. Droves of selfie-lovers flooded the exhibition — and social media — proving that museum photography, and museum selfies too, are going nowhere, and can indeed inspire some pretty awesome interaction with art.
In an interview with the Washington Post, curator-in-charge Nicholas Bell muses, "I wonder, what are they even trying to say? … It's like this new first-person narrative of the museum experience. I'm fascinated."
A first-person narrative of the museum experience… Something for us to think about?
Even further on the photography-encouraged museum spectrum are institutions like Art in Paradise or Art in Island, where the entire museum experience is centered around photography. In these museums, visitors are able to actually become a part of the works of art. In fact, the paintings are incomplete until a visitor poses in it, whether they're tying the ribbons on a pointe shoe of one of Degas' dancers or hopping onto an empty surfboard to ride a painted wave. Finding creative ways to become a part of the art — and then, of course, preserving it with a photograph — is the whole point. And I'll be the first to admit: it looks like a whole lot of fun.
And last but not least, we have the Rijksmuseum in Amsterdam, which has completely rethought the museum experience by discouraging photography and replacing it with… drumroll please… drawing! For their #StartDrawing campaign, launched in October of last year, upon entering the museum, visitors were presented with sketchbooks and pencils. Visitors can also take free drawing tours of the museum, where they are led — sketchbook in hand — by a guide-slash-drawing-guru. The goal is to encourage people to see a work of art differently, more actively, to examine the lines, lighting, angles, everything — in other words, to linger on piece for more than the time it takes to snap a photo.
So where do you stand on the museum selfie debate? What's your favorite way to experience a work of art? At the end of the day, everyone's experience is different, but we're excited to see how museums are upping their game to attract new audiences. Let us know what you think in the comments below, and of course, share your own #MuseumSelfie with us on the PicsArt photo editor!