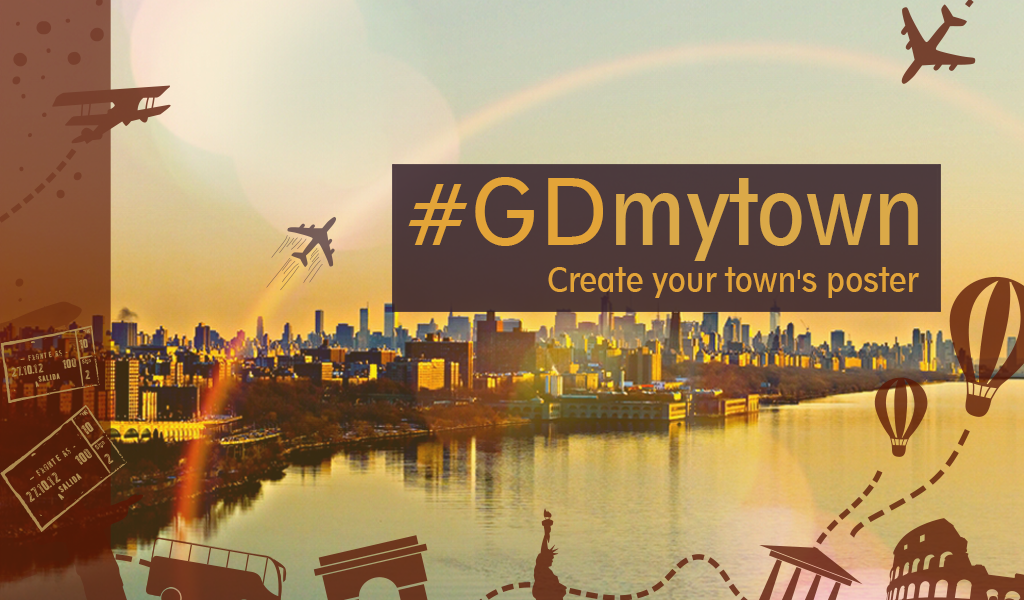 For this week's GD Challenge, we want to make graphic design personal. Make a poster for your hometown.
Imagine a college student who needs something, like a poster to hang on the wall, to remind him of home while he is away. Or, think of all those people who know nothing about your town. They need to see a poster, which might inspire them to visit your hometown one day.
Think of what makes your town so special and use PicsArt tools to create an attractive and memorable poster of your town.
Take a photo of a piece of your hometown that is near and dear to your heart. It could be something personal like your favorite pizza place or hang out spot, or it could be an iconic landmark. It all depends on your intentions.
Use PicsArt tools to make your image pop, add text and borders. Generally, text is used sparingly below the image, a single sentence or quote that evokes the essence of whatever it is you are trying to convey. You might find various interesting clipart and frame options in our packages that will make your poster look more attractive. Please check out our new Retro Travel package.
Whatever your approach, if you do your job well, then your poster should be something that brings back fond memories of growing up and makes your chest swell with pride.
To Participate…
To enter your poster into the competition, tag it with #GDmytown or submit it in the 'Contest' section of our website. You can only submit a maximum of two posters into the Contest.
All entries must be submitted by Wednesday, June 5th at midnight San Francisco time.
Voting
You can vote for your favorite designs in the "Contests" section of the app on your mobile device or by visiting the "Contests" section on our website.
Voting starts immediately and extends an extra day after the closing of submissions until midnight on Thursday, June 6th. This gives late entries a full extra day to collect votes.
Winning
The top 10 designs that have accrued the most votes by midnight on Thursday (San Francisco time) will be the #GDmytown contest winners.