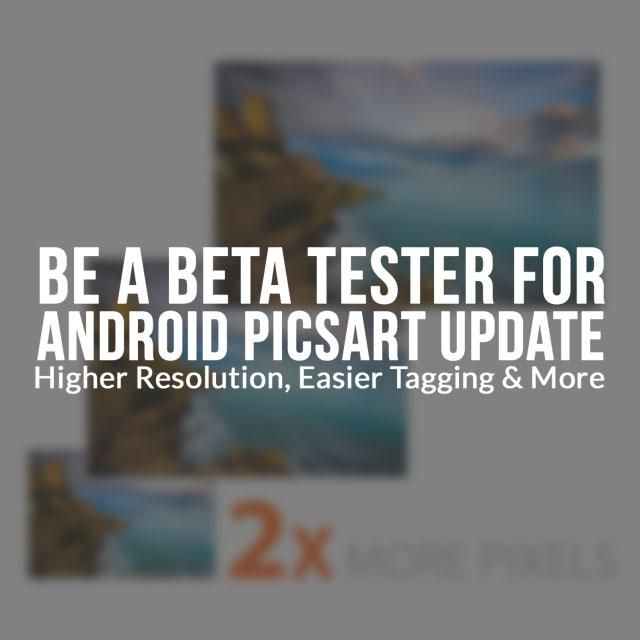 The new PicsArt update for Android 4.0 and above is now available for Beta testing. Download the Beta version of PicsArt to be the first to test out the app, and share your feedback with us on the PicsArt Beta Testing Group on Google+.
With this update, we've doubled the resolution supported on the app, so now you can save your images, collages, and drawings in resolutions up to eight megapixels. We've also made it easier to add hashtags and to mention other users in your comments. Just tap on the hashtag or mention button, and a list of suggested items will automatically appear. Last, we've also introduced a double-tap liking system. Now you don't even need to open an image to like it; simply double-tap it directly from the stream.
Not a Beta tester yet? It's easy to join.
Here's how to become a Beta tester:
Join our PicsArt Beta Testing Group on Google+. Make sure you are signed into the same account you used to download PicsArt on Google Play.

Soon after, you will receive a notification confirming your request to join the group. Once your request has been accepted, follow this link and press the "Become Tester" button.

If you have automatic updates activated on your device, the Beta version of PicsArt will be downloaded automatically. If you don't have automatic updates activated, visit the Google Play Store to update the app.

Enjoy the Beta version and all of its new features. If you find any bugs or have any ideas on how we can improve the app, please share them with us in the PicsArt Beta Testing group.
We look forward to your comments and suggestion on the new PicsArt update.
Thank you to all of our Beta testers–your input is a great help in allowing us to create an updated version of PicsArt that is better than ever!