While walking the streets of New York, I turn my camera towards anything that seems interesting. Over time, a common theme started to appear, humor. Manhattan is known as the city that never sleeps, but a lesser known side of this town may very well be it's ability to make one smile. In your own photography, you may find that you're drawn to certain types of emotion. Here are some of my favorites from the big apple.
Street scenes require a photographer to work fast or potentially lose the moment. Unlike a posed portrait, there are no re-dos. To be ready for anything, keep the camera on with the lens cap off. If you have to fish through your camera bag first, it'll be too late. It was two days before Thanksgiving when I saw this man dressed as a Turkey boarding a bus. There was enough time for only two photos before the doors closed behind him. A shutter speed of 1/250 was quick enough to freeze the motion.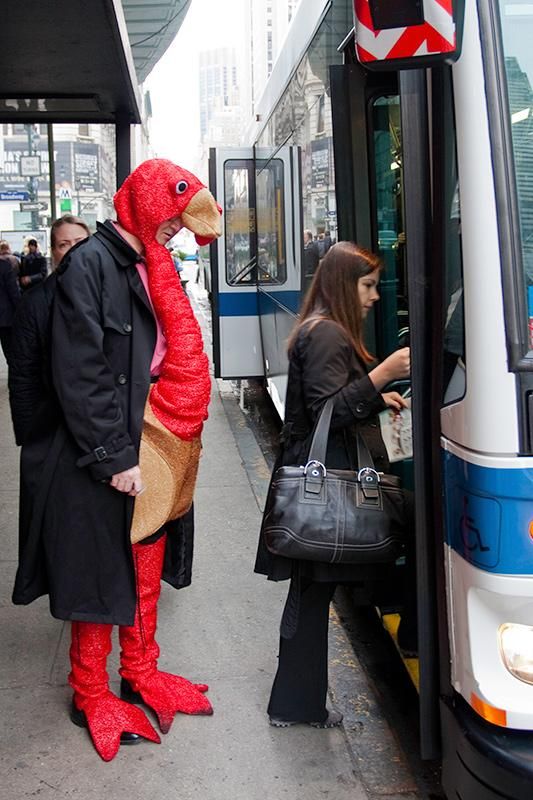 In Central Park I noticed a group of three Sesame Street characters sitting on a bench. It was a hot Saturday and they appeared to be taking a short break. Rather than shooting the typical posed shot from the front, I found the view from the back to be more interesting. It was a rare quiet moment in this hectic city. I used a longer 85mm lens to avoid disturbing the scene. After capturing a couple of shots, a group of tourists with baby carriages and children approached to ask for photos and the moment was gone.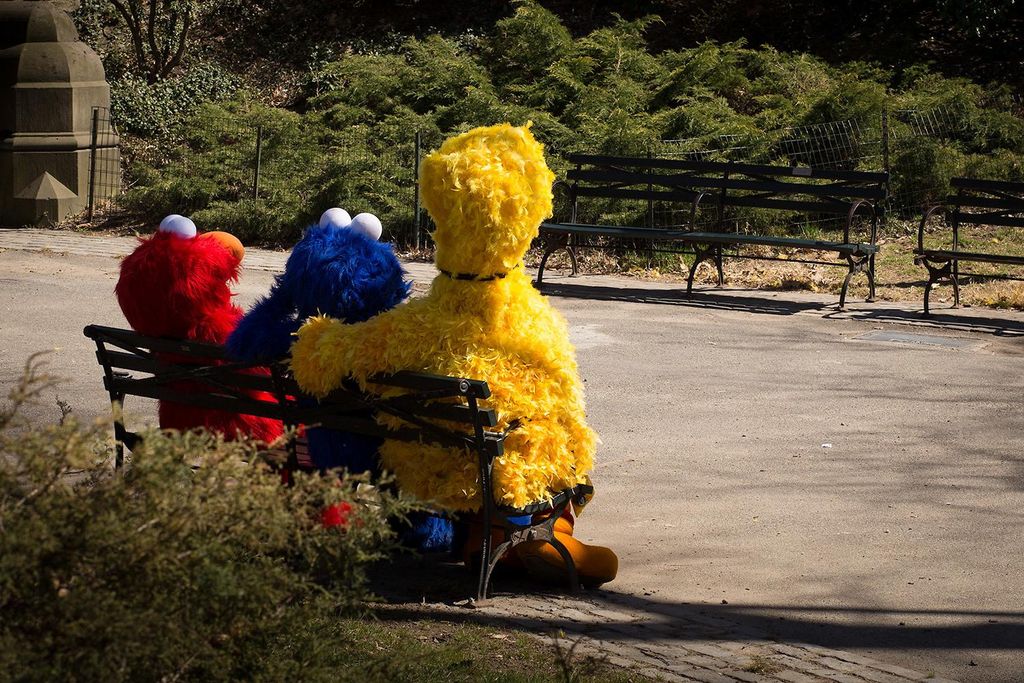 Holidays seem to increase the potential for characters to appear. People dressed as Santa can be found on many corners, and in front of popular stores and malls. I rarely photograph these staged scenes, opting for the off-duty moments that most people don't see. While walking near 34th street I noticed this Santa quietly ducking into a bar. My exposure was already set based on the existing sunlight. This was helpful as there was only time for one photo before he vanished into the dark tavern.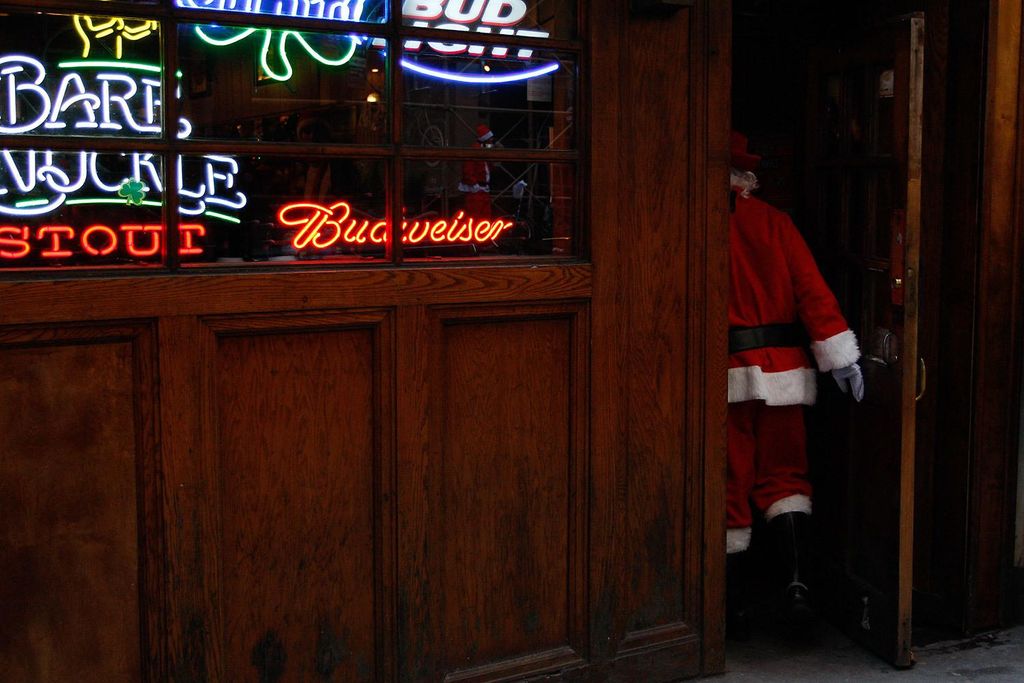 Not far from Times Square, I came across a shop window that was not yet finished. The bottom half of the display was covered with black paper, leaving the top visible. Intrigued by the similar shape and color of the mannequins heads and the ornaments hanging from the ceiling, I stopped to take some photos. Streams of commuters passed while I milled around. What if a bald man walks by, I wondered. Not even two minutes later, that exact thing happened, and I caught the scene with a wide angle lens.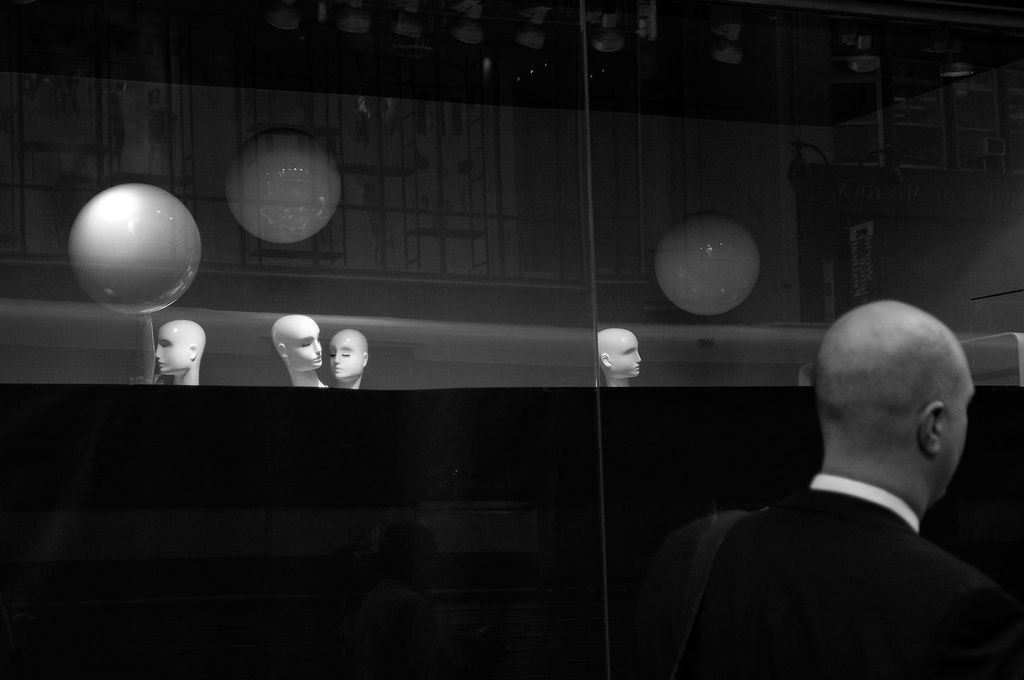 The city decided to show a heavy police presence at a rally near Wall Street. This demonstration was peaceful however, leaving many of the authorities on the sidelines with little to do. I noticed one officer about to yawn and quickly took a photo before rejoining the crowd. There were many photos taken that day, but this is the one that makes me laugh. What common themes do you see in your own work?