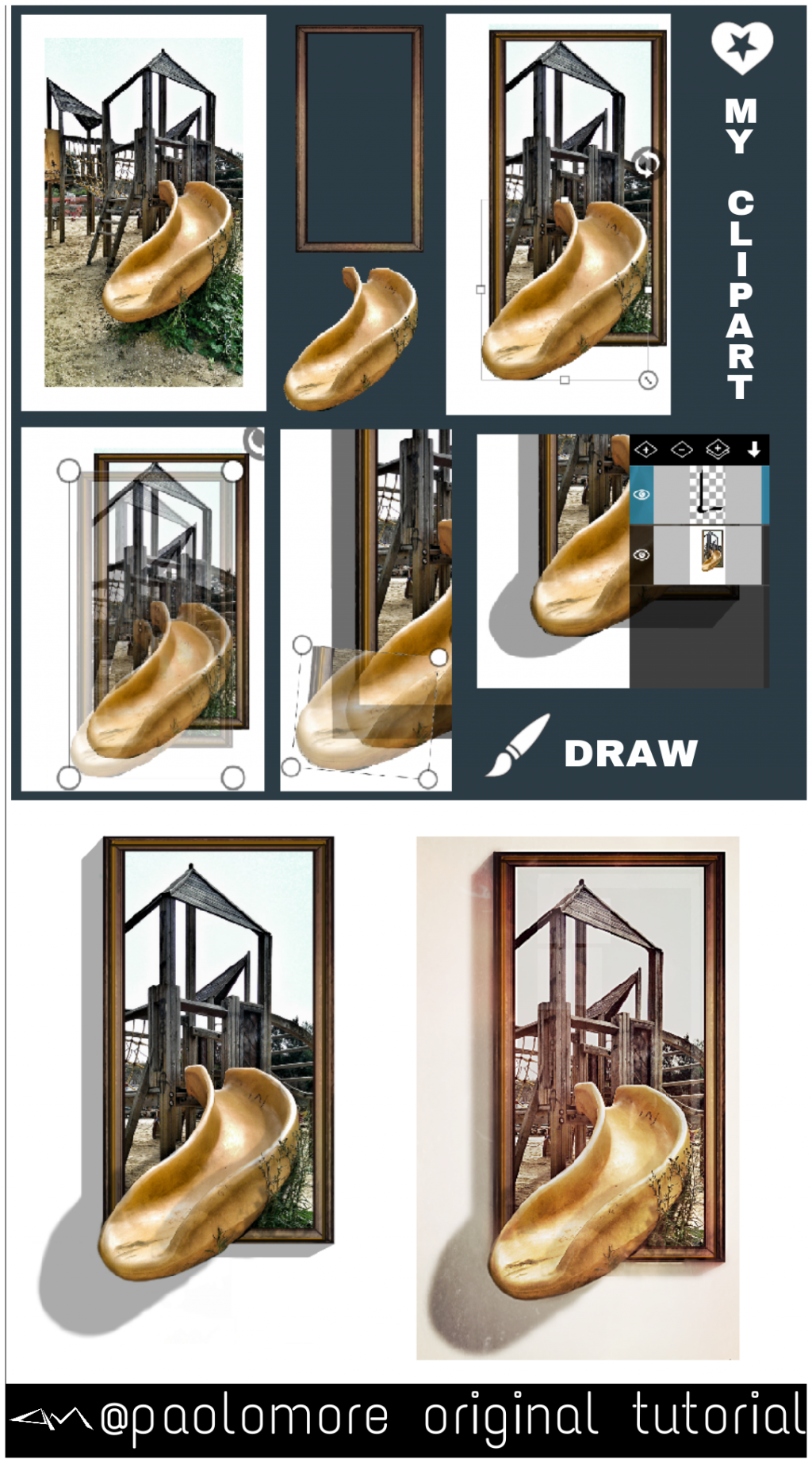 We are continuing our series featuring the photo-editing tutorials of Paolo Morucci (@paolomore) with this tutorial on how to make a pop-out photo. A pop-out photo is where it looks like a piece of the photo is actually popping out of its frame. Follow this tutorial to figure out how Paolo managed to make it seem like the slide in this photo is popping out of its frame casting a shadow on the wall next to the photo.
Step 1: Custom Clipart
Take a photo of a frame. Open Draw and erase everything aside from the frame. Save it as clipart. Open your photo and use the Selection tool to select the part of your photo you want to pop-out, and save that as clipart too.
Step 2: Frame on a Wall
Use Border to add a thick white border, this will expand the wall in your illusion. Open clipart and place your frame somewhere over your image in a way that cuts off the "pop-out" element in your photo. Use white rectangles to cover all parts of your photo which are not in the frame with white, leaving a framed portrait on a white wall.
Step 3: Pop Out
Open Clipart add the "pop-put" element back into your photo, and line it up so that it overlaps on the original version in the photo, and sticks out over the frame.
Step 4: Add Photo
Save your drawing. Select draw and choose Add Photo, and add your saved photo into the higher layer, shift it so that it is off center from the original, like down and to the left. Reduce the opacity.
Step 5: Shadow
Add a new layer and use a black marker to trace the part of your drawing that is off-center, and connect the gaps to create a consistent shadow, then reduce the opacity. Delete your layer with the off centered copy photo drawing when done.
Step 6: Pop-Out Shadow
The pop out shadow should be more extreme, since the object is higher up off of the wall. Add the clipart of the pop-out object again in a higher layer, but move it more extremely off-center, though in the same direction as before. Reduce its opacity, trace its shadow in your shadow layer, then delete it.
Step 7: Final Touches
Add any final effects you want to give your photo that final finished look.