To outsiders, Paris street art may not be the most obvious attraction in the city that houses some of the world's most famous art museums. While many can rattle off the names of famous painters like Van Gogh and Renoir who called Paris home, somehow, outside of the posh galleries, it's hard to imagine the art of vandalism thriving in the city's elegant streets.
Then you remember the revolution and the underclass that was never allowed in the palaces we visit in droves, and you have all the rebellion you need for a great street art scene. Welcome to Oberkampf! Welcome to Belleville! We're exploring Paris street art in the traditional neighborhoods of the industrial poor, birthplace of the revolution and of some of the finest urban art this side of the Atlantic. Today, we're walking through it all.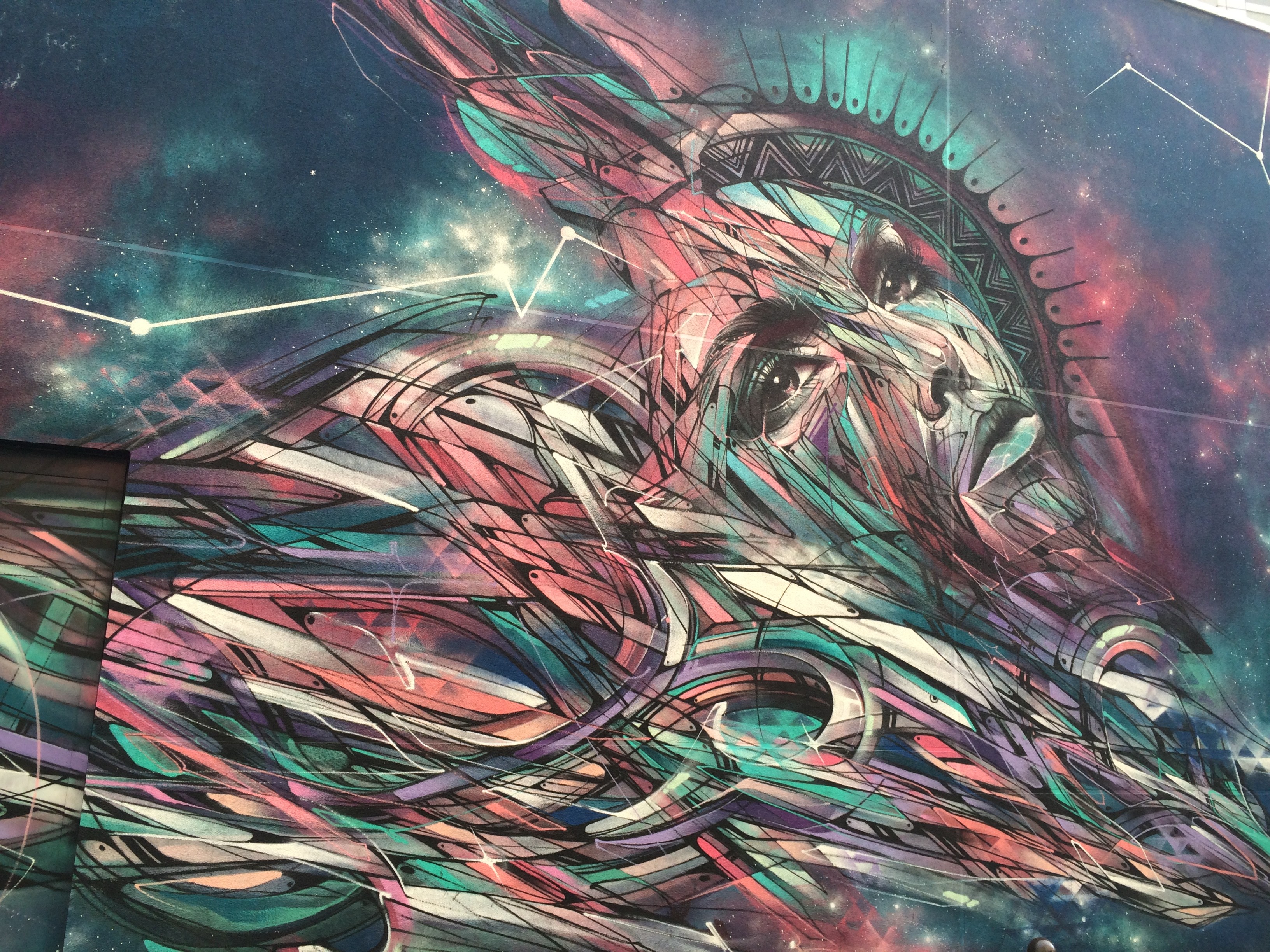 It's a mild spring day and I'm on a walking tour of Paris street art with Walk My Steps. My guide, who wished not to be named, has been embedded in the street art scene for years. A friend of the artists and the neighborhood, she knows where to find what's hidden in plain sight. Her eyes light up when she reports back to us from this world of covert creation and spray-paint spelunking. Her admiration is equaled by her love of the adventurism and daring behind each piece. I meet her in Oberkampf in front of a work in progress.
In this neighborhood, the locals have more than a hundred years of experience writing on the walls of Paris. Once, it was posters and slogans, but now it's stencils and spray cans, what they call "la bomb" in French. Almost all of it is vandalism, my guide tells me, even though the piece in front of me is being painted with the city's permission. German-born artist Hendrik Beikirch is on a ladder, spraying white lines on a black wall. Hendrik paints detailed portraits of unknown people, people with deep wrinkles and withered features — real people.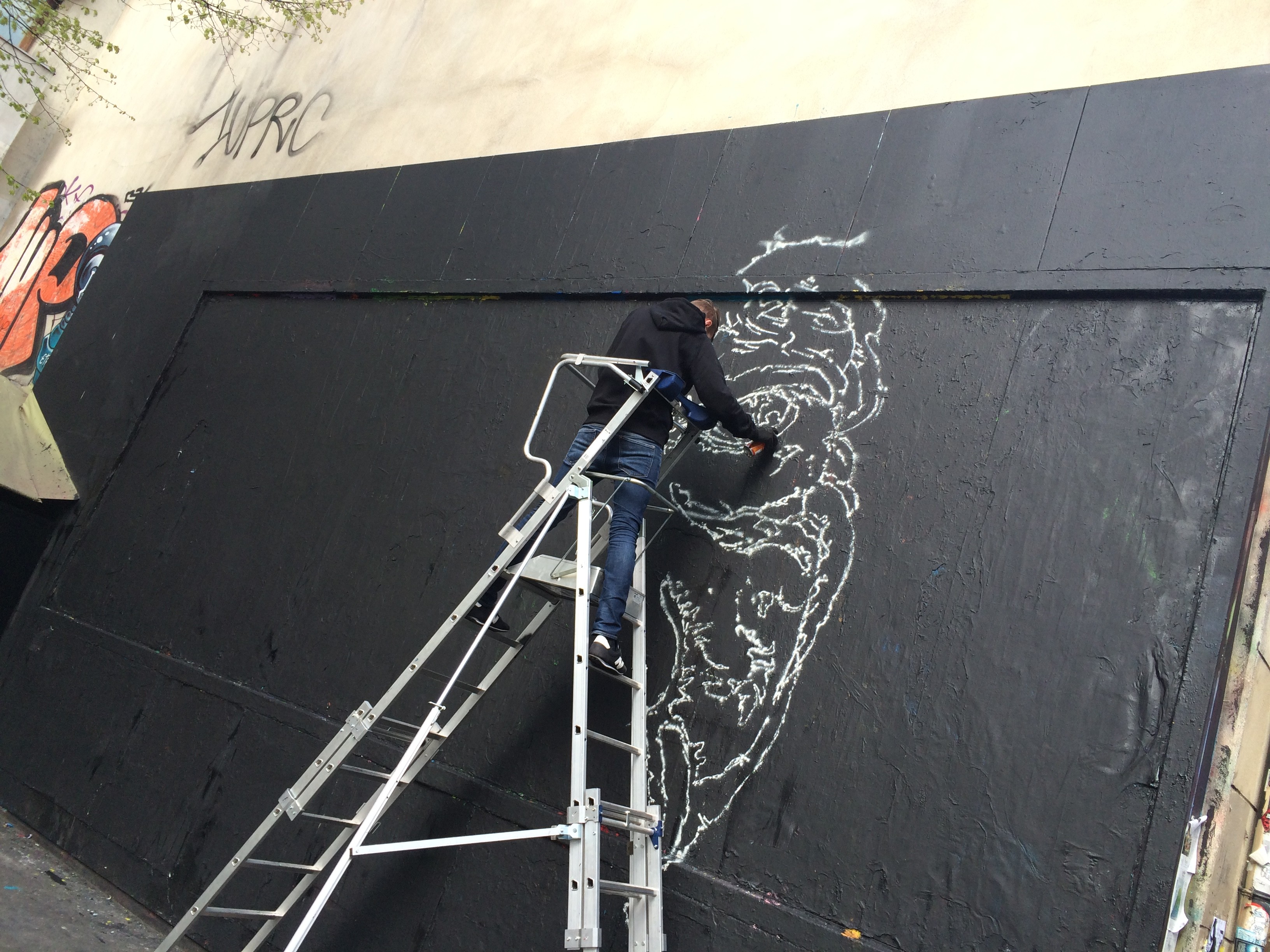 Hendrik could not ask for a better canvas. The inlaid creases on this black wall reveal its past as an ad billboard, one painted over so many times by vandals that the city of Paris decided to give it up to the street artists. Soon Hendrik's wrinkled eyes will stare out from where plastic models sold plastic products; this is a triumph of vandalism. Like all street art, his work is temporary. On this wall, every fifteen days, a new artist paints over the previous' work. It's the way street art should be.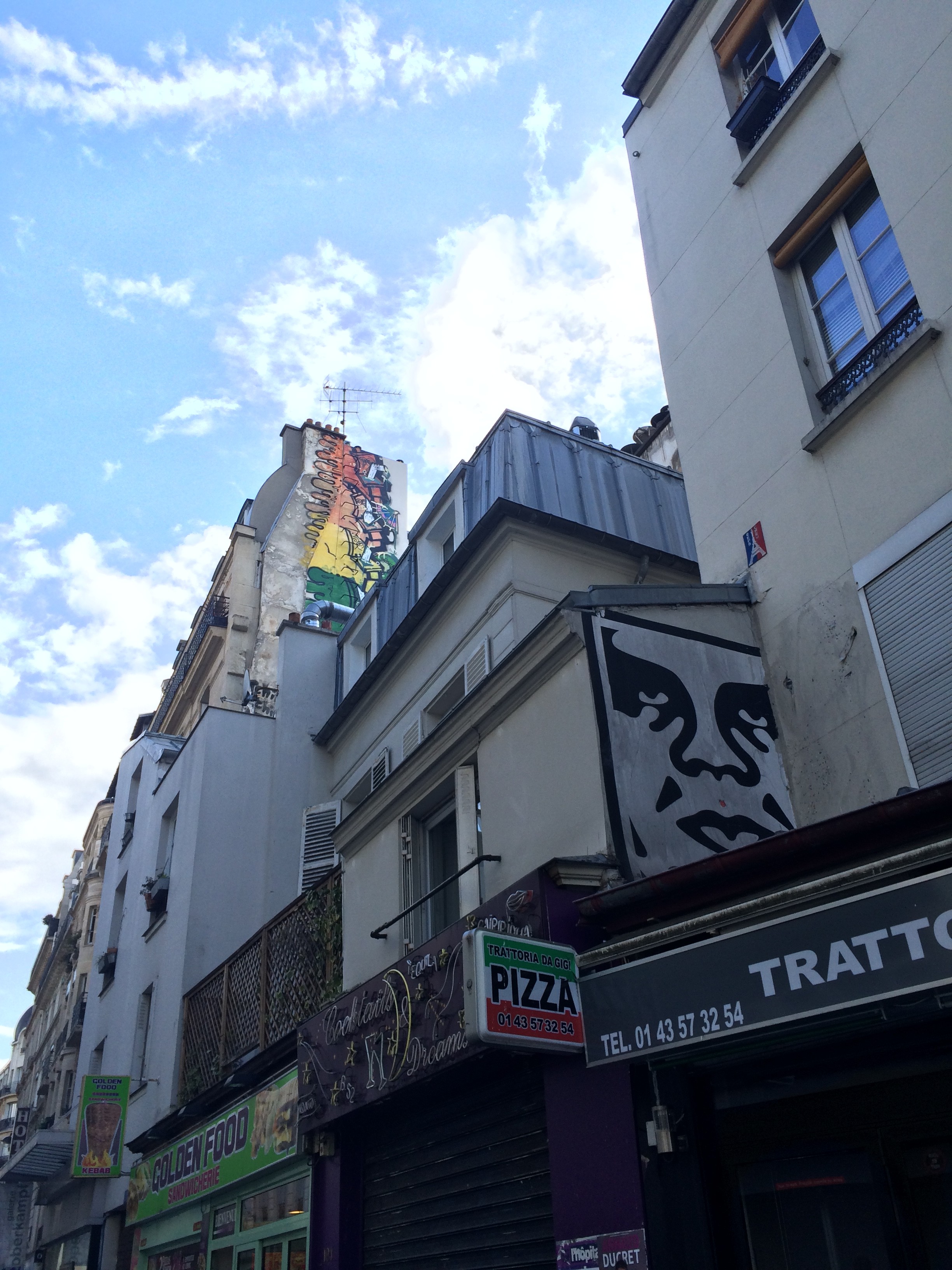 Across the street there is a recognizable face: Andre the Giant, the signature of artist Shepard Fairey's world-famous anti-propaganda campaign, OBEY. Behind the stencil, a colorful mural covers the side of an apartment building, the work of French artist Chiotte. Chiotte is known locally for his fearlessness of dizzying heights, and of course for his integration of toilets in everything he paints.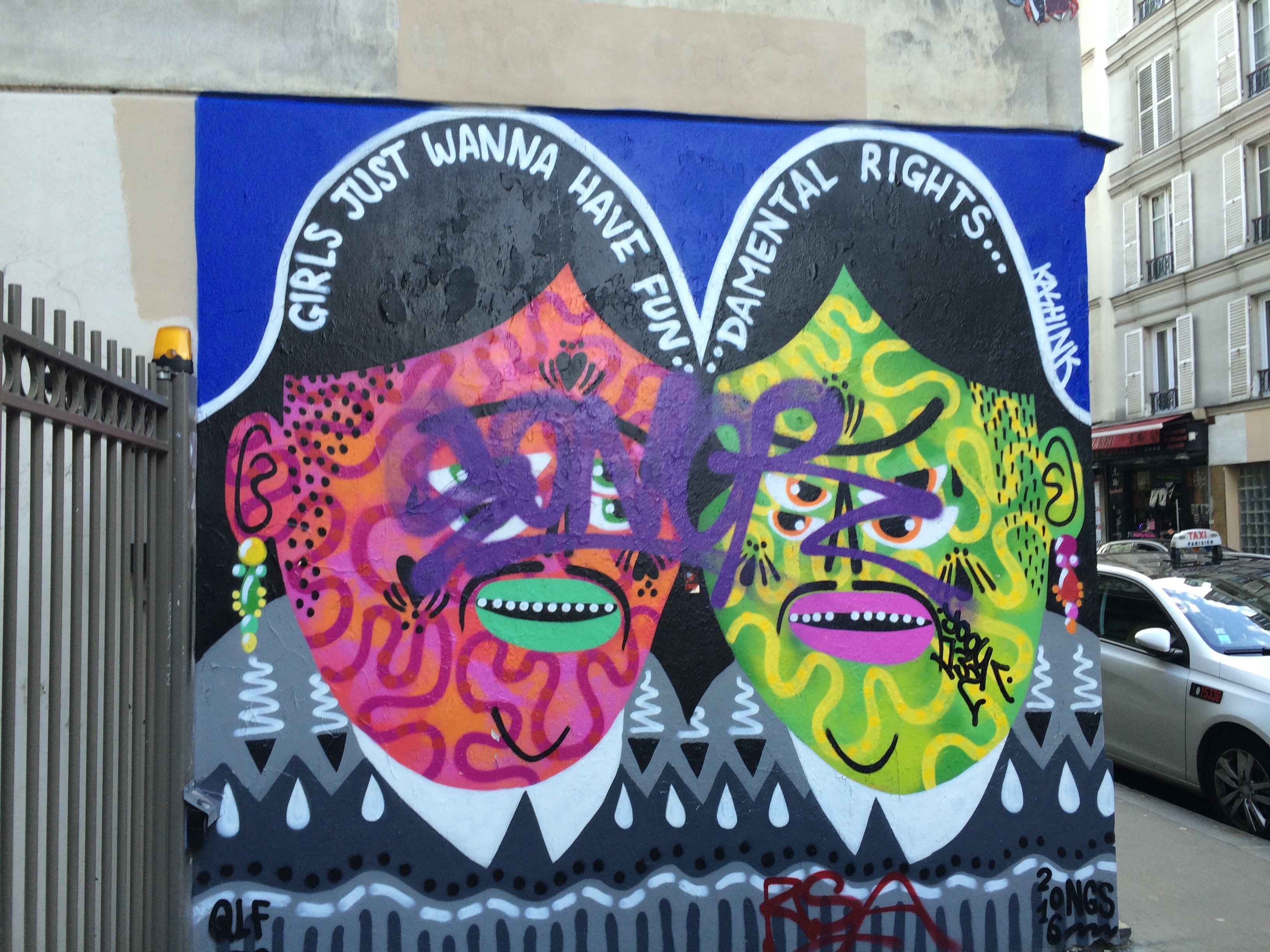 Walking through Oberkampf, we stop in front of a rarity. Women are still uncommon in street art and have to fight a little harder for respect, but artist Kashink has elbowed her way to the forefront of the scene. She is a true eccentric. She only paints men, and she paints them fat, hairy and four-eyed. Taking inspiration from Frida Kahlo, her art is colorful and challenges gender ideas. Kashink is also a work of art herself. She never leaves home without painting a mustache across her lip.
Another street prized by Parisian artists is Rue de la Fontaine au Roi, known for its broad stretch of exposed building face, and more recently as one of the sites for the attacks this year. Today, the artists have reclaimed their favorite spot. Rue de la Fontaine au Roi is peaceful again and blossoming. There's a lot of great stuff here, in fact too much for this page, so let's highlight three. On the top left is a piece by Ives One, an Amsterdam artist who breaks portraits into puzzle pieces, and to the right is a piece of pop street art by Jo Di Bona. Below that is rising star Hopare, whose swirling line movements and women's portraits are getting a lot of attention right now.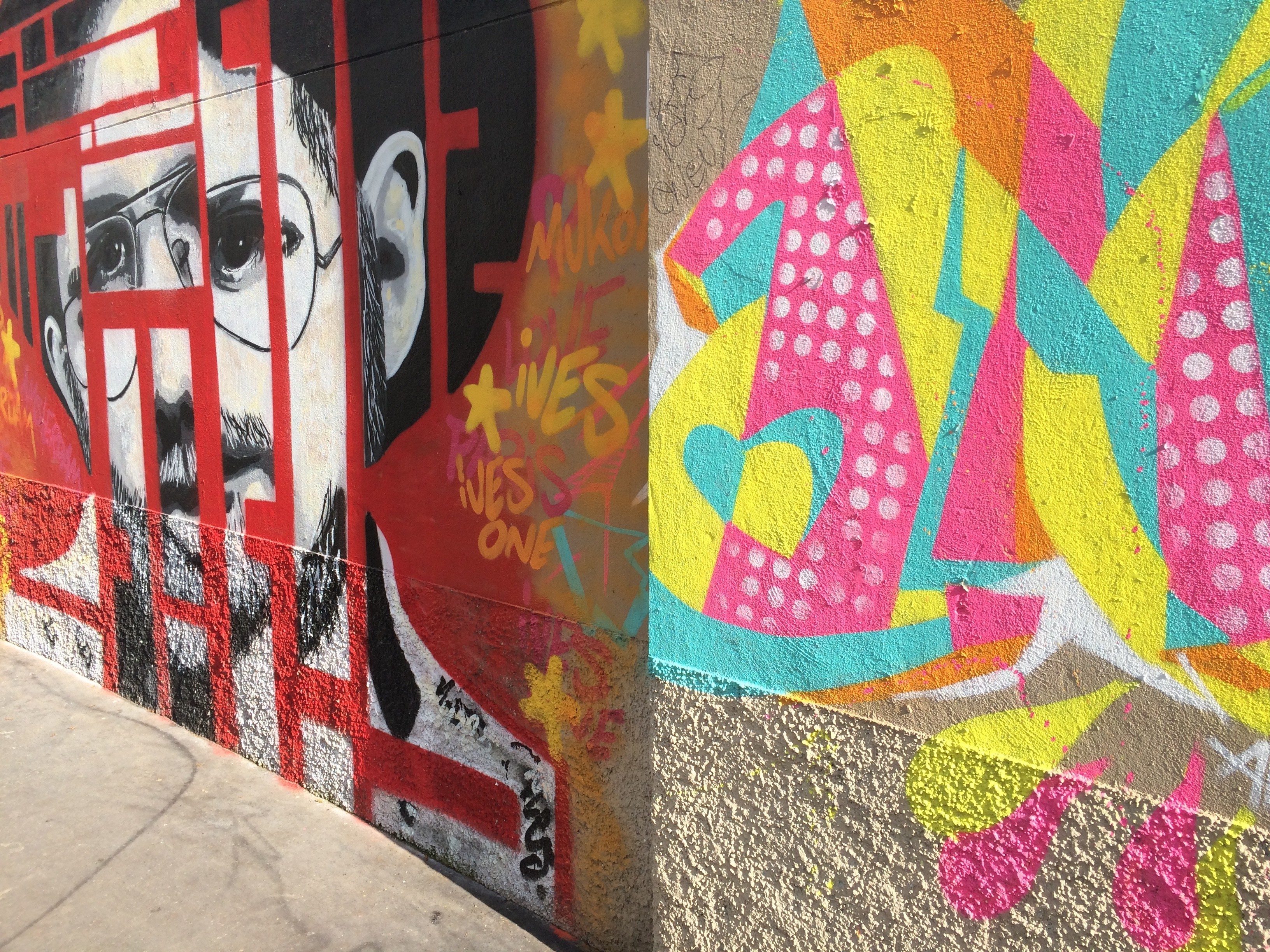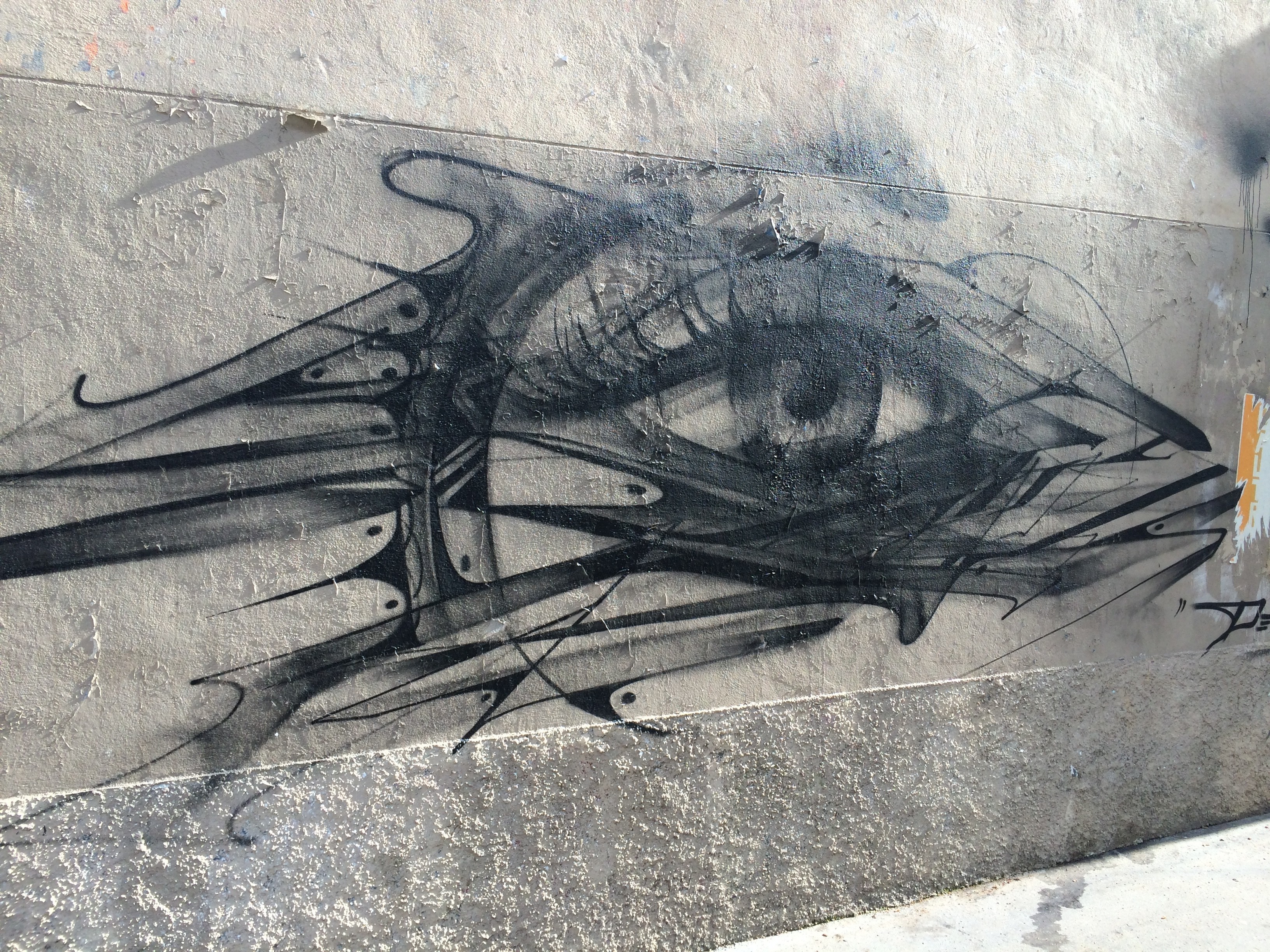 Up a hill, we cross by the work of a legend. No Paris street art list is complete without Space Invader. Space Invader's mosaics of the popular 1980s video game are a worldwide phenomenon, and here we pass a recent piece in the city where he began his global conquest.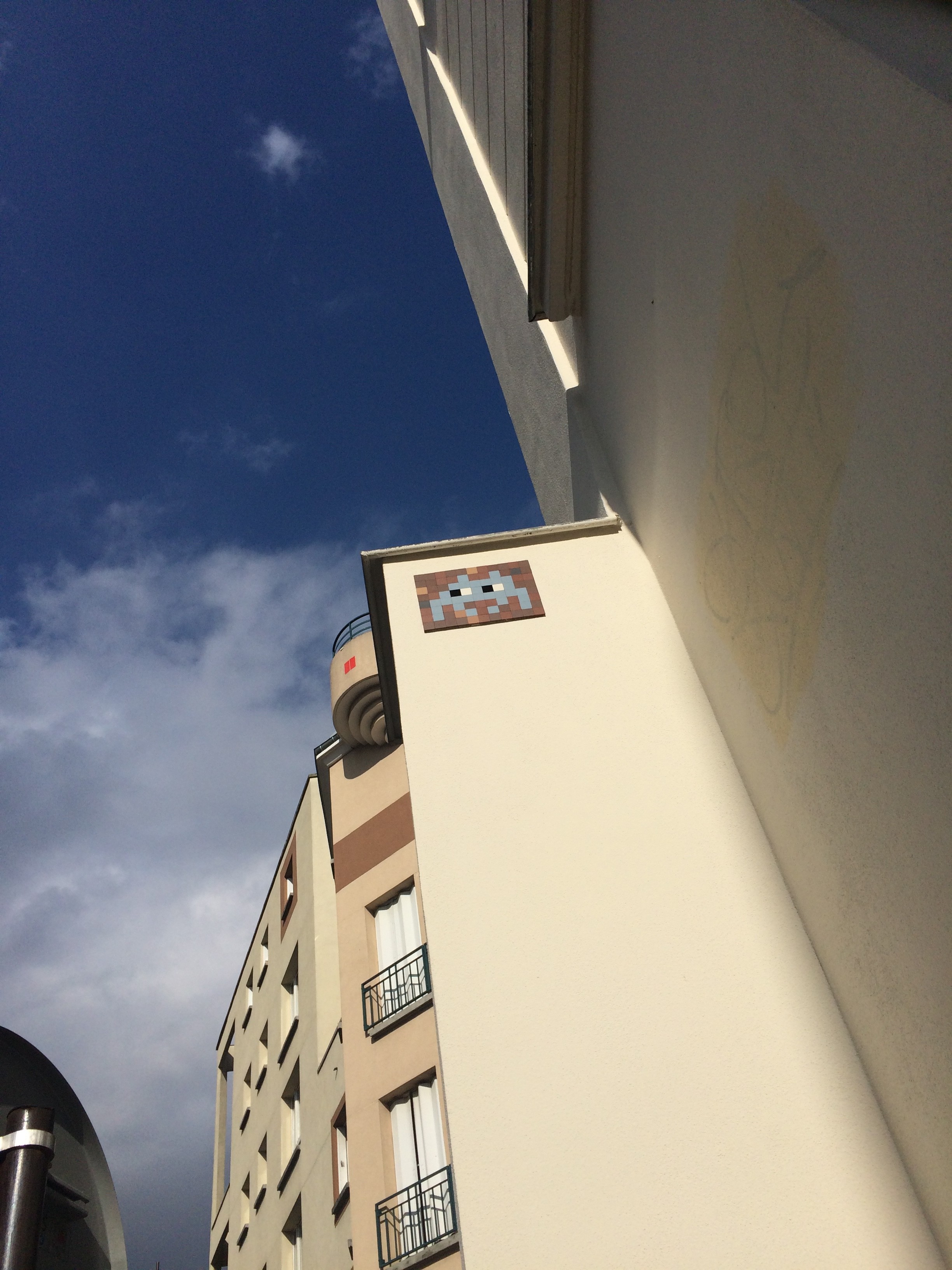 Crossing over to Belleville, our guide points out some colorful trucks. In the Paris street art scene, tagging a truck with your art is a rite of passage. These mobile canvases line up on market day, creating a spontaneous pop-up gallery of urban art behind the vendors.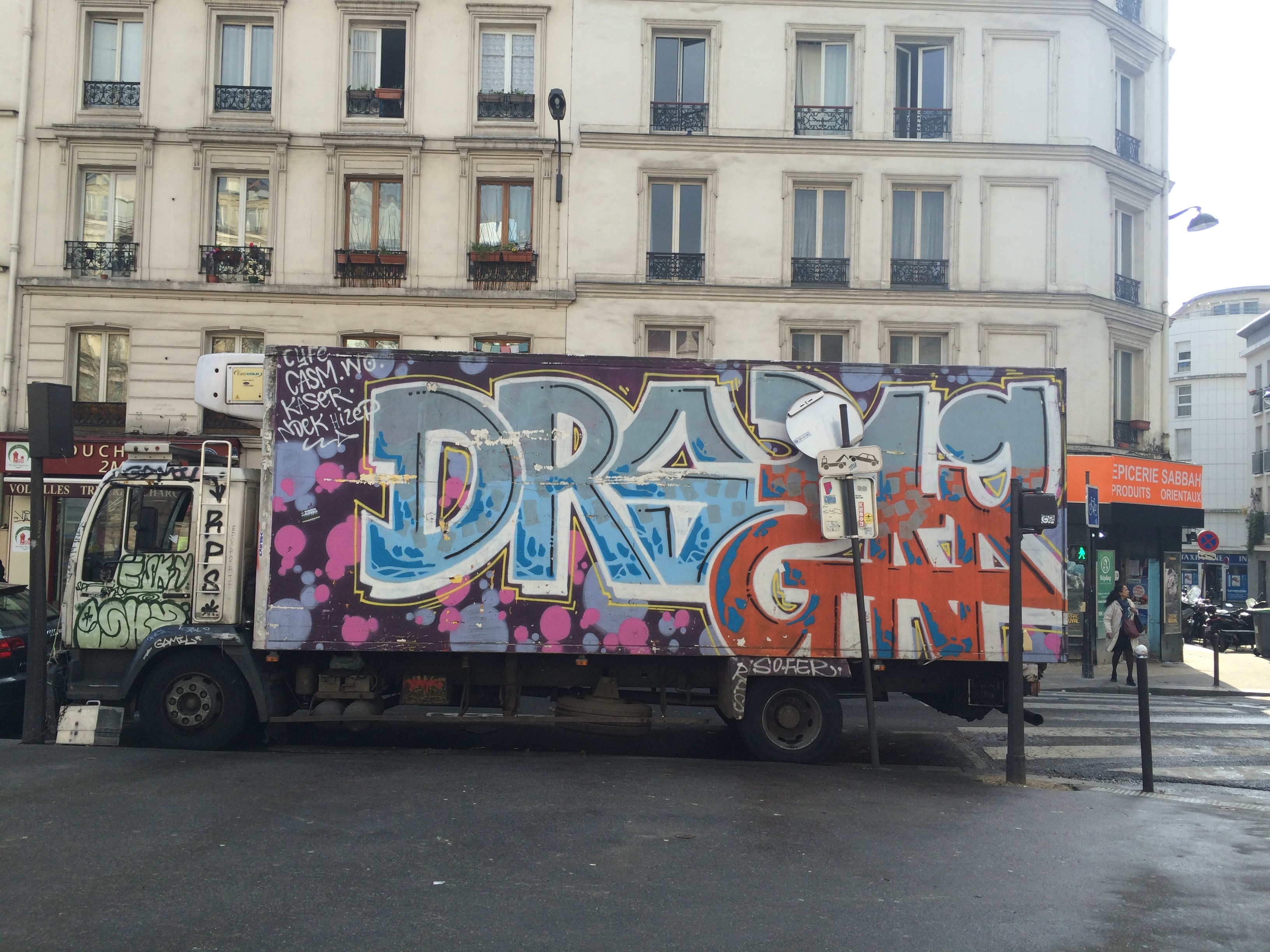 In Belleville itself, we arrive at the street Rue des Noyés, the heart of Parisian street art. Though this was once a neighborhood of cabarets and absinthe-slugging painters, in the 1980s, Belleville was the cultural landing strip where hip hop arrived in France. This is where "la bomb" went off, and it looks like a literal explosion of creativity.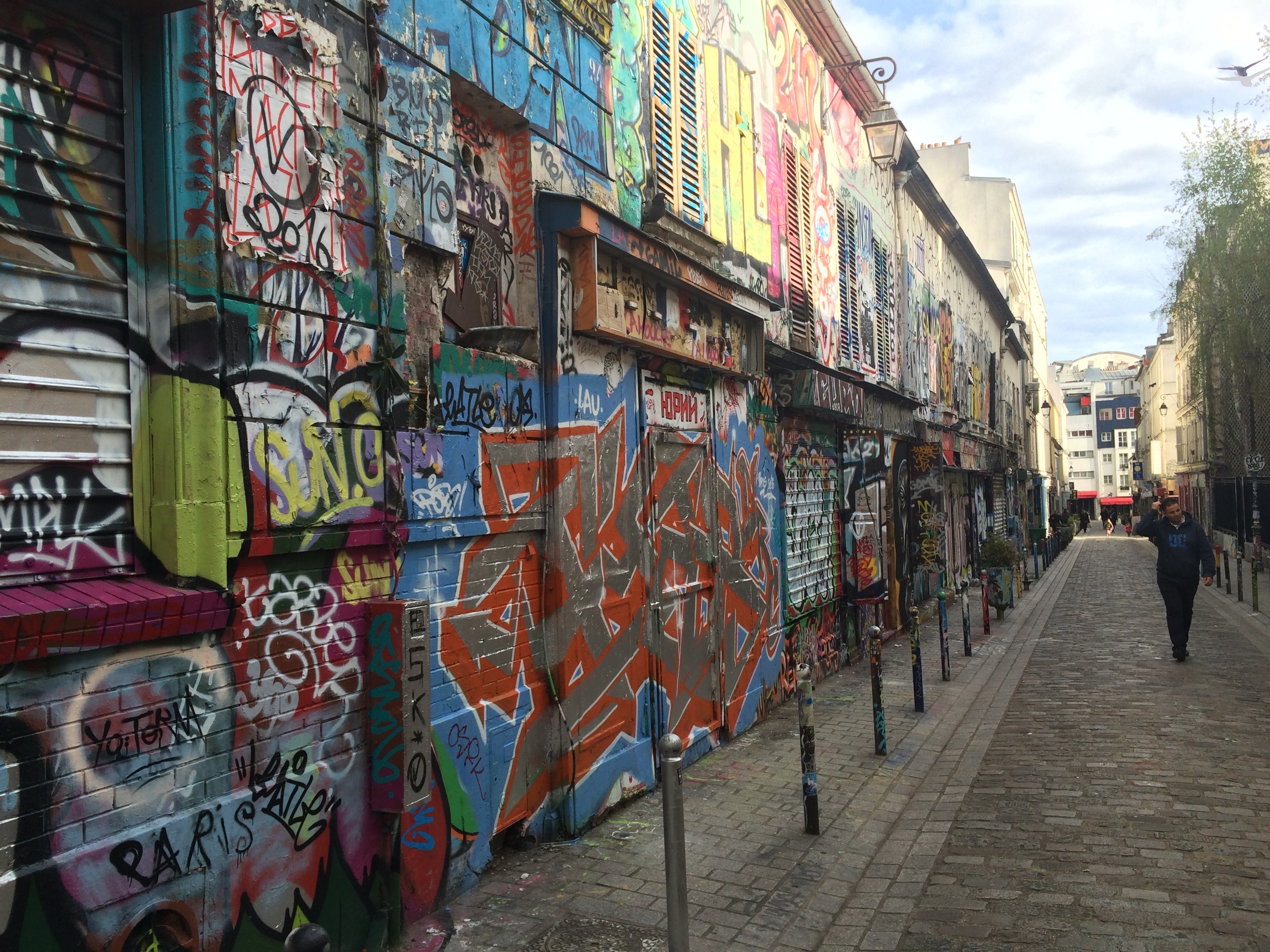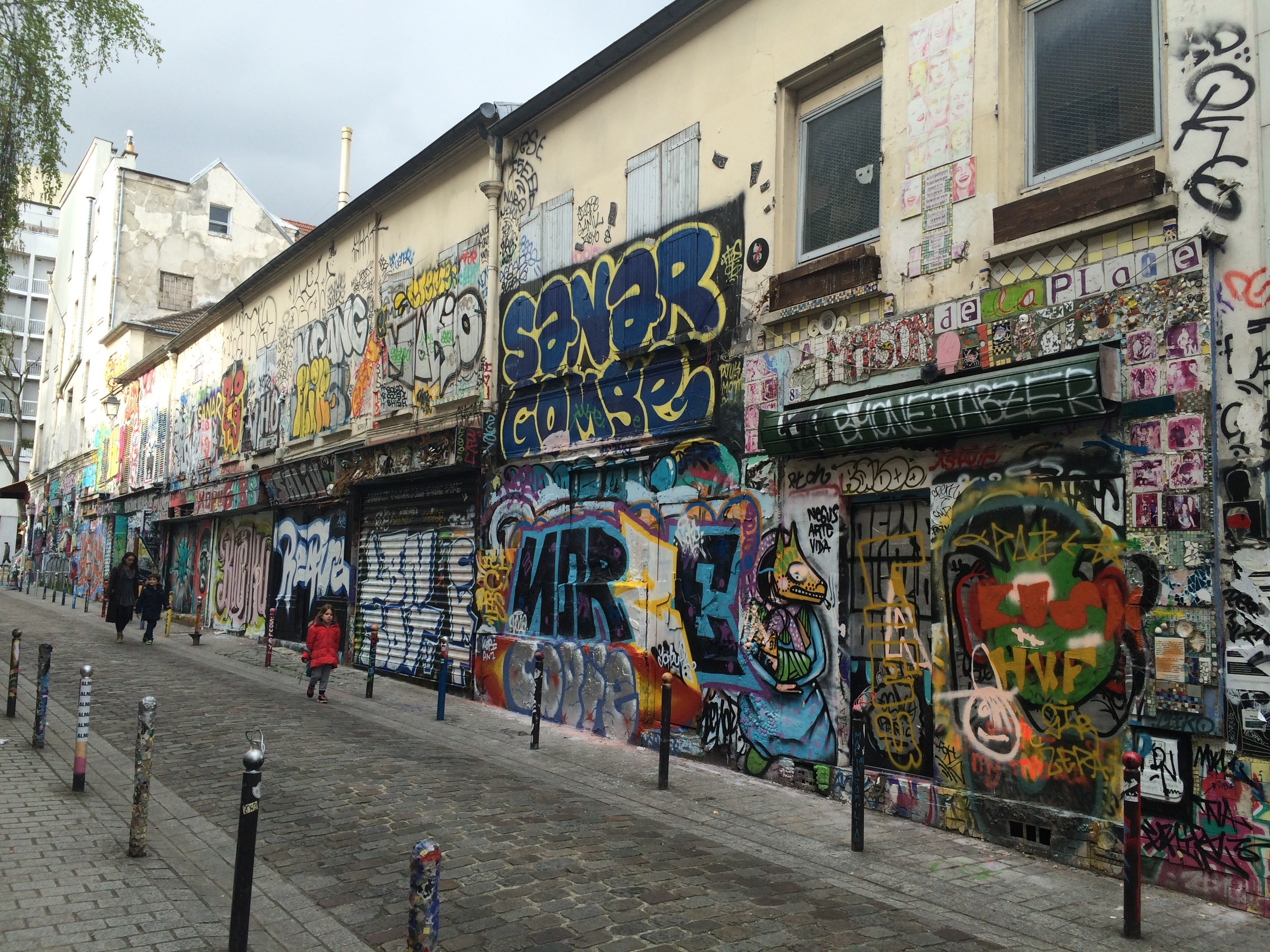 After a brief hike, our guide leaves us at the top of the hill of Belleville at an urban garden surrounded by walls of towering murals. The city once tried to dig a metro tunnel below this spot and the buildings that once fill this space collapsed into the ground. After the cleanup, locals decided on starting an urban garden here, but the street artists had other designs, turning this corner into a gallery of giants.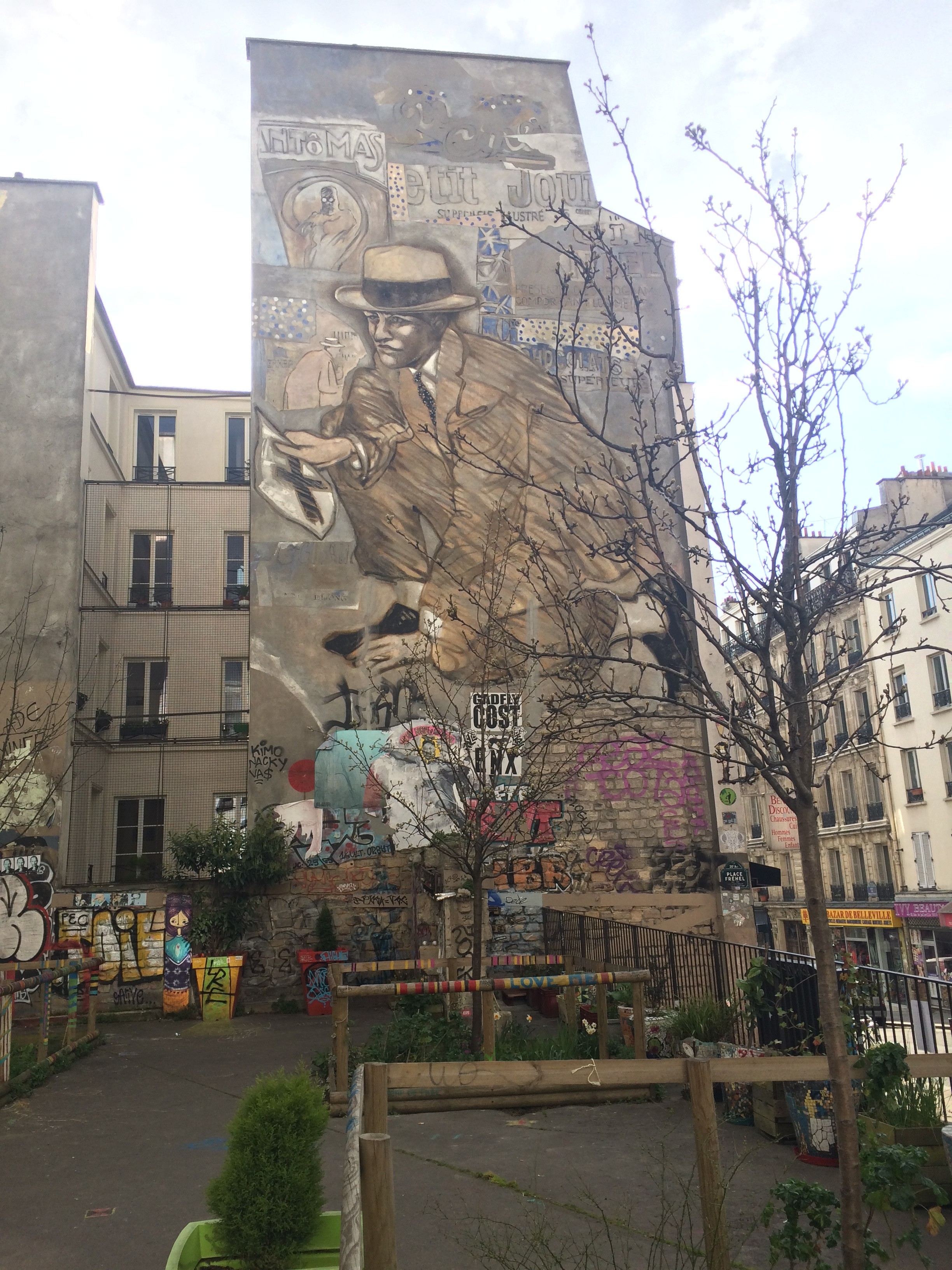 As I wave goodbye, I realize that no one will ever walk this same path as me. Hendrik's portrait will be finished and painted over, the trucks will drive off on their routes, and most disappointingly, Rue des Noyés will vanish entirely. The street is set to be destroyed and replaced by a school, and even in a world where everything is temporary, it feels like a blow. The neighborhood will morph into something more polished and less exciting, but I don't despair long.
Street art has never needed permission or galleries, or even Rue des Noyés. It's all ephemeral; the cleanup is as temporary as the paint. A walk around Paris shows that there is no corner too busy nor wall too high to escape the paint. You can't sanitize the whole city, and after a quick look around, why would you want to?
Share your photos of street art in your town on PicsArt photo editor with the hashtag #StreetArt to show us your local street art scene! Special thanks to our guide and Walk My Steps for an amazing afternoon.