In today's digital age, there's a sea of content circulating online. Whether you're a solopreneur, freelance blogger, or fashion influencer, you need attention-grabbing visuals to drive brand awareness and grow your following. No pressure, right?
That's where Shape Makes can take your content to the next level. Let's face it: the best content is authentic, unique, and eye-catching. When you insert shapes over your profile pictures, product shots, or social media posts, you can show people what you're about without typing a single word.
Ready to take your social media presence to the next level? Here's everything you need to know to master the art of Shape Masks.
What Are Shape Masks?
Shape Masks are one of the best ways to overlay shapes onto your images. Creating and using masks is a simple way to upgrade your pictures, and Shape Masks offer a straightforward way to add shapes to photos.
Imagine a cookie cutter. Instead of removing the cookie from the dough (like in a Shape Crop), you're leaving an artistic imprint by adding shapes to your photos. Basically, you can quickly create a mask in any shape, from an ellipse to a rectangle, to enhance your favorite shots.
With Shape Masks, the creative possibilities are infinite. They come with countless customization options that, in the right hands, can be used for a myriad of exciting artistic creations.
How to Use Shape Masks to Boost Your Social Media
Whether you're prepping for a product launch or upgrading your Insta feed, Shape Masks can be your secret weapon. They're the tool you need to stand out from the crowd, flex your artistic genius, and amplify your brand.
Not sure where to start? Even if you're not a pro designer, it's easy to boost your social media presence with extraordinary visuals. Here's how to tap into the power of Shape Masks on social media.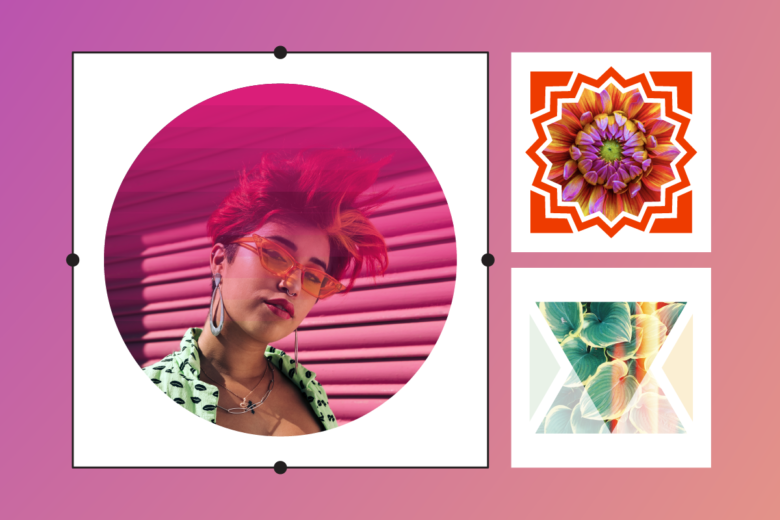 Take your profile picture to the next level.
When it comes to social media, your profile picture is a small (but powerful!) tool to promote your brand. After all, your profile picture can make or break your first impression with potential followers. It's the first thing people see when they visit your account, and even though it's just a few pixels, you still need to take advantage of that precious design real estate.
When you add shapes to your profile picture, you can convey ideas, brand values, and emotions without typing a single letter. 
For example, if you're a beauty influencer, you might use symbols like eyes and lips to communicate your brand. Meanwhile, if you're an eco-friendly clothing brand, nature-based shapes like trees and stars can help you tap into your roots. Even if you're just using a selfie, Shape Masks can transform an average picture into an eye-catching work of art.
To top off your profile picture, follow our circle crop tutorial to crop your image into a circular shape. Or, save time with the Picsart Image Cropper. You don't have the time to tinker with difficult-to-use editing tools, so we've created the perfect companion for your photo roping needs. The best part? It comes with fully customizable templates so you can use one image across every social channel. Win-win!
Build an instantly recognizable brand logo.
Brand stamp. Emblem. Favicon. Whatever you call it, your brand logo represents your brand's identity. And with so many brands competing for attention on social media, you need a standout symbol to capture your brand's essence and rise above the crowd.
That's where Shape Masks can be your MVP. According to a study by the Journal of Consumer Research, even a basic element of your logo—its shape—can influence how consumers perceive your values, products, and services. No pressure, right?
The truth is, just like fonts and colors, shapes are an important aspect of logo design. The right shapes can help you symbolize your ideas, evoke an emotional reaction, and craft a memorable brand. When you insert shapes into your brand logo, you can show people what you're all about.
Think about it: rigid shapes, like squares and rectangles, represent stability and reliability. At the same time, dynamic shapes, like circles, can help you show off your innovative spirit and energy. Need some inspiration? Check out our guide to logo shapes to kickstart your logo design.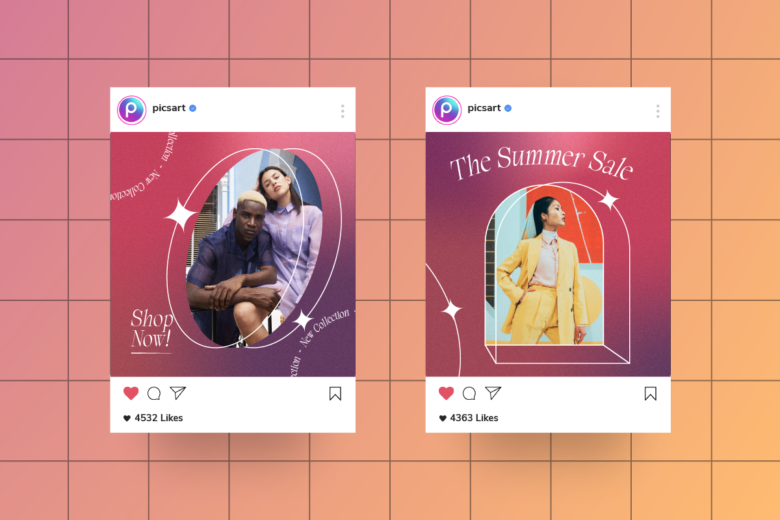 Stand out with scroll-stopping social media posts.
Want to capture your audience's attention? Looking to maximize your engagement levels? Whether you're promoting your Etsy shop or growing your YouTube channel, Shape Masks can help you grow your following and strengthen your brand with one-of-a-kind social media posts.
How? It's simple: Shape Masks amplify your content creation by overlaying fun shapes over your pictures. If you're sharing a discount or launching a new product, dynamic shapes and symbols can add extra flair to your post, helping you stand out in a sea of status updates, news stories, and marketing promos.
And if you're creating social media posts with premade design templates, Shape Masks instantly elevate your posts and make your brand more memorable. From trippy patterns to energetic designs, Shape Masks can help you express your artistic vision so you can bring your brand to life.
How to
Add Shapes to Photos
Ready to transform your social media presence with Shape Masks? Even if you're a graphic design newbie, it's easy to upgrade your favorite shots without pouring hours into design. When you're done experimenting with Shape Masks, you can finetune your pictures with fun photo effects to really make them pop.
With Picsart, it's easy to customize your pictures, adjust your edits, and unleash your creative genius with the power of Shape Masks. Here's a step-by-step tutorial so you can insert shapes over your images.
On the web:
Open the Picsart Photo Editor

and start a new project.

Click

Uploads

in the left panel toolbar to upload your picture.

Click

Shapes

in the left panel toolbar and choose a shape that suits your preference. Don't be afraid to experiment with different shapes to find the perfect match for your picture.

Once you've found the right fit, it's time to customize. Under

Edit

, adjust the opacity to make it more transparent or opaque.

Under

Blend

, play around with different blending options to overlay the shape onto your picture.

Click the color wheel to choose a custom color for your shape. Here, you can also adjust the outline color by choosing

Stroke Color

.

When you're done, click

Export

in the top right corner to save your edit and share it with the world.
On mobile:
Open the Picsart app

and tap on the plus sign (+) to start a new project. 

Under

Photos

, tap

All Photos t

o choose a picture from your library.

Scroll down to the

Shape Mask

icon

in the bottom panel toolbar. 

Experiment with different Shape Masks to find the perfect match for your picture. Once you've found the right fit, it's time to customize. Adjust the opacity to make the mask more transparent or opaque.

Try out different blending modes to overlay the Shape Mask over your image.

Play around with different background colors (or upload your own background pattern) to personalize your Shape Mask.

When you're finished with your edit, tap

Next

. Then, choose

Save

and

Share

it on social media.
Create at the Speed of Culture
Picsart is a full ecosystem of free-to-use content, powerful tools, and creator inspiration. With a billion downloads and more than 150 million monthly active creators, Picsart is the world's largest creative platform. Picsart has collaborated with major artists and brands like BLACKPINK, Taylor Swift, the Jonas Brothers, Lizzo, Ariana Grande, Jennifer Lopez, One Direction, Sanrio: Hello Kitty, Warner Bros. Entertainment, iHeartMedia, Condé Nast, and more. Download the app or start editing on web today to enhance your photos and videos with thousands of quick and easy editing tools, trendy filters, fun stickers, and brilliant backgrounds. Unleash your creativity and upgrade to Gold for premium perks!