It's freezing as you march down a snow-white street, head down, thinking only of escaping the cold. Your shoulders are scrunched up to guard your neck from the blizzard winds, when suddenly, you turn a corner to find a sight from another world — a jedi scout staring back at you from the saddle of a tauntaun.
Welcome to the world of Thomas Dagg, a photographer who has decided to pay homage to his lifelong love of Star Wars by inserting characters and set-pieces from the films into the streets of Ottawa, Canada, where he grew up.
Thomas's photos are wonderfully personal in ways that might not be so obvious at a glance, however. The images here are directly tied to Thomas's personal experiences in really thoughtful and surprising ways that make these photos even cooler and more special. We'll give you a clue, a lot of the spaceships and jedi warriors were not taken from photos… they were captured live, and in a way that any kid could relate.
What are we talking about? Well it's best you hear it from the man himself in our exclusive interview below.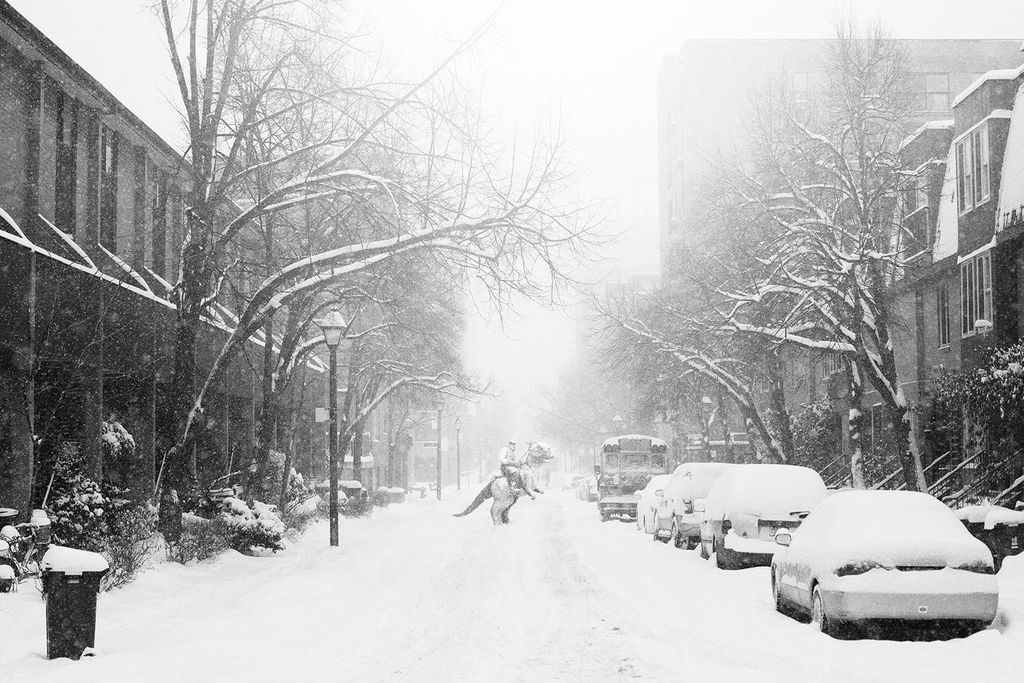 Where did this idea of bringing Star Wars into your photos come from?
The idea has always been there I think.  This series first and foremost is an homage to my childhood and the all consuming affect the movies had on me.  This was how I saw everything as a kid.  I was Star Wars obsessed.  If there was a blizzard, I'd think of Hoth.  If there were raccoons digging through trash, I'd think of jawas.  This series was just bringing that vivid childhood imagination to life through photographs.
How did you go about shooting the real life environments?
The real life environments were all places that reminded me of my childhood vision.  Each location was picked for a certain visual memory I had.  They were also carefully shot perfectly imperfect.  I'd whip out my phone and take a super quick shot and then duplicate that with my camera.  I wanted it to feel real, like these were happening and someone just happened to have a camera.
How did you get these classic Star Wars icons into your photos?
These are almost all toys that I played with as a child, so they're all quite small.  The majority of them are under 5 inches high.  This required some understanding of lens physics and how different focal lengths render space.  I would have to shoot each scene and figure with different lenses to match depth of field, perspective, and distortion.  The light was fun to match too.  I'm a huge nerd when it comes to the techy side of photography, so I had a lot of fun matching light etc.
The series has its own humor, like Darth Vader riding the subway. How important was the humor in this series for you?
There were certain things I always wondered about as a kid.  When Darth's fighter lost control at the end of Hope for instance, how did he get back?  Did he have to take public transit like the rest of the troops?  Or Jar Jar… Oh Jar Jar.  He was the only prequel reference in the series, but he was for the hard core fans out there.  We all wish he ended up with blaster wounds dead in an alleyway…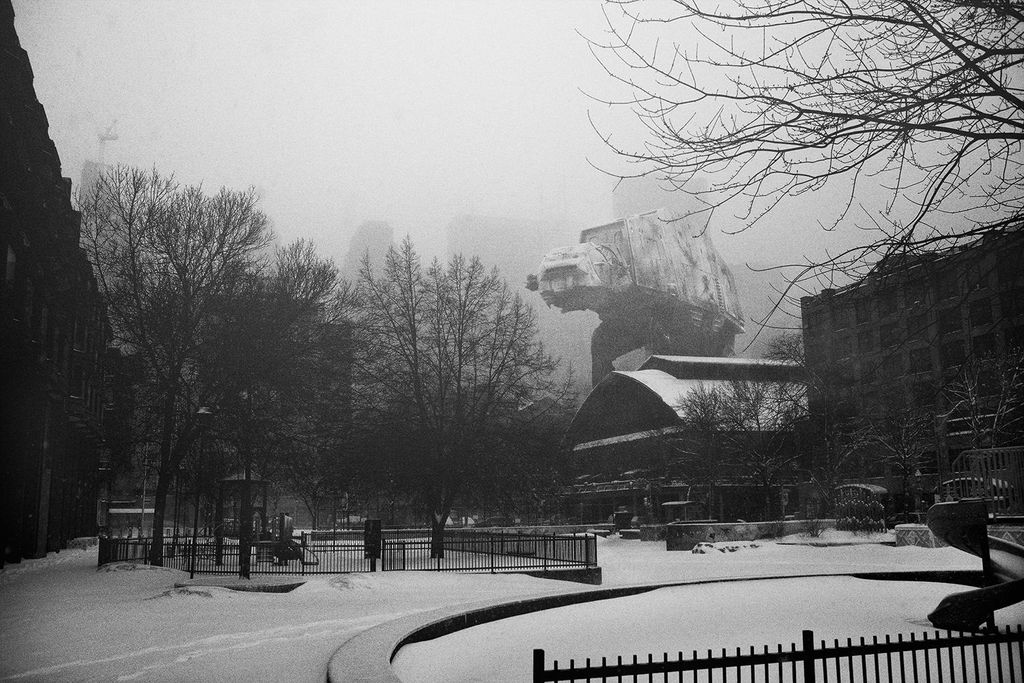 Which Star Wars movie was your favorite and why?
Empire is my favourite.  There's just too much awesome in that movie.  I'm always drawn more to the second acts.  It was darker, rougher, grittier, and more epic.  Boba Fett makes an appearance (my childhood idol), we meet Yoda, we find out paternal information… I could go on and on.
How do you feel about them deciding to make sequels?
There is a ton of the universe they haven't explored yet.  I'm excited to see what they do.  Disney really doesn't make horrible movies in my opinion so I think it will be good.  I really like JJ [Abrams] too.  I'm excited for the stand alone films too.  I'd love a Fincher flick about the origin of Han or Boba… Or Nolan doing something super gritty and real in the Star Wars universe.  A nerd can dream.
What was your favorite part about this project, whether its from the creative process or final results?
I think my favourite part of this project was the reaction from other fans.  At the end of the day, this was for eight year old me.  It was a very personal project, so seeing it being shared by other huge star wars fans is humbling. These movies hold a special place in a lot of our hearts.