The new PicsArt 5.0 update for iOS and Android is here for the holidays, with a revamped social experience, making discovery of images and artists a whole lot easier.
With this update, we are introducing some major changes that will make creating and sharing easier and more fun and will give you more opportunities to go viral or promote your friends.
PicsArt 5.0 Rolls out Repost
To start, the much-awaited repost feature has arrived, ready to take your best shots viral while crediting your work and collecting new followers on the way. While users from other networks rely on the number of followers they have, PicsArtists only need their creativity to go viral. PicsArt is the first among the image sharing communities to offer repost, increasing your chances of becoming famous.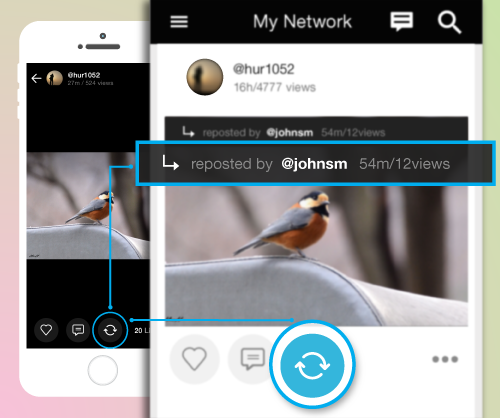 Categorized and Targeted Content
The new interface has been created with discovery in mind. It groups artists, tags, images, and more to present bouquets of inspiration. Your "Explore" stream provides many categories such as "Seasonal Tags," "Popular Photos," and "Daily Tags" to fuel your inspiration, as well as "Hints and Tips" to help you create. You can now find various groups of artists in our Artist stream. Check out our "Drawing Artists" if you love drawing, or look through our "Up and Coming Artists" to find new PicsArtists to follow. The new interface has also been designed to provide countless opportunities to get featured in the community.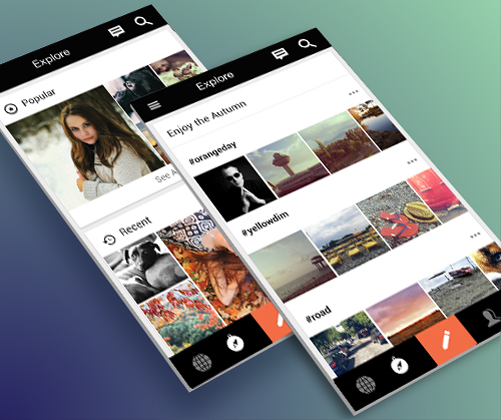 Favorite Tags
Do shots of nature move you? Simply follow the tag #nature to see more nature shots in your Explore stream. When you collect your Favorite Tags, you can easily explore images that inspire you and find like-minded PicsArtists.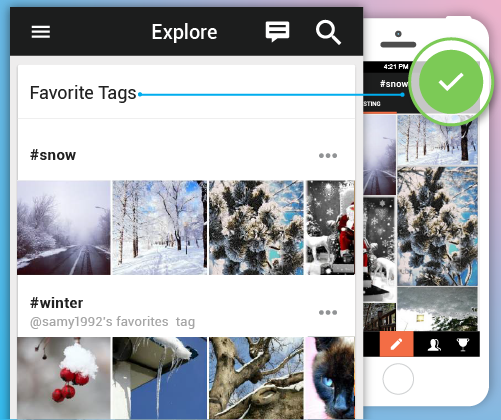 Editor Shortcut for #freetoedit Images
The app has also gotten a lot smarter and easier to navigate. For example, our #freetoedit community will appreciate the new shortcut to the Editor straight from the image in "My Network."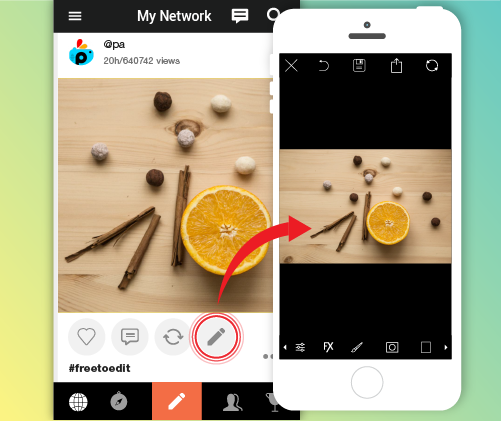 Categorized Shop
The Shop has a new "Themes" tab, which means searching has gotten a lot faster. This way, the next time you're thinking of getting some new Christmas clipart or seasonal frames, you'll know how to find them.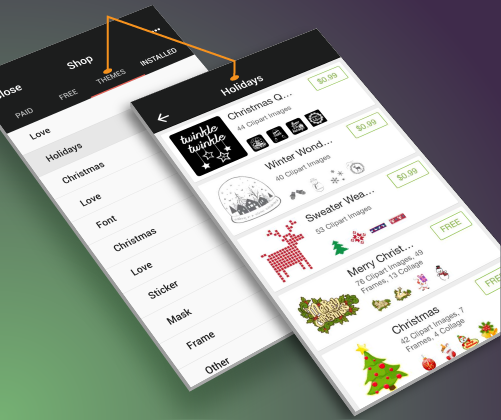 Redesigned Color Chooser
These are some of the big gifts under the tree, but we also have a new and improved Color Chooser as a stocking stuffer. Our new color wheel and sliders were designed to help you find and save the exact color you need.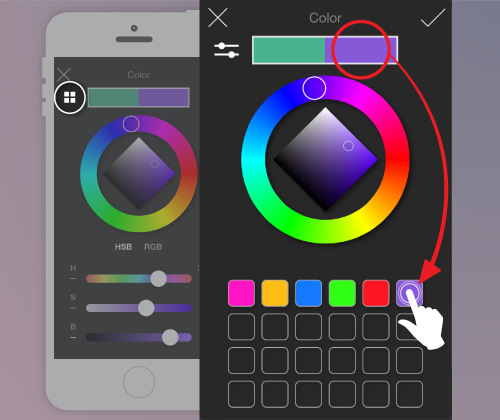 Unified Design
Now iOS and Android users share the same PicsArt experience of dynamic social content. The new interface has been streamlined across both platforms with only slight differences shown below.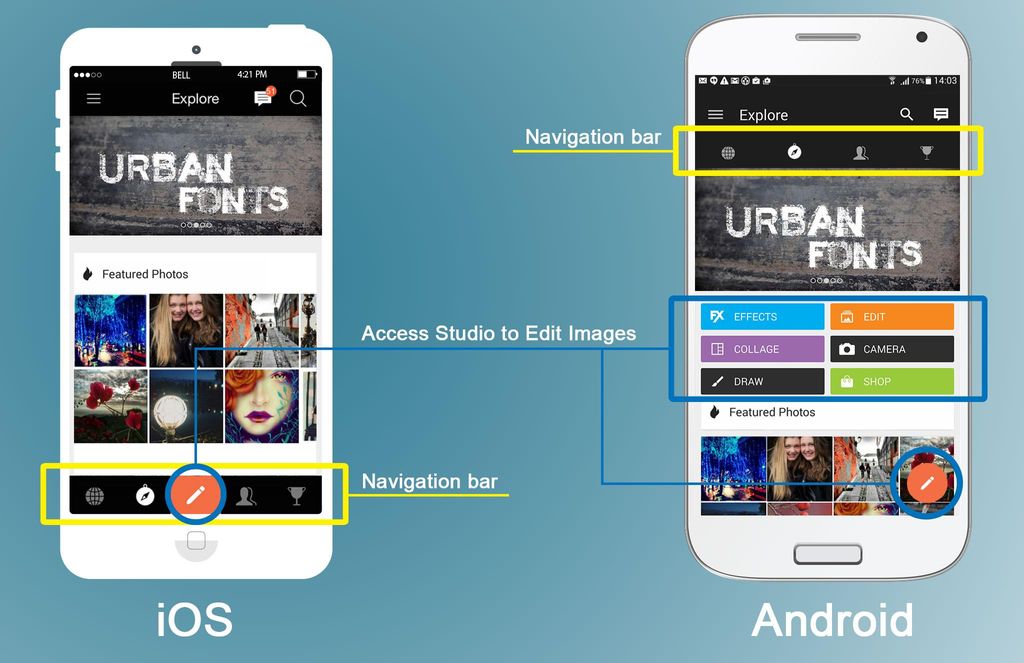 To summarize, here is a super quick review of what you can find in PicsArt 5.0:
Repost photos

Redesigned user interface

Favorite hashtags

Sorted Shop

Shortcut to Editor from #freetoedit

Improved Color Chooser

App remembers your recent searches

A slew of minor improvements and fixes to make your experience smoother, quicker and more fun
Here they are, many new features wrapped up just in time for the holidays. Update today and start creating the memories that will take you into 2015.