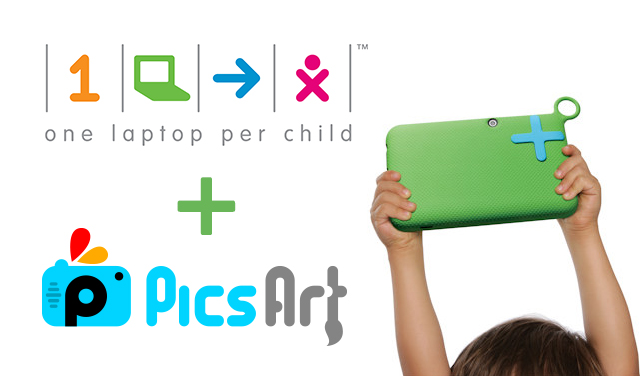 We are proud to announce that PicsArt is working with One Laptop per Child (OLPC) to bring mobile art to children around the world. PicsArt Photo Studio is being pre-installed on the XO tablet, through a strategic partnership with Vivitar under exclusive license from OLPC.
The XO tablet is part of OLPC's mission to empower children around the world by giving them access to connected laptops and mobile devices. The tablet features a specially designed child-centric interface, which empowers kids to learn and create, and now each one will come readily equipped with PicsArt Photo Studio.
PicsArt app is an easy to use app with serious imaging capabilities so that anyone who uses it can become a great artist. OLPC is the perfect match to further this goal. OLPC has distributed 2.5 million of its specially designed XO laptops to children in 60 countries since 2005, and the XO Tablet extends that experience into a modern tablet form. Now with this partnership, PicsArt's advanced, yet easy-to-use toolbox will be available to children across the globe, allowing them to not only learn about different forms of art through photography, but also to unleash their creativity by turning their own photos into works of art.
Children with the XO tablet will have access to the complete PicsArt toolbox, allowing them to capture and edit photos as well as create their own illustrations with our drawing tools. This means that children with XO tablet's and an appetite to sketch can practice their hobby without ever needing art supplies or leaving their devices.
For more information, visit www.xotablet.com as well as www.vivitar.com.