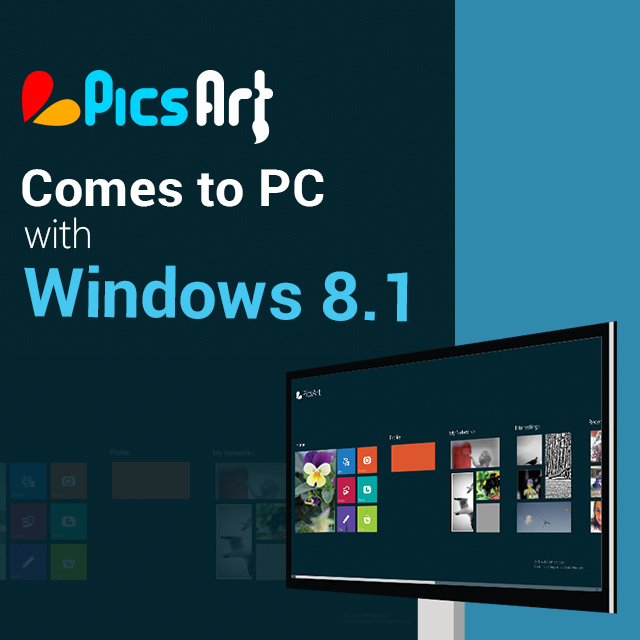 We mentioned last week that we had something big on the way and it is finally here. Finally, PicsArt is expanding beyond mobile and arriving on all deskops, notebooks and tablets running Windows 8.1. This means you will now be able to use your favorite PicsArt features directly from your personal computer!
At PicsArt, we've always been about making professional editing and drawing tools easy to use and absolutely free. With last year's arrival on Windows Phone, we were proud to have PicsArt available on major mobile platforms across the board. PicsArt's release on PCs, however, is a true game-changer, turning the world's top mobile editor into a universal app.
What's more, if you thought that PicsArt's mobile app made editing and drawing like a pro easy, then wait until you try it on the large screen of your computer with the added dexterity of a mouse or drawing pad. Many of you would transfer photos from their DSLR to your mobile devices to have them edited with PicsArt. Now editing your professional photos with PicsArt is made so easy! With PicsArt on your PC you can easily engage in serious design projects and create digital art.
Get started right away and download PicsArt on any desktop, notebook, or tablet running Windows 8.1. As on any new platform, we are releasing a more limited version initially, with updates coming very soon. We can't wait for you to try it out and experience the thrill of using PicsArt on a PC.
It is because of the passion of users like you that we have been able to grow into the world's top free mobile imaging app. Now, with this major milestone, the bar for free photo editing and digital drawing has officially been raised for desktops and notebooks worldwide!
Comment below to share your thoughts on the biggest news of the year.